___
About MnWE
___
See below:
WHAT IS MnWE, ITS CONFERENCE, AND ITS NEWSLETTER?
---
Click to also see:
LINKS: National Writing/English Resources
NEWSLETTER: Joining, Unsubscribing
2014 Problem in State Developmental Education

WHAT IS MnWE?
We are "Minnesota Writing and English," a consortium of Upper Midwest college and university writing and English faculty centered in Minnesota. We offer an annual two-day conference each spring with up to 200 attendees, and a bi-monthly email newsletter, the "MnWE News," to an email list of about 2500 writing and English faculty.
We are run by the MnWE Committee: about thirty volunteers and representatives from universities, colleges, and high school programs in Minnesota and nearby states. Everyone serves without pay. We welcome new volunteers.
Our mission is to help transform writing and English into teaching and learning experiences using practical methodologies that serve students best. Our vision is to bring scholarly ideas and practical pedagogy together to help create the future of our disciplines. We enjoy a mix at our conferences and in our committee of tenure-line and adjunct faculty, graduate students, administrators, and high school faculty teaching college writing and English in the high schools.

WHAT IS THE CONFERENCE?
Our annual spring two-day conference usually is held in the Twin Cities area of Minnesota, with occasional conferences in Greater Minnesota. We usually have an academic plenary and luncheon keynote on the first day, a creative writing plenary and luncheon keynote on the second, and many breakout sessions run by several faculty per session on both days. Our breakouts confound the usual conference style by replacing many (if not all) of typical traditional presentations with nontraditional discussions, panels, and interactive events. We place our presenters purposely in smaller groups where we encourage them to offer the new, the untried, the tentative--to explore, ask questions, and precipitate friendly debate.

WHAT IS THE "MnWE NEWS"?
Our bi-monthly "MnWE News" offers three or four very brief features in each issue that may include local, regional, or national news of note to writing and English teachers, links, and reviews of articles and books significant to the practice of teaching writing and English.
Our email listserv for the "News" has 2500 names of faculty in Minnesota, Wisconsin, and parts of Iowa, Illinois, and North and South Dakota. In addition to the bi-monthly newsletter, we send MnWE Conference calls for papers and other information about the conference, occasional notices of other useful regional and national conferences being held in the the Upper Midwest, and other occasional forwards that may be especially helpful or useful. Our listserv email addresses are exclusive--never shared--and directions for leaving the list are always at the bottom of every email. Joining is simple: click on "Join/Unsub." in either navigation bar above or to the left.

HOW DID MnWE START?
MnWE was started officially by Richard Jewell, an Inver Hills College tenured faculty member, and Donald Ross, a long-time Professor at the Univesity of Minnesota. Richard had taught previously at both the University of Minnesota, and in January 2007, he asked Donald Ross if the two of them might work to develop a joint conference in their two systems and throughout the state.
When Donald agreed, Richard then went to the annual MnSCU English and writing discipline meeting in Minneapolis in February to ask whether its members would like him to develop an annual state conference that would include all Minnesota colleges and universities.
About eighty faculty from throughout MnSCU were present; they voted by over 80% to support the conference. A founding committee coordinated by Richard formed immediately to organize the first conference.
The initial committee has grown to include several dozen active members and MnWE representatives at their schools who come from campuses in both Minnesota and Wisconsin. The conference and the newsletter reach out to all states surrounding Minnesota.
Members of the committee represent a wide diversity of college and university professors, instructors, and graduate students from University of Minnesota campuses, Minnesota and Wisconsin state universities and public two-year colleges, and a variety of nonprofit and for-profit private colleges and universities. We also are proud to include graduate students in the conferences and on our committee, and we are glad to see an increasing number of high school faculty attending the conferences, who teach college writing and English in their schools.
The first conference was in fall 2009. Attendance normally varies from 150 to 200. Richard Jewell continues to serve as the General Coordinator. In about 2011, two additional central positions were added: Larry Sklaney as Conference Coordinator, and Danielle Hinrichs as Conference Program Coordinator. In about 2012, MnWE began producing its now bi-monthly newsletter edited by Richard. In 2014, a fourth central position was added: Gordon Puescher, Creative Writing Coordinator. In 2015, Amy Kubista became Program Coordinator, and Danielle Hinrichs joined Larry Sklaney as Conference Co-Coordinators.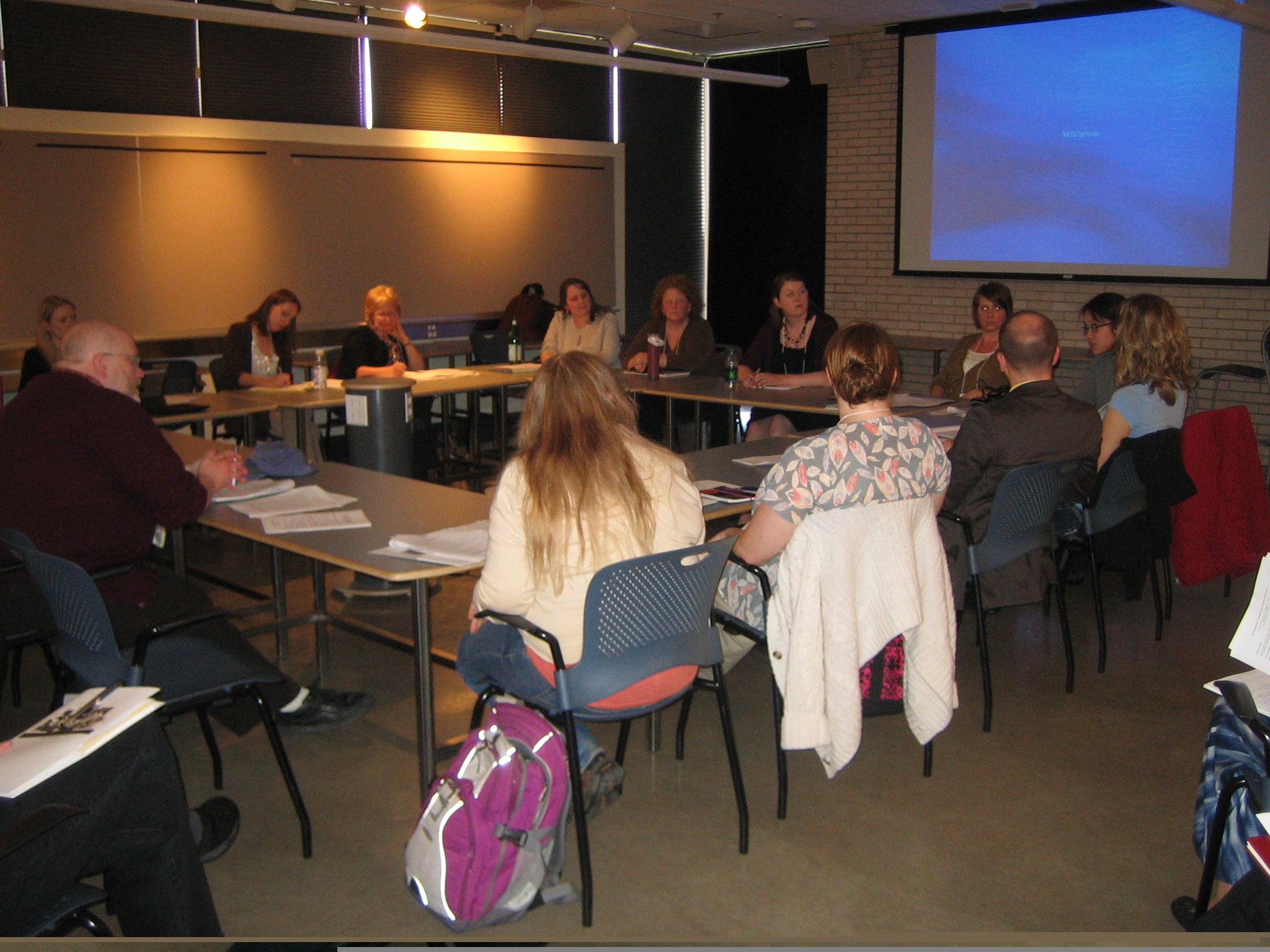 Mission:
Transforming writing and English
into teaching and learning experiences
using methodologies that serve students best.
Vision:
Bringing scholarly ideas and practical
pedagogy together to create our futures.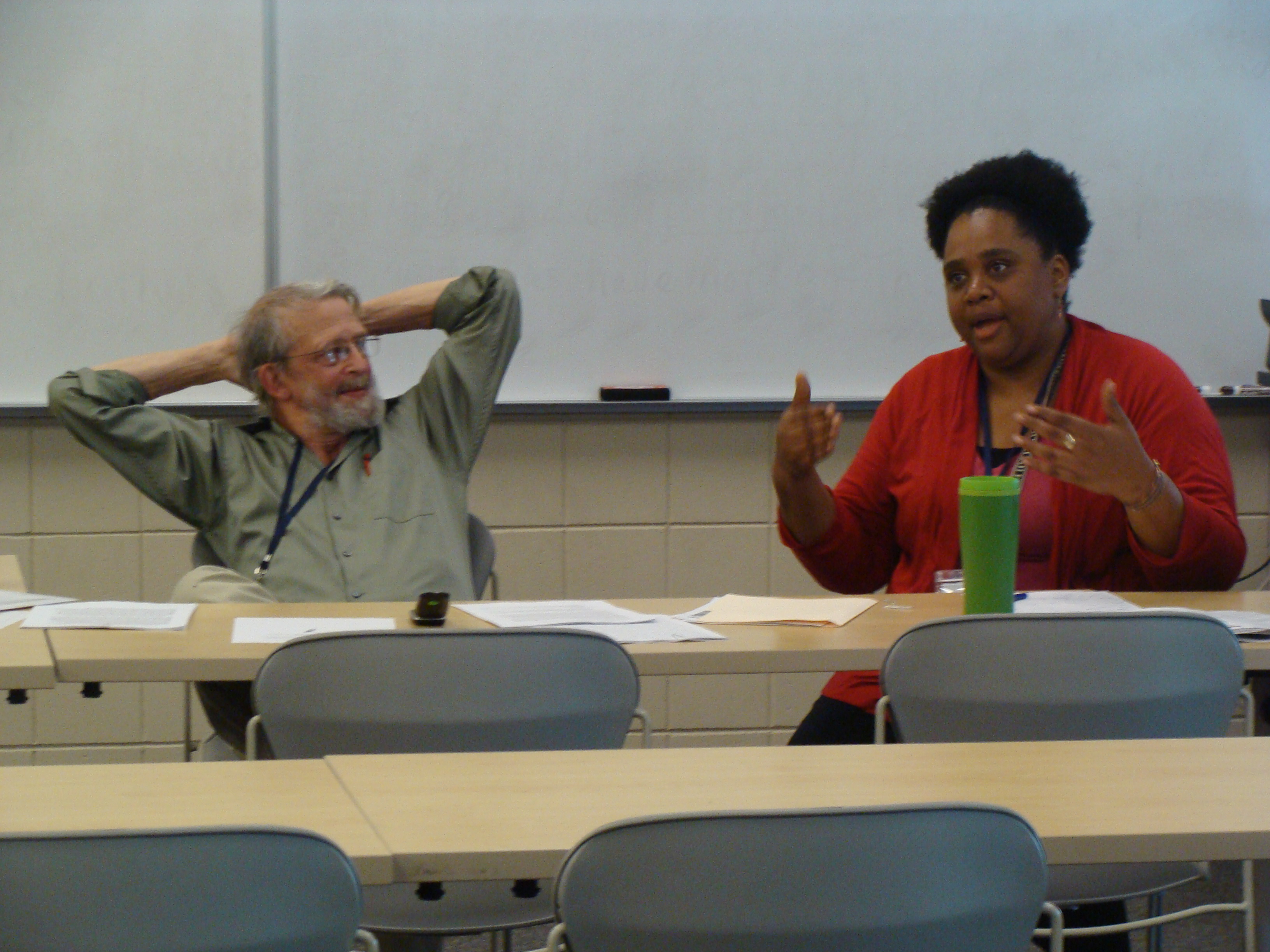 Donald Ross of the University of
Minnesota and Taiyon Coleman of St. Catherine
University run a breakout session about literature.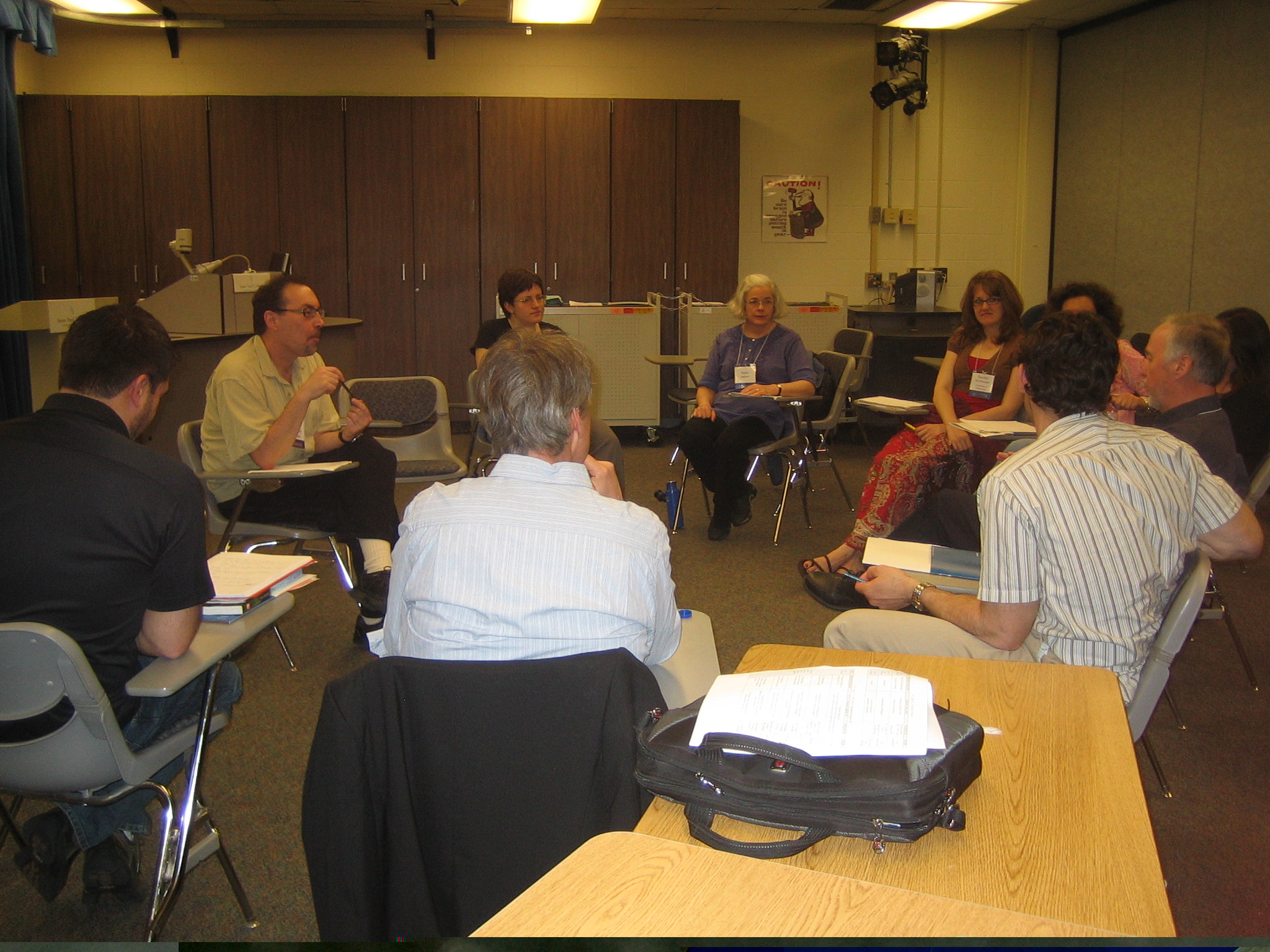 Geoffrey Sirc of the University of Minnesota
runs a small breakout after his keynote presentation.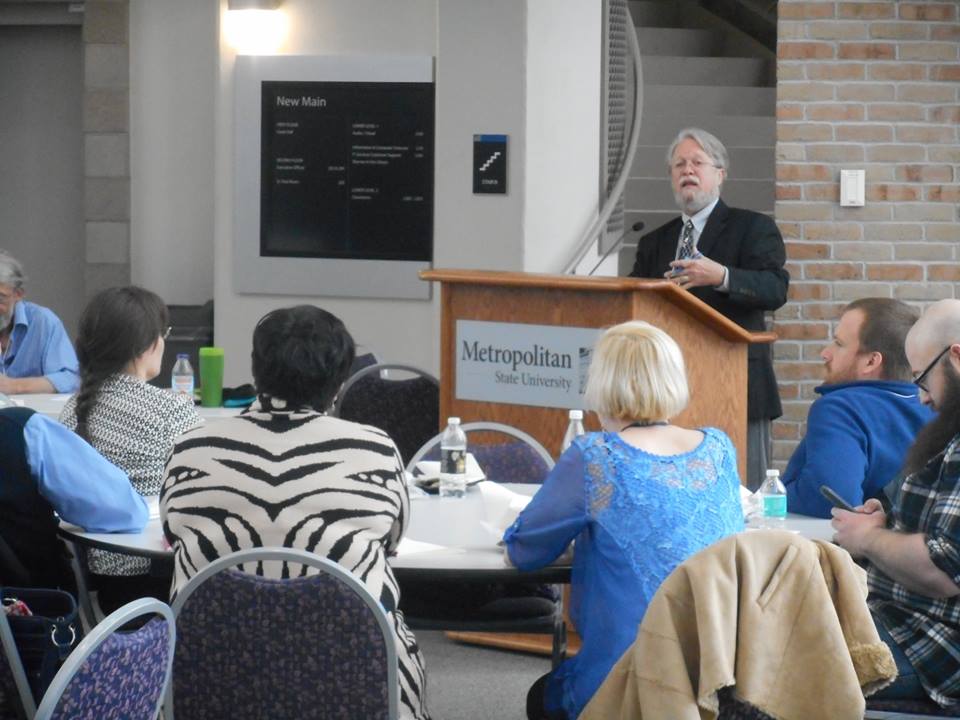 MnWE started in 2007. The cofounders
were Richard Jewell, here giving a welcome
after lunch, and Donald Ross, first picture above.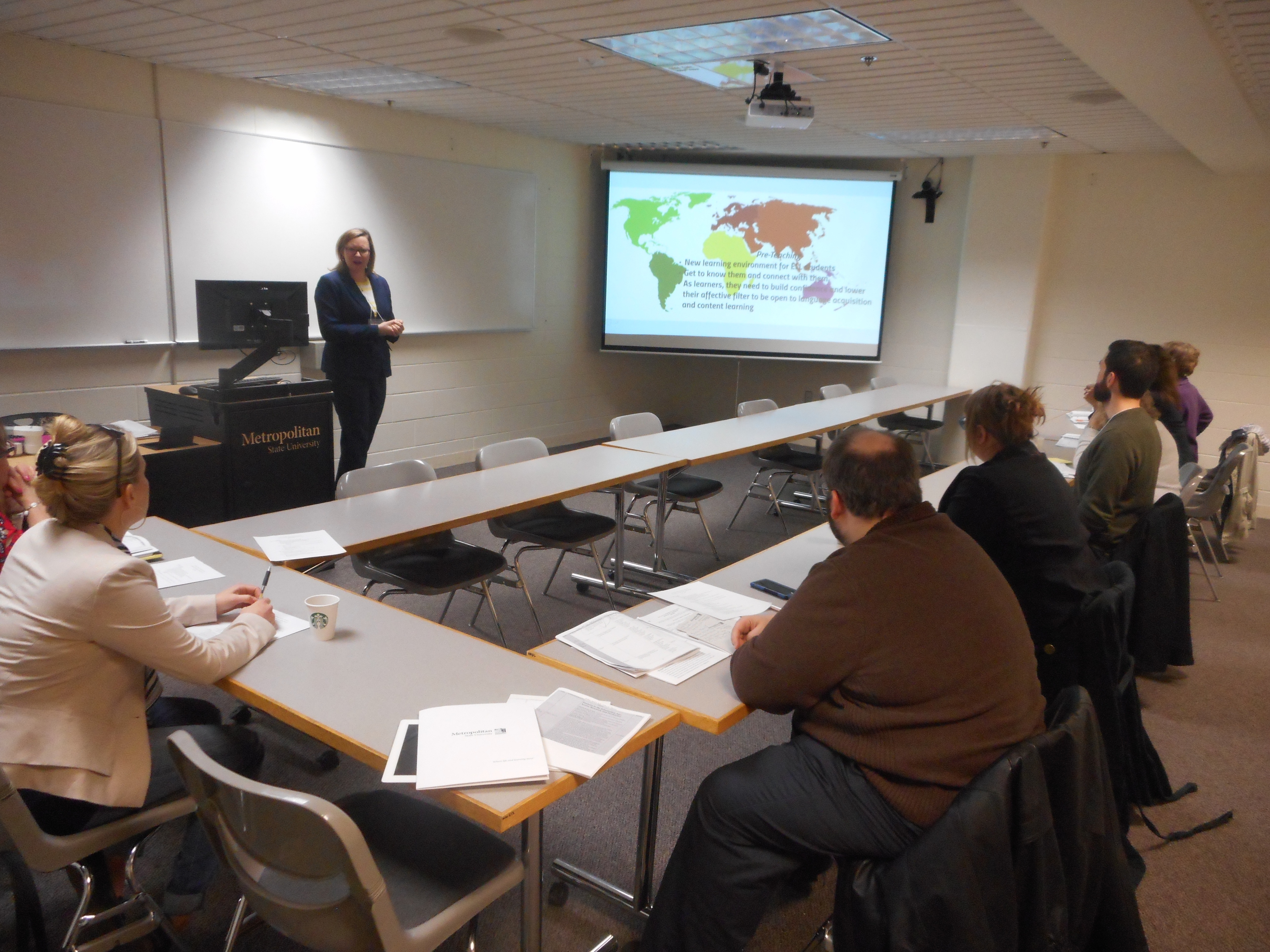 During a 2016 breakout, Beata Puschner presents
on improving classroom inclusion of ELL students.