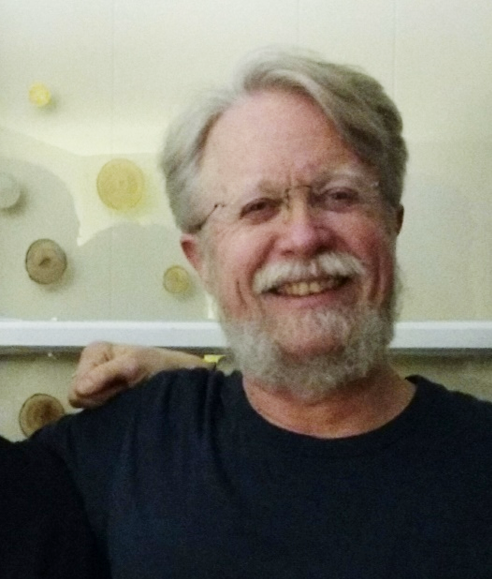 Richard Jewell, Author
About the Author and the Artist

Author Richard Jewell
Richard has been meditating for over sixty years using a variety of methods. In the 1970s and '80s, he earned three masterís degrees from San Francisco Theological Seminary and St. Cloud State University in theology, divinity, and English studies. His undergraduate degree at Monmouth College was in philosophy with additional college credits from Shimer College, St. Clare's Hall (in England), Knox College, and the University of Iowa Writers' Workshop. From his undergraduate degree, he graduated magna cum laude and was a quarter-finalist for a Rhodes Scholarship for graduate school. For his graduate degree at St. Cloud State University, he graduated summa cum laude.
In college, Richard especially liked to enroll in a number of undergraduate and graduate courses that helped him better understand his meditation experiences. These college courses were in Hindu philosophy, Hindu religion, philosophy of religion, world religions, varieties of spiritual practice, Zen meditation, existentialism, Biblical studies, the arts, and a variety of other related courses.
Richard and his sister grew up as the sixth generation to live on their family farm near Monmouth, Illinois. He graduated in three years from nearby Warren High School and, as an Eagle Scout, earned Scouting's religious award and Brotherhood stature in the Order of the Arrow.
During more than thirty years of teaching in Minnesota, Richard has been a college and university professor and instructor of English composition, research writing, writing in several disciplines, literature, the humanities, and religions. He started teaching full-time at Inver Hills College in 2001 and became a tenured professor a year later. Before that, he taught in a full-time, non-tenure-line position for five years at the University of Minnesota as a composition specialist teaching junior-level writing courses in five different majors; and for eight years in part-time positions at St. Cloud State University, the College of St. Francis, and North Hennepin and Anoka-Ramsey Community Colleges. For several years before and during his time earning his master's degree at St. Cloud State, he taught writing for publication and creative writing in community education programs throughout Minnesota and in Fargo, North Dakota.
In his ten years before teaching, he was a social worker in Minneapolis, a freelance writer and food co-op co-manager in Little Falls, Minnesota, and a freelance writer in Randolph, Minnesota. He and his wife, Ann Ludlow, have been living in a double condo half way between downtown and Uptown Minneapolis for over thirty years. Two of his children (and Ann's stepchildren) live in Rochester, Minnesota. One of their children lives in a suburb of Paris, France. The artist for this website, Gabriel Jewell, is Richard's son, who lives in Rochester, Minnesota (see below).
Richard and his wife's favorite hobby is travel. Both of them lived overseas for a year during school. Since then, they have traveled to Europe about six times, staying four to five weeks at a time; to West Africa twice, staying two to three weeks each time; and to conferences, cities, and campgrounds throughout the United States and Canada on numerous occasions. They especially like to tent camp each year for a week or two at a time beside rivers and lakes in Minnesota and, often, Michigan, where Richard's sister lives. While camping, they write, read, walk, see local places of interest, and visit nearby family and other relatives. When they are at home, they often go to art house movies, plays, and dance performances, and once a week they visit a new restaurant or an old favorite.
In his retirement, Richard is teaching meditation part time to community and church groups. He also continues to lead the all-volunteer committee that coordinates the Minnesota State Writing and English Conference (www.MnWE.org), which Richard co-founded in 2007. The Conference attracts 100-200 attendees annually from among college-level writing and English faculty throughout Minnesota and from nearby states.

For a longer biography, resume, and professional vita, go to www.richard.jewell.net/resume-vita.htm. Richard welcomes your questions and editing suggestions. To reach him, go to www.richard.jewell.net/contact.htm.

Artist Gabriel R. Jewell
Biography: Gabriel Jewell grew up going to Sunday School at Plymouth Church in the 1980s-90s. He became a dedicated artist, painting and drawing since the age of 16, at 18 he became he became Kiwanis Club Student of the Month in art, won two awards in a regional high school art show and won one of five awards in a Southeastern MN adult art show. For many years after that, he showed his works only to family and close friends, including many Christmas-themed paintings and drawings commissioned by his family. However, in 2018 he had his first one-person art show, where several dozen people crowded into the gallery to see his originals, hear about his art, and buy prints. His works of art are notable for their bright colors, almost like stained glass; and for their richly complex, imaginative, and semi-abstract characters and symbolism.
Artistic Statement: "I love making art and hope to bring an energy and vibrancy you can get to know like you would a favorite song or album. Each piece is stand alone, though I've started making smaller companions to larger pieces. I prize heart and subject matter and use structure as a way to get there,...so you'll see symbolism instead of photo-realism. Art's a place of our state of affairs...to tell a story, make social change, or contemplate our beautiful surroundings. I look with joy to past artists: the vibrancy of Impressionists to the cool storytelling of Surrealists. I find direction in beautiful sights on a walk, the imagery of music, requests from love ones, and strolling around museums. What is learned is folk."
Gabriel's Paintings in this Site: Over forty of his paintings and drawings are exhibited online in this website. If you are interested in buying any of his prints (all of which are copyrighted), please contact Gabriel through www.richard.jewell.net/contact.htm. To see the number and name for ordering prints (and the cost of the original), right click on each work on the page where you find it. The pages are as follows:
(1) 1990s with a few from 2000-2018: at the beginning of each of the "Guides."

(2) 2000-2018: approximate order by year in the alphabetical pages above (one per letter).

(3) Other miscellaneous works from 2000-2018:

(4) Christmas works and cards, 2000-2018:

Most recent revision of this page: 19 Jan. 2022