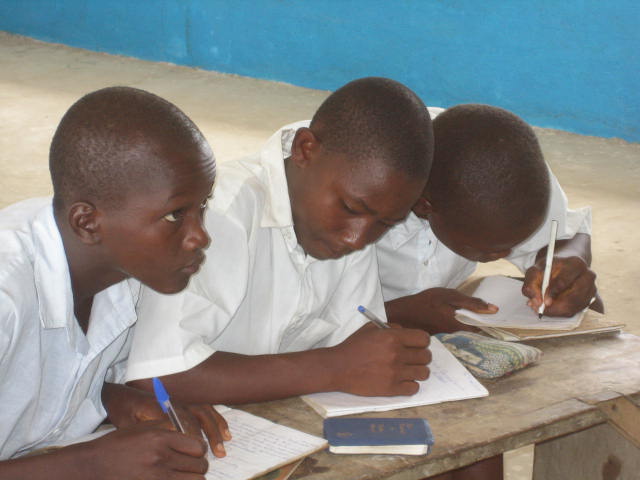 (1) These three young men were in 6th grade when this picture was taken in 2006. The school shown here is Foindu Elementary. It is typical of students in Sierra Leone that they study three and four students to a desk and stool, as these boys are doing. In some schools, the students must sit on the floor because they have no stools or chairs.
(2) The great majority of schools also are very short on supplies. Students like these often have no paper or pencils or run out of them part way through the year. Textbooks are hard to find and often are stolen for food money. The teacher may have the only textbook, so he will copy the lessons on the board where students without paper or pencils must memorize it.
(3) In addition, there are far too few school buildings. When this picture was taken, for example, the school had two buildings, and the one for 4th-6th graders had no ceiling and roof. This meant that every time there was rain, students were sent home.

(4) Why was there no roof? The ceiling had been stolen by rebels during the Sierra Leone civil war in the previous decade because the metal roof panels could be sold for money or used for the rebels' own quarters. At that time in Sierra Leone, metal roof panels were a rare and expensive item reserved in rural areas like this for important public buildings only. For years, even after the war, the village was too poor to afford buying new metal panels for the roof.

(5) After this picture was taken, a roof was built for this school. However, many other schools in Sierra Leone are in a poor condition like this one was, and some villages don't even have schools for their children.