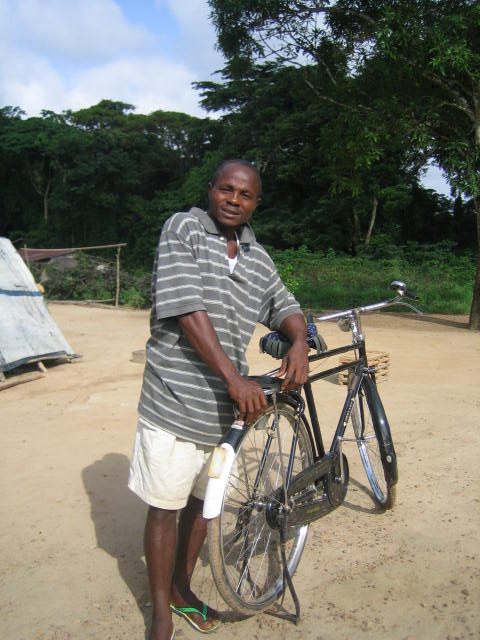 Siaka Brima (pronounced "Shock'a Brima") lives in the village of Foindu, pop. about 5500, with his wife, Musu ("Moosoo") (pictured on the home page preparing rice) and his children (one of whom, Ibrihim, also is pictured on the home page with Musu, preparing rice).
Siaka is a significant contributor to village life. He has helped map the village, has done human surveys in the region for international organizations, and has a thriving farm. He also has a technical degree from a post-secondary technical college in Sierra Leone.
At one time, Siaka owned the bike seen here with him. However, after many years of use, both personal and business, it broke down. He is hoping to find the money for another bike.

Bicycles are a significant and important mode of transport in villages like Foindu. Villages like Foindu are so far away from regional metropolitan hubs that bicycles often are the only transport. In Foindu, there may at most be one or two cars or trucks, a few small motorcycles, and perhaps a few dozen bikes--for about 5500 residents. Villagers own no animals that can provide transportation, either, such as horses or oxen. Most villagers can barely afford a few chickens.