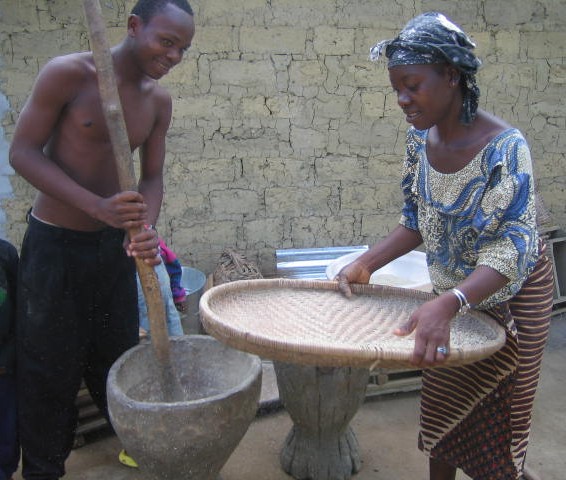 Here Musu Brima ("Moosoo Brima"), right, and her then teenage son Ibrihim prepare rice in their town of Foindu. Musu is using her large, shallow basket to toss the rice in the air so the wind will blow away chaff or husk. Ibrihim is now one of the lucky dozen or so students in the town of 5500 who is in college. Their town has no junior high, high school, or college, so the few students who become educated past sixth grade must leave the town to do so.
Musu's husband and Ibrihim's father is Siaka Brima, pictured on the home page with his bicycle. They have a nice mud brick home with a tin roof, four rooms and a central hallway, 50-gallon barrels that capture rainwater from the roof so they have their own fresh water, and an outside kitchen.
Their home and outside kitchen are typical of households in Foindu and their two larger neighboring villages, where the nonprofit aid group OneVillager Partners has helped a great majority of households get tin roofs. However, in most villages around them--where there is no aid--almost all villagers use traditional thatch roofing or old, patched together pieces of tin from the pre-civil war 1980s, both of which must be repaired or replaced frequently so that rainwater will not touch the mud-brick walls and melt them.