"MnWE News" Fall Issue
September-October 2020

Next Conference: Thurs. and Fri. Afternoons
March 25-26, 2021 on Zoom
In this issue:
1. NEW NOBEL LAUREATE LOUISE GLÜCK, PAST U.S.
WINNERS
2. WHAT DOES SCIENCE PROJECT FOR ACADEMIC
YEAR 2020-2021?
3. WHAT DO YOUR ONLINE STUDENTS WANT YOU TO
KNOW?
4. HOW IS YOUR OWN ACADEMIC LIFE?
5. FREE E-NEWSLETTERS (in each issue)
6. ABOUT MNWE (in each issue)
If you are new to our listserv, welcome! We never share your address, and you may always unsubscribe at the bottom of any email.

If you are a long-term member of this listserv, thank you for your continued participation. Our listserv emails go to about three thousand English, Writing, and related Upper Midwest faculty.

If you are the head of a program or department, please consider forwarding this email to your graduate and undergraduate students. If you did not receive this email directly and would like to join, send a request to the editor at richard at jewell dot net. We suggest you send a permanent email address. Also email us for information on joining our meetings five Fridays/year, currently by Zoom.
---
1. NEW NOBEL LAUREATE LOUISE GLÜCK, PAST U.S. WINNERS

This year's Nobel Prize in Literature was announced today (Oct. 8). Our new laureate is Louise Glück "for her unmistakable poetic voice that with austere beauty makes individual existence universal" (Nobelprize.org/literature/2020).

Poet and essayist Glück (rhymes with "click") was the 2003-2004 U.S. Poet Laureate. She has won the Pulitzer (Wild Iris), National Book Critics Circle Award (The Triumph of Achilles), Yale's Bollingen Prize in Poetry (Vita Nova), and a National Humanities Medal. Most recently, her 2014 collection, Faithful and Virtuous Night, won the National Book Award.

Glück's poems speak to her own experience with personal trauma and her emotional life, sometimes using classical myth. She is the Rosenkranz Writer in Residence at Yale. Glück grew up on Long Island where, encouraged by her parents, she wrote verses as a youth and submitted her poems to magazines, journals, and book publishers as a teenager.

Recent winners include Austria's Peter Handke in 2019, Poland's Olga Tokarczuk in 2018, and Japan and England's Kazuo Ishiguro in 2017. In 2016, Minnesota-born Bob Dylan won.

Are you looking for American Nobel literature for teaching? Glück is praised for her deeply honest poetry about women's experiences. Dylan is a songwriter who often has sung about social justice. And Toni Morrison (1993) offers a wonderful array of novels about Black life in America, especially in the Midwest.

Glück is the twelfth person from the U.S. to win the Nobel in Literature. A complete list of the twelve is below.
---
See www.nobelprize.org or the site's links about each of our U.S. winners (and for more detail, click on "Bio Bibliography" in most of the links):
1930: Sinclair Lewis
1936: Eugene O'Neill
1938: Pearl S. Buck
1949: William Faulkner
1954: Ernest Hemingway
1962: John Steinbeck
1976: Saul Bellow
1978: Isaac Bashevis Singer
1987: Joseph Brodsky
1993: Toni Morrison New York Times obituary
2016: Bob Dylan New York Times on his award
2020: Louise Glück New York Times on her award
---

2. WHAT DOES SCIENCE PROJECT FOR ACADEMIC YEAR 2020-2021?

As we move into the 2020-21 academic year, scientific communities report that several candidate vaccines' trials may be completed by December or January. However, they suggest, vaccines may not be manufactured for delivery until, at earliest, mid- or late winter, and then only to an early group of recipients.

This group may be first responders (medical, police, and/or fire), together about 5% of the population. The second group, about 10%, may be those with two or more medical conditions and people in assisted-care homes. Third may be those 65 and older. Another factor is that at least two of these vaccine candidates require two doses a month apart.

Scientists also project that infections could rise significantly as people move indoors. This is in part because, surveys show, at present many people are choosing not to distance socially, wear masks, or avoid close indoor contact.

What does this mean for academic life? A vaccine for most people in education, teacher or student, likely won't be available until late spring or summer at best. That timeline and rapidly rising infection rates suggest we may not see business as usual in education until at least fall 2021, perhaps later. Until then, needs likely will increase for distance learning, better social distancing, more mask use, and good indoor ventilation.

In addition, the pandemic is introducing online learning to a much larger cohort. This may cause faster growth of such methods as they appear more economically attractive to students, administrators, and legislators. Such methods will be needed throughout the 2020-2021 academic year, possibly longer.
---
Local/Regional Distance-Teaching Resources: www.mnweconference.com/resources.html
---

3. WHAT DO YOUR ONLINE STUDENTS WANT YOU TO KNOW?

Beth McMurtrie of The Chronicle of Higher Education recently asked this question of a panel of students and faculty at several schools. Here is a quick summary of what she heard:

"Connections are crucial." Students want you to help them feel connected to you and to others in the class.

"Consistency matters." Students realize that courses may use different platforms or methods, but they do want consistencies on which they can rely in how you deliver your own material. They also ask that you check in with them regularly.

"Ditch group projects" lasting awhile. Students say they are finding online learning mind-boggling enough that trying to do projects over several weeks or more in online groups simply is too much. McMurtrie does add, "If a project is well designed and carefully thought out, giving students clear roles and responsibilities, it could work." Otherwise, her panel says, skip major group projects.

"Encourage group work." This may seem to contradict the previous point, McMurtrie says, but not really. Students want more engagement with classmates in live discussions for fifteen or twenty minutes during classtime.

"Don't spend synchronous time lecturing." Students do not want a talking head in live class. Rather, they say, they want ten-minute lectures taped and assigned as homework ahead of time. Save class time, they suggest, for a variety of activities and discussions.

"Ask students what's working and what's not." One of McMurtrie's panelists "encourages faculty members to maintain flexibility and to see students as 'partners in learning.'" Email them, run surveys, Zoom with individuals or pairs, or even phone them. Ask them, sometimes individually, what works for them.
---
McMurtrie's online webinar on her findings: Webinar results
Inver Hills College Honor Students' B.R.E.A.T.H.E.–Success Tips for Online Learning
---

4. HOW IS YOUR OWN ACADEMIC LIFE?

What would you have done at work last year or the year before in a normal academic day, week, and month? How did you meet with students, talk with colleagues, and spend your time on campus? The University of Michigan's Center for Academic Innovation offers three suggestions to faculty:

1. "Motivate and support students."
2. "Keep social connections."
3. "Offer resources for students during COVID-19."

The first suggestion, above, means going the extra mile to make students feel stronger and better prepared for their academic tasks. You may not be able to meet with them in your office or classroom. But you can "motivate and support" in other ways. Doing so not only helps personalize your teaching but also shows your students that you care about them as individuals and as a group in their time of greater anxiety, confusion, and frustration.

The second suggestion means you should keep talking with your peers, department colleagues, and others with whom you'd share professionally in normal times. Don't let distancing isolate you. Meet by Zoom or phone, or use email to offer your thoughts and feelings as before in hallways and over coffee. Remember your support staff. Participate in live-video department meetings. Go for a socially distanced, mask-wearing walk outside with academic friends.

The third suggestion, above, is to create a resource list for students to use during these times–about the pandemic, diversity and racial justice, their own mental and physical health, etc. In the past, you could–in person–suggest a campus resource to a student. Now you can do the same by using your school or system's links for students to those resources. Not only might students use them but, moreover, they'll know that you care; this is, according to a large body of research, likely to increase their learning from you.
---
Handout from above: University of Michigan
Caring affecting grades: e.g., see papers and bibliographies at King and Chan and Miller.
---

5. LIST OF FREE TEACHING/LEARNING E-NEWSLETTERS (repeated each issue) "MnWE News")

Do you feel out of touch with colleagues or seek ideas from other networks? Connect by subscribing to these free email newsletters. You may start or stop a subscription at any time.

"NEA HigherEd," National Education Association. Weekly news update:

Subscribe Sample

"Diversity Insider," National Education Assoc. Weekly news, essays, and advice:

Subscribe Sample

"The Source: Updates," MLA Style Center. Weekly briefs, pedagogy, and readings:

Subscribe (scroll to bottom) Sample
Other free Style Center e-letters

"Teaching," Chronicle of Higher Education. Weekly short news on general methods:

Subscribe Samples

"Tomorrow's Professor," Stanford University. Twice-weekly reprint of a pedagogy article:

Subscribe Sample e-letter and online version

"The Campus View," Minnesota Private Colleges (17 colleges). Monthly news:

Subscribe Past issues
---

7. ABOUT MNWE: Old Issues, Joining, Who We Are, Grad
Credit, Unsubscribing
(repeated each issue)

For Online-Teaching Resources: See www.mnweconference.com/resources.html.

View Our Newsletters: For new and old issues, click here: "MnWE News."

Forwarding/Joining: Please forward this email to others, especially if you are a MnWE representative listed below. Your newer full-time and adjunct faculty members, graduate students, and writing center tutors may not receive it.

If you are not on the listserv and would like to join it, simply send your request and email address to richard at jewell dot net. We always enjoy signing up new list members.

Who We Are: "MnWE" is "Minnesota Writing and English," an all-volunteer organization started in 2007. MnWE has a coordinating committee, a listserv, and an annual, two-day spring conference attended by 100-200 faculty. Our coordinating committee, which meets about six times per year, is composed entirely of unpaid college, university, high school, and other professional English/Writing volunteers.

All activities are by and for college, university, and college-in-the-high-schools English and writing faculty, graduate and undergraduate students, and related academic and literary scholars, writers, tutors, and others in the Upper Midwest. Our purpose is to bring together these communities in Minnesota and in nearby states and provinces.

Our website is MnWE.org; our geographical center is Minneapolis-St. Paul. About 3000 faculty, graduate students, tutors, and related administrators are on our listserv. They receive this newsletter six times per year. Our listserv members come from state universities, public and private two-year colleges, private colleges and universities, high schools, publishing companies, and the public universities of Minnesota, Wisconsin, North Dakota, South Dakota, Iowa, Illinois, and other schools and locations beyond the Upper Midwest.

At our annual conferences, our keynoters speak on pedagogical concerns and are scholars and writers of national excellence from both local and national locations. Some of our presenters come from states or countries far beyond our own geographical area. The majority of our attendees and presenters are from universities and private colleges; a strong minority are from two-year colleges, high schools, and other groups.

Graduate Credit: Anyone may earn one graduate credit from Southwest Minnesota State University for attending one MnWE Conference day and writing a related research paper (up to three times). For questions about this course–"Eng 656: MnWE Practicum"–please contact lisa dot lucas at smsu dot edu or see www.smsu.edu/academics/programs/english/?id=11637 .

Unsubscribing: To unsubscribe from this listserv (and no longer receive the "MnWE News," MnWE Conference announcements, and other forwarded announcements), please do so yourself, following directions at the very bottom of this email. If you try unsubscribing on your own without success, then send an email to richard at jewell dot net indicating (1) your unsubscribing action that didn't work, (2) your specific email address copied from the directions at the bottom of a MnWE mailing, and (3) your request for removal.

Formatting, Invitation, & Credits: Each of these listserv emails usually is formatted in a relatively simple way using html. If you cannot read it, please click on the link at the top right of this email to see the newsletter on the Web.

If you have any questions, we invite you to email the editor or any coordinator on the MnWE Committee listed below. You also are always invited to attend any of our six MnWE Committee meetings per year: to join the listserv, email richard at jewell dot net. If you'd like to attend a meeting, or join the committee for in-person meetings, Zoom attendance, or email comments from a distance, please email Richard. In addition, you always are invited to offer suggestions to MnWE, or to volunteer your leadership for a regular, special, or double session at the annual conference.

This newsletter is written primarily by "MnWE News" editor Richard Jewell without copyright so that anyone may quote, paraphrase, or forward any or all parts freely, unless otherwise noted. We ask only that you give credit to the "MnWE Newsletter" and/or "www.MnWE.org"; and when you use material that has been quoted or paraphrased in this newsletter from another source, please be sure to give proper credit to that original source.
---
---
Richard Jewell, General Coordinator
Larry Sklaney, Conference Coordinator
Danielle Hinrichs, Program Coordinator
Gordon Pueschner, Site Floor Coordinator
Jana Rieck, Communications Coordinator
Heidi Burns, Registration Coordinator
---
richard at jewell dot net - (612) 870-7024
larry dot sklaney at century dot edu - (651) 747-4006
danielle dot hinrichs at metrostate dot edu - (651) 999-5960
gordon dot pueschner at century dot edu - (651) 686-4468
janaL dot rieck at yahoo dot com
heidi dot burns at mnsu dot edu

MnWE .org
Minnesota Writing & English
A Consortium of Colleges & Universities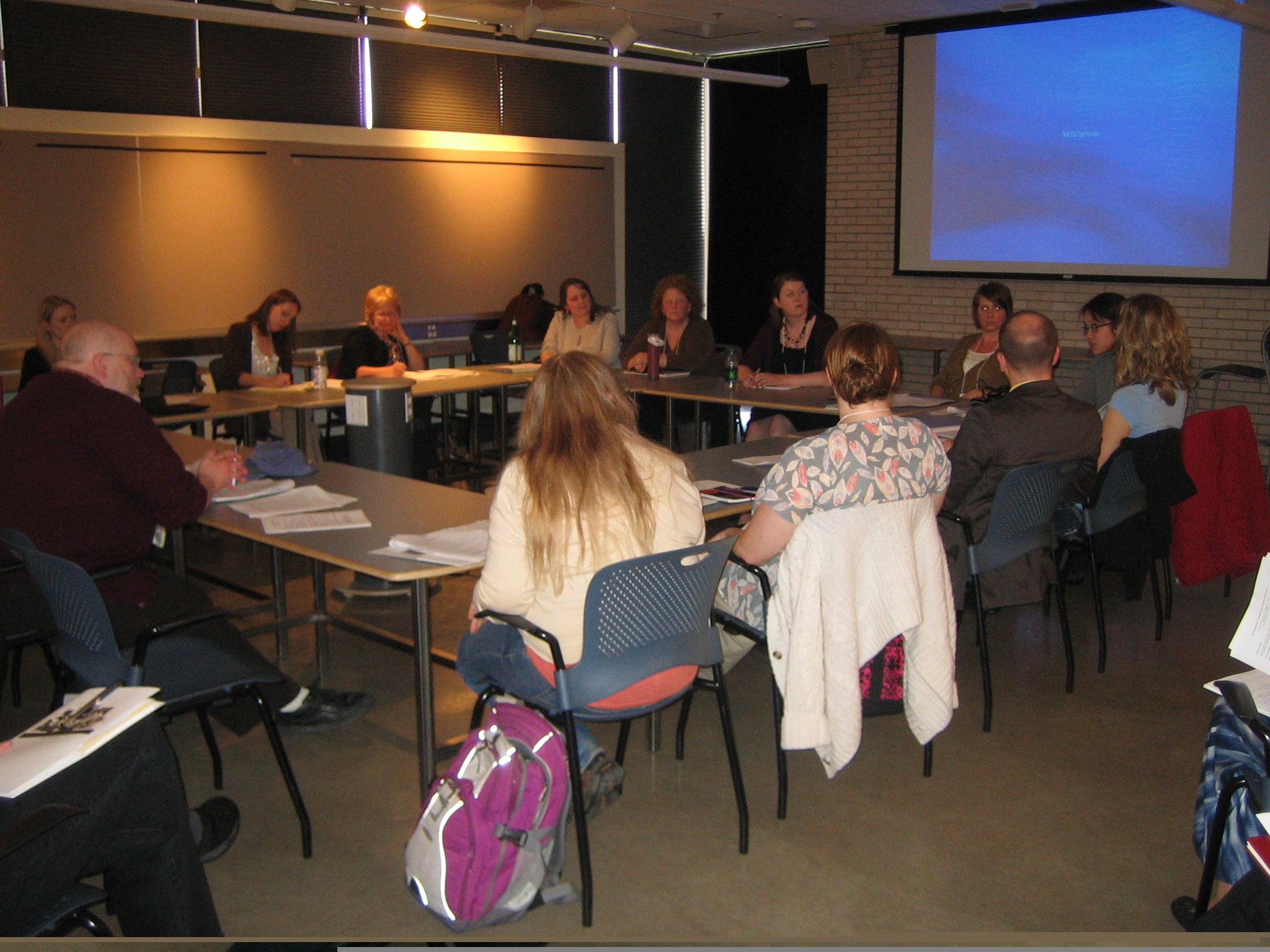 Mission:
Transforming writing and English into teaching and learning experiences using methodologies that serve students best
Vision:
Bringing scholarly ideas and practical pedagogy together
to create our futures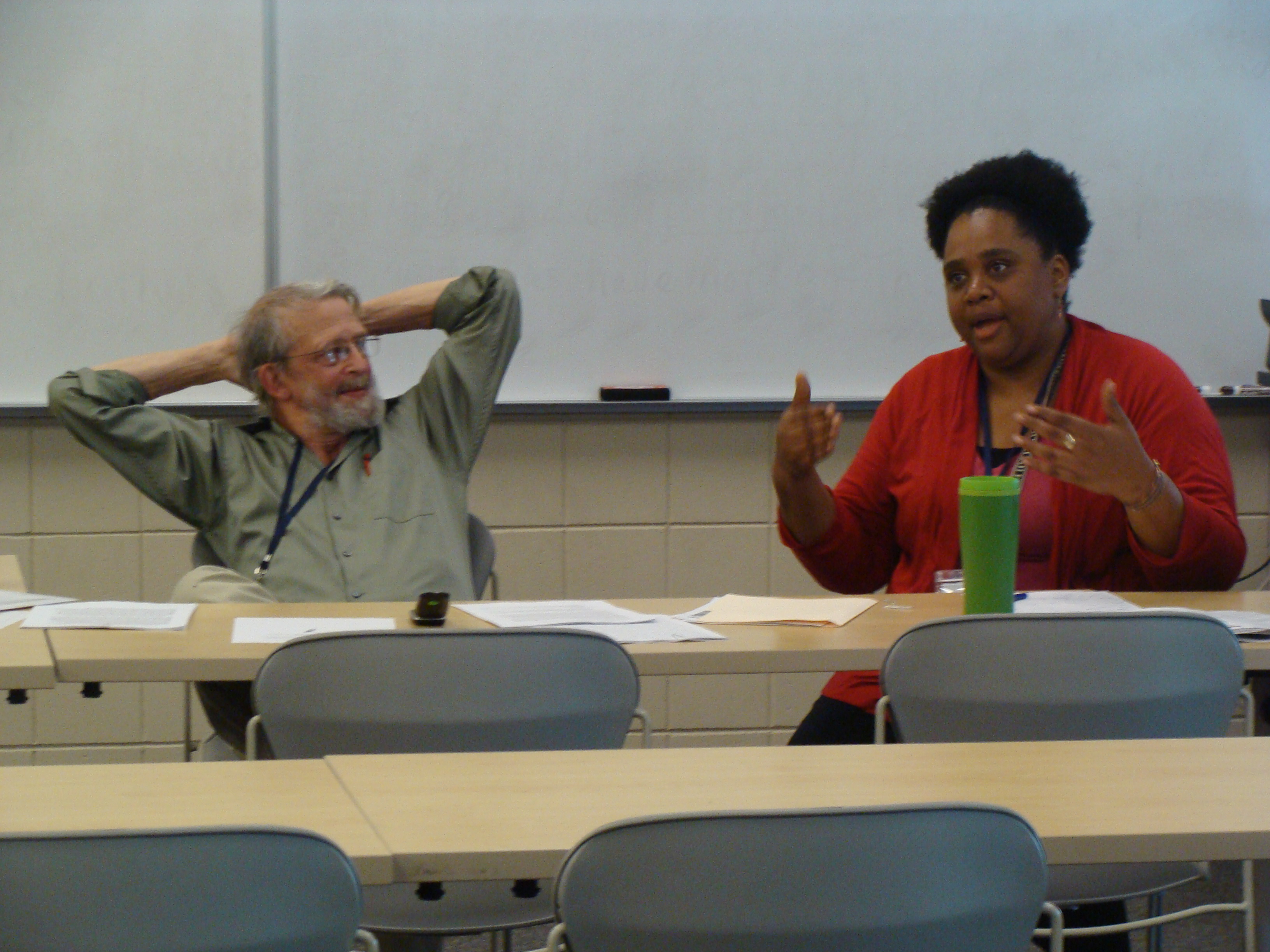 Donald Ross of the University of
Minnesota and Taiyon Coleman of St. Catherine University run a breakout session about literature. In a later year, they jointly provided a MnWE keynote.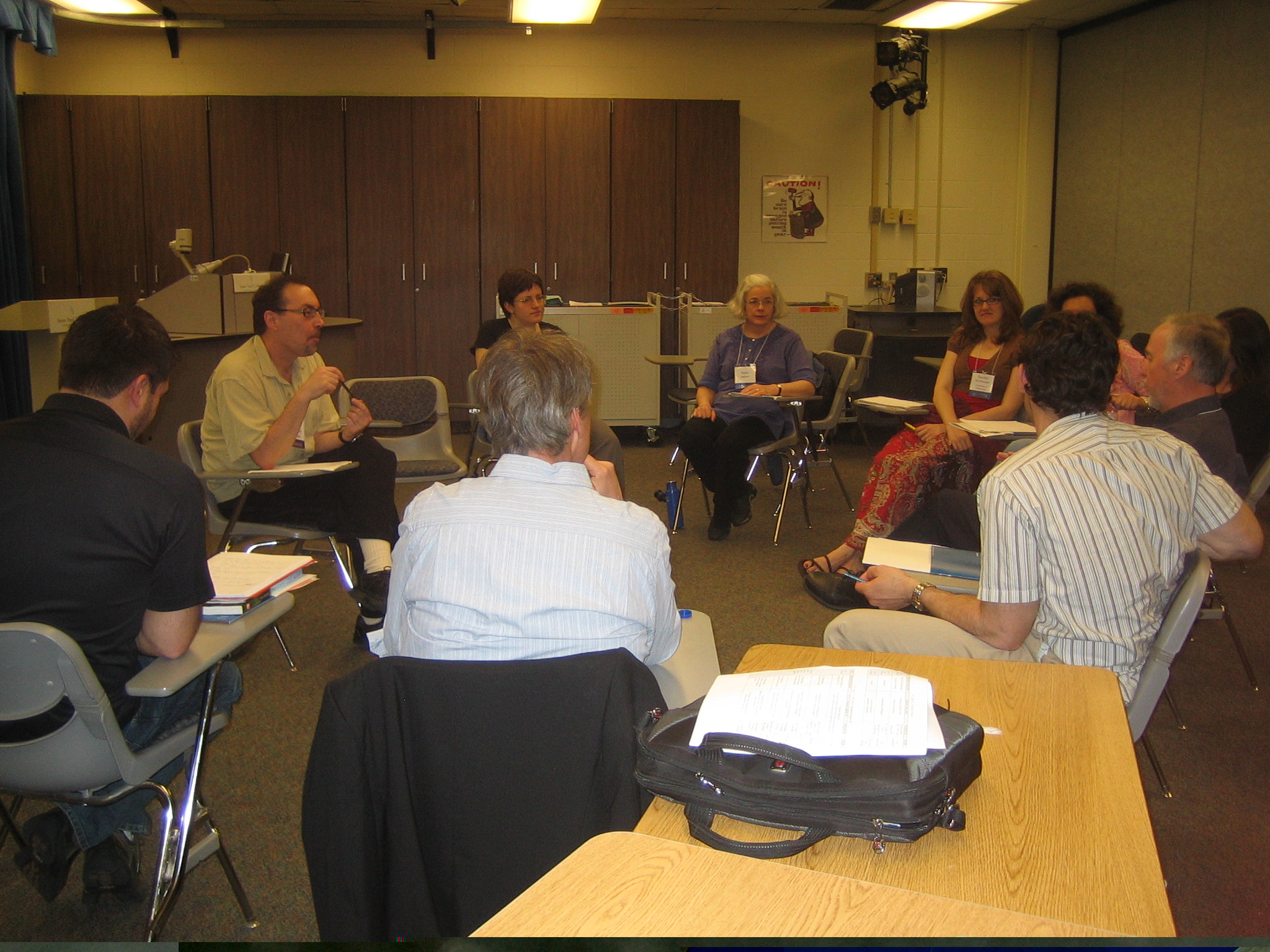 Geoffrey Sirc of the University of Minnesota runs a small breakout after his keynote presentation. Many University of Minnesota faculty have given presentations at MnWE, as well as faculty and graduate students from many other universities, colleges, and high schools.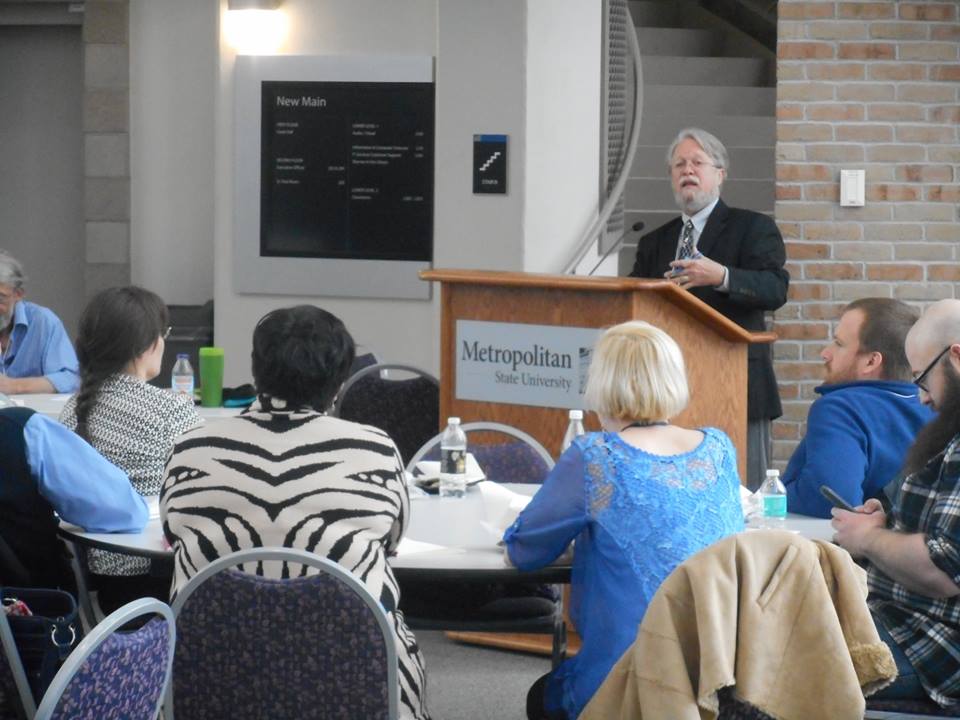 MnWE started in 2007. The cofounders were Richard Jewell, here giving a welcome after lunch, and Donald Ross, second picture above. MnWE has drawn presenters from Minnesota, the states and province around it, and at least five other states and countries.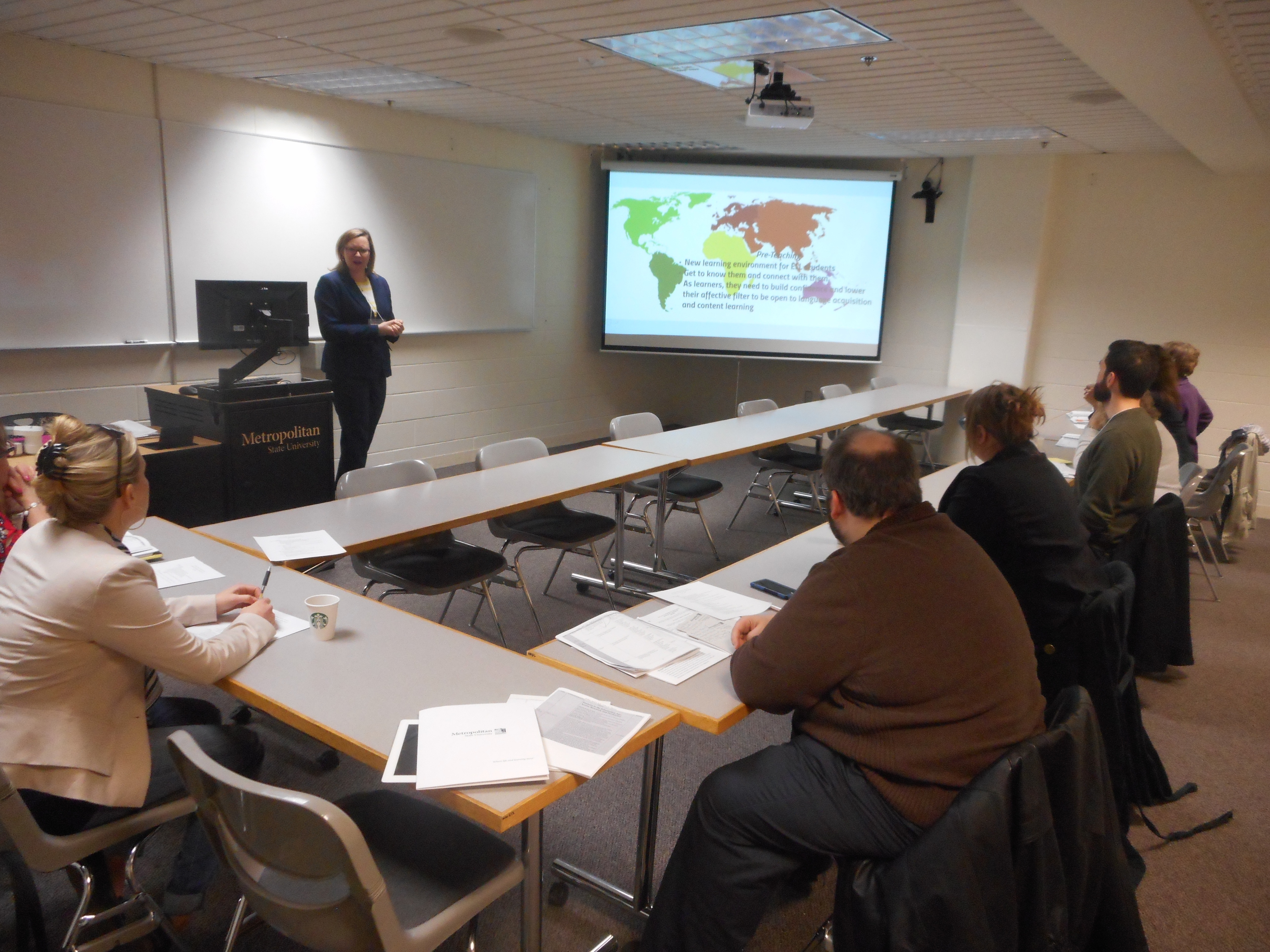 During a 2016 breakout, Beata Puschner presents on improving classroom inclusion of ELL students. MnWE attracts a variety of people in other departments and positions, too, from ESL and Reading to Library Science and college-in-the-high-schools faculty.