"MnWE News" Late Summer Issue
July-Aug. 2020

2021 Conference Fri.-Sat., March 26-27
Fully Online
In this issue:
1. CURRENT TEACHING PREDICTIONS
2. HOW CAN YOU BEST TEACH ANTI-RACISM?
3. NEW ANTI-RACIST BOOKS (Thirty-five Free Online)
4. YELLOW MEDICINE REVIEW AND STRIVE PUBLISHING
5. FREE E-NEWSLETTERS (in each issue)
6. ABOUT MNWE (in each issue)
If you are new to our listserv, welcome! We never share your address, and you may always unsubscribe at the bottom of any email.

If you are a long-term member of this listserv, thank you for your continued participation. Our listserv emails go to about three thousand English, Writing, and related Upper Midwest faculty.

If you are the head of a program or department, please consider forwarding this email to your graduate and undergraduate students. If you did not receive this email directly and would like to join, send a request to the editor at richard at jewell dot net. We suggest you send a permanent email address. Also email us for information on joining our meetings five Fridays/year, currently by Zoom.
---
1. CURRENT FALL PREDICTIONS

This fall, current predictions assume that many colleges and universities will offer online and in-person mixes. Nationally, some universities are reporting that more students from their own state will attend than in the past, presumably so they can be closer to home.

In Minnesota, enrollment is slower than usual. Some private colleges and public and private universities report going deeper into their new-student wait lists, bringing their enrollments up to last fall's level. Minnesota's community colleges may suffer as a result. Most of them already experienced enrollment drops the past several years.

However, all such predictions await what happens as the "first wave" continues and a second wave may develop in fall. The University of Minnesota, for example, is hedging its bet by offering options for taking courses either online or in person; after Thanksgiving, all U of MN students will stay home to finish online. Many four-plus year schools may offer in-person courses because their foreign students may lose their visas if they only attend online.

MinnState (Minnesota's public two-year colleges and state universities) is working especially to help disadvantaged students in the fall. Such students–or their families–may have lost jobs, access to technology, and quiet study space. Surveys also show they and first-generation students have a greater preference for in-person learning and help. MinnState is offering its faculty multiple free training webinars to improve their online teaching, including humanizing it to be more inviting and interactive.
---
Online-Teaching Resources from earlier "MnWE News": www.mnweconference.com/resources.html.
---

The short answer, no matter your color, is "carefully." Here are ten ways.
In the July 2 weekly newsletter "Teaching" from the Chronicle of Higher Education, editor Beth McMurtrie offers strategies from a number of experienced faculty in "Interrogating Your Discipline and Other Ways Into Anti-Racist Teaching." She and others are now using the word "anti-racist" because it embodies more than just not being a racist. Her strategies encourage you to

1. "Build...an infrastructure on campus" to prepare for teaching anti-racism, share information and methods, and offer support. Preparing is important; otherwise you may do more harm than good to yourself and/or students.

2. Rather than changing subjects, try integrating lessons into what you already do, "teaching students to interrogate their disciplines critically,...[e]xploring how [racism] is embedded in the curriculum."

3. Don't expect faculty of color to necessarily lead or help, unless they choose to, as many are dealing with the ongoing grief, anger, and confusion of their own families and communities. In addition, "[s]tudents are more likely to challenge their authority, or see [their] discussions of race...as an attempt at political indoctrination." But do ask.

4. "[B]e sensitive to people's backgrounds"–whatever students' color and culture. University of Oklahoma professor Jenel Cavazos says in McMurtrie's report, "Research...shows that pushing [students] too far too fast will actually cause them to double down on their beliefs, so I'm looking to 'plant a seed.'"

MnWE people with whom I've talked also recommend that you

5. Give students options in what they must read or write, with some materials not dealing directly with racism. Then students may explore issues positively at a speed, and with a focus, of interest to them. Especially your first few times of teaching anti-racism, using options can help you measure the capacities of your students for such issues.

6. Look for–and emphasize–positive responses over negative. Empower every individual to respect deep feelings but also to learn how to search, as should people in any academic community, for deeper and broader understanding.

7. Don't expect anyone to "represent" his or her own culture. Doing so is impossible and makes most people uncomfortable. All cultures are varied, rich, and complex. In addition, as student explore solutions, ask them to consider what they can do, not what others must do: the first is practical, the second just polemical.

8. Don't let class discussions devolve into knee-jerk arguments. Rather, ask students to structure clear, positive reports in steps, individually or in small groups. Here are two examples: (a) logical summary of a reading, (b) how other general readers, pro and con, might react to it, and (c) your own or your group's thoughts and feelings; or the time-tested (a) what works in a reading, (b) what doesn't, and (c) what would you change. Questions for a presenter from the class may, if relevant, come after.
9. Is someone upset? Ask if he or she would like to talk afterward in a safe setting. Ask her questions. Listen. Repeat her thoughts so she knows you have heard her. Don't debate. Listening may be enough. But if she's interested, suggest how she might add her thought to the class academic community. Follow up with her privately. Consider a list of assignment options to motivate a resistant or angry student to learn the skills the course teaches.

10. Consider an indirect approach such as readings on differing cultural, societal, or historical experiences. The more students see the humanity and intelligence in the poor and in other cultures, the more you then can ask students how to improve their own and society's understanding of such people.
---
McMurtrie's July 2 Chronicle article: www.chronicle.com/article/Interrogating-Your-Discipline/249103
---

3. NEW ANTI-RACIST BOOKS (Including thirty-five free online Aug. 23 or 31)

Minnesota has a wealth of anti-racist books. Newer national books also are available.

Thirty-five anti-racist books are temporarily available free online from Minnesota groups. One is A Good Time for the Truth, free online (see below) until Aug. 23 as the current "One Book One Minnesota" book club choice. A 2016 anthology edited by Sun Yung Shin, it offers essays about Minnesota racial disparities by sixteen well known Minnesotans of color, including four who have been keynoters at the annual MnWE Conference: Taiyon Coleman, Heid Erdrich, Shannon Gibney, and Kao Kalia Yang.

Another book free until Aug. 31 is Tell Me Your Names and I Will Testify by Black Minnesotan Carolyn Holbrook. The U of MN Press published it in April and is releasing it free online through August. Holbrook tells her juvie-prison to author-and-teacher success story, "the horrific and the holy, the wild and the charmed."

The U of MN Press also has released, free online until Aug. 31, thirty-three more books on anti-racism (see below). Authors include well-known Minnesota writers and activists such as Gibney, Yang, Josie Johnson, and others.

Nationally, the relatively new and notable How To Be an Antiracist is making waves. Author Ibram X. Kendi (right) is a previous National Book Award winner and a past columnist for The Atlantic. His very readable, anecdote-filled essays are appropriate for both faculty and students: calm, positive, firm, and challenging. As of July 12, How has been on the New York Times top fifteen nonfiction booklist for 17 weeks.

On the same list is Between the World and Me by Ta-Nehisi Coates (91 wks.), a "meditation on race...as well as a personal story, framed as a letter to the author's teenage son." Michelle Obama's Becoming (81 wks.) has become both a book and movie sensation. Layla F. Saad's Me and White Supremacy (6 wks.) offers "[w]ays to understand and possibly counteract white privilege."

MLA also is recommending the "Anti-Racist Resources" website at Humanities Commons below.
---
A Good Time for the Truth (free to 8/23): https://library.biblioboard.com/module/one-book-one-minnesota/

Tell Me Your Names and 33 other U of MN Press books (free to 8/31): https://manifold.umn.edu/projects/project-collection/racial-justice

Humanities Commons: https://antiracistresources.hcommons.org/?utm_campaign=
advocacyalertjune20&utm_medium=email&utm_source=mlaoutreach
---

4. YELLOW MEDICINE REVIEW AND STRIVE PUBLISHING

Two Minnesota publishing ventures by/about people of color are worth viewing. One primarily is oriented toward Native Americans, the other, Blacks.

First is Yellow Medicine Review. It is housed at Southwest Minnesota State University (Marshall). Yellow Medicine is one of a very few Indian-focused U.S. literary journals. The Spring 2020 "The Racism Issue" is guest edited by Zibiquah, a.k.a. Ruth Denny, and by Editor Judy Wilson.

Assistant Editor Mary Ellen Daniloff-Merrill notes the theme was chosen before George Floyd was killed. The essays, poems, and short fiction are by or about Indians, Blacks, Latino/as, whites, Asians, and people of mixed descent; they offer a wide, literate range of emotion and experience. A journalistic essay near the end by guest editor Denny, "Save a Walleye, Spear an Indian," is particularly detailed and chilling.

Strive Publishing was founded several years ago in Minnesota by Mary Taris. It began by publishing books for children of color but more recently has expanded into young adult and adult books, as well. Taris says, ""Strive Publishing is a calling for me,...an opportunity for others, and...a mirror for young readers, but also a window for society...." One of its 2020 books is Celebrating the Sistas, ten "stories of African American Women and Women of Color from the community who are making a difference in the fields of education, politics, business, health, and social services."

The book is written for both older children and adults and may be a useful reader in introductory writing and reading courses. The project developed in part from grants by the Minnesota State Arts Board and the Metropolitan Regional Arts Council.
---
www.yellowmedicinereview.com/

www.strivepublishing.com/
---

5. LIST OF FREE TEACHING/LEARNING E-NEWSLETTERS (repeated in each "MnWE News")

Feeling out of touch with your colleagues? Connect with them by subscribing to these free email newsletters. You may start or stop a subscription at any time.

"NEA HigherEd," National Education Association, monthly: Digest of
higher-ed political news

Subscribe Other NEA Inside Higher Ed e-letters

"The Source: Updates," MLA Style Center, weekly: Very
short news items on pedagogy and readings

Subscribe (scroll to bottom). Sample e-letter

Other free MLA Style Center e-letters
"Teaching," Chronicle of Higher Education, weekly: Very
short news items on general teaching methods

Subscribe Sample e-letter

Other free Chronicle e-letters

"Tomorrow's Professor," Stanford University, twice-weekly:
A reprint each issue of a scholarly pedagogy article

Subscribe Sample e-letter and online version

"The Campus View," Minnesota Private Colleges (17
colleges), monthly: news and updates for all

Subscribe Past issues
---

7. ABOUT MNWE: Old Issues, Joining, Who We Are, Grad Credit, Unsubscribing (repeated in each "MnWE News")

For Online-Teaching Resources: See the May-June 2020 issue of "MnWE News."

View Our Newsletters: For new and old issues, click here: "MnWE News."

Forwarding/Joining: Please forward this email to others, especially if you are a MnWE representative listed below. Your newer full-time and adjunct faculty members, graduate students, and writing center tutors may not receive it.

If you are not on the listserv and would like to join it, simply send your request and email address to richard at jewell dot net. We always enjoy receiving new list members.

Who We Are: "MnWE" is "Minnesota Writing and English," an all-volunteer organization started in 2007. MnWE has a coordinating committee, a listserv, and an annual, two-day spring conference attended by 100-200 faculty. Our coordinating committee, which meets about six times per year, is composed entirely of unpaid college and university volunteers.

All activities are by and for college, university, and college-in-the-high-schools English and writing faculty, graduate and undergraduate students, and related academic and literary scholars, writers, tutors, and others in the Upper Midwest. Our purpose is to bring together these communities in Minnesota and in nearby states and provinces.

Our website is MnWE.org; our geographical center is Minneapolis-St. Paul. About 3000 faculty, tutors, graduate students, and related administrators are on our listserv. They receive this newsletter six times per year. Our listserv members come from state universities, public and private two-year colleges, private colleges and universities, high schools, and the Universities of Minnesota, Wisconsin, North Dakota, South Dakota, Iowa, Illinois, and other schools and locations beyond the Upper Midwest.

At our annual conferences, our keynoters speak on pedagogical concerns and are scholars and writers of national excellence from both local and national locations. Some of our presenters come from states or countries far beyond our own geographical area. The majority of our attendees and presenters are from universities and private colleges; a strong minority are from two-year colleges, high schools, and other groups.

Graduate Credit: Anyone may earn one graduate credit from Southwest Minnesota State University for attending one MnWE Conference day and writing a related research paper (up to three times). For questions about this course–"Eng 656: MnWE Practicum"–please contact lisa dot lucas at smsu dot edu or see www.smsu.edu/academics/programs/english/?id=11637 .

Unsubscribing: If you want to unsubscribe from this listserv (and no longer receive the "MnWE News," MnWE Conference announcements, and other forwarded announcements), please do so yourself, following directions at the very bottom of this email. If you try unsubscribing on your own without success, then send an email to richard at jewell dot net indicating (1) your unsubscribing action didn't work, (2) your specific email address copied from the directions at the bottom of a MnWE mailing, and (3) your request for removal.

Formatting, Invitation, & Credits: Each of these listserv emails usually is formatted in a relatively simple way using html. If you cannot read it, please click on the link at the top right of this email to see the newsletter on the Web.

If you have any questions, we invite you to email the editor or any coordinator on the MnWE Committee listed below. You also are always invited to attend any of our six MnWE Committee meetings per year: to join the listserv or visit a meeting, email richard at jewell dot net and ask for the date and location of the next meetings. In addition, you are invited to offer suggestions—or volunteer your leadership—for a regular, special, or double section at the annual conference.

This newsletter is written primarily by "MnWE News" editor Richard Jewell without copyright so that anyone may quote, paraphrase, or forward any or all parts freely, unless otherwise noted. We ask only that you give credit to the "MnWE Newsletter" and/or "www.MnWE.org"; and when you use material that has been quoted or paraphrased in this newsletter from another source, please be sure to give proper credit to that original source.
---
---
Richard Jewell, General Coordinator
Larry Sklaney, Conference Coordinator
Danielle Hinrichs, Program Coordinator
Gordon Pueschner, Site Floor Coordinator
Jana Rieck, Communications Coordinator
Vanessa Ramos, NHCC, 2019 Site Coordinator
Kirsti Cole, Minn. State-Mankato, 2020 Site Coordinator
richard at jewell dot net - (612) 870-7024
larry dot sklaney at century dot edu - (651) 747-4006
danielle dot hinrichs at metrostate dot edu - (651) 999-5960
gordon dot pueschner at century dot edu - (651) 686-4468
janaL dot rieck at yahoo dot com
kirsti dot cole at mnsu dot edu

MnWE.org
Minnesota Writing & English
A Consortium of Colleges & Universities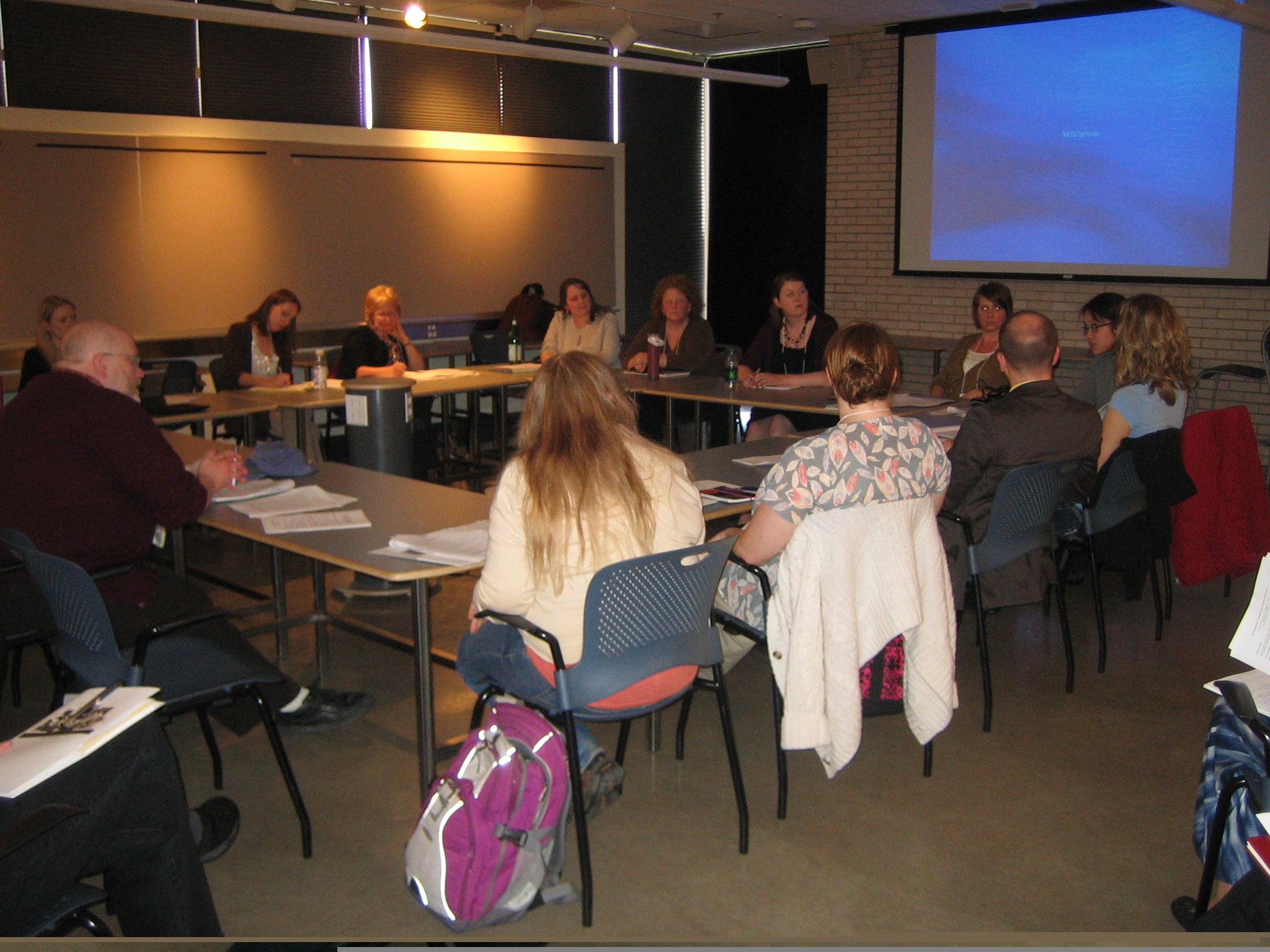 Mission:
Transforming writing and English into teaching and learning experiences using methodologies that serve students best
Vision:
Bringing scholarly ideas and practical pedagogy together
to create our futures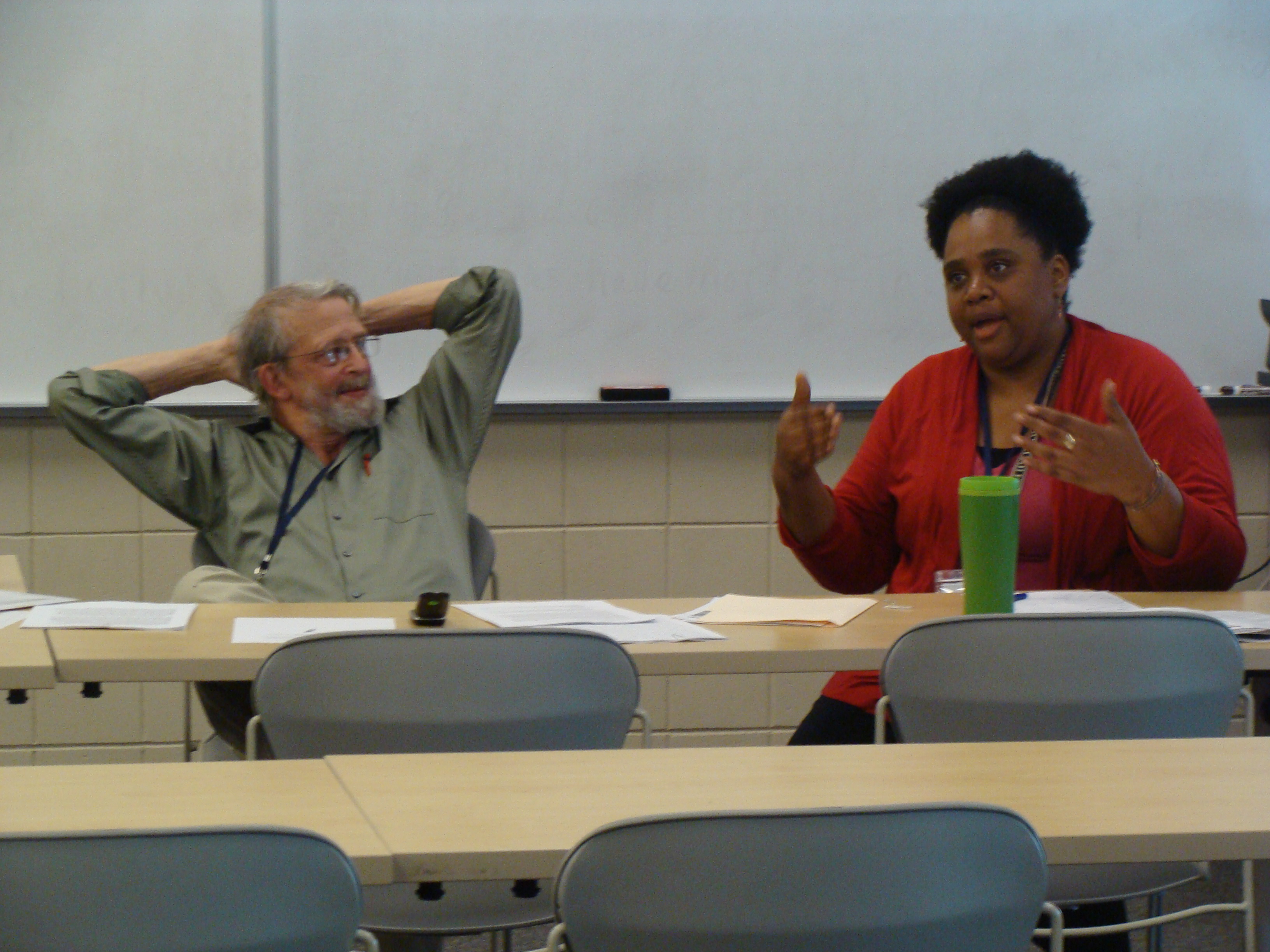 Donald Ross of the University of
Minnesota and Taiyon Coleman of St. Catherine University run a breakout session about literature. In a later year, they jointly provided a MnWE keynote.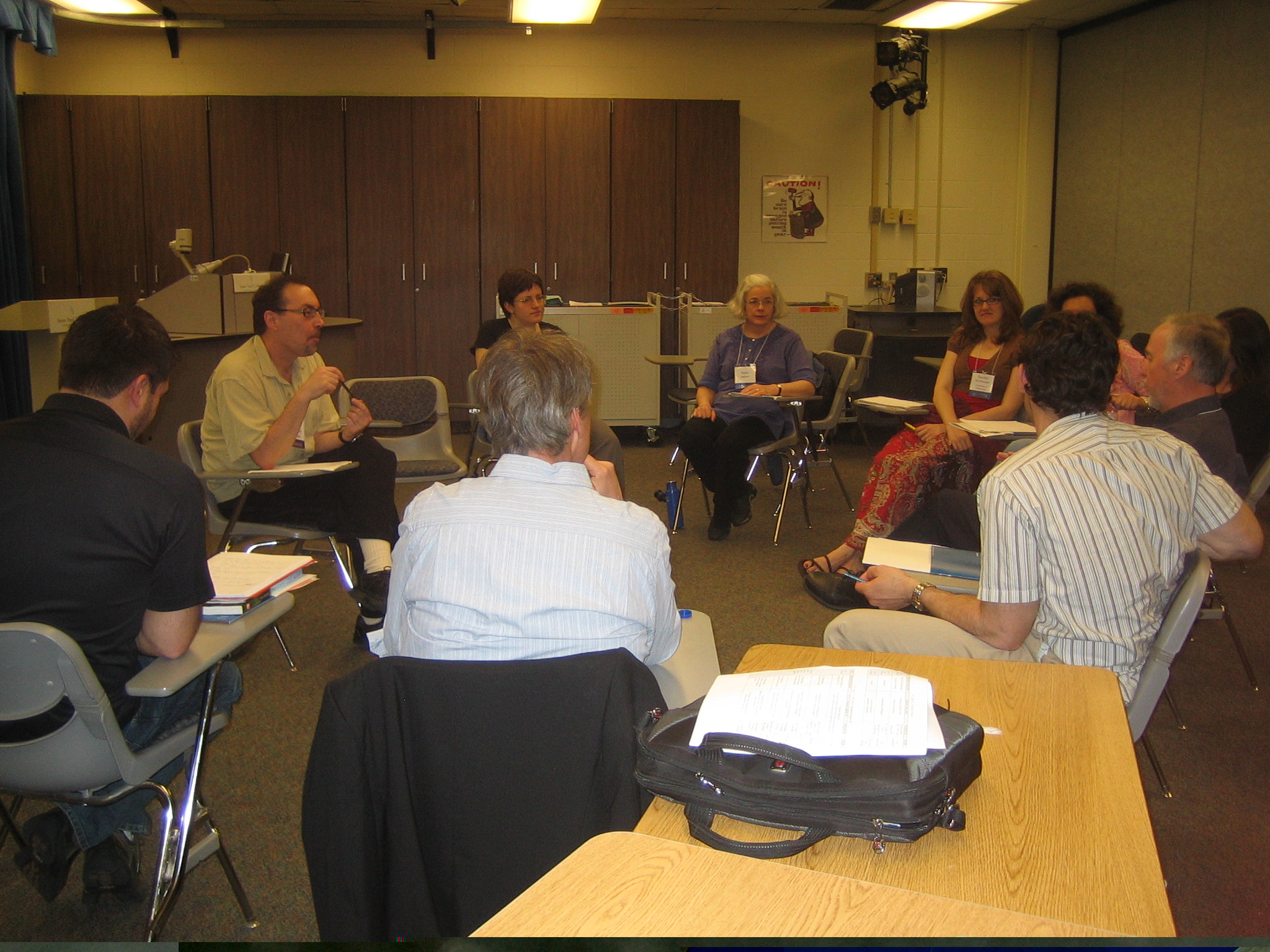 Geoffrey Sirc of the University of Minnesota runs a small breakout after his keynote presentation. Many University of Minnesota faculty have given presentations at MnWE, as well as faculty and graduate students from many other universities, colleges, and high schools.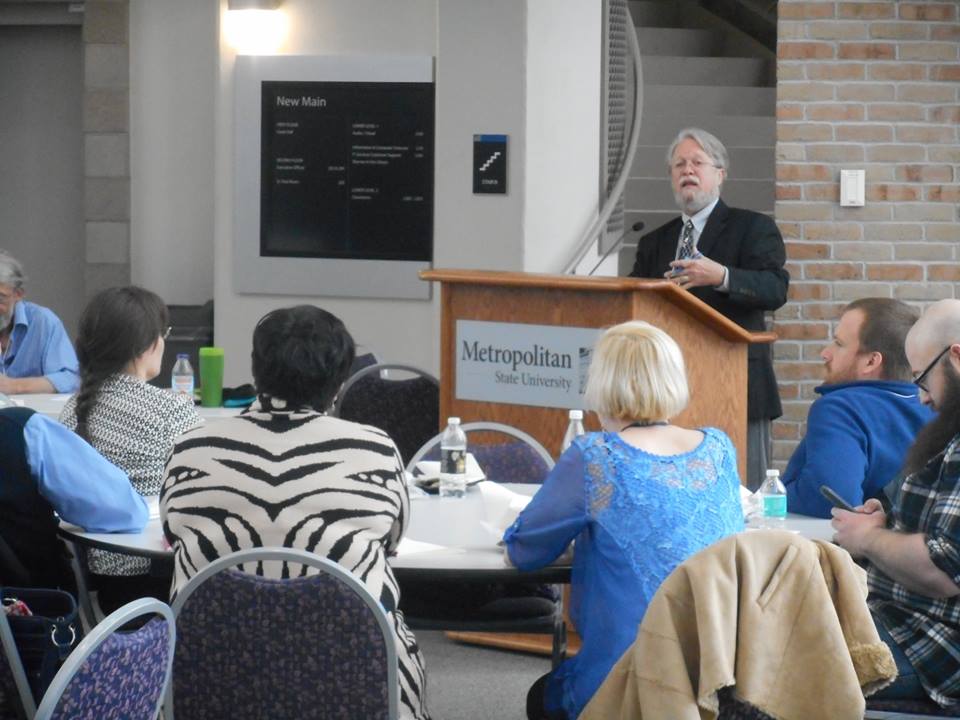 MnWE started in 2007. The cofounders were Richard Jewell, here giving a welcome after lunch, and Donald Ross, second picture above. MnWE has drawn presenters from Minnesota, the states and province around it, and at least five other states and countries.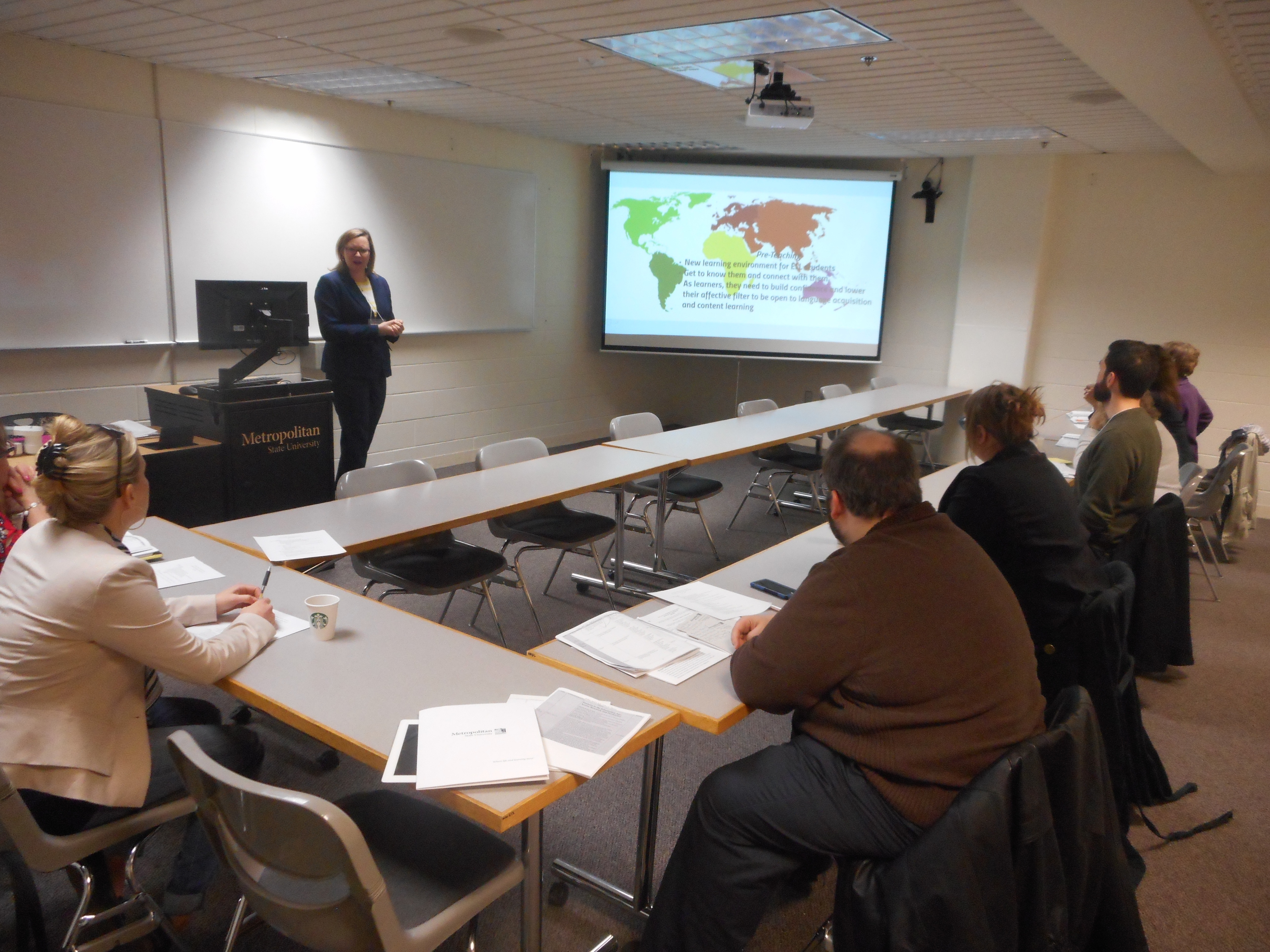 During a 2016 breakout, Beata Puschner presents on improving classroom inclusion of ELL students. MnWE attracts a variety of people in other departments and positions, too, from ESL and Reading to Library Science and college-in-the-high-schools faculty.