"MnWE News" Late Spring/Early Summer Issue
May-June 2020

2021 Conference Fri.-Sat., March 26-27
Minnesota Humanities Center
St. Paul, Minnesota
In this issue:
1. ONLINE IN FALL? MAIN MN COLL./UNIV. RESOURCES
2. ONLINE TEACHING STYLES?
3. BEST ONLINE DELIVERY METHOD?
4. MORE RESOURCES
5. FREE ONLINE OPEN-RESOURCE TEXTS
6. LIST OF FREE TEACHING/LEARNING E-
NEWSLETTERS (in each issue)
7. ABOUT MNWE (in each issue)
If you are new to our listserv, welcome! We never share your address, and you may always unsubscribe at the bottom of any email.

If you are a long-term member of this listserv, thank you for your continued participation. Our listserv emails go to about 3000 English, Writing, and related Upper Midwest faculty.

If you are the head of a program or department, please consider forwarding this email to your graduate and undergraduate students. If you did not receive this email directly and would like to join, send a request to the editor at richard at jewell dot net. We suggest you send a permanent email address. Also email us for information on joining our meetings five Fridays/year at UMN and by Skype or Zoom.
---
1. ONLINE IN SUMMER & FALL? MAIN MINNESOTA COLLEGE AND UNIVERSITY RESOURCES

This "MnWE News" is filled with information about online teaching. The prospect of summer online-only classes looks highly likely. The pandemic in Minnesota is predicted to peak mid-summer, and the hospitalization curve still will need flattening to preserve hospital services for all who need them.

Will fall college be fully online? Even if some face-to-face classes resume, high-risk students and faculty may still need to shelter. At the least, schools likely will offer more online courses and online tutoring than usual.

Will colleges have lower enrollments? It's possible. On the one hand, sheltering in place seems to have lowered interest in courses. On the other, when the economy is slow, many people return to school and enrollments can increase, especially if loans and grants help tide them over while they can't work. What are current projections? As of April 21-22, the Star Tribune reports that both University of Minnesota and MinnState systems are planning for fall enrollment drops:

UMN, 10% drop: StarTribune.com—UMN to Freeze Tuition Next Academic Year
MinnState, 5-20%: StarTribune.com—MinnState Could Take Hit
All Minnesota Higher Ed: StarTribune.com—Minnesota Colleges Uncertain Fall Semester
National (w/Macalester mentioned): At www.washingtonpost.com search for "College Students Want Answers"

Enrollment numbers directly affect adjuncts in particular. If enrollments are down, many contingent faculty will need to find work elsewhere or work harder at being "freeway flyers"—those who work at more than one school at once. If you are part time at a school, you may want to contact your immediate supervisor and ask for an honest assessment of your fall hiring situation.

As the new normal develops for summer and fall, some of you may be looking for new online resources and others of you refining what you now have. Here are some of the main resources that Minnesota college and university teachers are using. See additional helpful links further below in news items "4" and "5."
---
MinnState–Minnesota State Colleges and Universities (54 campuses):
- https://asanewsletter.org/academic-continuity/ (Most are open and w/Creative Commons licensing)
- MnState Keep Teaching site (MinnState only)
- See more MinnState sites in "4" below.
University of Minnesota (5 campuses):
- "Online Instruction" and "Support for Remote Teaching" (UMN CEI. Multiple resources, many open to all)
- UMN Keep Teaching site (some resources open to all)
- Academic Technology Support Services and 5-campus Unit Technologists & Instructional Designers (UMN only)
- Disability Resource Center (some resources open to all)
Minnesota Private Colleges (17 colleges):
- "Campuses' COVID-19 Responses" (some with online teaching resources)
---

2. WHAT MAKES A GOOD ONLINE TEACHING STYLE?

When I was a young college teacher, I thought I would dislike any kind of distance teaching: it seemed too cold. However, my college offered an ITV (closed-circuit interactive television) training session, so I took it. The trainer–streaming live to several colleges on ITV–surprised me immediately. He said something like, "Are you a teacher who likes to be active in your classroom, talk in a lively way with students, interact with them, maybe even make jokes? If so, you may think ITV is not for you. However, you are exactly the kind of teacher best suited for it!"

He showed examples and convinced me that not just ITV but any kind of online format was appropriate for heightened energy and positive activity with students. I decided to try teaching partly online. And because I used his advice, I was able to develop an online personality that led to students even saying, on occasion, that they felt closer to me as a teacher than to some faculty in face-to-face classrooms.

This active style of teaching may be even more needed as many students who far prefer face-to-face learning must now use online courses. Many of these students come from traditionally underrepresented groups: e.g., first-generation or low-income students, those with poor academic support at home, or especially students with no space/privacy to accommodate online learning.

How can you let your inner social person blossom and thrive online, whether visually, orally, or in writing? How can you learn to best hold an online office hour? How can you learn to navigate a new type of classroom for some of your courses–to become a young, less experienced teacher, again, who is experimenting, allowing yourself mistakes, and learning to apologize at times, calmly and confidently? Each of us develops our own answers to these questions.
---

3. WHAT IS THE BEST ONLINE DELIVERY METHOD?

What should you use? The short answer is, it depends.

Be cautious about what others describe as wonderful. You may remember a decade ago when MOOCs–massive open online courses–were so highly praised. They died out in many places when, according to NPR's Anya Kamenetz, "studies showed that most [who] took...MOOCs already had degrees and that only a small fraction [of students] sustained interest past the first lecture" ("Five Myths–Home Schooling," Washington Post Weekly).

In other words, you may want to feel your way forward carefully. Some of you may be at schools that require the use of specific online technologies. However, many of you are allowed some choice. What will you find most effective? Many teaching styles exist in face-to-face teaching, and the same is true online. If asynchronous methods with bulletin boards and email work best for you, great! If your school offers a live meeting app like Zoom or Skype and you like it, go for it. Old-fashioned phoning is another one-on-one option. What methods really place you in your own best comfort zone? What will work best with your own students? And how much experimenting can you personally handle?

A final idea is to consider how some students are helped by visual cues. Seeing your picture and reading about you at the very start of an online course may help more students feel connected to you faster and better. A simple link to your professional web page–or your pic and a paragraph about you in your syllabus–can accomplish this.
---
Using a group-video teaching, tutoring, or office-hours app? Most schools provide it. However, here is where you can learn to start your own:
- Instructions for Zoom, Facebook Messenger, or Skype:
www.startribune.com/alexander-how-to-make-video-calls-on-a-pc-or-a-mac/569555182/
- Above plus Google Duo & Facetime (iPhone/Mac): http://tinyurl.com/wmz82sg
- Google Hangout: www.cnet.com/news/google-hangouts-vs-zoom-which-video-chat-app-is-better-during-quarantine
- Seven more apps for Windows: http://tinyrul.com/qs9p3hz
- WhatsApp for Android cell phones: https://en.wikipedia.org/wiki/WhatsApp
---

4. MORE RESOURCES FOR MOVING TO ONLINE TEACHING

- MLA–Modern Language Association: "Bringing Your Course Online"–MLA Resources (College)

- NCTE–National Council of Teachers of English: "Online Learning" (K-16)

- OLC–Online Learning Consortium: "Resources for Educators and Administrators Moving Online" (College & K-12)

- National List of Colleges: "Alphabetized growing list of remote-teaching plans, recommendations"

- NED–Network for Educational Development: NED Resource Site (College)

- MinnState: "What-Works-Well-In-Online-Teaching" (pdf)

- MinnState: Student Resources

- Academic writers' bonus link from "Tomorrow's Professor" newsletter, a 567-word essay of encouragement: "Writing in the Time of COVID-19" by Dr. Helen Sword, Humanities, University of Auckland, Australia
---

5. FREE ONLINE OPEN-TEXTBOOK SOURCE LISTS

If you're interested in using free online textbooks or literary works, here are some sites for starting–or changing to better texts. In some of these resources, you also can use the "search" function to find texts for ESL, Reading, Business Writing, or subject content.

OER Commons (Open Educational Resources), Literature Textbooks: www.oercommons.org/search?f.search=literature

OER Commons, Composition Textbooks: www.oercommons.org/search?f.search=composition

Project Gutenberg, 1000+ Free Works of Literature: www.gutenberg.org/ebooks/search/?query=Literature

Project Gutenberg, Composition Textbooks: http://www.gutenberg.org/ebooks/subject/2977

MERLOT, Composition Textbooks: www.merlot.org/merlot/materials.htm?keywords=composition&sort.
property=relevance

MERLOT, Teaching Literature (Use top "Search" box to narrow): www.merlot.org/merlot/materials.htm?keywords=Teaching+Literature
&sort.property=relevance

UMN Open Textbook Resource List: https://open.umn.edu/opentextbooks/subjects/literature-rhetoric-and-poetry

MinnState Opendora by PALS, Teaching Composition: https://opendora.minnstate.edu/islandora/search?type
=dismax&islandora_solr_search_navigation=0&f[0]=mods
_subject_authority_mnstate_genre_ms%3A%22English%5C
%20Language%5C%20Arts%22

Oklahoma City Univ., List of Composition Textbooks: www.gutenberg.org/ebooks/subject/2977
---

6. LIST OF FREE TEACHING/LEARNING E-NEWSLETTERS (repeated in each "MnWE News")

Feeling out of touch with your colleagues? Connect with them by subscribing to these free email newsletters. You may start or stop a subscription at any time.

"NEA HigherEd," National Education Association, monthly: Digest of higher-ed political news
Subscribe Other NEA Inside Higher Ed e-letters

"The Source: Updates," MLA Style Center, weekly: Very short news items on pedagogy and readings
Subscribe (scroll to bottom). Sample e-letter
Other free MLA Style Center e-letters
"Teaching," Chronicle of Higher Education, weekly: Very short news items on general teaching methods
Subscribe Sample e-letter
Other free Chronicle e-letters

"Tomorrow's Professor," Stanford University, twice-weekly: A reprint each issue of a scholarly pedagogy article
Subscribe Sample e-letter and online version

"The Campus View," Minnesota Private Colleges (17 colleges), monthly: news and updates for all
Subscribe Past issues
---

7. ABOUT MNWE: Old Issues, Joining, Who We Are, Grad Credit, Unsubscribing (repeated in each "MnWE News")

For Online-Teaching Resources: See the May-June 2020 issue of "MnWE News."

View Our Newsletters: For new and old issues, click here: "MnWE News."

Forwarding/Joining: Please forward this email to others, especially if you are a MnWE representative listed below. Your newer full-time and adjunct faculty members, graduate students, and writing center tutors may not receive it.

If you are not on the listserv and would like to join it, simply send your request and email address to richard at jewell dot net. We always enjoy receiving new list members.

Who We Are: "MnWE" is "Minnesota Writing and English," an all-volunteer organization started in 2007. MnWE has a coordinating committee, a listserv, and an annual spring conference. All activities are by and for college, university, and college-in-the-high-schools English and writing faculty, graduate and undergraduate students, and related academic and literary scholars, writers, tutors, and others in the Upper Midwest. Our purpose is to bring together these communities in Minnesota, Wisconsin, Iowa, North and South Dakota, and nearby Canada. Our keynoters speak on pedagogical concerns and are scholars and writers of national excellence from both local and national locations; some of our presenters come from states or countries far beyond our own geographical area. The majority of our attendees and presenters are from universities and private colleges; a strong minority are from two-year colleges, high schools, and other groups.

Our website is MnWE.org; our geographical center is Minneapolis-St. Paul. About 3000 faculty, tutors, and graduate students are on our listserv. Our listserv members come from state universities, public and private two-year colleges, private colleges and universities, high schools, and the Universities of Minnesota, Wisconsin, North Dakota, South Dakota, Iowa, and other public universities. Our activities are led by an active committee of unpaid college and university volunteers.

Graduate Credit: Anyone may earn one graduate credit from Southwest Minnesota State University for attending one MnWE Conference day and writing a related research paper (up to three times). For questions about this course–"Eng 656: MnWE Practicum"–please contact lisa dot lucas at smsu dot edu or see www.smsu.edu/academics/programs/english/?id=11637 .

Unsubscribing: If you want to unsubscribe from this listserv (and no longer receive the "MnWE News," MnWE Conference announcements, and other forwarded announcements), please do so yourself, following directions at the very bottom of this email. If you try unsubscribing on your own without success, then send an email to richard at jewell dot net indicating (1) your unsubscribing action didn't work, (2) your specific email address copied from the directions at the bottom of a MnWE mailing, and (3) your request for removal.

Formatting, Invitation, & Credits: These listserv emails usually are formatted in a relatively simple way using html. If you cannot read them, please go to the link at the top right, at the beginning, to see them on the Web.

If you have any questions, we invite you to email any of the coordinators on the MnWE Committee. You also are always invited to attend any of our five MnWE Committee meetings per year: to visit or join, email richard at jewell dot net and ask for the date and location of the next meetings. In addition, you are invited to offer suggestions—or volunteer your leadership—for a regular, special, or double section at the annual conference.

This newsletter is written primarily by "MnWE News" editor Richard Jewell without copyright so that anyone may quote, paraphrase, or forward any or all parts freely, unless otherwise noted. We ask only that you give credit to the "MnWE Newsletter" and/or "www.MnWE.org"; and when you use material that has been quoted or paraphrased in this newsletter from another source, please be sure to give proper credit to that original source.
---
---
Richard Jewell, General Coordinator
Larry Sklaney, Conference Coordinator
Danielle Hinrichs, Program Coordinator
Gordon Pueschner, Site Floor Coordinator
Ellen Zamarripa, Volunteer Coordinator
Jana Rieck, Communications Coordinator
Vanessa Ramos, NHCC, 2019 Site Coordinator
Kirsti Cole, Minn. State-Mankato, 2020 Site Coordinator
richard at jewell dot net - (612) 870-7024
larry dot sklaney at century dot edu - (651) 747-4006
danielle dot hinrichs at metrostate dot edu - (651) 999-5960
gordon dot pueschner at century dot edu - (651) 686-4468
ellen.zamarripa at mail dot waldenu dot edu
janaL dot rieck at yahoo dot com
kirsti dot cole at mnsu dot edu
DeMarais, casey at mnhum dot org

MnWE.org
Minnesota Writing & English
A Consortium of Colleges & Universities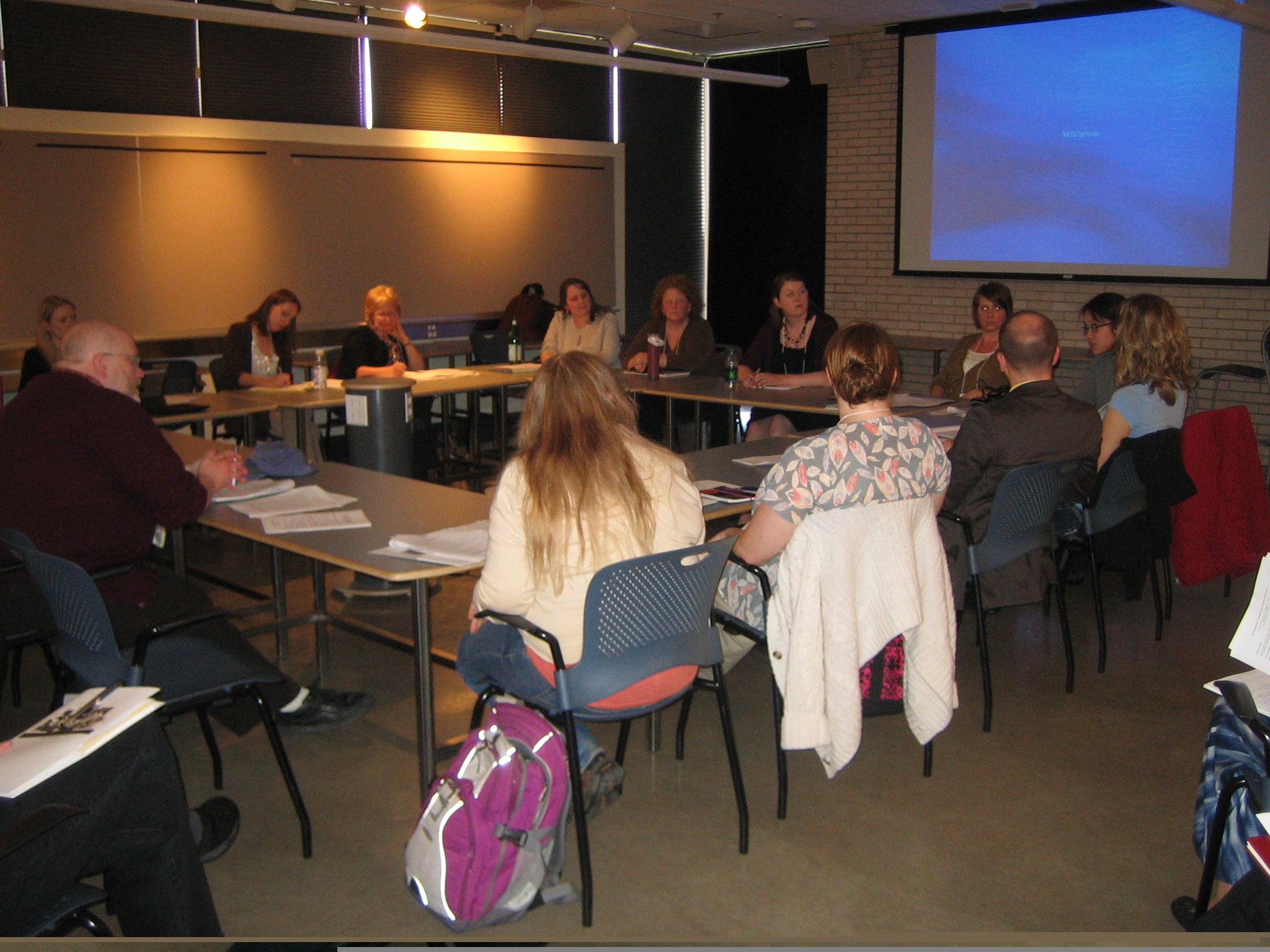 Mission:
Transforming writing and English into teaching and learning experiences using methodologies that serve students best
Vision:
Bringing scholarly ideas and practical pedagogy together
to create our futures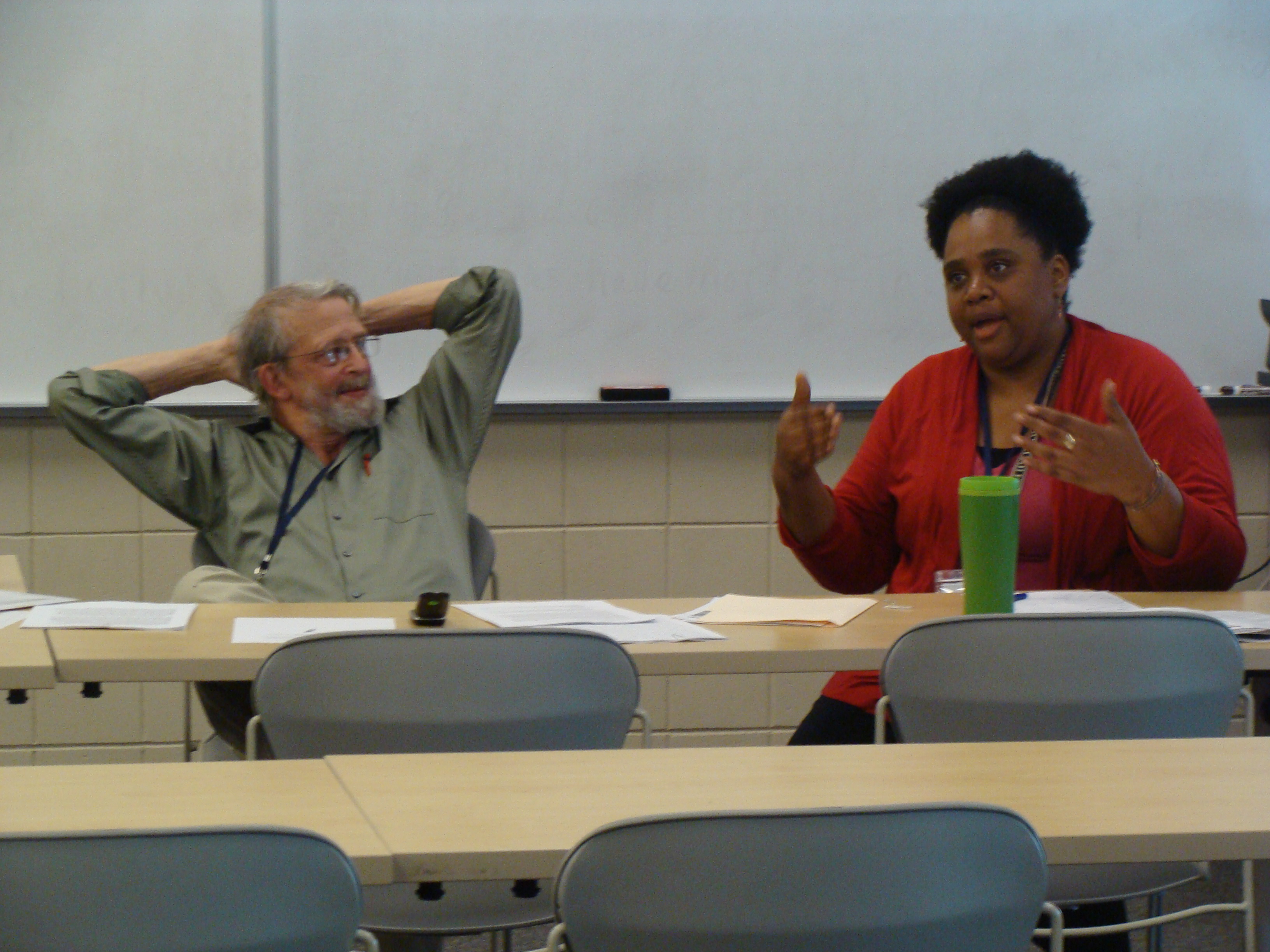 Donald Ross of the University of
Minnesota and Taiyon Coleman of St. Catherine University run a breakout session about literature. In a later year, they jointly provided a MnWE keynote.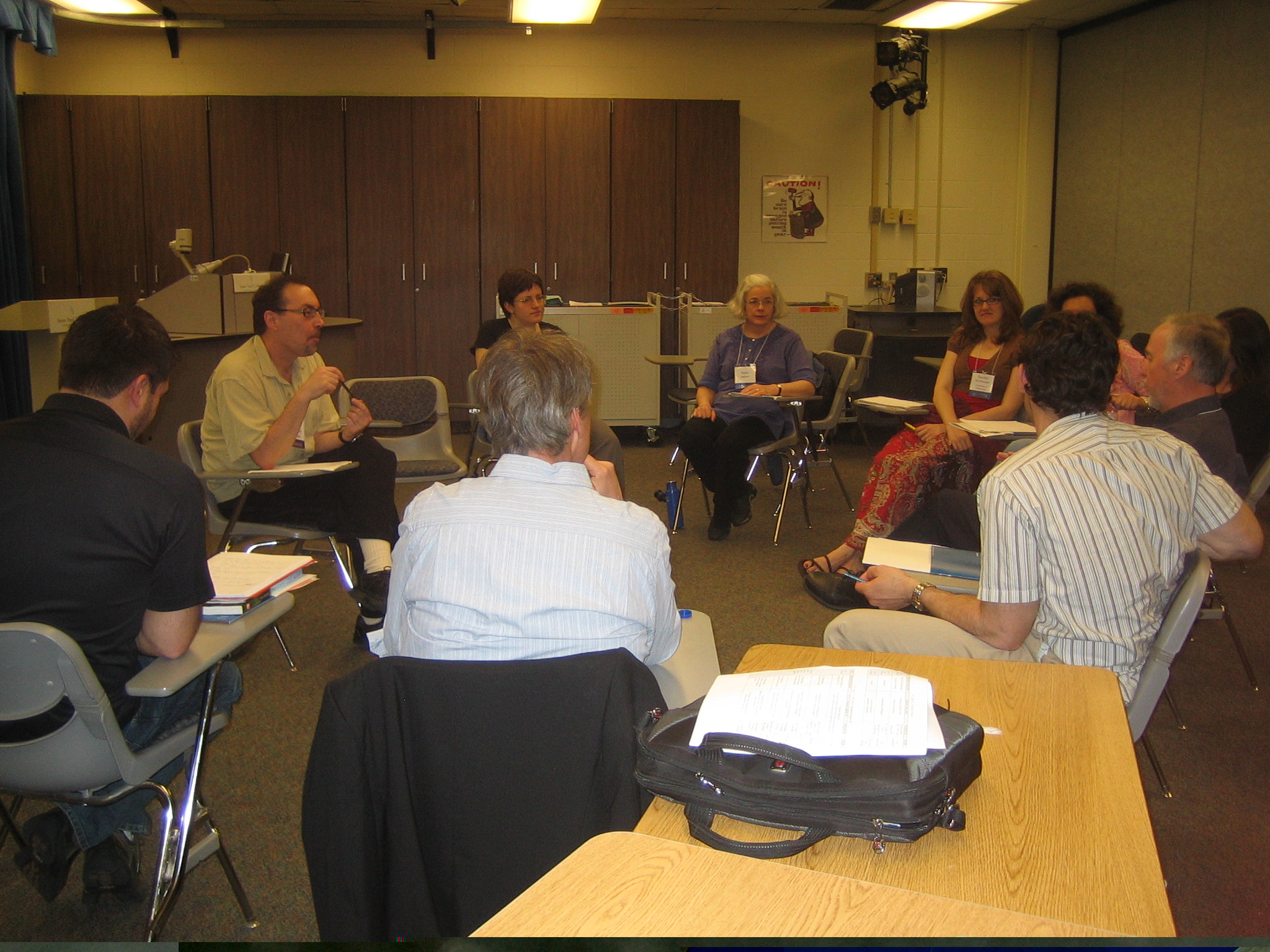 Geoffrey Sirc of the University of Minnesota runs a small breakout after his keynote presentation. Many University of Minnesota faculty have given presentations at MnWE, as well as faculty and graduate students from many other universities, colleges, and high schools.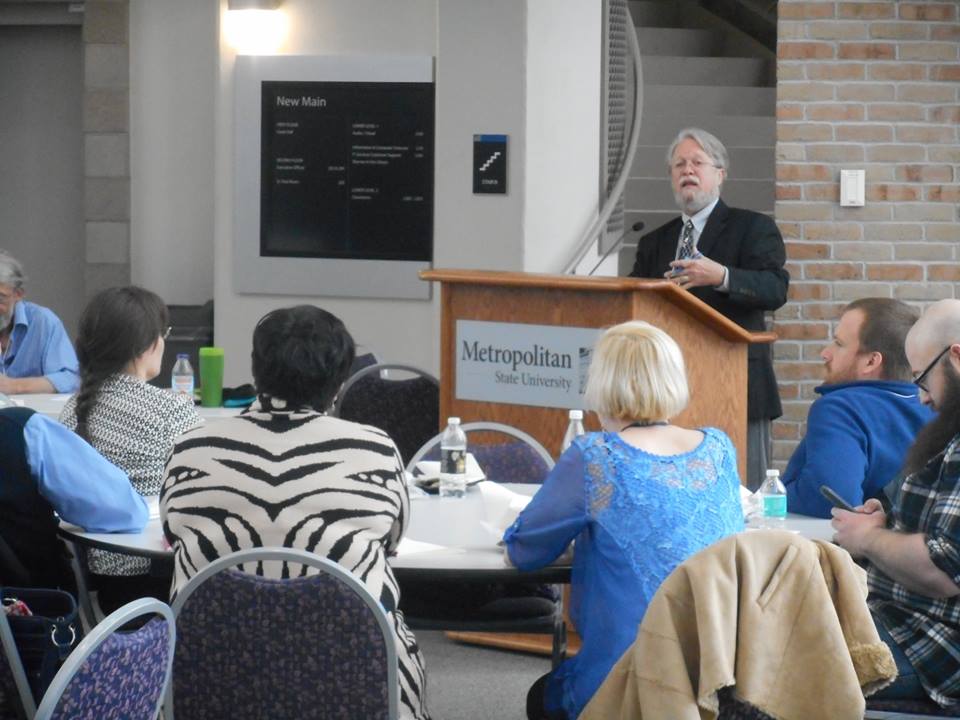 MnWE started in 2007. The cofounders were Richard Jewell, here giving a welcome after lunch, and Donald Ross, second picture above. MnWE has drawn presenters from Minnesota, the states and province around it, and at least five other states and countries.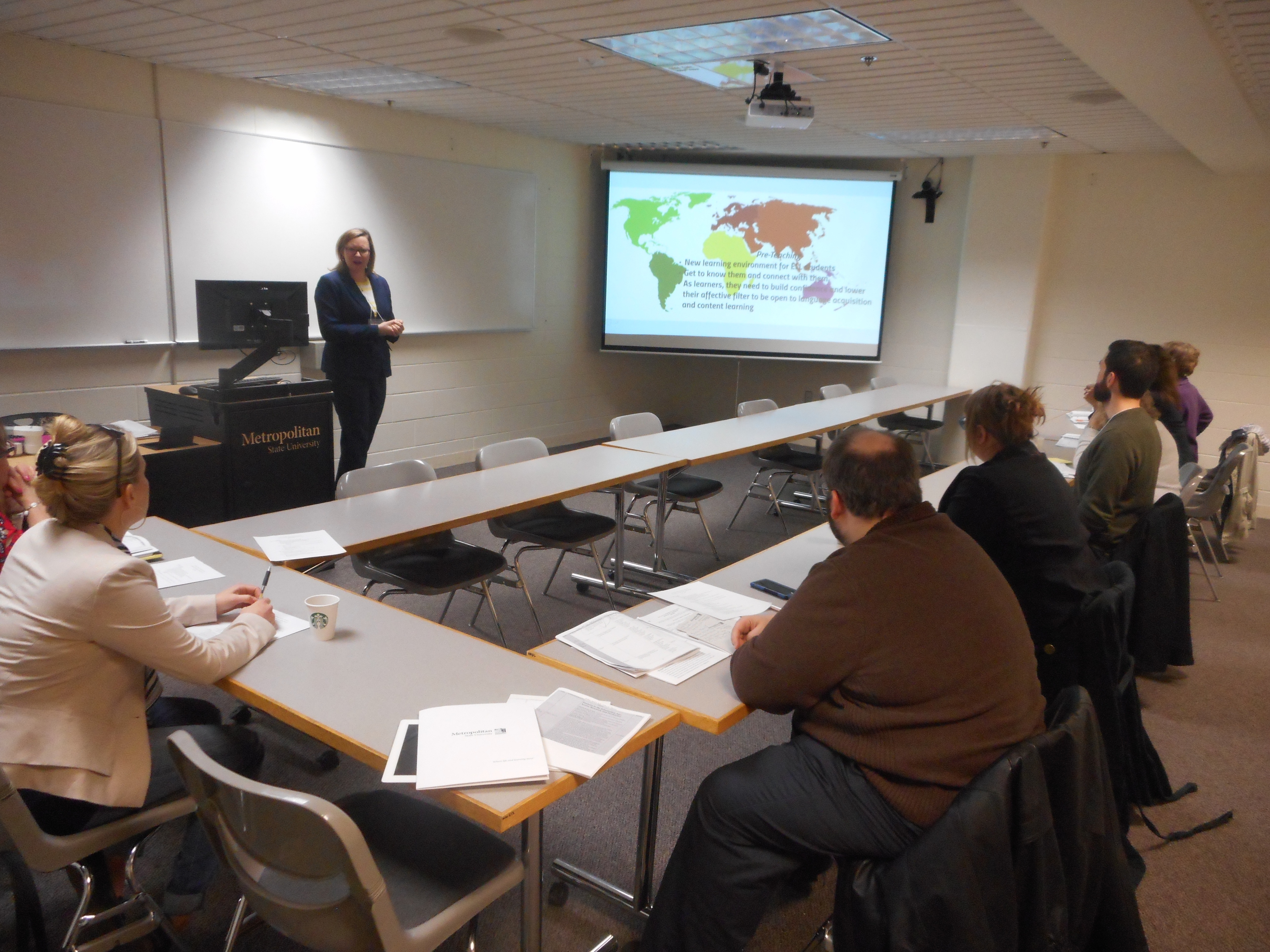 During a 2016 breakout, Beata Puschner presents on improving classroom inclusion of ELL students. MnWE attracts a variety of people in other departments and positions, too, from ESL and Reading to Library Science and college-in-the-high-schools faculty.