"MnWE News" Spring Pre-Conference Issue
March-April 2020

March Conference:
"Civic Engagement through 21st Century Literacies"
Minnesota State University-Mankato, Fri.-Sat., March 20-21, 2020

PRE-REGISTER BY MARCH 13 TO SAVE $10!
In this issue:
JOIN US FOR OUR MARCH 20-21 CONFERENCE AT MINNSTATE-MANKATO!

GOING TO THE MnWE CONFERENCE?

LUNCHTIME KEYNOTES AND KEYNOTERS

MORNING PLENARIES

MANKATO: EDUCATIONAL AND CULTURAL CENTER
6. LIST OF FREE TEACHING/LEARNING E-NEWSLETTERS (in each issue)
7. ABOUT MNWE (in each issue)
If you are new to our listserv, welcome! We never share your address, and you may always unsubscribe at the bottom of any email.
If you are a long-term member of this listserv, thank you for your continued participation. Our listserv emails go to about 3000 English, Writing, and related Upper Midwest faculty.
If you are the head of a program or department, please consider forwarding this email to your graduate and undergraduate students. If you did not receive this email directly and would like to join, send a request to the editor at richard at jewell dot net. We suggest you send a permanent email address. Also email us for information on joining our meetings five Fridays/year at UMN and by Skype or Zoom.
---

1. JOIN US FOR OUR MARCH 20-21 CONFERENCE AT MINNSTATE-MANKATO!

Pre-register by March 13 to save money, or register at the conference. Our two-day conference at MinnState-Mankato is on track to have 120-160 in attendance from a wide range and variety of universities and colleges throughout the Upper Midwest. We also will have about forty breakout sessions on our theme and other issues. In addition, we will offer two lunchtime keynotes and two morning plenaries on our theme, "Civic Engagement through 21st Century Literacies." (See below.)

Join us April 20-21 at any time to discover more about civic engagement for our 21st century students. Why should they be engaged? How can they best become engaged? How can we best help their own choices for engagement? And in the evenings, we will have two dinners (self-purchase) at popular Mankato restaurants, and a Happy Hour Friday evening. We are a friendly, positive conference looking more for discussion by breakout presenters, less for lecture, and a sharing of each other's incisive thoughts and questions. Preregister now to save money.
---
Preregistration: www.MnWE.org
More on the Conference Theme and a Preview of the Program: www.MnWE.org
---

2. GOING TO THE CONFERENCE?

Pre-reg. Deadline March 13: Sign up now (by March 13) for preregistration to save $10! Or sign up at the Conference. Your registration fees go only to the costs of the conference and keynotes: all other work is done by volunteers giving their time freely. MnWE Conference registration fees are lower than most state and regional conferences. We have special fees for adjuncts, students, high school faculty, and community members. Two lunches are included in your registration. The fees are listed at www.MnWE.org.

Lodging & Parking: Where should you stay? We list three hotels of varying prices. Rooms may go quickly, so we recommend you reserve your room soon. The AmericInn hotel near the campus is a 10-15 minute walk from the conference, as are the low-cost or free lots. If you drive to the conference, parking lots close to the conference may be full, so plan on walking for 10-15 minutes or paying a separate meter charge. Hotels, color maps, and more parking information are available in "Logistics, Lodging, and Events" at www.MnWE.org.

Presenters' Guidelines: Are you presenting? Please do carefully review our "Guidelines for Presenters" at www.mnweconference.com/guidelines-for-presenters-and-chairs.html

COVID-19: Are you concerned about the COVID-19 coronavirus situation in Mankato and/or Minnesota? We are carefully monitoring it. Richard Davenport, MinnState-Mankato's President, offers a web page for updates and information about the virus at https://mankato.mnsu.edu/coronavirus. The Minnesota State Dept. of Health page about it is at www.health.state.mn.us/diseases/coronavirus/situation.html

Early Arrivers: Allow extra time for parking. (See above.) If you come early for registration or check-in, you can then join us for free coffee, tea, and pastries 8:00-9:00 am! Our "Welcome" starts at 8:45 each morning, and our plenary at 9:00 am.
---

3. LUNCHTIME KEYNOTES AND KEYNOTERS

Our Friday lunch keynoter is dynamic author Beth Godbee, who writes and presents about social, racial, and environmental justice; and power, agency, and rights. Her keynote "Breaking Civil Discourse will problematize "civic engagement" and help us consider how literacy education and justice can be developed in an era when, unfortunately, some of our civil discourse justifies excluding and dehumanizing people. Her UW-Madison Ph.D. is in composition and rhetoric, she was an Associate Professor in English (Writing Studies) at Marquette University, and she has certification as a secondary school teacher.

On Saturday, one of Minnesota's top literary authors, Ed Bok Lee, is speaking on "Yet Another Other: Connecting Issues of Immigration and the Environment" concerning how different perspectives and bodies–otherness–become not barriers, but catalysts toward strengthening relationships among all. Ed is the son of North and South Korean emigrants and grew up in South Korea, North Dakota, and Minnesota. He has won the American Book Award, Minnesota Book Award, Asian American Literary Award (Members' Choice), and PEN/Open Book Award. He is Associate Professor in Fine Arts at Metropolitan State University.
---
More on MnWE keynoters: www.mnweconference.com/keynotes-and-plenaries.html
Beth Godbee: https://heart-head-hands.com
Ed Bok Lee: https://edboklee.com
---

4. MORNING PLENARIES

Each morning Friday and Saturday at 9 am (the "Welcome" starts at 8:45), we will feature a plenary to start the day. Come a bit earlier to park, to register or check in, and to have free coffee, tea, and pastries. Here are our plenaries:

Friday Plenary: "Connecting Classrooms and Communities." Our communities are richly diverse, but our classroom materials often are not. This interactive plenary session will engage the audience in conversations about how to use class readings and other materials to engage more deeply with communities inside and outside of the classroom.
David Beard, University of Minn.-Duluth; Jasmine Kar Tang, University of Minn.-Twin Cities and Minn. Writing Project; Kevin Lindsey, Minnesota Humanities Center; and Mary Taris, Strive Publishing

Saturday Plenary: "Classroom Strategies for Engaging in Civic Literacy." Four Minnesota State University-Mankato faculty members, representing Composition, TESOL, Technical Communication and the Library, respectively, will be sharing their classroom strategies for engaging in civic literacy through their specific lens. Writing expertise tends to fall into different categories, but this plenary will showcase a number of strategies for teaching, as well as what we have in common as writing instructors.
Minnesota State University-Mankato: Kelly Moreland, Rhetoric and Composition; Paolo Infante, TESOL; Abigail Bakke, Technical Communication; and Jenny Turner, Library
---

5. MANKATO: EDUCATIONAL AND CULTURAL CENTER

The drive to and from Mankato can be a special tour: the Minnesota River Valley National Scenic Byway stretches southeast from South Dakota, down to Mankato, and then northeast toward Minneapolis. A number of stops highlight Minnesota plains settlement, as well as the life of the Dakota Native Americans. In Mankato itself, another historic tour of national import is a self-guided one of thirty-three sites relating to the 1862 Dakota-U.S. War resulting in over a thousand deaths of Native Americans and U.S. soldiers, and the largest single U.S. mass execution. Afterward, most Dakotas were forced to leave Minnesota on pain of death.

Mankato itself is a very interesting and busy metropolitan area: an educational and cultural capital for southern central-west Minnesota. It has 100,000 people with 25,000 students at Minnesota State-Mankato, the largest branch of the state university system, and other nearby colleges and universities. You can self-tour the nationally lauded CityArt Walking Sculpture Tour, the Mankato Poetry Walk and Ride, and the "WordWalk" on sidewalks and paths and "CityArt On the Go" highlighting murals on traffic signal boxes. Several art galleries also are in Mankato, as well as museums such as the Blue Earth Historical Society, the Betsy-Tacy Houses, and the Children's Museum of Southern Minnesota.

Mankato also sports many restaurants and shopping areas. These include the large, popular River Hills Mall, dozens of restaurants of many ethnic types, four wineries, and a lively downtown. And for outdoor enthusiasts, many trails and riverways are available for hiking, biking, rowing, and canoeing/kayaking. along with public beaches, parks, and a petting zoo.
---
Minnesota River Valley National Scenic Byway and map: www.mnrivervalley.com
1862 Dakota War tour: U.S.-Dakota-Conflict-of-1862-Self-Guided-Tour-brochure.pdf
Travel Guides, online viewing/ordering: www.visitgreatermankato.com/travel-guides
General Visitor Site: https://www.visitgreatermankato.com
Direct info/guidebook requests: visitors@greatermankato.com, ph. 1-800-657-4733
---

6. LIST OF FREE E-NEWSLETTERS (repeated in each "MnWE News"):

"NEA HigherEd," National Education Association, monthly
digest of higher-ed political news
Subscribe Other NEA Inside Higher Ed e-letters

"The Source: Updates," MLA Style Center, weekly, short
articles on pedagogy and readings
Subscribe (scroll to bottom). Sample e-letter
Other free MLA Style Center e-letters
"Teaching," Chronicle of Higher Education, weekly, short articles
on general teaching methods
Subscribe Sample e-letter
Other free Chronicle e-letters

"Tomorrow's Professor," Stanford University, twice-weekly, each
with a full teaching-learning article
Subscribe Sample e-letter and online version
---

7. ABOUT MNWE: Old Issues, Joining, Who We Are, Grad Credit, Unsubscribing (repeated in each "MnWE News"):

View Our Newsletters: For new and old issues, click here: "MnWE News."

Forwarding/Joining: Please forward this email to others, especially if you are a MnWE representative listed below. Your newer full-time and adjunct faculty members, graduate students, and writing center tutors may not receive it.

If you are not on the listserv and would like to join it, simply send your request and email address to richard at jewell dot net. We always enjoy receiving new list members.

Who We Are: "MnWE" is "Minnesota Writing and English," an all-volunteer organization started in 2007. MnWE has a coordinating committee, a listserv, and an annual spring conference. All activities are by and for college, university, and college-in-the-high-schools English and writing faculty, graduate and undergraduate students, and related academic and literary scholars, writers, tutors, and others in the Upper Midwest. Our purpose is to bring together these communities in Minnesota, Wisconsin, Iowa, North and South Dakota, and nearby Canada. Our keynoters speak on pedagogical concerns and are scholars and writers of national excellence from both local and national locations; some of our presenters come from states or countries far beyond our own geographical area. The majority of our attendees and presenters are from universities and private colleges; a strong minority are from two-year colleges, high schools, and other groups.

Our website is MnWE.org; our geographical center is Minneapolis-St. Paul. About 3000 faculty, tutors, and graduate students are on our listserv. Our listserv members come from state universities, public and private two-year colleges, private colleges and universities, high schools, and the Universities of Minnesota, Wisconsin, North Dakota, South Dakota, Iowa, and other public universities. Our activities are led by an active committee of unpaid college and university volunteers.

Graduate Credit: Anyone may earn one graduate credit from Southwest Minnesota State University for attending one MnWE Conference day and writing a related research paper (up to three times). For questions about this course–"Eng 656: MnWE Practicum"–please contact lisa dot lucas at smsu dot edu or see www.smsu.edu/academics/programs/english/?id=11637 .

How to Unsubscribe: If you want to unsubscribe from this listserv (and no longer receive the "MnWE News," MnWE Conference announcements, and other forwarded announcements), please do so yourself, following directions at the very bottom of this email. If you try unsubscribing on your own without success, then send an email to richard at jewell dot net indicating (1) your unsubscribing action didn't work, (2) your specific email address copied from the directions at the bottom of a MnWE mailing, and (3) your request for removal.

Formatting, Invitation, & Credits: These listserv emails usually are formatted in a relatively simple way using html. If you cannot read them, please go to the link at the top right, at the beginning, to see them on the Web.

If you have any questions, we invite you to email any of the coordinators on the MnWE Committee. You also are always invited to attend any of our five MnWE Committee meetings per year: to visit or join, email richard at jewell dot net and ask for the date and location of the next meetings. In addition, you are invited to offer suggestions—or volunteer your leadership—for a regular, special, or double section at the annual conference.

This newsletter is written primarily by "MnWE News" editor Richard Jewell without copyright so that anyone may quote, paraphrase, or forward any or all parts freely, unless otherwise noted. We ask only that you give credit to the "MnWE Newsletter" and/or "www.MnWE.org"; and when you use material that has been quoted or paraphrased in this newsletter from another source, please be sure to give proper credit to that original source.
---
---
Richard Jewell, General Coordinator
Larry Sklaney, Conference Coordinator
Danielle Hinrichs, Program Coordinator
Gordon Pueschner, Site Floor Coordinator
Ellen Zamarripa, Volunteer Coordinator
Jana Rieck, Communications Coordinator
Vanessa Ramos, NHCC, 2019 Site Coordinator
Kirsti Cole, Minn. State-Mankato, 2020 Site Coordinator
richard at jewell dot net - (612) 870-7024
larry dot sklaney at century dot edu - (651) 747-4006
danielle dot hinrichs at metrostate dot edu - (651) 999-5960
gordon dot pueschner at century dot edu - (651) 686-4468
ellen.zamarripa at mail dot waldenu dot edu
janaL dot rieck at yahoo dot com
vramos at nhcc dot edu
kirsti dot cole at mnsu dot edu

MnWE.org
Minnesota Writing & English
A Consortium of Colleges & Universities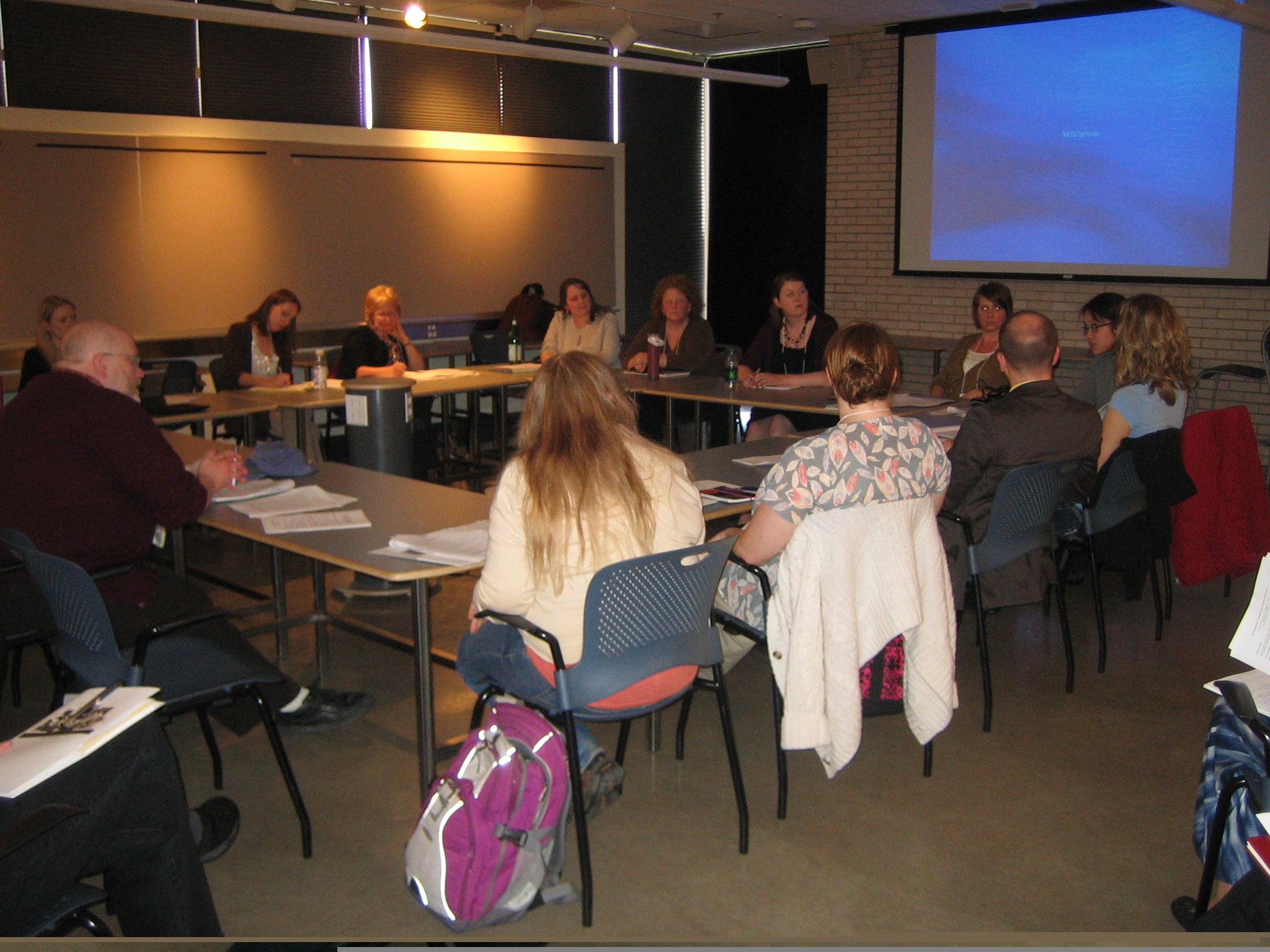 Mission:
Transforming writing and English into teaching and learning experiences using methodologies that serve students best
Vision:
Bringing scholarly ideas and practical pedagogy together
to create our futures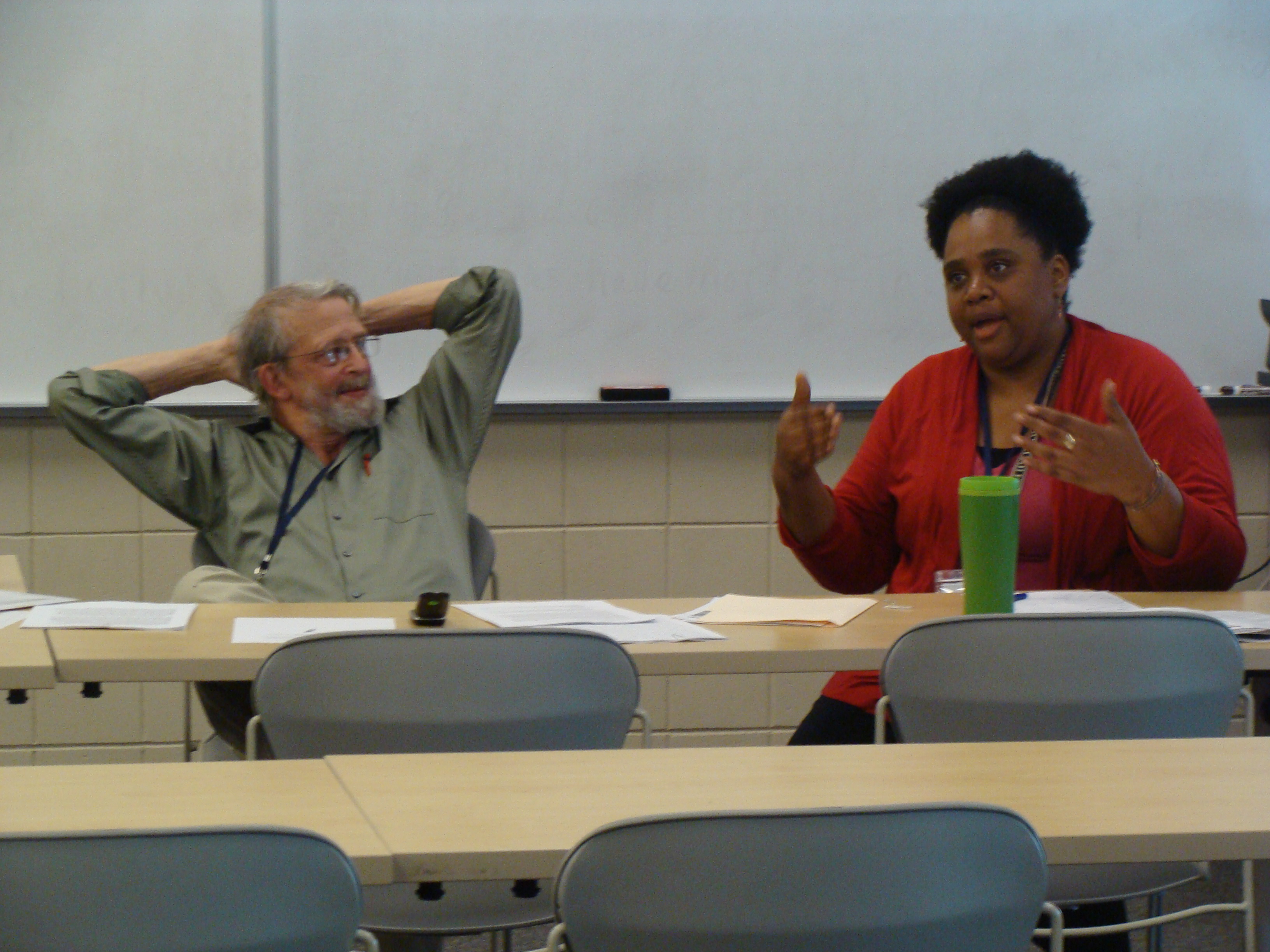 Donald Ross of the University of
Minnesota and Taiyon Coleman of St. Catherine University run a breakout session about literature. In a later year, they jointly provided a MnWE keynote.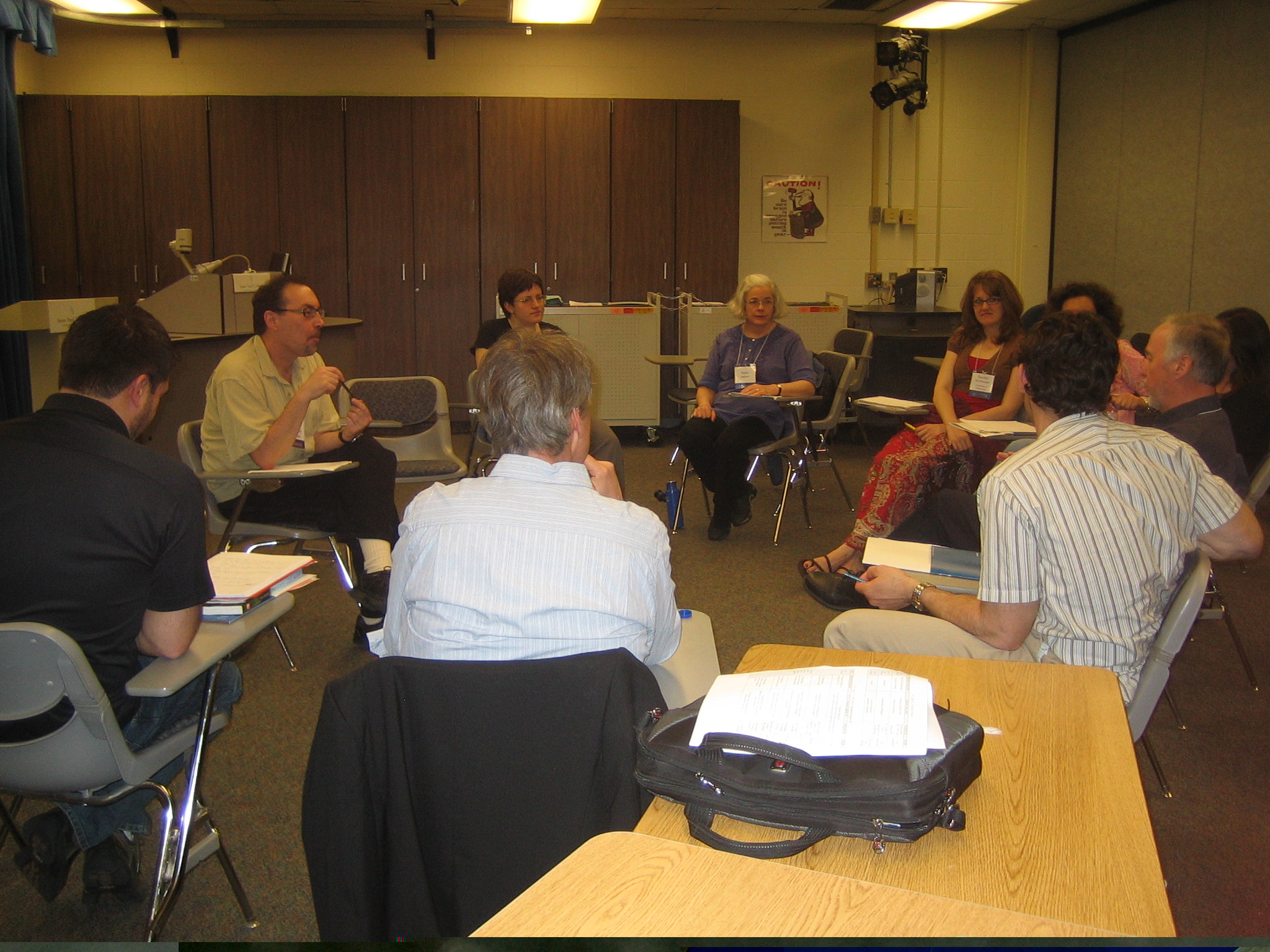 Geoffrey Sirc of the University of Minnesota runs a small breakout after his keynote presentation. Many University of Minnesota faculty have given presentations at MnWE, as well as faculty and graduate students from many other universities, colleges, and high schools.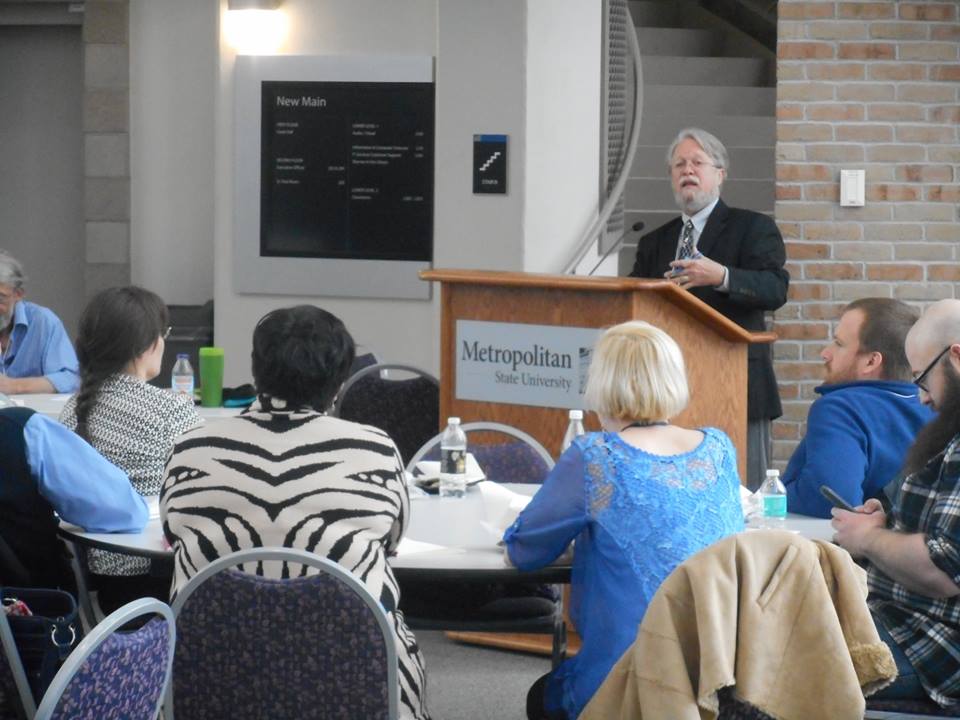 MnWE started in 2007. The cofounders were Richard Jewell, here giving a welcome after lunch, and Donald Ross, second picture above. MnWE has drawn presenters from Minnesota, the states and province around it, and at least five other states and countries.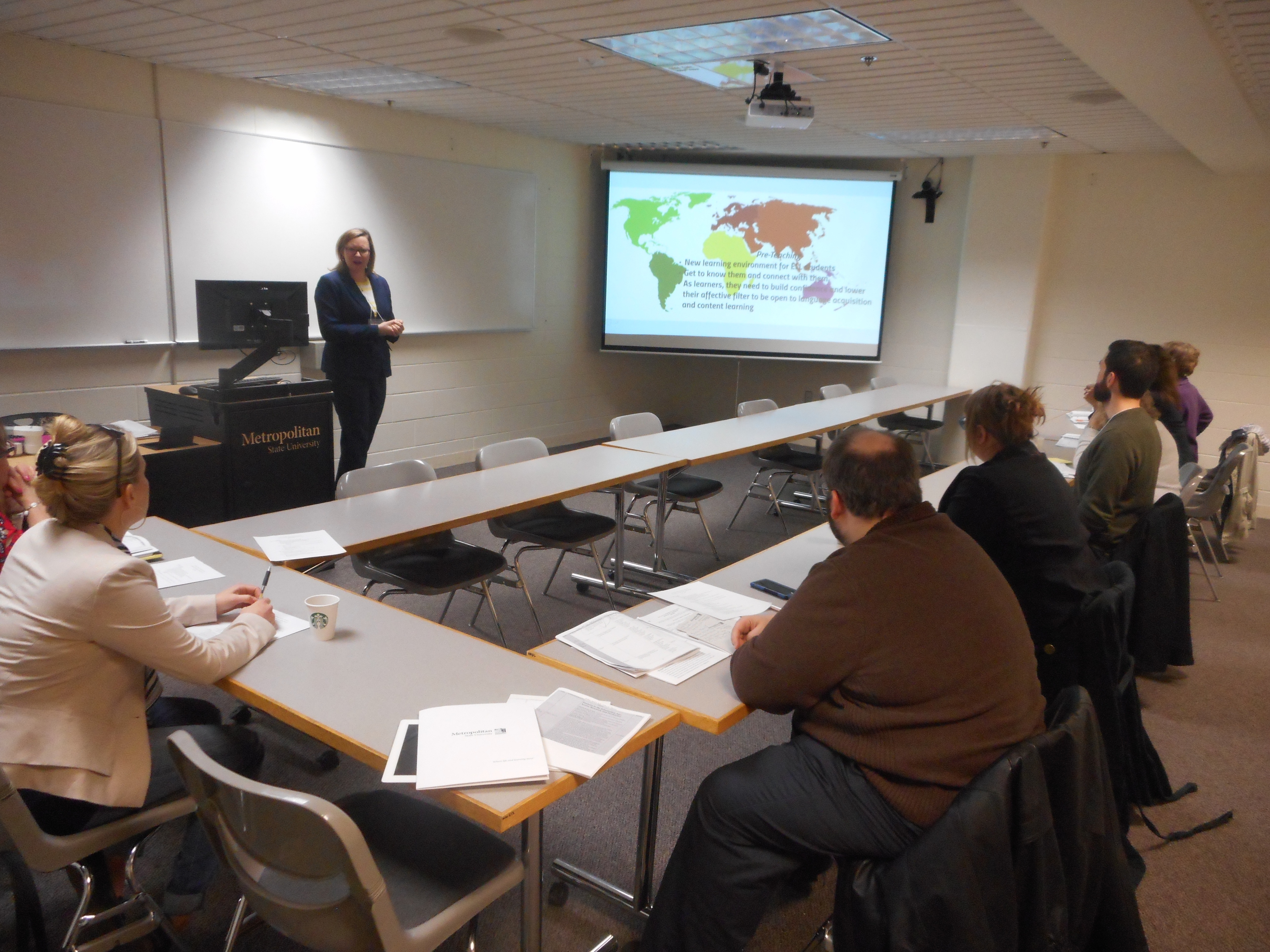 During a 2016 breakout, Beata Puschner presents on improving classroom inclusion of ELL students. MnWE attracts a variety of people in other departments and positions, too, from ESL and Reading to Library Science and college-in-the-high-schools faculty.