"MnWE News" Winter Issue
January-February 2020

Next Conference: "Civic Engagement through 21st Century Literacies"
Minnesota State University-Mankato, Fri.-Sat., March 20-21, 2020
In this issue:
1. CONFERENCE PROPOSALS: DEADLINE EXT. TO JAN. 26

2. WHAT WILL THE CONFERENCE OFFER?

3. CONF.: NAT'L. SCENIC BYWAY; DAKOTA-U.S. WAR &
MASS HANGING

4. ALSO IN MANKATO

5. LIST OF FREE TEACHING E-LETTERS (in each issue)

6. ABOUT MNWE (in each issue)
If you are new to our listserv, welcome!
We never share your address, and you may
always unsubscribe at the bottom of any email.

If you are a long-term member of this listserv, thank
you for your continued participation. Our listserv emails go
to about 3000 English, Writing, and related Upper Midwest faculty.

If you are the head of a program or department,
please consider forwarding this email to your graduate
students or tutors. If you did not receive this email directly
and would like to join, send a request to the editor at
richard at jewell dot net. We suggest you send a permanent
email address. Also email us for information on joining our meetings
five Fridays/year at UMN and by Skype.
1. PLEASE SEND YOUR PROPOSAL BY JAN. 26 (EXT. DEADLINE)

We would enjoy seeing your proposal at www.MnWE.org for our next annual MnWE Conference in Mankato, Minnesota (south central Minn.) March 20-21 at our largest state university, Minnesota State-Mankato. Your proposal only need be 50-100 words, and your presentation may be in rough outline form: in fact, we do not want you to read from a paper but rather, using an notes of your choice, engage a small group, your attendees, by offering your ideas, thoughts, and experiences and then asking them for theirs. You may present on any general topic relating to our disciplines. We accept proposals from everyone in our fields from full professors to teachers of English/writing in the high schools, adjuncts, graduate students, and undergraduate majors.

If you wish, you may present specifically on our theme for the conference, "Civic Engagement through 21st Century Literacies." Our theme calls us to reflect on our mission of educating both writers and readers of texts that, we hope, show civic engagement with the world beyond the classroom. In fact, our functioning democracy depends on our textual functioning–our literacies–whether next door or in the wider world. How can our teaching be adapted to meet the needs of 21st century learners who are active participants and agents of change? How do our disciplines influence our approach to these questions? And how do we understand the relationship between courses, politics, civic duty, and conscience?

These questions have become dramatically more important as our country deals with constitutional issues and as we move into an election year. What should students'–and our own–civic responsibilities be? Let us know what you propose–or join us at our conference to discover what others present–regarding these urgent and pressing issues.

For more details on our theme and how to propose an individual or group session, visit www.MnWE.org . Most proposals will be accepted.

---

2. WHAT WILL THE CONFERENCE OFFER?

Our 2020 Conference in Mankato is two full days, Fri.-Sat., March 20-21, starting with a morning plenary panel on the theme each day, breakout sessions by individuals and groups, and a new keynote each lunch. After lunch are more breakouts. Evenings, join us for Friday's Happy Hour or either or both group evening dinners (self pay) at Mankato restaurants.

Our first keynote speaker, on Friday, is dynamic presenter Beth Godbee, an educator, writer, entrepreneur, and former professor whose research addresses matters of social, racial, and environmental justice; power, agency, and rights; and relational communication. Her presentation is "Breaking Civil Discourse: Cultivating Productive and Receptive Literacies for Responsible (Response-Able) Engagement."

As an educator, Beth believes we can't just think our way out of the incredible injustices, dehumanization, and wrongdoing that characterize everyday life. We must feel and act, too. Beth has been a university English faculty professor, K-12 teacher; community literacy instructor; writing center consultant; writing program administrator; and researcher in composition, rhetoric, and literacy studies. She will problematize "civic engagement" and help us consider how literacy education and justice can be developed in an era when, unfortunately, new civil discourse and related constructs of citizenship and national borders provide justifications for excluding and dehumanizing people.

Beth now is a Washington, D.C. independent teacher and trainer whose Ph.D. in composition and rhetoric is from the University of Wisconsin-Madison. She was an Associate Professor in English (Writing Studies) at Marquette University, and she certification as a secondary school teacher.

Our second keynoter, on Saturday, is one of Minnesota's top literary authors, Ed Bok Lee. Ed will speak on "Yet Another Other: Connecting Issues of Immigration and the Environment."

Ed is the son of North and South Korean emigrants. His mother originally was a refugee from what is now North Korea; his father was raised during the Japanese colonial period and Korean War in what is now South Korea. Ed grew up in South Korea, North Dakota, and Minnesota. His honors for his poetry and other works include the prestigious American Book Award, the Minnesota Book Award, an Asian American Literary Award (Members' Choice), and a PEN/Open Book Award.

Currently he is an Associate Professor in Fine Arts at Metropolitan State University. In addition, for two decades he has taught in programs for youth, communities of color, and the incarcerated. Ed will read from some of his creative works and talk about his own journey to civic literacy as an immigrant, and how immigration and environmental issues are related.
---
MnWE keynoters' page: www.mnweconference.com/keynotes-
and-plenaries.html
Beth Godbee: https://heart-head-hands.com
Ed Bok Lee: https://edboklee.com
---

3. CONF.: NAT'L. SCENIC BYWAY; DAKOTA-U.S. WAR & HANGING

The drive to and from Mankato can be a special tour in itself. You can take the Minnesota River Valley National Scenic Byway in two different directions, one part between the South Dakota border and southeast down the river, or another part southwest from the Twin Cities between Belle Plaine and Mankato). The drive highlights a river extremely important in the settlement of the Minnesota plains, and also of vital importance to the Dakota Indians. You can allow time for stopping points with close sights of the River, plaques, and interpretive centers, or you simply can follow the National Scenic Byway for its beautiful views.

An important visitor opportunity related to our conference theme is the nationally significant 1862 hanging of 38 Dakota Indian warriors, the largest U.S. mass execution. You can take a self-guided tour at thirty-three sites, each with interpretation.

Prefacing the execution, ordered by President Lincoln, the five-week Dakota-U.S. War of 1862 saw an early major defeat of U.S. militias by an Indian army, leading to other battles and defeat of the warriors. On record, over 400 white settlers and soldiers were killed, but the toll likely was two or three times higher when Indian deaths are included, and thousands more Indians left their lands before and after because of land theft, starvation, and later mass removal encouraged by settler and army fear and revenge.
---
Minnesota River Valley National Scenic Byway and map:
www.mnrivervalley.com
1862 Dakota War tour: U.S.-Dakota-Conflict-of-1862-Self-Guided-
Tour-brochure.pdf
---

4. WHAT ELSE DOES MANKATO OFFER?

Mankato and North Mankato are a metro area of 100,000 people with 25,000 students at Minnesota State-Mankato and four other nearby accredited colleges and universities. The city carries an outsized impact as the largest city in its multi-country area, serving as an educational, cultural, and political capital in the southern central-west part of Minnesota. There is so much to do in and around Mankato that you might want to consider stretching your visit to an extra night and day.

Mankato visitors also enjoy art, literature (specifically, poetry and Betsy-Tacy), and museums. Regarding art, the national ranking site Thrillist gave a "14 Coolest Urban Spaces in America" award to Mankato for its downtown CityArt Walking Sculpture Tour. You also can tour the "Mankato Poetry Walk and Ride" and "WordWalk" on sidewalks and paths, and the "CityArt On the Go" with traffic signal boxes turned into murals. You also can visit several established art galleries, as well as museums such as the Blue Earth Historical Society, the Betsy-Tacy Houses ("bringing classic books by Maud Har Lovelace alive"), and, for your kids, the Children's Museum of Southern Minnesota.

Other features of Mankato include the large and popular River Hills Mall, dozens of restaurants of many ethnic types, four wineries, and a lively downtown. If you are an outdoor enthusiast, plenty of trails and riverways beckon for hiking, biking, rowing, and canoeing/kayaking, along with shops for gear and outfitting. Mankato's Blue Earth County also boasts more river shore than any other Minnesota County, along with plenty of public beaches and parks with dining shelters, children's playground equipment, and a petting zoo.
---
Travel Guides, online viewing/ordering: www.visitgreatermankato.com/travel-guides
General Visitor Site: https://www.visitgreatermankato.com
Direct info/guidebook requests: visitors@greatermankato.com,
ph. 1-800-657-4733
---

5. LIST OF FREE E-NEWSLETTERS (repeated in each "MnWE News"):

"NEA HigherEd," National Education Association, monthly
digest of higher-ed political news
Subscribe Other NEA Inside Higher Ed e-letters

"The Source: Updates," MLA Style Center, weekly, short
articles on pedagogy and readings
Subscribe (scroll to bottom). Sample e-letter
Other free MLA Style Center e-letters
"Teaching," Chronicle of Higher Education, weekly, short articles
on general teaching methods
Subscribe Sample e-letter
Other free Chronicle e-letters

"Tomorrow's Professor," Stanford University, twice-weekly, each with a full teaching-learning article
Subscribe Sample e-letter and online version
---

6. ABOUT MNWE: Old Issues, Joining, Who We Are, Grad Credit, Unsubscribing (repeated in each "MnWE News"):

View Our Newsletters: For new and old issues, click here: "MnWE News."

Forwarding/Joining: Please forward this email to others, especially if you are a MnWE representative listed below. Your newer full-time and adjunct faculty members, graduate students, and writing center tutors may not receive it.

If you are not on the listserv and would like to join it, simply send your request and email address to richard at jewell dot net. We always enjoy receiving new list members.

Who We Are: "MnWE" is "Minnesota Writing and English," an all-volunteer organization started in 2007. MnWE has a coordinating committee, a listserv, and an annual spring conference. All activities are by and for college, university, and college-in-the-high-schools English and writing faculty, graduate and undergraduate students, and related academic and literary scholars, writers, tutors, and others in the Upper Midwest. Our purpose is to bring together these communities in Minnesota, Wisconsin, Iowa, North and South Dakota, and nearby Canada. Our keynoters speak on pedagogical concerns and are scholars and writers of national excellence from both local and national locations; some of our presenters come from states or countries far beyond our own geographical area. The majority of our attendees and presenters are from universities and private colleges; a strong minority are from two-year colleges, high schools, and other groups.

Our website is MnWE.org; our geographical center is Minneapolis-St. Paul. About 3000 faculty, tutors, and graduate students are on our listserv. Our listserv members come from state universities, public and private two-year colleges, private colleges and universities, high schools, and the Universities of Minnesota, Wisconsin, North Dakota, South Dakota, Iowa, and other public universities. Our activities are led by an active committee of unpaid college and university volunteers.

Graduate Credit: Anyone may earn one graduate credit from Southwest Minnesota State University for attending one MnWE Conference day and writing a related research paper (up to three times). For questions about this course–"Eng 656: MnWE Practicum"–please contact lisa dot lucas at smsu dot edu or see www.smsu.edu/academics/programs/english/?id=11637 .

How to Unsubscribe: If you want to unsubscribe from this listserv (and no longer receive the "MnWE News," MnWE Conference announcements, and other forwarded announcements), please do so yourself, following directions at the very bottom of this email. If you try unsubscribing on your own without success, then send an email to richard at jewell dot net indicating (1) your unsubscribing action didn't work, (2) your specific email address copied from the directions at the bottom of a MnWE mailing, and (3) your request for removal.

Formatting, Invitation, & Credits: These listserv emails usually are formatted in a relatively simple way using html. If you cannot read them, please go to the link at the top right, at the beginning, to see them on the Web.

If you have any questions, we invite you to email any of the coordinators on the MnWE Committee. You also are always invited to attend any of our five MnWE Committee meetings per year: to visit or join, email richard at jewell dot net and ask for the date and location of the next meetings. In addition, you are invited to offer suggestions—or volunteer your leadership—for a regular, special, or double section at the annual conference.

This newsletter is written primarily by "MnWE News" editor Richard Jewell without copyright so that anyone may quote, paraphrase, or forward any or all parts freely, unless otherwise noted. We ask only that you give credit to the "MnWE Newsletter" and/or "www.MnWE.org"; and when you use material that has been quoted or paraphrased in this newsletter from another source, please be sure to give proper credit to that original source.
---
---
Richard Jewell, General Coordinator
Larry Sklaney, Conference Coordinator
Danielle Hinrichs, Program Coordinator
Gordon Pueschner, Site Floor Coordinator
Ellen Zamarripa, Volunteer Coordinator
Jana Rieck, Communications Coordinator
Vanessa Ramos, NHCC, 2019 Site Coordinator
Kirsti Cole, Minn. State-Mankato, 2020 Site Coordinator
richard at jewell dot net - (612) 870-7024
larry dot sklaney at century dot edu - (651) 747-4006
danielle dot hinrichs at metrostate dot edu - (651) 999-5960
gordon dot pueschner at century dot edu - (651) 686-4468
ellen.zamarripa at mail dot waldenu dot edu
janaL dot rieck at yahoo dot com
vramos at nhcc dot edu
kirsti dot cole at mnsu dot edu

MnWE.org
Minnesota Writing & English
A Consortium of Colleges & Universities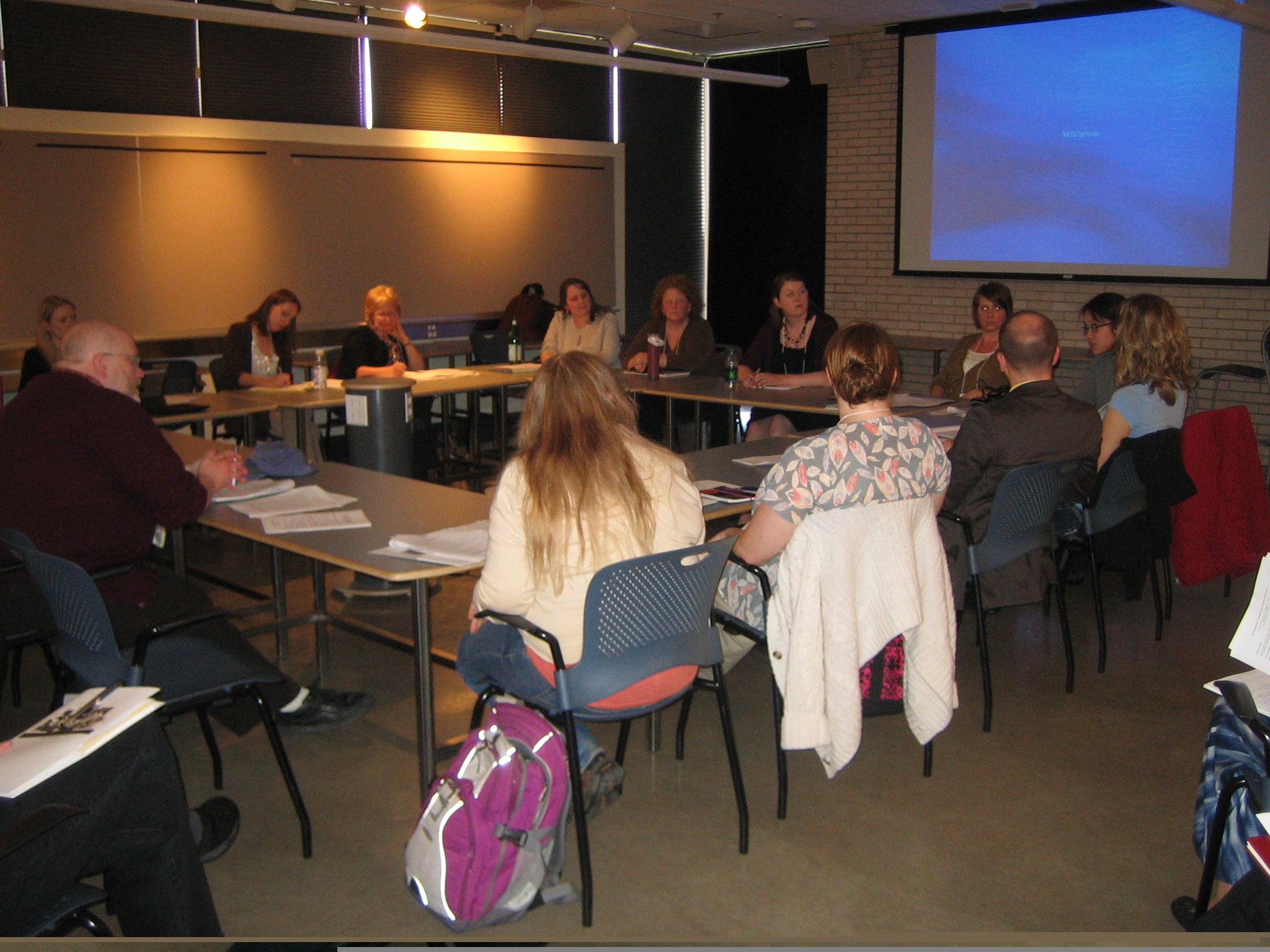 Mission:
Transforming writing and English into teaching and learning experiences using methodologies that serve students best
Vision:
Bringing scholarly ideas and practical pedagogy together
to create our futures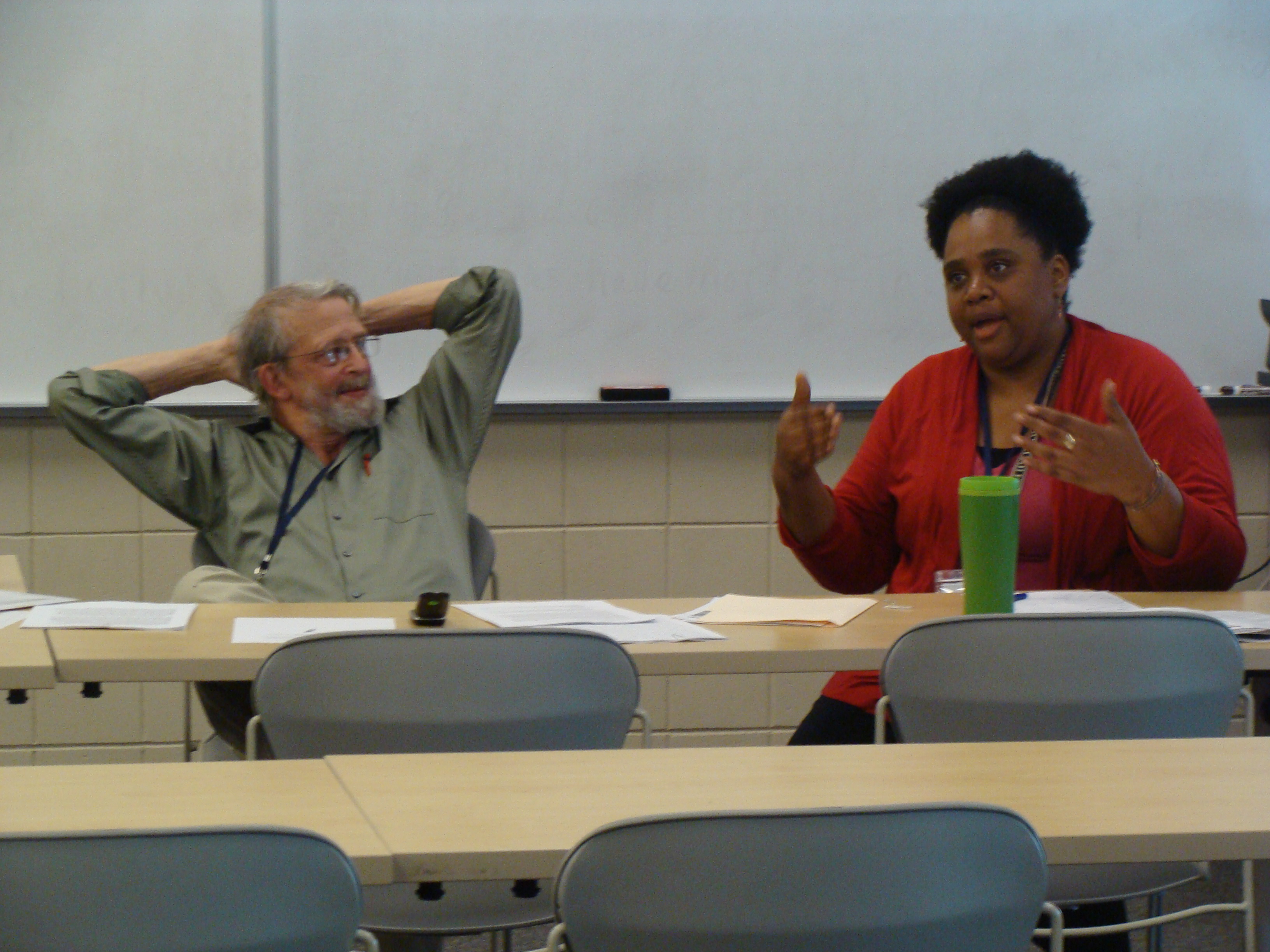 Donald Ross of the University of
Minnesota and Taiyon Coleman of St. Catherine University run a breakout session about literature. In a later year, they jointly provided a MnWE keynote.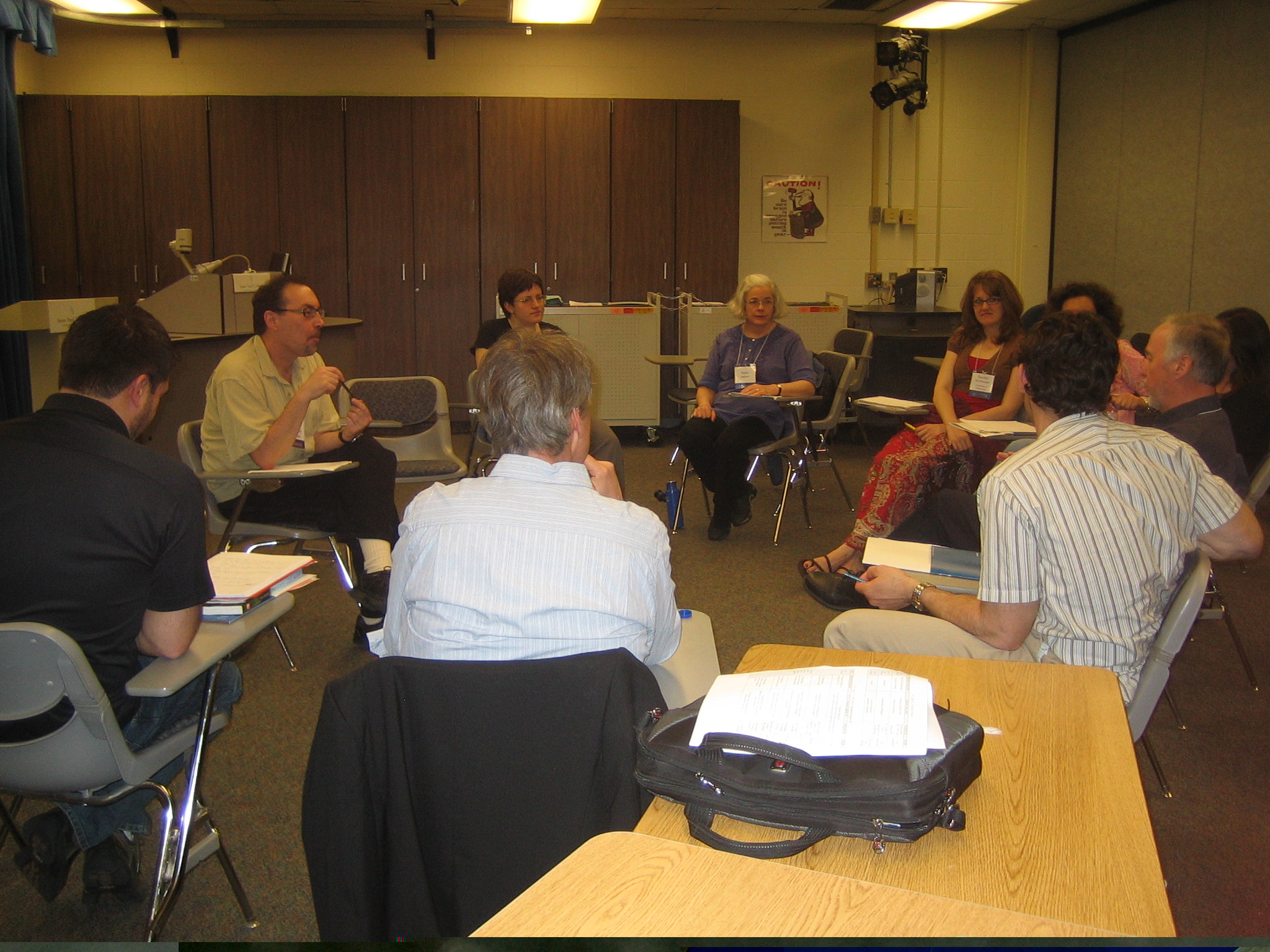 Geoffrey Sirc of the University of Minnesota runs a small breakout after his keynote presentation. Many University of Minnesota faculty have given presentations at MnWE, as well as faculty and graduate students from many other universities, colleges, and high schools.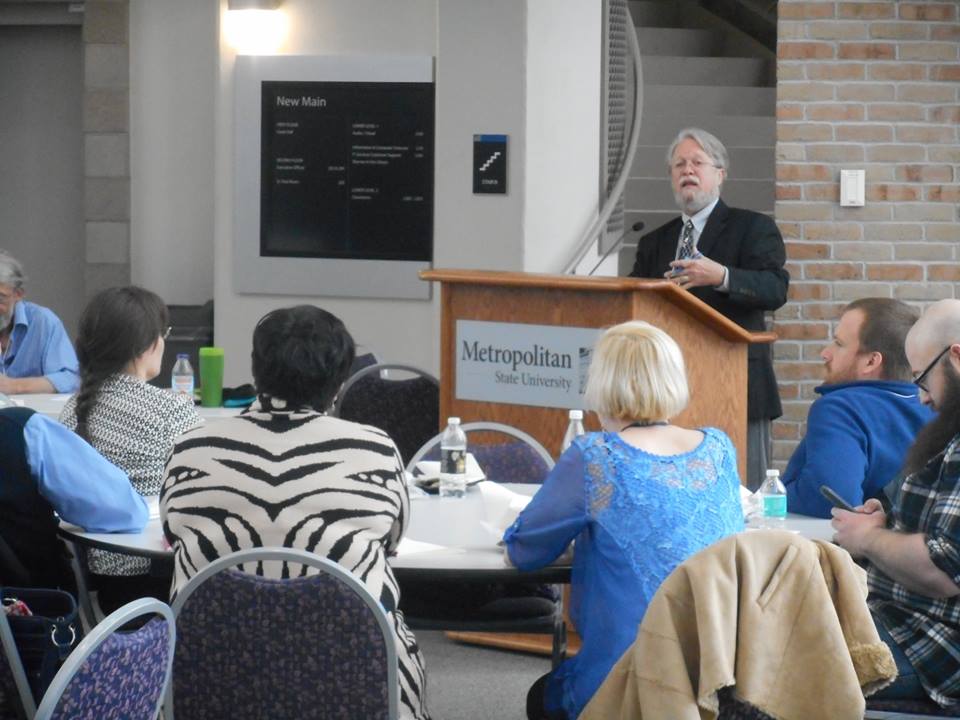 MnWE started in 2007. The cofounders were Richard Jewell, here giving a welcome after lunch, and Donald Ross, second picture above. MnWE has drawn presenters from Minnesota, the states and province around it, and at least five other states and countries.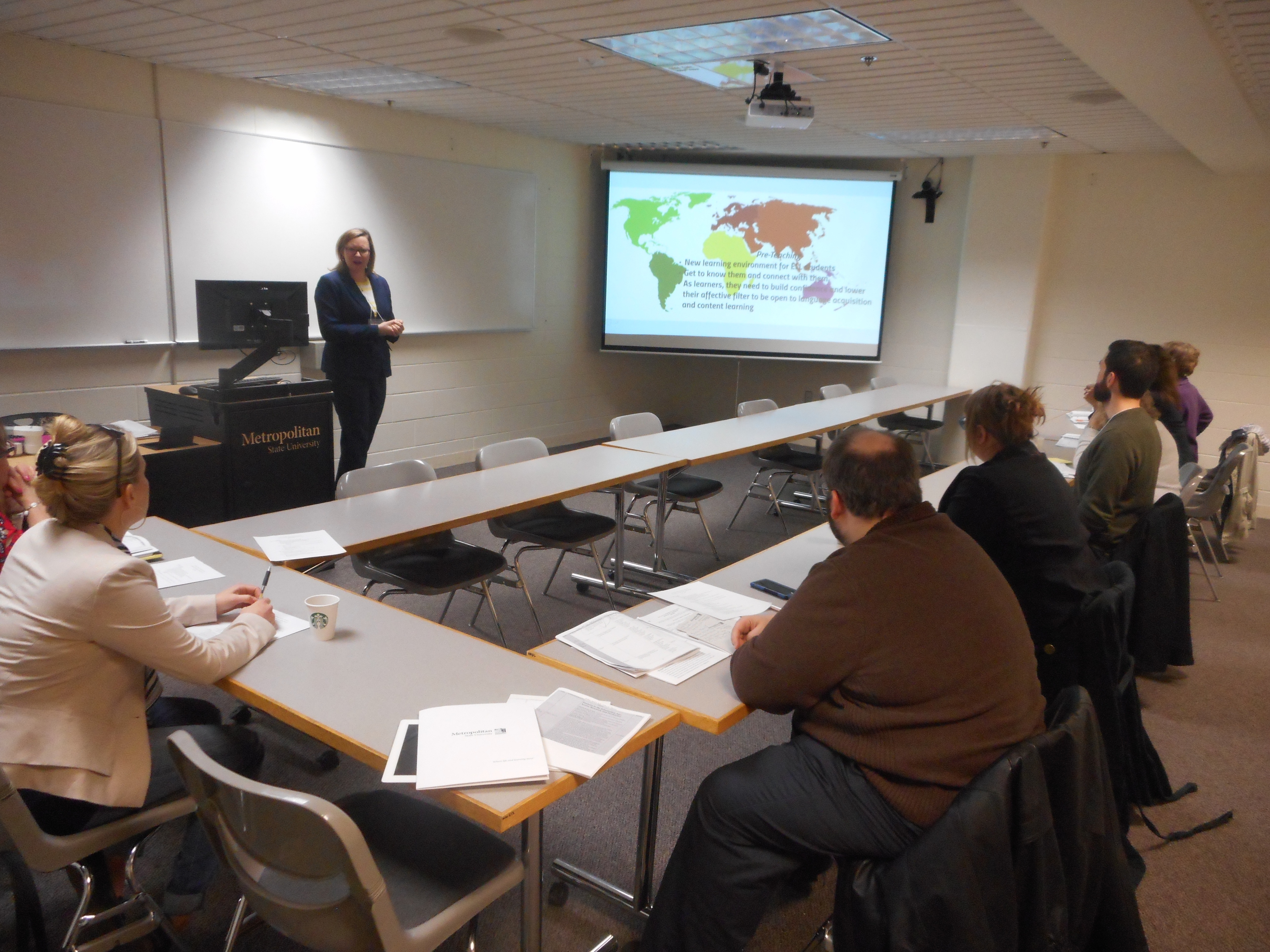 During a 2016 breakout, Beata Puschner presents on improving classroom inclusion of ELL students. MnWE attracts a variety of people in other departments and positions, too, from ESL and Reading to Library Science and college-in-the-high-schools faculty.