"MnWE News" Early Summer, Post Conference Issue
May-June 2019
View this email in your browser
or view previous issues.
In this issue:

1. WHAT HAPPENED AT APRIL 5-6 CONFERENCE?

2. SHOULD WE TEACH COLLEGE READING IN OUR OWN COURSES?

3. KEYNOTE ON DIVERSITY & CHILDREN'S LIT: WHAT WAS SAID?

4. "I READ IT BUT DON'T UNDERSTAND IT" KEYNOTE: WHAT WAS SAID?

5. About MnWE: Forwarding the News, Joining/Leaving, Representatives
If you are a MnWE representative, chair of a department, or Writing/English Coordinator,
please forward this email to colleagues in English, Writing, Reading, ESL,
and related fields. Many new faculty and writing tutors may not be on the email list.

If you are a long-term member of this listserv, thank you
for your continued participation. If you are new, welcome! Our
listserv emails go to over 1500 English, Writing, and related Upper
Midwest faculty. To join, send a request to the editor at richard at jewell dot net.

Next Conference: "Civic Engagement through 21st Century Literacies"
Minnesota State University-Mankato, Fri.-Sat., March 20-21, 2020

Our website is at www.MnWE.org. You are welcome to attend our next
Committee meeting Fri., Sept. 20, 3:30-5:30 pm in UMN's Nolte Center 235; or
ask me–richard at jewell dot net–how to Skype in to the meeting. – Richard Jewell, Editor
1. WHAT HAPPENED AT THE APRIL 5-6 CONFERENCE?

The April 5-6 Conference on "Connecting Reading and Writing" was a great success in terms of the lively discussions based on the strong keynotes and plenaries, excellent breakouts, and variety of institutions represented. We had 140 presenters and attendees from forty-six universities, colleges, and high schools in five states. Presentations offered both practice and theory in the pedagogy of teaching reading and on teaching writing and literature in general.

The consensus among most presenters, plenary speakers, and keynoters was that more teaching of reading is needed in our English and writing courses, and culturally broader readings and writings also are needed. In addition, top names in the pedagogy of teaching college English and writing have been calling for such teaching for decades. Such teaching, said our presenters, is easily within the purview of college teachers if we are willing to learn new approaches. This is true for writing, critical thinking, and literature, introductory or advanced, across the curriculum.

2. SHOULD WE TEACH COLLEGE READING IN OUR OWN COURSES?

Conference presenters, plenary speakers, and keynoters–as well as researchers–suggested we can no longer just assign students to "go research," "go read your texts," or "go think critically about your readings." Instead, we need to say, "Let me offer you better ways of textbook, literary, and critical reading."

This includes, according to our many presenters, better reading of textbooks, research resources, and literature more clearly, easily, and critically at all levels. In addition, they say, we use our own techniques of reading, research, and critical thinking at a mostly unconscious level; as a result, we need to recover our awareness of how they work within us to understand how to teach them to students. This, our presenters told us, is true whether we are teaching students to read introductions and topic sentences, to read literature better by understanding its cultural roots, or to read critically for understanding and discussion. The Chronicle of Higher Education also reports research demonstrating these needs and colleges and universities across the U.S. responding.
---
Chronicle of Higher Education:

(1) "The Fall, and Rise, of Reading." Researchers, a Harvard professor, and others report far less K-12 reading and a need to teach better college reading skills.

(2) "Why One University Went All Out on Teaching Reading." U.Cal.-Santa Cruz creates a required college reading course in addition to its required writing courses.

Also recommended:

(3) National Council of Teachers of English: Sullivan et al., ed. Deep Reading: Teaching Reading in the Writing Classroom.
---

3. KEYNOTE ON DIVERSITY & CHILDREN'S LIT: WHAT WAS SAID?

Friday's keynoters were author and Minneapolis Community and Technical College Teaching Professor Shannon Gibney, and Associate Professor of Library and Information Science at St. Catherine University Sarah Park Dahlen. In their presentation, "Diversifying Books, Especially for Children," they explained how children's literature until recent years had few books about children of color, and only is changing now, and too slowly for the increasing number of children of color in school systems. Dahlen and Gibney also explained how they felt so marginal as people of color in their own academic communities, and how much they appreciate all the college students of differing cultures and colors now coming into many colleges, where representing all cultures and colors in readings is ever more important.
---
Resources from Dahlen and Gibney for "Diversifying Books, Especially for Children":

- http://readingwhilewhite.blogspot.com/p/resources-for-further-reading-websites.html
- https://socialjusticebooks.org/
- https://sophia.stkate.edu/rdyl/
- To follow great diversity work in youth literature, look up #DiversityJedi on Twitter.
---

4. "I READ IT BUT DON'T UNDERSTAND IT" KEYNOTE: WHAT WAS SAID?

Saturday's keynoters were Shirley Johnson, Interim Dean and Department of Reading Teaching Professor, North Hennepin Community College; and Linda Russell, Department of Reading, Minneapolis Community and Technical College (Teaching Professor Emeritus). Their presentation, "I Read It but Don't Understand It," described how introductory college courses could help make students much better college readers. Introductory-writing teachers especially can help, as they already teach research and writing. However, helping students better read needs a conscious deconstruction of our own unconscious reading skills. Russell and Johnson detailed simple methods: pre-reading (skimming an article or book before reading it), finding thesis and topic sentences, examining clues for good research resources, et al.
---
Resources from Johnson and Russell for "I Read It but Don't Understand It":

Brown et al. Making It Stick: The Science of Successful Learning. Cambridge,
MA: Belknap P.
Harste and Carey. "Comprehension as Setting." Harste and Carey. New Perspectives
on Comprehension. Bloomington: Indiana U.
Hanford. Why Aren't Kids Being Taught to Read? Podcast. AmericanPublicMedia.org.
Heath and Heath. Made to Stick: Why Some Ideas Survive…. New York: Random
House.
Pearson et al. Developing Expertise in Reading Comprehension. Champaign: U.Ill.
Shanahan and Shanahan. "Teaching Disciplinary Literacy."
https://shanahanonliteracy.com/publications/teaching-disciplinary-literacy Mar. 27,
2019.
Sullivan et al., ed. Deep Reading: Teaching Reading in the Writing Classroom.
Urbana: NCTE.
Tovani. I Read It, but I Don't Get It: Comprehension Strategies…. Portland, ME:
Stenhouse P.
Wexler. "Why We're Teaching Reading Comprehension In a Way That Doesn't Work."
Forbes. www.forbes.com. Mar. 27, 2019.
Willingham. The Reading Mind: a Cognitive Approach…. San Fran.: Jossey Bass.
---
---

5. ABOUT MNWE (repeated in each newsletter):

VIEW OUR NEWSLETTERS: For new and old issues, click here: "MnWE News."

FORWARDING/JOINING: Please forward this email to others, especially if you are a MnWE representative listed below. Your newer full-time and adjunct faculty members, graduate students, and writing center tutors may not receive it.

If you are not on the listserv and would like to join it, simply send your request and email address to richard at jewell dot net.

WHO WE ARE: "MnWE" is "Minnesota Writing and English," a volunteer organization started in 2007. MnWE has a coordinating committee, a listserv, and an annual spring conference. All activities are by and for college, university, and college-in-the-high-schools English and writing faculty, graduate and undergraduate students, and related academic and literary scholars, writers, tutors, and others in the Upper Midwest. Our purpose is to bring together these communities in Minnesota, Wisconsin, Iowa, and North and South Dakota.

Our website is MnWE.org; our geographical center is Minneapolis-St. Paul. Over 2000 faculty, tutors, and graduate students are on our listserv. Our listserv members come from state universities, public and private two-year colleges, private colleges and universities, high schools, and the Universities of Minnesota, Wisconsin, North Dakota, and other public universities. Our activities are led by a large, active committee of representative volunteers.

GRADUATE CREDIT: Anyone may earn one graduate credit from Southwest Minnesota State University for attending one MnWE Conference day and writing a related research paper (up to three times). For questions about this course—"Eng 656: MnWE Practicum"—please contact lisa dot lucas at smsu dot edu or see www.smsu.edu/academics/programs/english/?id=11637 .

HOW TO REMOVE YOURSELF FROM THE LIST: If you want to be removed from this listserv, please do so yourself, following directions at the very bottom of this email. If you try without success, then send an email to richard at jewell dot net indicating (1) this problem, (2) your specific email address copied from the directions at the bottom of a MnWE mailing, and (3) your request for removal.

FORMATTING, INVITATION, & CREDITS: These listserv emails usually are formatted in a simple way using html. If you cannot read them, please go to the link at the top right to see them on the Web.

If you have any questions, we invite you to email any of the coordinators on the MnWE Committee. You also are always invited to attend any of our five MnWE Committee meetings per year. In addition, you are invited to offer suggestions—or volunteer your leadership—for a special or double section at the annual conference.

This newsletter is written primarily by Richard Jewell without copyright so that anyone may quote, paraphrase, or forward any or all of it freely, unless otherwise noted. We ask only that you give credit to the "MnWE Newsletter" and/or "www.MnWE.org"; and when you use material that has been quoted or paraphrased in this newsletter from other sources, please be sure to give proper credit to the original source.
---
---
Richard Jewell, General Coordinator
Larry Sklaney, Conference Coordinator
Danielle Hinrichs, Program Coordinator
Gordon Pueschner, Site Floor Coordinator
Ellen Zamarripa, Treasurer & Volunteer Coordinator
Jana Rieck, Communications Coordinator
Vanessa Ramos, NHCC, 2019 Site Coordinator
Kirsti Cole, Minn. State-Mankato, 2020 Site Coordinator
richard at jewell dot net - (612) 870-7024
larry dot sklaney at century dot edu - (651) 747-4006
danielle dot hinrichs at metrostate dot edu - (651) 999-5960
gordon dot pueschner at century dot edu - (651) 686-4468
ellen.zamarripa at mail dot waldenu dot edu
janaL dot rieck at yahoo dot com
vramos at nhcc dot edu
kirsti dot cole at mnsu dot edu

MnWE.org
Minnesota Writing & English
A Consortium of Colleges & Universities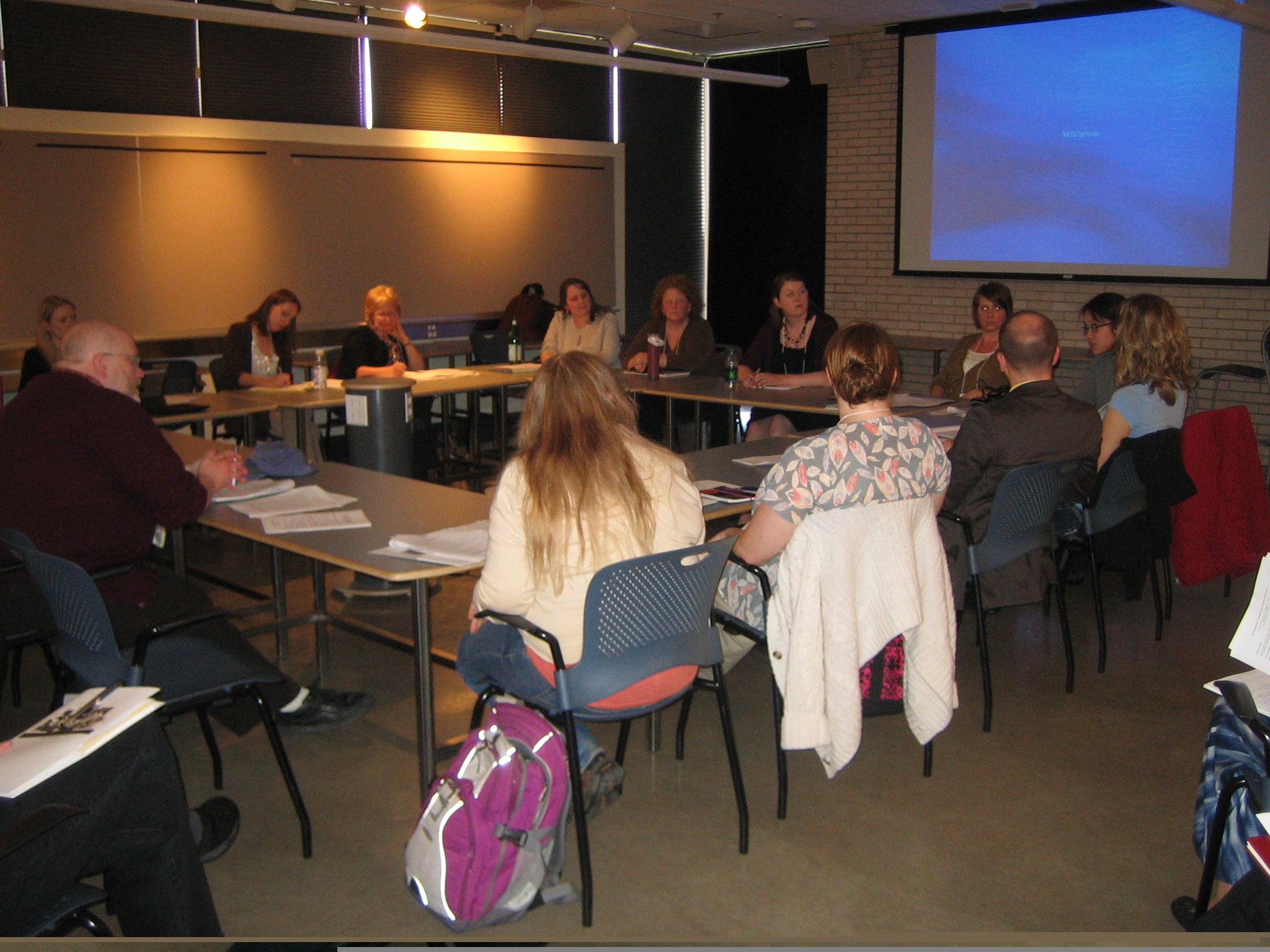 Mission:
Transforming writing and English
into teaching and learning experiences using methodologies that serve students best
Vision:
Bringing scholarly ideas and practical pedagogy together
to create our futures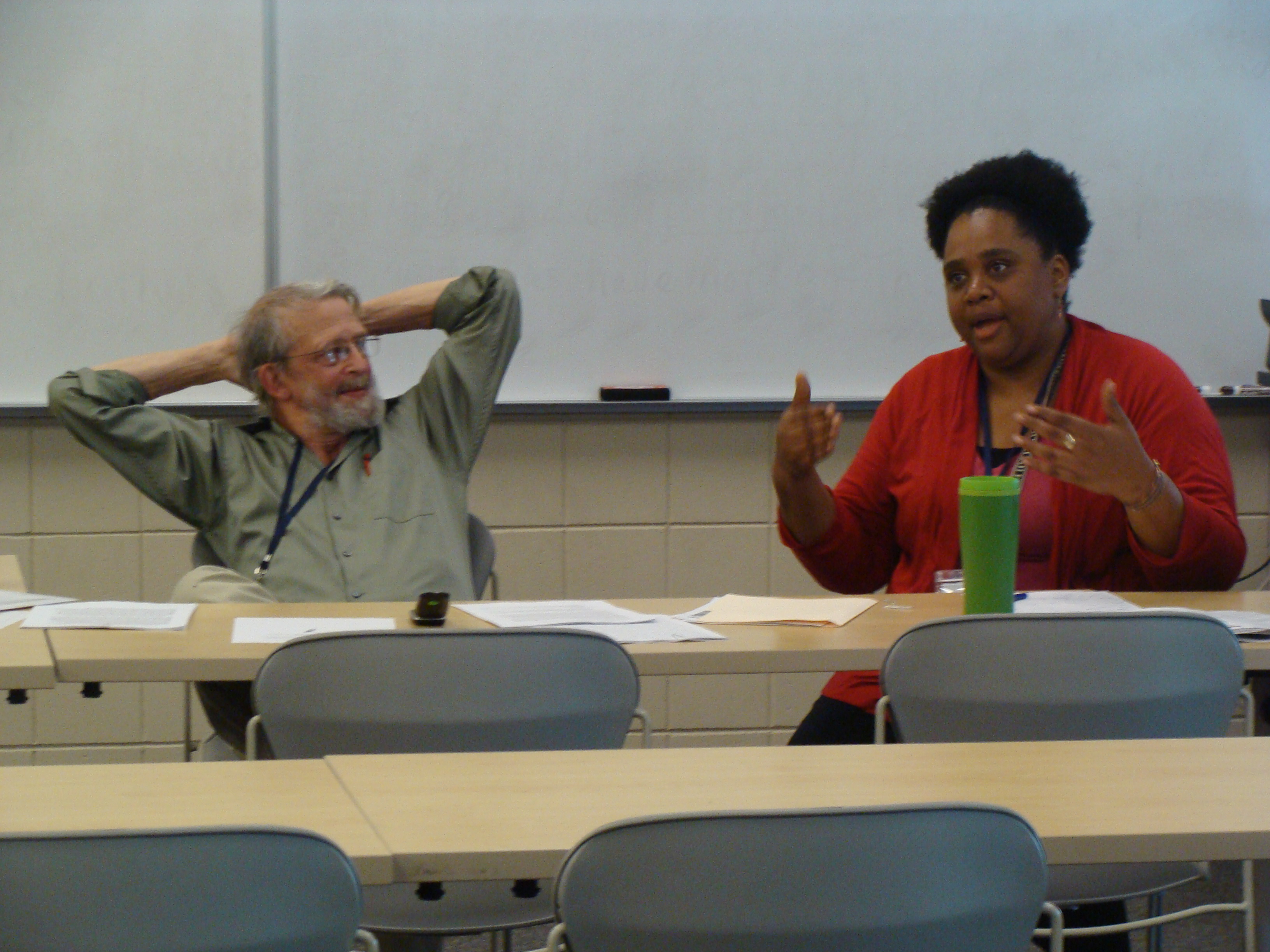 Donald Ross of the University of
Minnesota and Taiyon Coleman of St. Catherine University run a breakout session about literature. In a later year, they jointly provided a MnWE keynote.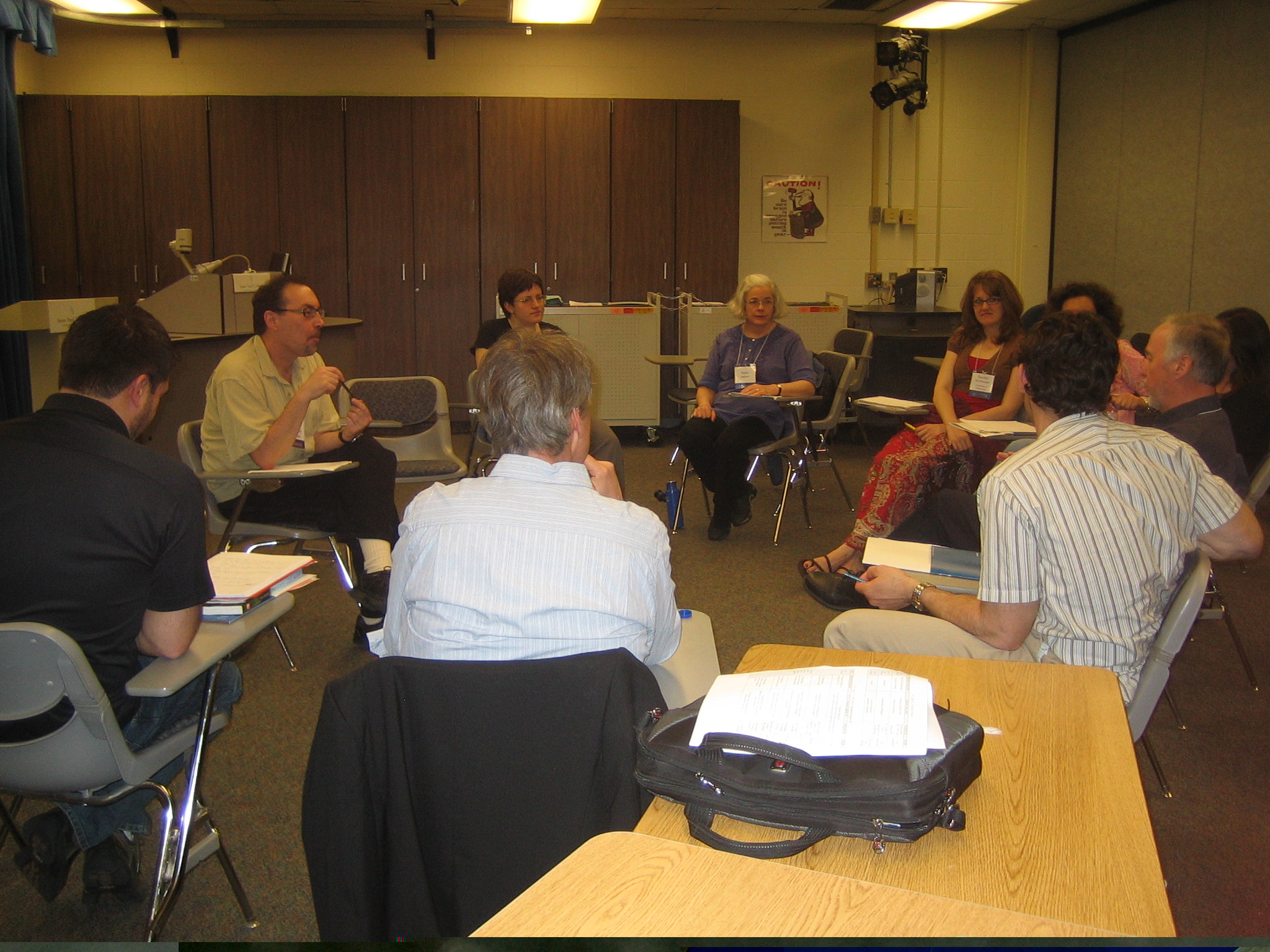 Geoffrey Sirc of the University of Minnesota runs a small breakout after his keynote presentation. Many University of Minnesota faculty have given presentations at MnWE, as well as faculty and graduate students from many other universities, colleges, and high schools.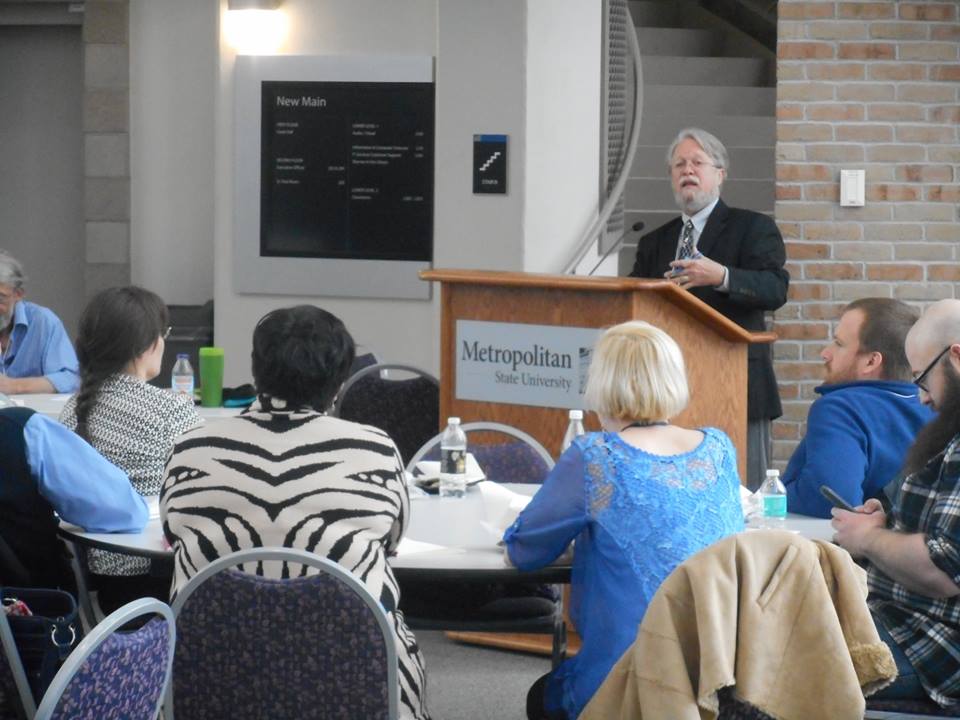 MnWE started in 2007. The cofounders
were Richard Jewell, here giving a welcome after lunch, and Donald Ross, second picture above. MnWE has drawn presenters from Minnesota, the states and province around it, and at least five other states and countries.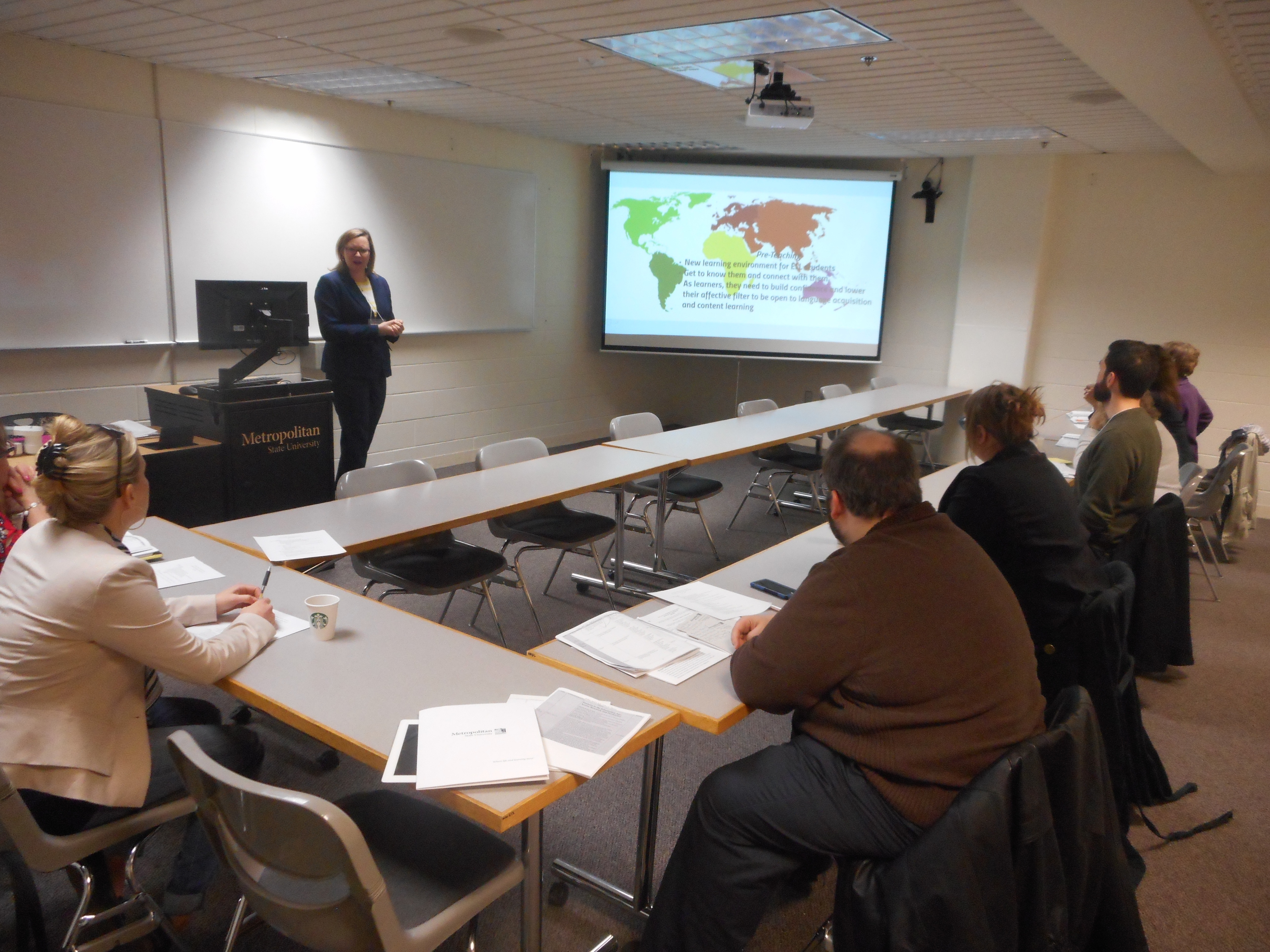 During a 2016 breakout, Beata Puschner presents on improving classroom inclusion of ELL students. MnWE attracts a variety of people in other departments and positions, too, from ESL and Reading to Library Science and college-in-the-high-schools faculty.