"MnWE News" Conference Issue, March-April 2019
Click here to register for MnWE Conference (online on or before March 30).

In this issue:

1. WHAT IS THE APRIL 5-6 CONFERENCE ABOUT AND WHERE IS IT?

2. WHO ARE THE LUNCH KEYNOTERS AND A.M. PLENARY SPEAKERS?

3. WHAT ARE BREAKOUT TOPICS AND PARTICIPATING SCHOOLS?

4. MISC.: HOTELS ARE FILLING QUICKLY! GIVE AWAY YOUR OLD BOOKS?

5. SIGN UP BY APRIL 1 FOR GRADUATE CREDIT FOR ATTENDING MnWE!

6. RESPONSES TO JAN.-FEB. "PRONOUN WARS" & "GRAPHIC NOVELS"

7. About MnWE: Forwarding the News, Joining/Leaving, Representatives
If you are a MnWE representative, chair of a department, or Writing/English Coordinator,
please forward this email to colleagues in English, Writing, Reading, ESL,
and related fields. Many new faculty and writing tutors may not be on the email list.

If you are a long-term member of this listserv, thank you
for your continued participation. If you are new, welcome! Our
listserv emails go to over 1500 English, Writing, and related Upper
Midwest faculty. To join, send a request to the editor at richard at jewell dot net.

Next conference: "Connecting Reading and Writing,"
North Hennepin Community College Fri.-Sat., April 5-6, 2018

Our website is at www.MnWE.org. You are welcome to attend our next
Committee meeting, immediately after the second day of the MnWE Conference; or
ask me–richard at jewell dot net–how to Skype in to the meeting. – Richard Jewell, Editor
1. WHAT IS THE APRIL 5-6 CONFERENCE ABOUT AND WHERE IS IT?

Would you like to save $10 on registration? If so, register now, or no later than 11 pm Saturday, March 30: go to www.MnWE.org or click here on Register for MnWE Conference . Your preconference registration helps us save money on food orders and allows us to print a nametag for you.

The conference this year has one of our best lineups ever at a handsome and comfortably accessible campus, North Hennepin Community College, in the northwest Twin Cities metro area not far from I-94 and I-694. Parking is free, and you can register at the door if you haven't registered online. For directions, go to www.MnWE.org or click here: Directions, Campus Map, and Parking .

This year's theme, "Connecting Reading and Writing," has created much enthusiasm among presenters from throughout Minnesota and two nearby states. We have a near-record seventy events and breakouts from which to choose.

Our profession used to assume, a few generations ago, that reading well was a gift some students had from family or genes. But we know, now, that reading can be taught and practiced at any age, like other skills-based processes. We can do more than just say, "Go research" or "Go read a great novel." We need to learn how to help students become process readers.

But how should we do this? Different needs require different strategies. Using these with students is becoming, increasingly, a part of good pedagogy in lower-division English/Writing. Many of us are learning, for example, how to ask students to look for topic sentences in research materials–or, in literature, how to find both elements and the topic sentences. If we can increase our students' reading skills, we can help them improve, sometimes substantially, their learning of writing and literature.
---

2. WHO ARE THE LUNCH KEYNOTERS AND A.M. PLENARY SPEAKERS?

For more information: 2019 Keynote and Plenary Speakers

Friday 9 am Plenary: "Writing and Reading: Beyond Assignments for the Teacher" by Jodi Baker, Literacy Coach, Champlin Park High School and Augsburg Univ.; Kristi Romo, Literacy Coach, Anoka High School and Bethel University; and Patti Green, Literacy Consultant, Hamline University

Friday Lunch Keynote: "Diversifying Books, Especially for Children" by author and Minneapolis Community and Technical College Teaching Professor Shannon Gibney, and Associate Professor of Library and Information Science at St. Catherine University Sarah Park Dahlen

Saturday 9 am Plenary: "Strategies for Connecting Reading and Writing" by Heather Camp, Director of Composition and Coord. of Writing Across the Curriculum, Minnesota State University-Mankato; Robin Murie, Teaching Specialist, Minnesota English Language Program, University of Minnesota-Twin Cities; and Jennifer Robey, Reading and Student Success, Century College

Saturday Lunch Keynote: "I Read It but Don't Understand It" by two of the top experts and educators in College Reading in Minnesota Public Colleges: Shirley Johnson, Department of Reading, North Hennepin Community College; and Linda Russell, Department of Reading, Minneapolis Community and Technical College (retired)
---
www.MnWE.org
---

3. WHAT ARE BREAKOUT TOPICS AND PARTICIPATING SCHOOLS?

This year's conference has thirty-two participating institutions from six states. The institutions include fourteen public universities, eight community colleges, two high schools, one bank, and eight private colleges. Special events include two keynotes during lunch, and two 9 am plenary panels (see above). Food includes morning snacks and coffee, two lunches (included in your registration fee), and two happy hours and dinners (self-pay; Friday night's happy hour and dinner are particularly popular).

In addition, there are thirty-nine breakouts given by seventy-one presenters on a wide range of subjects, most of them related to connecting reading and writing. They range from workshops and panels to individual presentations and from high-level strategies for teaching reading in college-level English and Writing to deeper examinations of what reading means, and to creative writing presentations and strategies.

Subjects range from college- and developmental-level strategies for teaching to issues of literacy, talking, audio texts, digital and video learning, and reading online conversation. They also include research reading, multi-lingual and culturally diverse reading, children's and adult literature, ESL reading, comprehension, WAC, scholarly reading, textbook reading, networking, critical thinking and reading, and writing-center/tutoring work.

Participating universities include the Universities of Minnesota-Crookston, Duluth, and Twin Cities; Mankato, Metropolitan, Moorhead, and Southwest State Universities; the Universities of Wisconsin-Eau Claire, La Crosse, and River Falls; Dakota, North Dakota, and South Dakota State Universities, and North Dakota State College of Science. Other schools include Anoka Ramsey, Century, Hennepin Tech, Inver Hills, North Hennepin, Minneapolis, State Fair (Missouri), and Rochester two-year public colleges; Anoka and Champlin Park High Schools; U.S. Bank; and private schools Alverno, Augsburg, Bethel, Hamline, St. Mary's, St. Thomas, Viterbo, and Walden.
---

4. MISC.: HOTELS ARE FILLING QUICKLY! GIVE AWAY YOUR OLD BOOKS?

HOTELS: Those of you reserving rooms should act quickly. We are in competition with the NCAA Final Four Tournament. Some of our hotels already are filled, and others are priced much higher than usual. To see our list of hotels, go to Hotel List and Directions .

USED BOOKS: Do you have some old books on writing or literature pedagogy, theory, or history that you'd like to give away? Bring them to our "Free Books" table! You also can find books there you might like to take home. Any used (or new) books on theories or teaching methods about composition, writing, and literature are fine, as well as histories of writing and literature: for example, books by Peter Elbow and literary theory books are very welcome and will be available to take home.

5. SIGN UP BY APRIL 1 FOR GRADUATE CREDIT FOR MnWE'S CONFERENCE!

Anyone may earn one graduate credit from Southwest Minnesota State University for attending one MnWE Conference day and writing a related research paper (class may be repeated up to two additional times). For questions about this course—"Eng 656: MnWE Practicum"—please contact lisa.lucas@smsu.edu or see www.smsu.edu/academics/programs/english/?id=11637 .
---

6. RESPONSES TO JAN.-FEB. "PRONOUN WARS" & "GRAPHIC NOVELS"

Five people responded to the Jan.-Feb. "Email News," four of them about "Pronoun Wars." In that short article, I offered a list of guidelines for eliciting from students the pronouns by which they want to be called: e.g., a non-binary student might ask to be called "they, them, theirs." Three people commented, however, that when I talked about my non-binary friend and former student, I used the pronouns "she" and "her." On the one hand, I followed the first guideline in the list and asked her what to use. She still wants to be called "she, her, hers." On the other hand, she actually identifies as asexual, which, I discovered, is different from "non-binary."

However, in spite of these facts and changes, I do wish that I had taken advantage of the opportunity to talk about her as "they/their." Doing so would have set a good example not only of what some people now want to be called, but also, even more clearly, of how such plural pronouns sound when referring to a single individual–hence the title of the article, "Pronoun Wars" and our decisions about whether to use plural pronouns in a sentence discussing one person.

In another Jan.-Feb. article, about graphic novels, a reader added an additional useful suggestion: "I think the best resource for teaching graphic novels is Scott McCloud's Understanding Comics. McCloud teaches readers to read images, symbols, and movement as well as words. I like the idea the French have about graphic novels or BD [bandes dessinées]; they consider it the ninth art worthy of its own study."
---
View previous "Email News" issues.
---
---

5. About MnWE (repeated in each newsletter):

FORWARDING/JOINING: Please forward this email to others, especially if you are a MnWE representative listed below. Your newer full-time and adjunct faculty members, graduate students, and writing center tutors may not receive it.

If you are not on the listserv and would like to join it, simply send your request and email address to richard at jewell dot net.

WHO WE ARE: "MnWE" is "Minnesota Writing and English," an organization with a coordinating committee, a listserv, and an annual spring conference by and for college, university, and college-in-the-high-schools English and writing faculty, graduate and undergraduate students, and related academic and literary scholars, writers, tutors, and others in the Upper Midwest. Our purpose is to bring together these communities in Minnesota, western Wisconsin, north and central Iowa, and the eastern Dakotas.

Our website is MnWE.org; our geographical center is Minneapolis-St. Paul. Over 2500 faculty, tutors, and graduate students are on our listserv. Our listserv members come from public and private two-year colleges, state universities, private four-year and graduate-degree colleges, high schools, and the Universities of Minnesota, Wisconsin, and North Dakota. Our activities are led by a large, active committee of representative volunteers.

GRADUATE CREDIT: Anyone may earn one graduate credit from Southwest Minnesota State University for attending one MnWE Conference day and writing a related research paper (up to three times). For questions about this course—"Eng 656: MnWE Practicum"—please contact lisa dot lucas at smsu dot edu or see www.smsu.edu/academics/programs/english/?id=11637 .

HOW TO REMOVE YOURSELF FROM THE LIST: If you want to be removed from this listserv, please do so yourself, following directions at the very bottom of this email. If you try without success, then send an email to richard at jewell dot net indicating (1) this problem, (2) your specific email address copied from the directions at the bottom of a MnWE mailing, and (3) your request for removal.

FORMATTING, INVITATION, & CREDITS: These listserv emails usually are formatted in a simple way using html. If you cannot read them, please go to the link at the top right to see them on the Web.

If you have any questions, we invite you to email any of us on the committee. You also are always invited to attend any of our five MnWE Committee meetings per year. You also are invited to offer suggestions—or volunteer your leadership—for a special or double section at the annual conference.

This newsletter is written primarily by Richard Jewell without copyright so that anyone may quote, paraphrase, or forward any or all sections freely, unless otherwise noted. We ask only that you give credit to "MnWE Newsletter" and/or "www.MnWE.org"; and when you use material that has been quoted or paraphrased in this newsletter from other sources, please be sure to give proper credit to the original source.
---
---
Richard Jewell, General Coordinator
Larry Sklaney, Conference Coordinator
Danielle Hinrichs, Program Coordinator
Gordon Pueschner, Onsite Coordinator
Ellen Zamarripa, Volunteer Coordinator
Jana Rieck, Communications Coordinator

Alexander Champoux, UMN, 2018 Site Coordinator
Vanessa Ramos, NHCC, 2019 Site Coordinator
richard at jewell dot net - (612) 870-7024
larry dot sklaney at century dot edu - (651) 747-4006
danielle dot hinrichs at metrostate dot edu - (651) 999-5960
gordon dot pueschner at century dot edu - (651) 686-4468
ellen.zamarripa at mail dot waldenu dot edu
janal dot rieck at yahoo dot com
champ147 at umn dot edu
vramos at nhcc dot edu

MnWE.org
Minnesota Writing & English
A Consortium of Colleges & Universities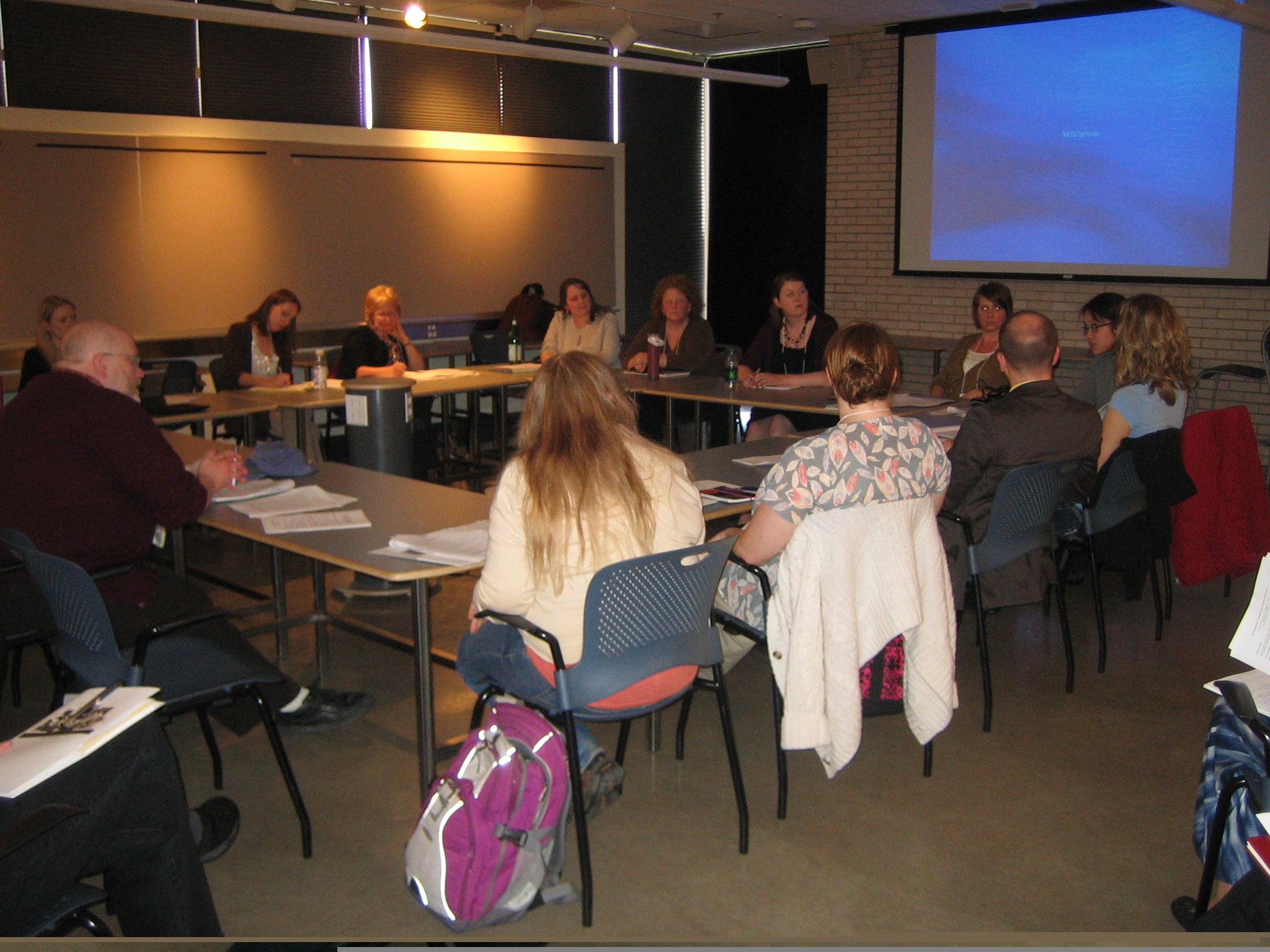 Mission:
Transforming writing and English
into teaching and learning experiences using methodologies that serve students best
Vision:
Bringing scholarly ideas and practical pedagogy together
to create our futures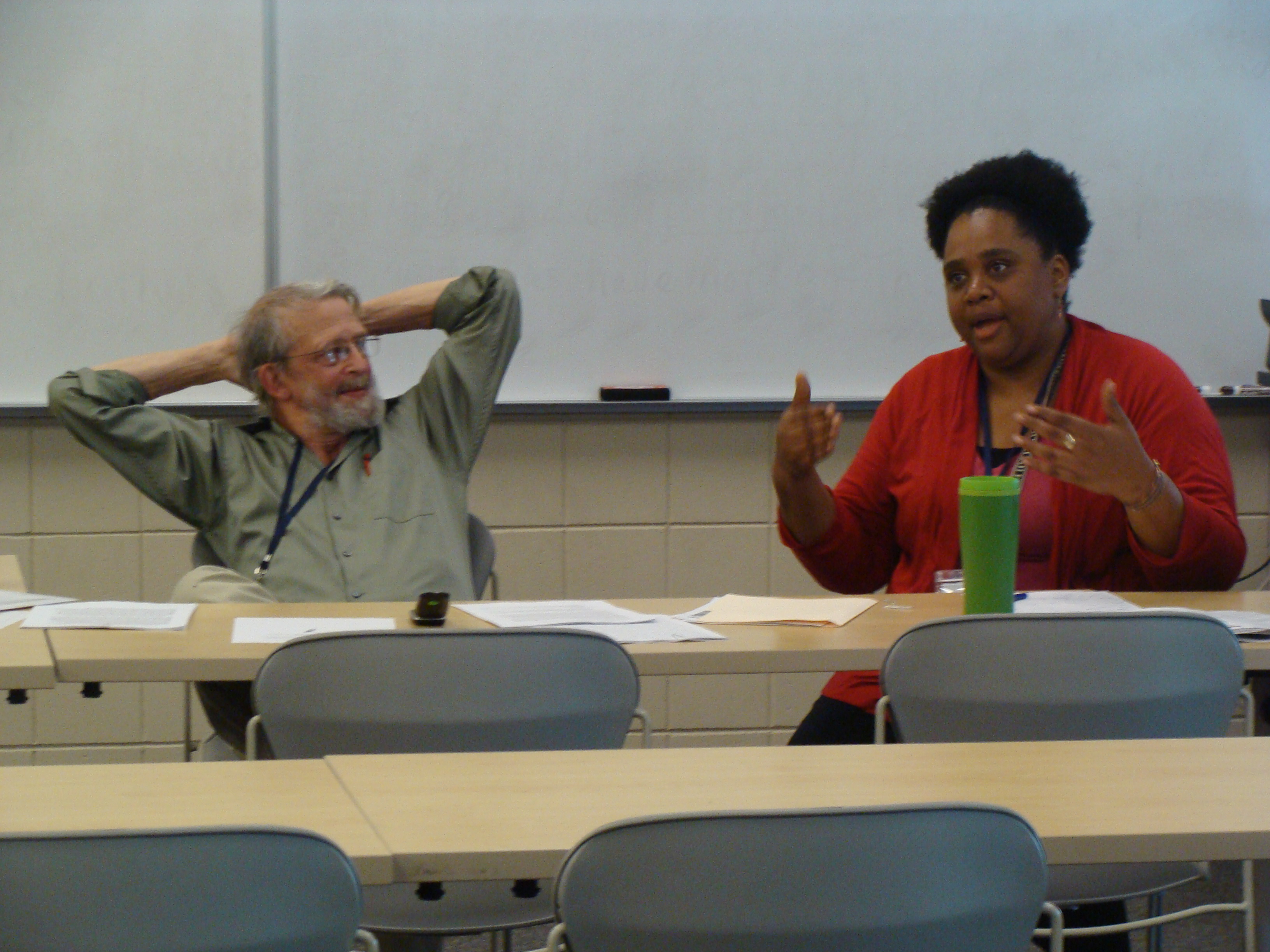 Donald Ross of the University of
Minnesota and Taiyon Coleman of St. Catherine University run a breakout session about literature. In a later year, they jointly provided a MnWE keynote.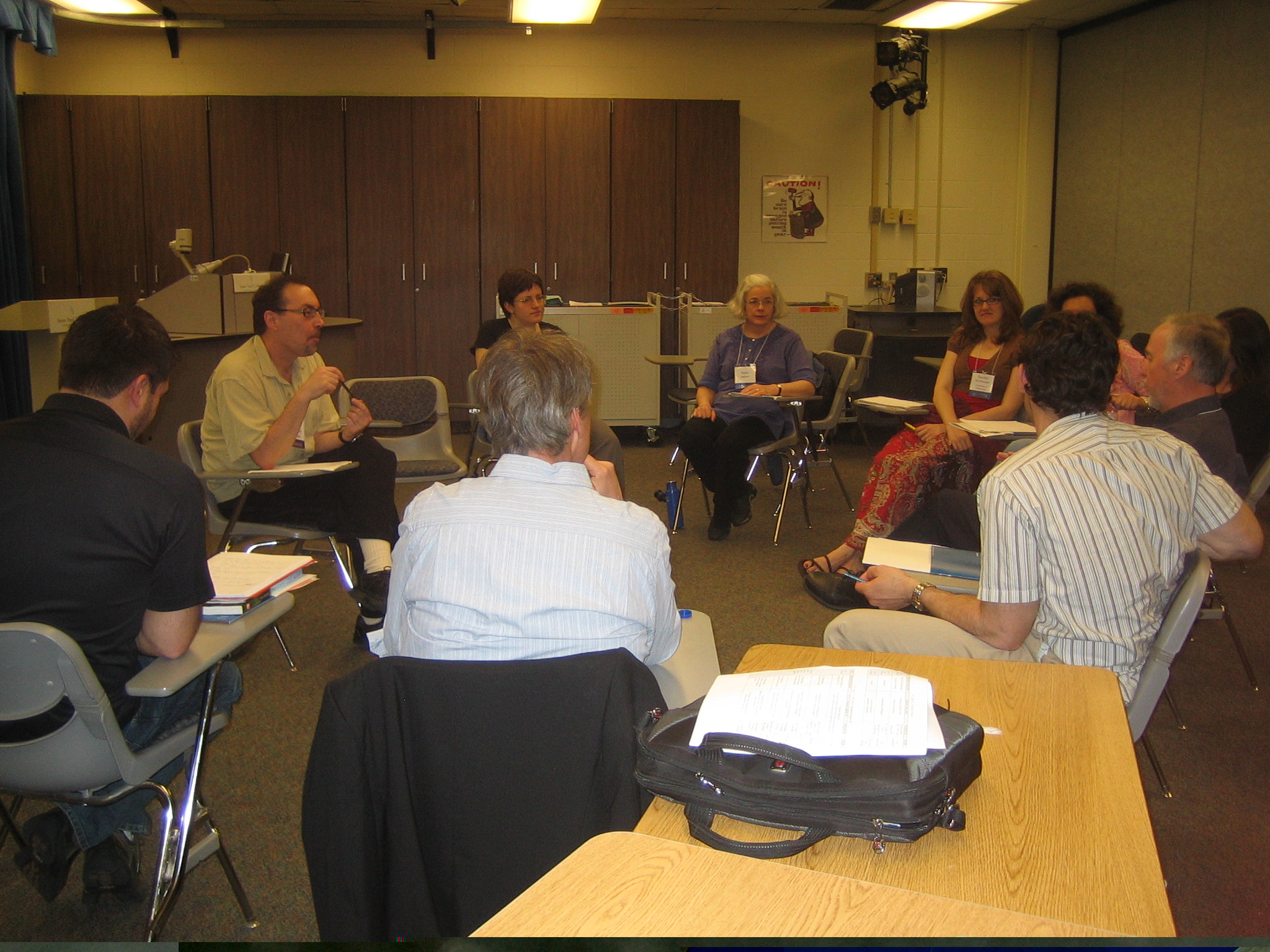 Geoffrey Sirc of the University of Minnesota runs a small breakout after his keynote presentation. Many University of Minnesota faculty have given presentations at MnWE, as well as faculty and graduate students from many other universities, colleges, and high schools.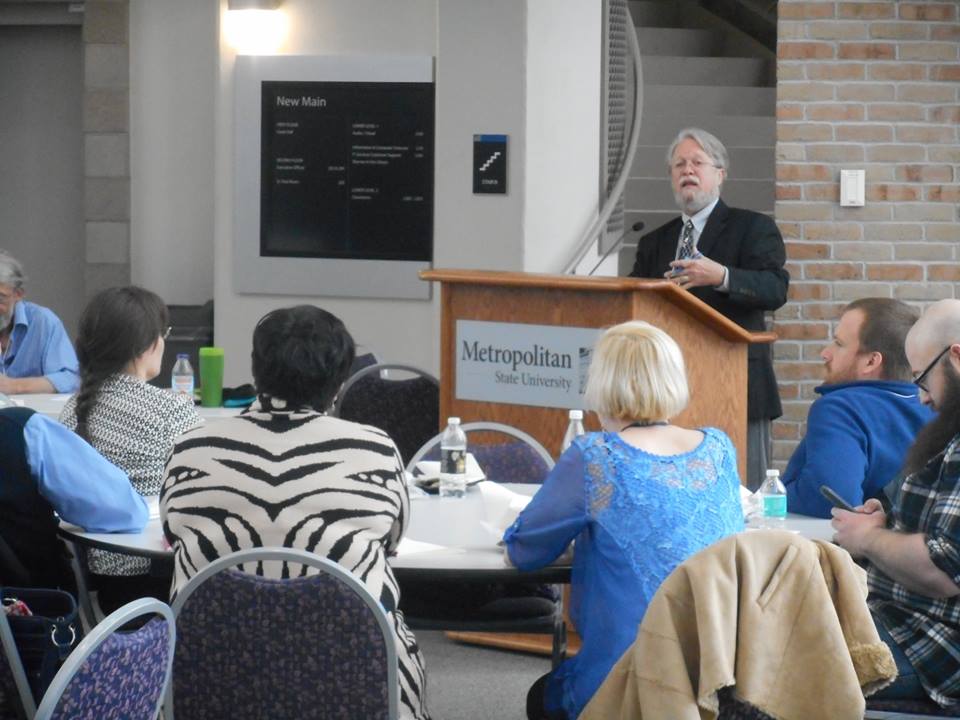 MnWE started in 2007. The cofounders
were Richard Jewell, here giving a welcome after lunch, and Donald Ross, second picture above. MnWE has drawn presenters from Minnesota, the states and province around it, and at least five other states and countries.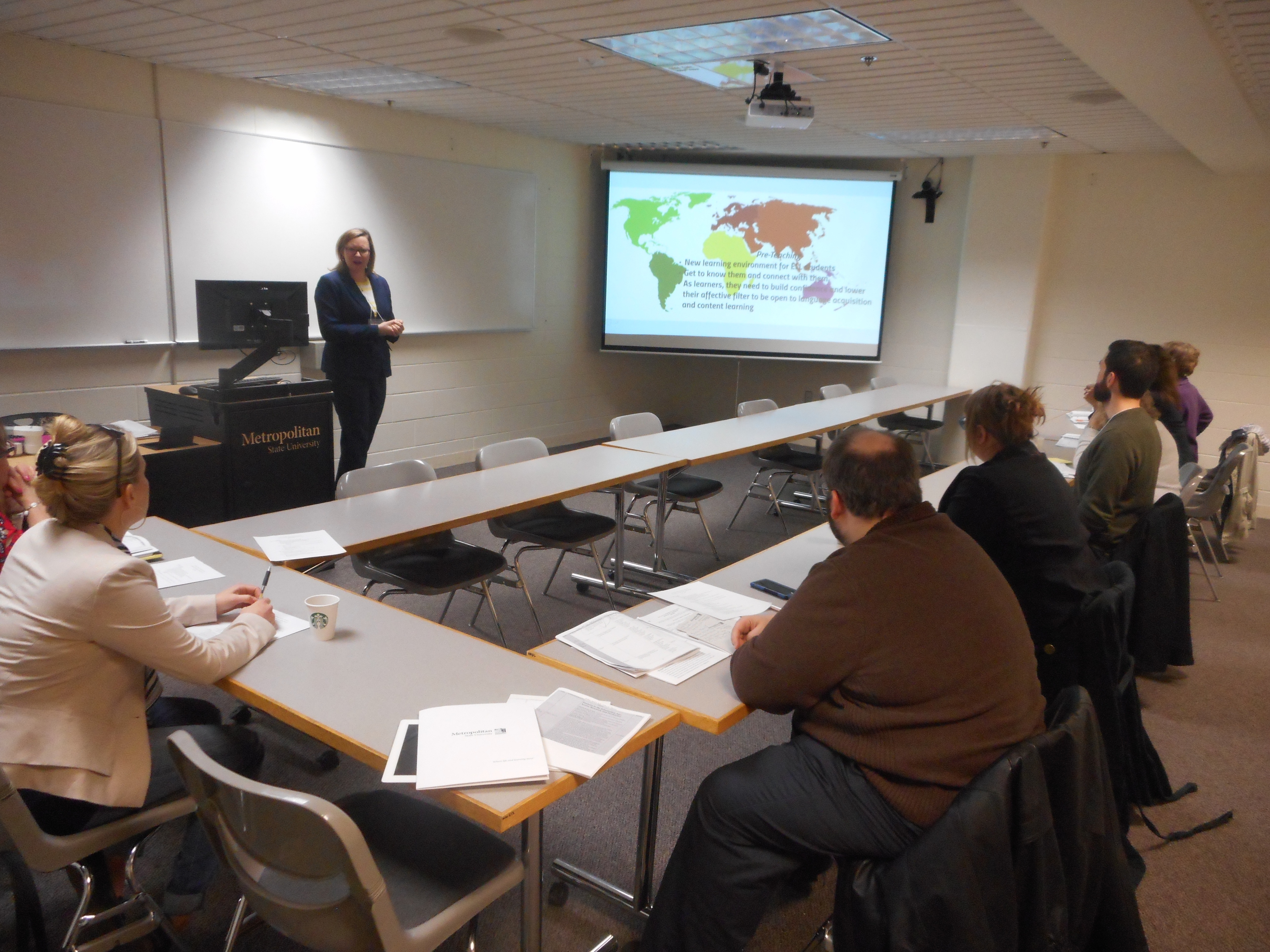 During a 2016 breakout, Beata Puschner presents on improving classroom inclusion of ELL students. MnWE attracts a variety of people in other departments and positions, too, from ESL and Reading to Library Science and college-in-the-high-schools faculty.