"MnWE News" Late Fall Issue
November-December 2019

Next Conference: "Civic Engagement through 21st Century Literacies"
Minnesota State University-Mankato, Fri.-Sat., March 20-21, 2020
In this issue:
1. CAN YOU SEND A CONFERENCE PROPOSAL BY JAN. 19?

2. "THE DANGERS OF FLUENT LECTURES"

3. LABOR CUTS: UM-DULUTH, PRIVATE-COLLEGE UNIONS

4. HOW CAN YOU START TEACHING TONI MORRISON?

5. FREE TEACHING E-LETTERS (in each issue starting 11-'19)

6. ABOUT MNWE (in each issue)
If you are new to our listserv, welcome!
We never share your email, and you may
always unsubscribe at the bottom of any email.

If you are a long-term member of this listserv, thank
you for your continued participation. Our listserv emails go
to over 1500 English, Writing, and related Upper Midwest faculty.

If you are a MnWE representative, chair of a department or program,
or a Writing/English/Tutor Coordinator, please forward this email to your
colleagues in English, Writing, Reading, ESL, English Education, and/or re-
lated fields: new faculty, grad students, and tutors may not be on this listserv.

If you received this email from a colleague, you may join by
sending a request to the editor at richard at jewell dot net. If you are
a student or adjunct, we suggest you send us a permanent email address.

Our website is www.MnWE.org. You are welcome to attend our
committee meetings in Jan., Mar., May, Sept., or Nov., 3:30-5:30 pm,
usually at UMN's Nolte Center 235, or ask how to Skype in to the meeting:
email richard at jewell dot net. –RJ, Editor
1. CAN YOU WRITE A CONFERENCE PROPOSAL BY JAN. 19?

The holidays are a great time to prepare a brief proposal for the next MnWE Conference Fri.-Sat., March 20-21, at Minnesota State University-Mankato. We invite you to send us the proposal by going to www.MnWE.org . Our theme for the conference is "Civic Engagement through 21st Century Literacies." Your proposal only need be 50-100 words, and your presentation may be in rough outline form: in fact, we do not want you to read from a paper (though using an outline as your guide is fine), but rather to engage a small group, your attendees, by offering your ideas, thoughts, and experiences and then asking for their own.

We are a welcoming, positive, active conference full of teaching ideas and applications of theory from top people in our field as well as many faculty experimenting with new methods and ideas. At our most recent conference, roughly half of our attendees were from universities in and around Minnesota, and about half were from four- and two-year colleges and high schools.

You are not required to present on the theme: we accept any subjects that fit within the teaching of Composition, Literature, Rhetoric, Creative Writing, ESL/ELL, the relationships between high school and college-level English, or writing center and tutoring work. We welcome presentations on both practice and applied theory. You are welcome to present alone, in pairs, or with a group of colleagues. Short presentations typically are 20-25 minutes in length with discussion after (or during them), but larger groups (and some individuals and pairs) request a full hour.

For more information, see our announcement at www.MnWE.org . It calls us to reflect on our mission of educating writers and readers of texts that, we hope, show civic engagement with the world beyond the classroom. In fact, our functioning democracy depends on our textual functioning–our literacies–whether next door or in the wider world. How can our teaching be adapted to meet the needs of 21st century learners who are active participants and agents of change? How do our disciplines influence our approach to these questions? And how do we understand the relationship between courses, politics, civic duty, and conscience?

These questions have become dramatically more important as our country deals with constitutional issues and as we move into an election year. What should students'–and our own–civic responsibilities be? Let us know what you propose–or join us to find out what others suggest–for these urgent and pressing issues.
---
Theme, CFP, and Proposal Form: www.MnWE.org
---

2. "THE DANGERS OF FLUENT LECTURES"

Scientific research has shown for many years that students are more likely to learn when they use active learning in and after classroom meetings. However, according to Colleen Flaherty in "The Dangers of Fluent Lectures," "Students who engage in active learning learn more–but feel like they learn less–than peers in more lecture-oriented classrooms." In her review of a new study in Proceedings of the National Academy of Sciences, Flaherty says that this may happen in part because active learning is harder than more passive learning.

I remember literary lectures by my favorite undergraduate teacher, Professor Golding: urbane, dramatic, revealing. I walked away dazzled, feeling like I belonged to a secret society of the literary elite. When I have had other such lectures, I often remember little of it a week later. However, for Mr. Golding, I was an avid notetaker and discussed the lectures with friends after class–two active-learning strategies. More important, Prof. Golding made his lectures short enough to allow plenty of time for questions, talk, and debate, which he required of each of us while he used the Socratic method. And we wrote a paper about each book, synthesizing theory and literature. All of that was very useful active learning.

If you teach literature by lecture, you may find your students learning more if you add active learning in the classroom and afterward. If you teach writing, you may find students sometimes complaining about how much active learning they must do or even asking for more lecture. There are antidotes for both problems.

One antidote is mentioned in the scientific report to which Flaherty refers. Two groups of active-learning students were surveyed. During one term, one group simply used active-learning methods. However, the other group, while using the same type of methods, was given a presentation at the beginning of the term about active learning's purposes, methods, and better results. Afterward, when both groups were surveyed, the students who were given an introductory lecture on active learning felt much more positive about the process and their results.

Several active-learning strategies have been mentioned above. Other methods include reminding students–at the beginning of every activity–why and how it will help them learn. Second, you can offer description and praise to students–individually and as a group, every so often–about how much they have learned. Third, you can require students to take good notes when you lecture, and then hand them in for credit. Fourth, you can devise hands-on learning activities that not only teach students but also are fun, and then explain afterward what they have actually learned and how to apply it.

Long-term research supports using lecture if you add active learning to it. New research suggests that when you use active learning, you may need to find ways to help students feel positive about what it is offering them. This, Flaherty points out, may be especially true for students less experienced in learning in college, meaning in the first two years or, perhaps, in the very beginning of a major.
---
(a) Colleen Flaherty, "The Dangers of Fluent Lectures." 9 Sept. 2019: Inside Higher Ed
(b) Research article: Proceedings of the National Academy of Sciences, 24 Sept. 2019
---

3. LABOR CUTS: UM-DULUTH, PRIVATE-COLLEGE UNIONS

The University of Minnesota-Duluth campus is scheduled for $5.2 million in cuts. In English, no new master's degree students will be accepted for two years. The School of Fine Arts will be merged into the College of Liberal Arts, twenty-nine faculty and staff will experience reductions or termination, and thirteen TA positions will be lost (likely several in English). Another thirty full-time-equivalent positions will be gone through early retirements and closing of replacement hires. UMD has been losing money for several years; the $5.2 million cut equals "roughly 3% of the operating budget" (Star Tribune).

Private nonprofit college faculty generally, since 1980, cannot join a union. That is the law because courts consider such faculty part of management. Since 2009, this has become especially true when the college has any kind of religious affiliation, however casual. Adjunct faculty at such colleges may–and have–organized union chapters. But a third group successfully organizing since 2016–graduate student employees at private colleges–soon may be barred from doing so. In 2016, the National Labor Relations Board gave them the right to form unions. However, the Trump administration appointed new members to the NLRB, which now proposed, in September, to reverse its 2016 decision. The change is in process. It will have no affect on public colleges and universities: their labor organizing is regulated by laws in their states.
---
"University of Minnesota Duluth..." cuts: Star Tribune
Private nonprofit college unions: Inside Higher Ed
Barring grad students from unions: New York Times
---

4. HOW CAN YOU START TEACHING TONI MORRISON?
Toni Morrison is in a class all by herself, likely to become known as one of the greatest American novelists ever. She has won the Nobel, Pulitzer, National Book Critics Circle, and American Book Awards; a Grammy, a Presidential Medal of Freedom, and the French Order of the Arts and the Letters; and fifteen other major awards and a host of minor awards. She also was a longtime Princeton University professor.

Beloved and the short novel Sula are two very accessible novels, but many others work at different levels of teaching. Her novels are mixtures of brilliant metaphor, dramatic and even nightmare events, magic realism (e.g., Song of Solomon), history (from about 1920 onward), and, especially, sociocultural revelations of black, 20th-century life.

MLA's Approaches to Teaching the Novels of Toni Morrison (179 pp., 1997) is an excellent starting point. However, so much good material about her is available online that you and your students also can research her endlessly on the web.
---
MLA's Approaches to Teaching the Works of Toni Morrison
New York Times Obituary
Encyclopedia biographies: Britannica (short), Wikipedia (long)
---

5. FREE E-NEWSLETTERS (repeated in each "MnWE News"):

"NEA HigherEd," National Education Association, monthly
digest of higher-ed political news
Subscribe. Other NEA Inside Higher Ed e-letters

"The Source: Updates," MLA Style Center, short weekly
articles on composition pedagogy and readings
Subscribe (scroll to bottom). Sample e-letter
Other free MLA Style Center e-letter
"Teaching," Chronicle of Higher Education, short weekly
articles on teaching methods
Subscribe. Sample e-letter
Other free Chronicle e-letters

"Tomorrow's Professor," Stanford University, twice-
weekly, each with a full teaching-learning article
Subscribe. Sample e-letter and online version
---

6. ABOUT MNWE: Old Issues, Joining, Who We Are, Grad Credit, Unsubscribing (repeated in each "MnWE News"):

View Our Newsletters: For new and old issues, click here: "MnWE News."

Forwarding/Joining: Please forward this email to others, especially if you are a MnWE representative listed below. Your newer full-time and adjunct faculty members, graduate students, and writing center tutors may not receive it.

If you are not on the listserv and would like to join it, simply send your request and email address to richard at jewell dot net. We always enjoy receiving new list members.

Who We Are: "MnWE" is "Minnesota Writing and English," a volunteer organization started in 2007. MnWE has a coordinating committee, a listserv, and an annual spring conference. All activities are by and for college, university, and college-in-the-high-schools English and writing faculty, graduate and undergraduate students, and related academic and literary scholars, writers, tutors, and others in the Upper Midwest. Our purpose is to bring together these communities in Minnesota, Wisconsin, Iowa, North and South Dakota, and nearby Canada. Our keynoters speak on pedagogical concerns and are scholars and writers of national excellence from both local and national locations; some of our presenters come from states or countries far beyond our own geographical area. The majority of our attendees and presenters are from universities and private colleges; a strong minority are from two-year colleges, high schools, and other groups.

Our website is MnWE.org; our geographical center is Minneapolis-St. Paul. Over 1500-2000 faculty, tutors, and graduate students are on our listserv at any given time. Our listserv members come from state universities, public and private two-year colleges, private colleges and universities, high schools, and the Universities of Minnesota, Wisconsin, North Dakota, South Dakota, Iowa, and other public universities. Our activities are led by an active committee of unpaid college and university volunteers.

Graduate Credit: Anyone may earn one graduate credit from Southwest Minnesota State University for attending one MnWE Conference day and writing a related research paper (up to three times). For questions about this course–"Eng 656: MnWE Practicum"–please contact lisa dot lucas at smsu dot edu or see www.smsu.edu/academics/programs/english/?id=11637 .

How to Unsubscribe: If you want to unsubscribe from this listserv (and no longer receive the "MnWE News," MnWE Conference announcements, and other forwarded announcements), please do so yourself, following directions at the very bottom of this email. If you try unsubscribing on your own without success, then send an email to richard at jewell dot net indicating (1) your unsubscribing action didn't work, (2) your specific email address copied from the directions at the bottom of a MnWE mailing, and (3) your request for removal.

Formatting, Invitation, & Credits: These listserv emails usually are formatted in a simple way using html. If you cannot read them, please go to the link at the top right to see them on the Web.

If you have any questions, we invite you to email any of the coordinators on the MnWE Committee. You also are always invited to attend any of our five MnWE Committee meetings per year: to visit or join, email richard at jewell dot net and ask for the date and location of the next meetings. In addition, you are invited to offer suggestions—or volunteer your leadership—for a regular, special, or double section at the annual conference.

This newsletter is written primarily by "MnWE News" editor Richard Jewell without copyright so that anyone may quote, paraphrase, or forward any or all parts freely, unless otherwise noted. We ask only that you give credit to the "MnWE Newsletter" and/or "www.MnWE.org"; and when you use material that has been quoted or paraphrased in this newsletter from another source, please be sure to give proper credit to that original source.
---
---
Richard Jewell, General Coordinator
Larry Sklaney, Conference Coordinator
Danielle Hinrichs, Program Coordinator
Gordon Pueschner, Site Floor Coordinator
Ellen Zamarripa, Volunteer Coordinator
Jana Rieck, Communications Coordinator
Vanessa Ramos, NHCC, 2019 Site Coordinator
Kirsti Cole, Minn. State-Mankato, 2020 Site Coordinator
richard at jewell dot net - (612) 870-7024
larry dot sklaney at century dot edu - (651) 747-4006
danielle dot hinrichs at metrostate dot edu - (651) 999-5960
gordon dot pueschner at century dot edu - (651) 686-4468
ellen.zamarripa at mail dot waldenu dot edu
janaL dot rieck at yahoo dot com
vramos at nhcc dot edu
kirsti dot cole at mnsu dot edu

MnWE.org
Minnesota Writing & English
A Consortium of Colleges & Universities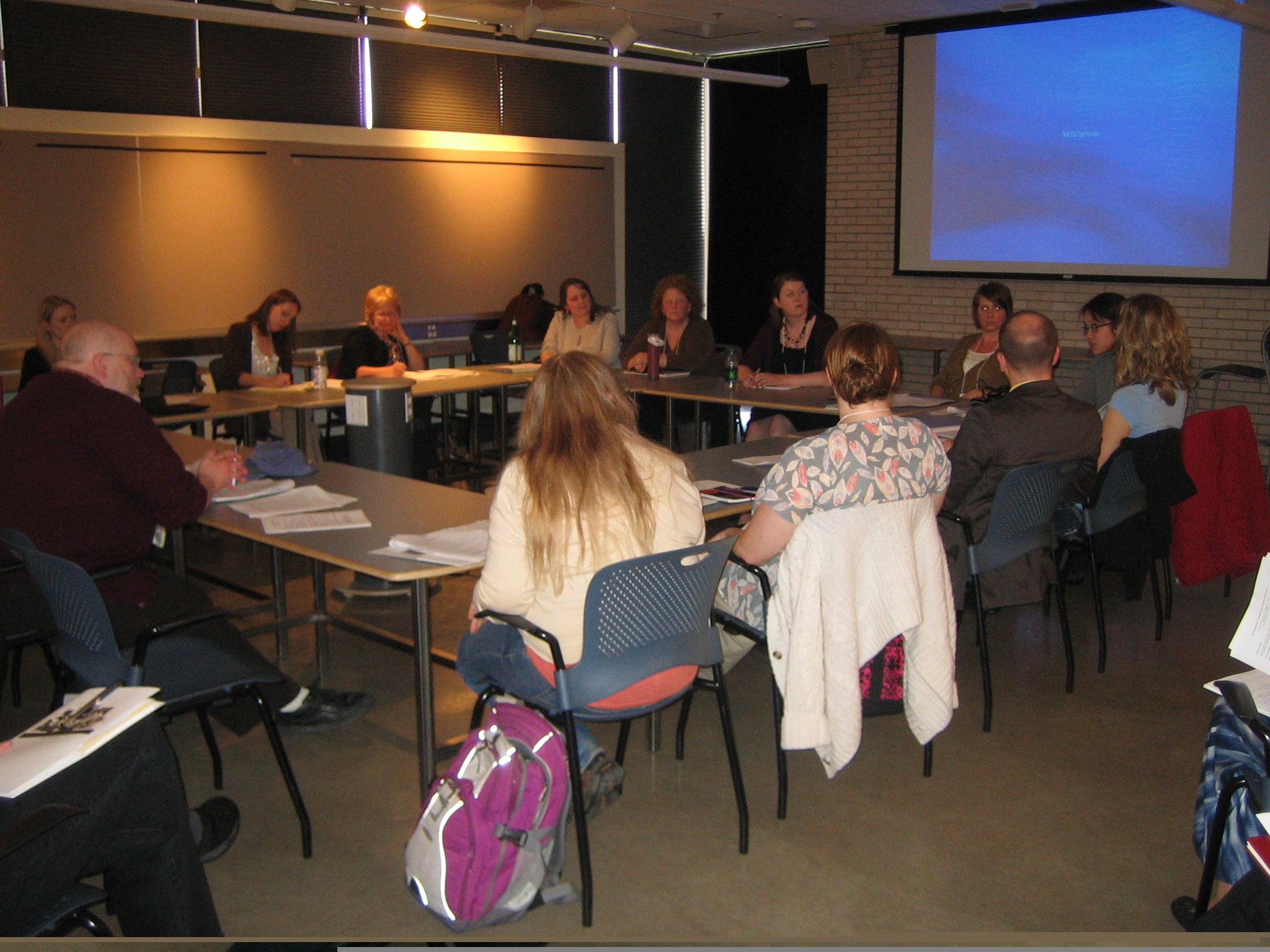 Mission:
Transforming writing and English
into teaching and learning experiences using methodologies that serve students best
Vision:
Bringing scholarly ideas and practical pedagogy together
to create our futures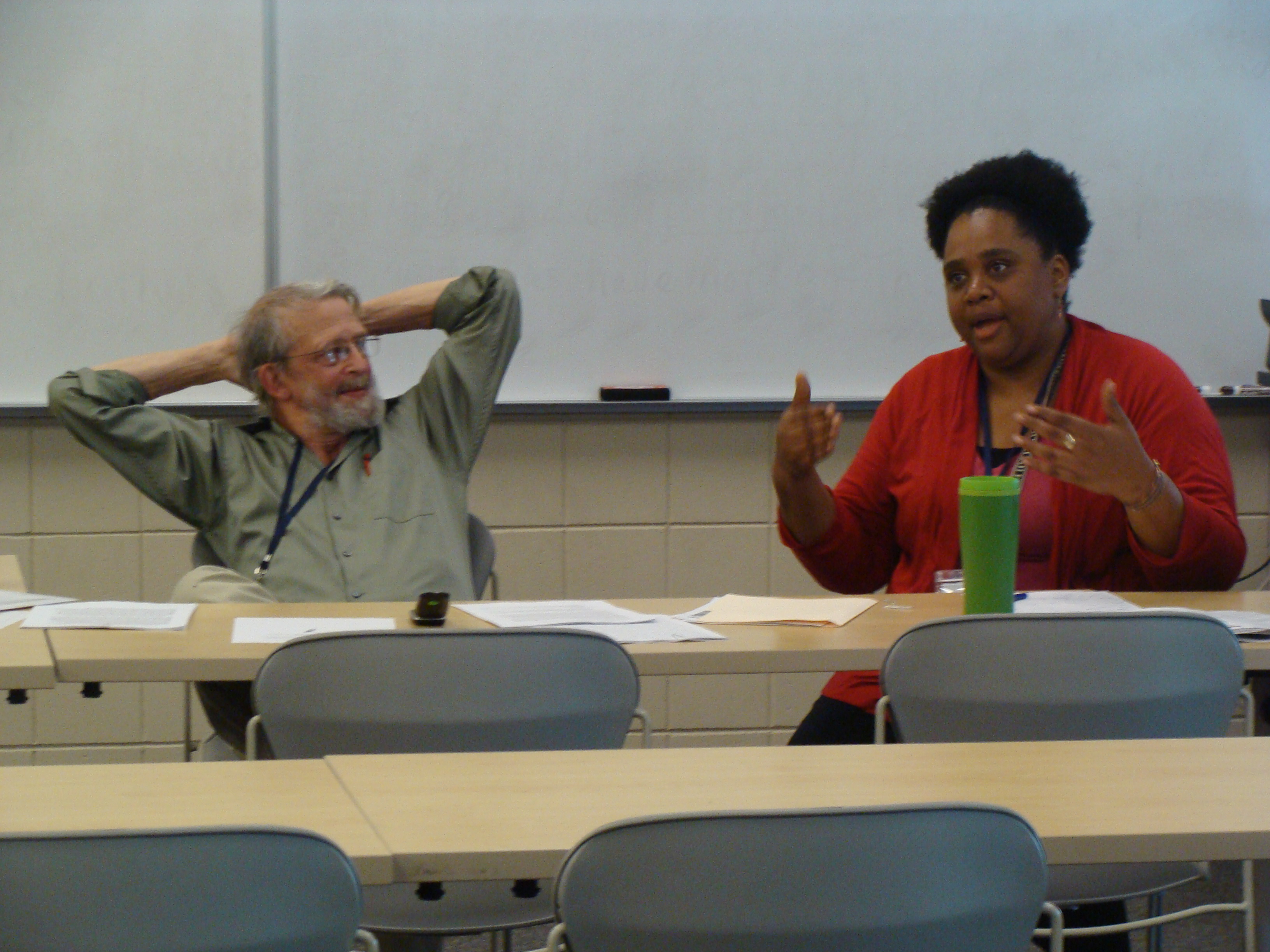 Donald Ross of the University of
Minnesota and Taiyon Coleman of St. Catherine University run a breakout session about literature. In a later year, they jointly provided a MnWE keynote.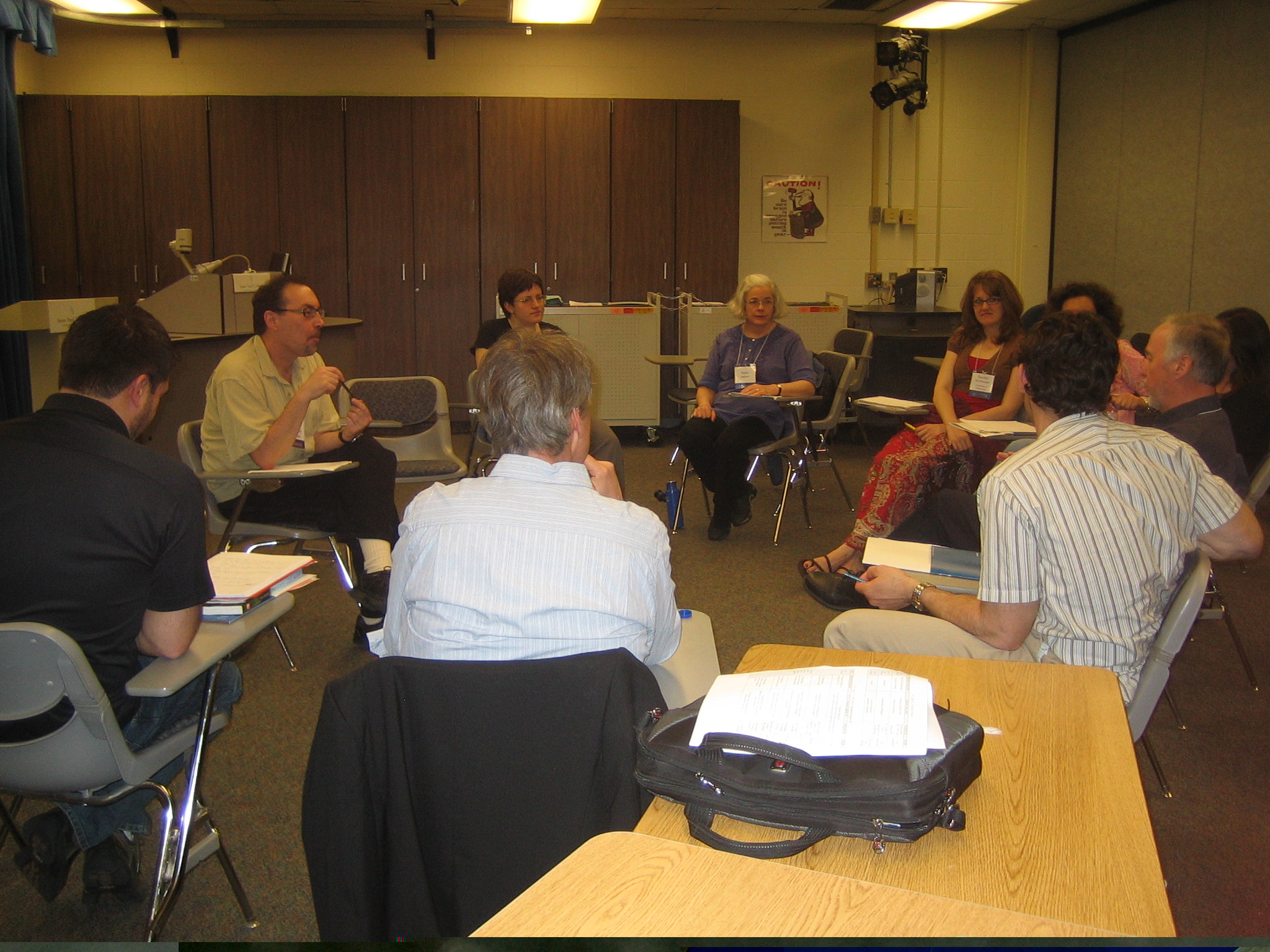 Geoffrey Sirc of the University of Minnesota runs a small breakout after his keynote presentation. Many University of Minnesota faculty have given presentations at MnWE, as well as faculty and graduate students from many other universities, colleges, and high schools.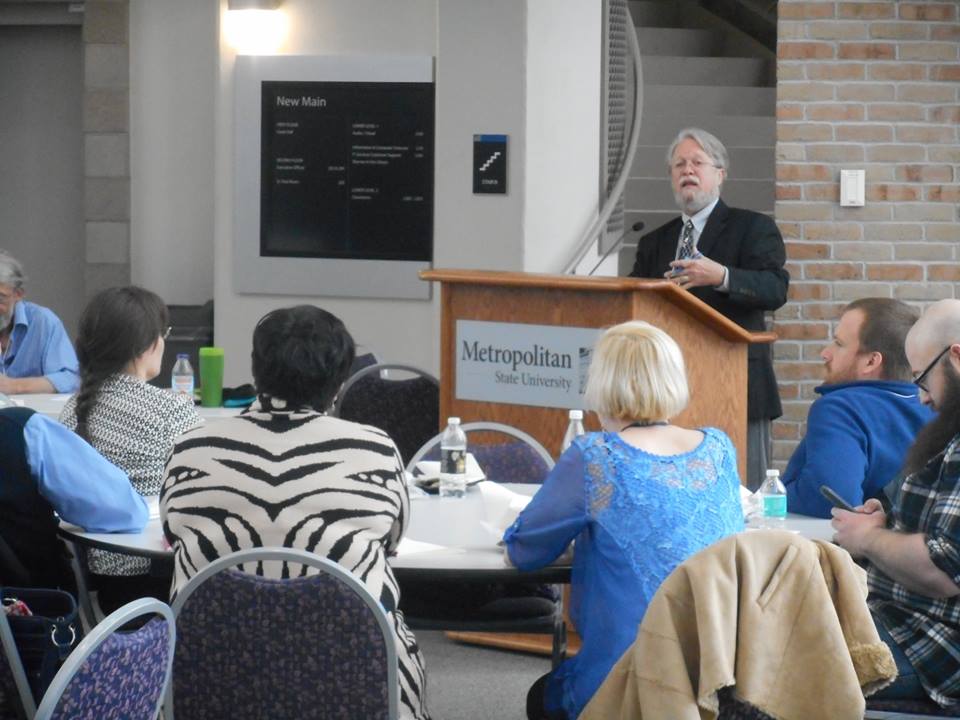 MnWE started in 2007. The cofounders
were Richard Jewell, here giving a welcome after lunch, and Donald Ross, second picture above. MnWE has drawn presenters from Minnesota, the states and province around it, and at least five other states and countries.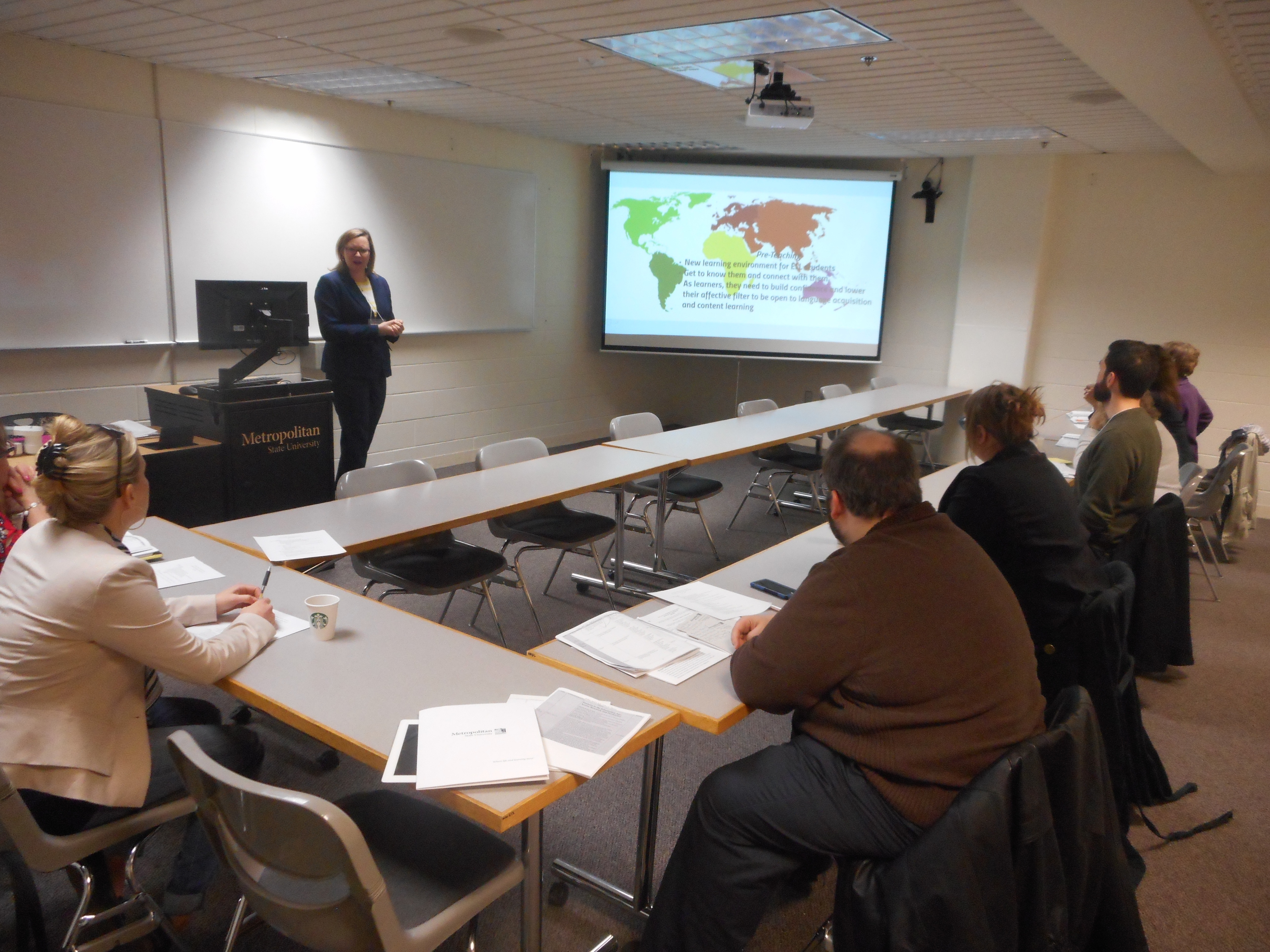 During a 2016 breakout, Beata Puschner presents on improving classroom inclusion of ELL students. MnWE attracts a variety of people in other departments and positions, too, from ESL and Reading to Library Science and college-in-the-high-schools faculty.