"MnWE News" Winter Issue, January-February 2019
In this issue:

1. FEB. 10: FINAL CHANCE TO PROPOSE FOR THE MnWE CONFERENCE

2. THEME AND KEYNOTERS FOR MnWE APRIL 5-6

3. METHODS: GENDER PRONOUN WARS?

4. SHOULD WE TEACH USING GRAPHIC NOVELS?

5. About MnWE: Forwarding the News, Joining/Leaving, Grad Credit,
Representatives
If you are a MnWE representative, please forward this email to colleagues in English,
Writing and related fields. Many new faculty and writing tutors may not be on the email list.

If you are a long-term member of this listserv, thank you
for your continued participation. If you are new, welcome! Our
listserv emails go to over 2000 English, Writing, and related Upper
Midwest faculty. To join, send a request to the editor at richard at jewell dot net.

Next conference: "Connecting Reading and Writing,"
North Hennepin Community College Fri.-Sat., April 5-6, 2018
Our website is www.MnWE.org. You are welcome to attend our next Committee meeting, which will be after the second day of the MnWE Conference at North Hennepin Community College; or ask me, Richard Jewell–richard at jewell dot net–how to Skype in to the meeting. – Richard Jewell, Editor
1. FEB. 10: FINAL CHANCE TO PROPOSE FOR THE MnWE CONFERENCE

Final Extended Deadline: Sunday Midnight, February 10, 2019

We hold together as a discipline throughout Minnesota and surrounding states because we work together. Offering a proposal to the MnWE Conference–or even simply attending–is an act of helping ourselves as a group to become more powerful in how we teach and in what we can offer to Minnesota and other states. If we are, indeed, seeing the "rise and fall of English" and Writing in past and current decades, as Robert Scholes says, we can see ourselves rise once more by helping each other.

Do you have a proposal for presenting at the April 5-6 MnWE Conference? Please consider sending it. It can be on anything you want to suggest, anything new, or anything old that you see in a new way. It can be something you've already presented, something you hope to present, or something just because. You are welcome to present any idea or practical activity, or to present on our theme.

In any case, we hope you will join us at this year's conference in the northwest corner of the Twin Cities at North Hennepin Community College:

Proposals and Registration: www.MnWE.org

Theme and Keynotes: See "2" below.
---

2. THEME AND KEYNOTERS FOR MnWE APRIL 5-6

This year's theme is "Connecting Reading and Writing." Our profession used to assume, several generations ago, that reading well was a gift that some students had by family practice or genes. We no longer assume that: we know that (a) reading can be practiced at any age, (b) good reading leads to better writing and research, and (c) reading, like writing, is a practice that can be taught, even in our writing and literature courses.

But how do–or should–we teach reading in college composition and literature? Different needs require different reading strategies. We know, now, that we can't just tell students, "Go research." We need to help them learn the process of researching. Likewise, telling students, "Go read" will not produce the best results.

Explaining reading strategies to students is becoming, increasingly, a part of good pedagogy in lower-division English/Writing, whether in college or university. Teaching students, for example, how to look for topic sentences in research materials–or, in literature, how to find both the elements and the topic sentences–can help students read more productively and efficiently with greater enjoyment. Join us to discover more reading strategies, interests, and inclinations for our writing and literature courses.

Our keynoters will speak to this theme. Friday's lunchtime keynoters are Teaching Professor and fiction author Shannon Gibney of Minneapolis Community and Technical College, and Associate Professor of Library and Information Science Sarah Park Dahlen of St. Catherine University. They will talk about the intersections of writing and reading in college courses. Saturday's lunchtime keynoters are two of Minnesota's top college reading faculty, Shirley Johnson and Linda Russell, who will talk about understanding students' reading abilities, and how we can teach students to read research and other sources better.
---
www.MnWE.org
---
3. METHODS: GENDER PRONOUN WARS?

Are you mystified by students who now, in email signatures, "identify their pronouns" (e.g., "she, her, hers" or "they, them, theirs," both for singular use)? In addition, among our students, "they" especially is making a renewed bid for becoming a singular pronoun (just as "you" gradually became both singular and plural, once upon a time, replacing the singular "thou"). To some of us, this change means war, or at least a language skirmish; to others of us, the change signifies a cultural shift in our use of language.

I just spent two hours today talking with a former top student at my school, who now identifies herself as being of neither gender. She emphasized how important this is to many younger people. As a result, a new wave of students and even some faculty and staff are asking to be called by the pronouns–and gender category–with which they identify. If you want to find out more, here is a list of tips for respecting "diverse gender identities" from Dr. Katie Nelson, Director of Diversity at Inver Hills Community College, and two links below that she suggests. Many of her suggestions are paraphrased from the first link:
1. Instead of taking roll call on the first day, let the students identify themselves.

2. Send around a sign-in sheet or have a questionnaire or survey [for students to add] their pronouns and then follow their requests.

3. If a student is misgendered by another student (they use the wrong pronouns to refer to that student), talk to the student (privately) and ask if they would like you to correct their colleagues.

4. Avoid gendering statements like "Ladies and Gentlemen" or "Men and Women" at the start of semester. ["People" and "Everyone" work well.]

5. Never assume, based on [how] someone looks or acts,…how they identify.

6. Keep in mind that one's gender identity, sexual orientation (referring to one's level of sexual attraction to different genders), and one's sex (referring to biological characteristics associated with males, females, and inter-sex individuals) are independent of one another.
---
article: https://diversityandinclusion.lehigh.edu/sites/diversityandinclusion.lehigh.edu/files/center-pride/Dean_Spades_tips_for_higher_ed_regarding_trans.pdf . (Content at this link may not be forwarded to groups or lists, only the link.)
video: https://lgbt.umd.edu/good-practices-names-and-pronouns
---

4. SHOULD WE TEACH USING GRAPHIC NOVELS?

Graphic novels are ubiquitous in our American and world cultures, now. While graphic novels won't ever replace literature made exclusively of words, they have developed recognition and respect in literature. Increasingly, institutions are offering a course just on graphic novels, and more and more literature courses include at least one or two such books.

Are you thinking of reading a graphic book or including one in your course? One of the most critically well received and most popular among faculty is Maus by Art Spiegelman. It is a Holocaust narrative: Spiegelman interviews his father about his Holocaust experiences. The original initially was serialized (as were Charles Dickens' works). Another example is the highly successful graphic literary autobiography Persepolis by Marjane Satrapi, who describes her life in Iran during and after its revolution. It was listed on the New York Times' Notable Books of the Year and was made into a successful art-house movie.

The National Council of Teachers of English says, "Over the past decade, graphic novels have grown into a more familiar genre in our classrooms, but many of us are still seeking ways to better incorporate them into our instruction." The NCTE recommends the resources below.
---
NCTE: "In Defense of Graphic Novels"
NCTE: "Diversity in Graphic Novels"
Other resources:
National Public Radio: "100 Favorite Comics and Graphic Novels"
The Reading Lists: "Best Graphic Novels of All Time"
Listverse: "Top 10 Literary Graphic Novels"
---

5. About MnWE (repeated in each newsletter):

FORWARDING/JOINING: Please forward this email to others, especially if you are a MnWE representative listed below. Your newer full-time and adjunct faculty members, graduate students, and writing center tutors may not receive it.

If you are not on the listserv and would like to join it, simply send your request and email address to richard at jewell dot net.

WHO WE ARE: "MnWE" is "Minnesota Writing and English," an organization with a coordinating committee, a listserv, and an annual spring conference by and for college, university, and college-in-the-high-schools English and writing faculty, graduate and undergraduate students, and related academic and literary scholars, writers, tutors, and others in the Upper Midwest. Our purpose is to bring together these communities in Minnesota, western Wisconsin, north and central Iowa, and the eastern Dakotas.

Our website is MnWE.org; our geographical center is Minneapolis-St. Paul. Over 2500 faculty, tutors, and graduate students are on our listserv. Our listserv members come from public and private two-year colleges, state universities, private four-year and graduate-degree colleges, high schools, and the Universities of Minnesota, Wisconsin, and North Dakota. Our activities are led by a large, active committee of representative volunteers.

GRADUATE CREDIT: Anyone may earn one graduate credit from Southwest Minnesota State University for attending one MnWE Conference day and writing a related research paper (up to three times). For questions about this course—"Eng 656: MnWE Practicum"—please contact lisa dot lucas at smsu dot edu or see www.smsu.edu/academics/programs/english/?id=11637 .

HOW TO REMOVE YOURSELF FROM THE LIST: If you want to be removed from this listserv, please do so yourself, following directions at the very bottom of this email. If you try without success, then send an email to richard at jewell dot net indicating (1) this problem, (2) your specific email address copied from the directions at the bottom of a MnWE mailing, and (3) your request for removal.

FORMATTING, INVITATION, & CREDITS: These listserv emails usually are formatted in a simple way using html. If you cannot read them, please go to the link at the top right to see them on the Web.

If you have any questions, we invite you to email any of us on the committee. You also are always invited to attend any of our five MnWE Committee meetings per year. You also are invited to offer suggestions—or volunteer your leadership—for a special or double section at the annual conference.

This newsletter is written primarily by Richard Jewell without copyright so that anyone may quote, paraphrase, or forward any or all of it freely, unless otherwise noted. We ask only that you give credit to the "MnWE Newsletter" and/or "www.MnWE.org"; and when you use material that has been quoted or paraphrased in this newsletter from other sources, please be sure to give proper credit to the original source.
---
---
Richard Jewell, General Coordinator
Larry Sklaney, Conference Coordinator
Danielle Hinrichs, Program Coordinator
Gordon Pueschner, Site Registration Coordinator
Ellen Zamarripa, Volunteer Coordinator
Alexander Champoux, UMN, 2018 Site Coordinator
Vanessa Ramos, NHCC, 2019 Site Coordinator
richard at jewell dot net - (612) 870-7024
larry dot sklaney at century dot edu - (651) 747-4006
danielle dot hinrichs at metrostate dot edu - (651) 999-5960
gordon dot pueschner at century dot edu - (651) 686-4468
ellen.zamarripa at mail dot waldenu dot edu
champ147 at umn dot edu
vramos at nhcc dot edu

MnWE.org
Minnesota Writing & English
A Consortium of Colleges & Universities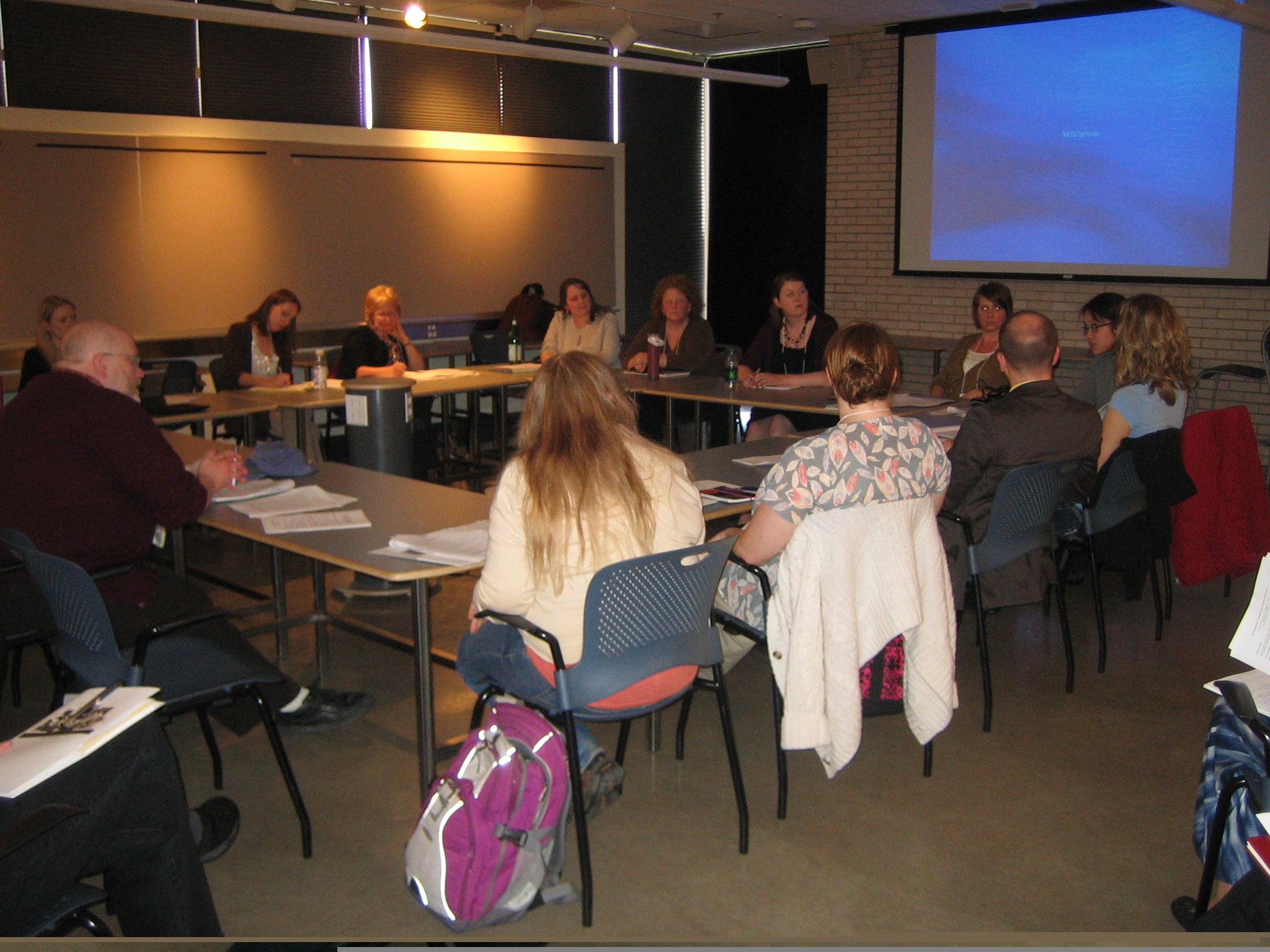 Mission:
Transforming writing and English
into teaching and learning experiences using methodologies that serve students best.
Vision:
Bringing scholarly ideas and practical pedagogy together
to create our futures.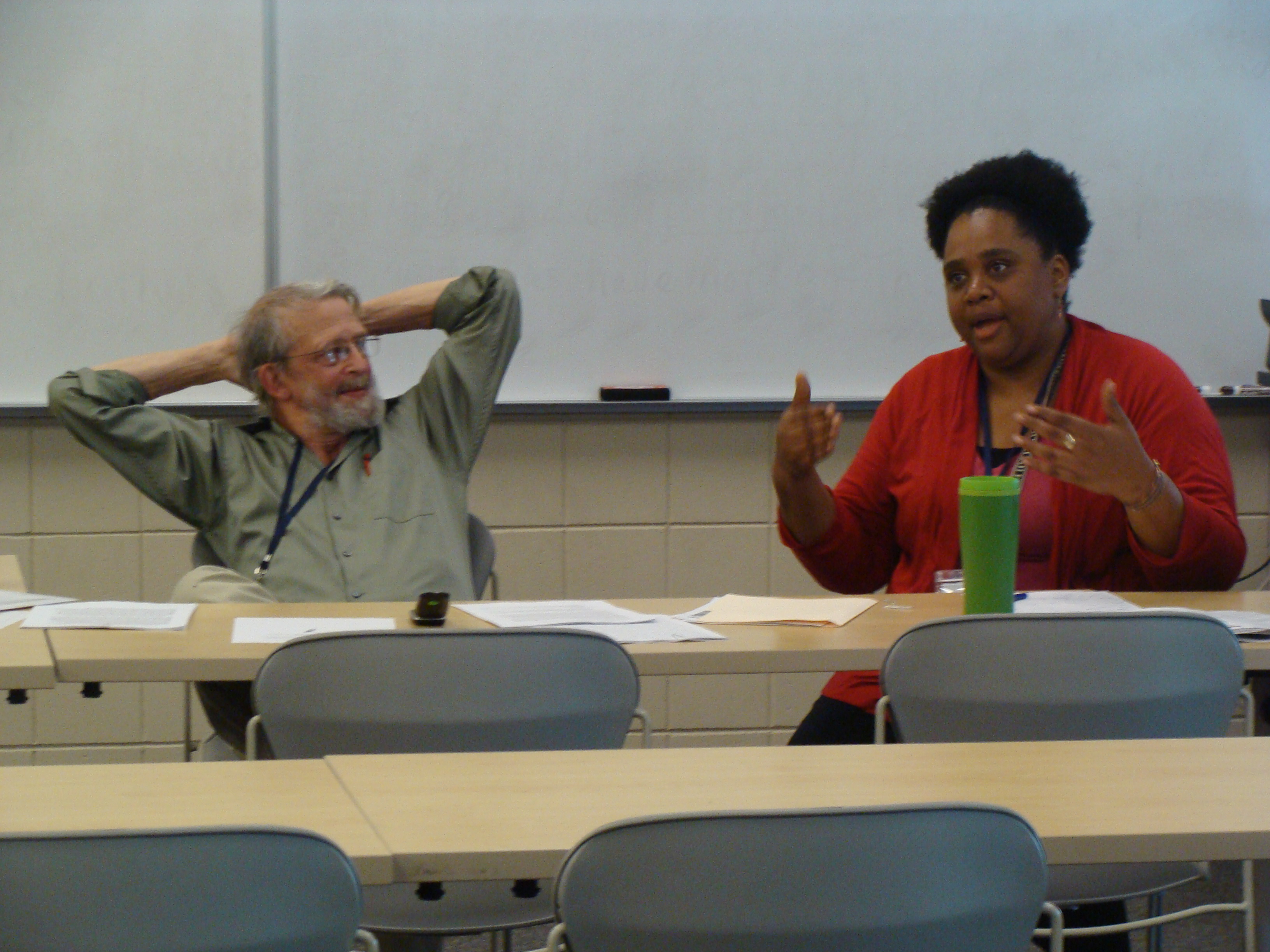 Donald Ross of the University of
Minnesota and Taiyon Coleman of St. Catherine University run a breakout session about literature.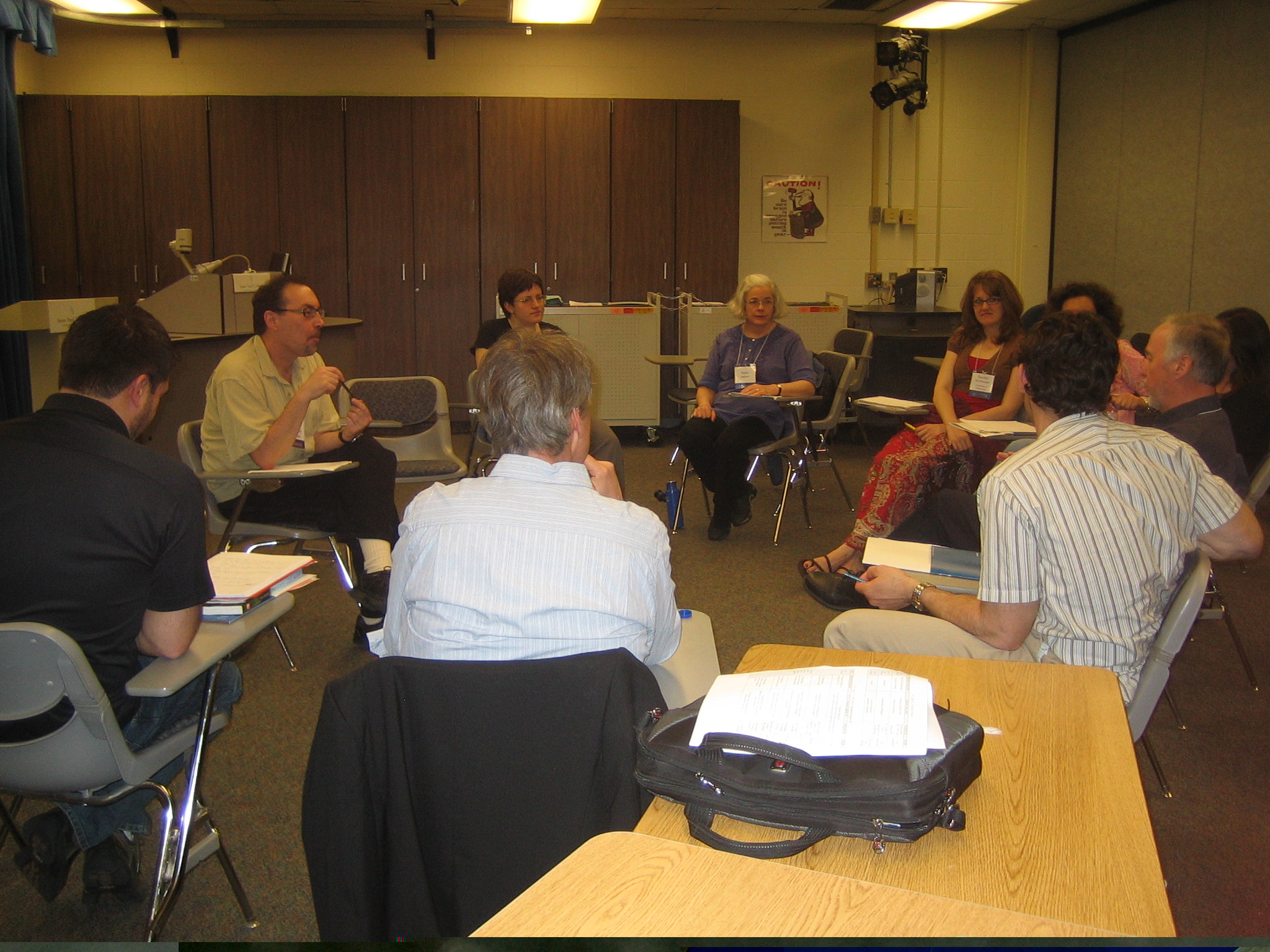 Geoffrey Sirc of the University of Minnesota runs a small breakout after his keynote presentation.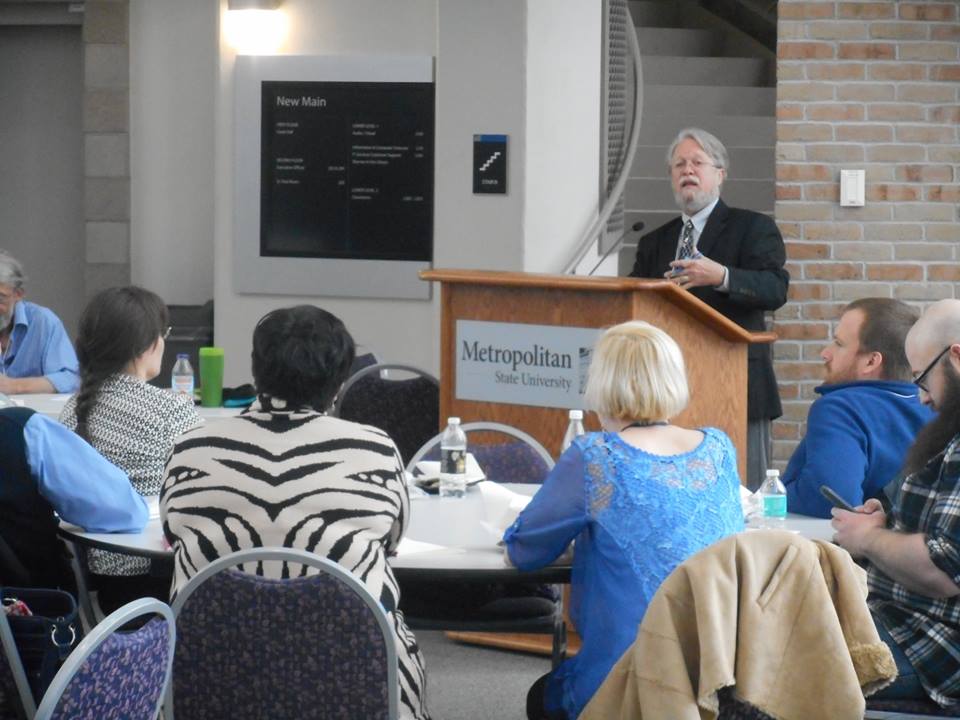 MnWE started in 2007. The cofounders
were Richard Jewell, here giving a welcome after lunch, and Donald Ross, first picture above.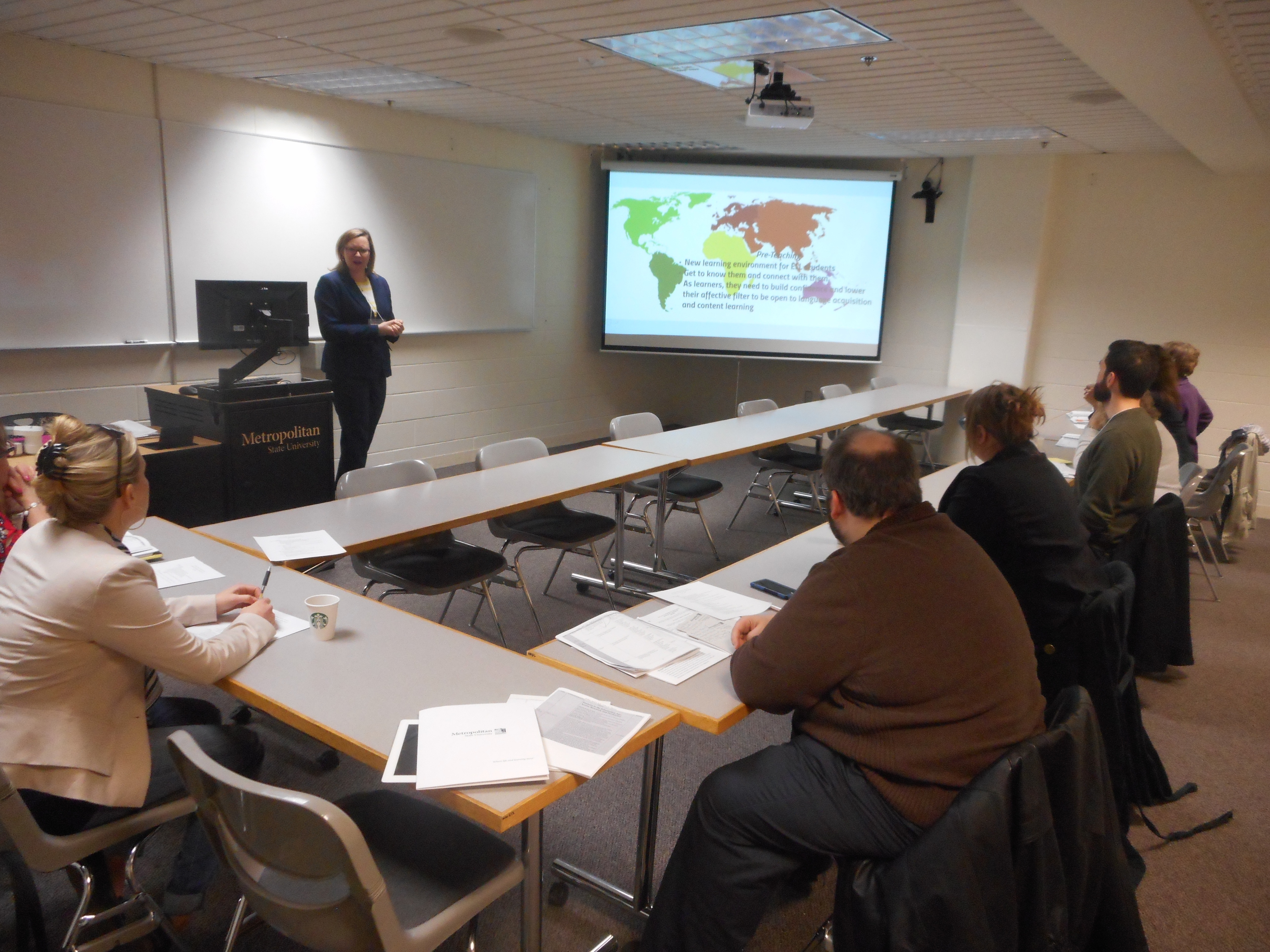 During a 2016 breakout, Beata Puschner presentson improving classroom inclusion of ELL students.