"MnWE News" Summer Issue, July-August 2018
In this issue:

1. NEWS: FEWER TEENS THAN EVER READ BOOKS.

2. METHODS: "STRUCTURED SILENCE" ENCOURAGES DISCUSSION.

3. WEEK 1 MADNESS: GRAB STUDENT INTEREST IN FOUR WAYS.

4. DO YOU HAVE AN IDEA FOR THE 2019 CONFERENCE,
"CONNECTING READING & WRITING"?

5. About MnWE: Forwarding the News, Joining/Leaving, Grad Credit,
Representatives
If you are a MnWE representative, please forward this email to colleagues in English,
Writing and related fields. Many new faculty and writing tutors may not be on the email list.

If you are a long-term member of this listserv, thank you
for your continued participation. If you are new, welcome! Our
listserv emails go to about 2500 English, Writing, and related Upper
Midwest faculty. To join, send a request to the editor at richard at jewell dot net.

Our website is at www.MnWE.org. Our next conference is on "Connecting Reading and Writing" at North Hennepin Community College Fri.-Sat., April 5-6, 2018. You are welcome to attend our next Committee meeting at UM-TC in Nicholson 235 Fri., Sept. 21, or Skype in to it at https://join.skype.com/yX9xIb6Icx8L. -- Richard Jewell, Editor
1. NEWS: FEWER TEENS THAN EVER READ BOOKS.

Do you work on students to read physical books, or have you already plunged happily into the digital age? A new study describes a continuing change in reading–and rise of social-media reading–among students. The American Psychological Association recently published an article showing that 82% of high school seniors used social media but only two-thirds of them read a book for pleasure in 2016.

In 2016, 16% of these students read a newspaper, magazine, or book daily. In the 1970s, says the article, the figure was about 60%. The 2016 seniors spent about six hours per day of free time on digital media. In the 1970s, high schoolers spent about 1/3rd that time looking at screens. Findings were consistent among races and genders. While some of the current time on digital media may be substantive, it is noteworthy that, according to the authors, other studies indicate heavy social media use can lead to mental health issues.

What can we, as faculty, conclude? First, fewer people than ever are moving into adulthood as readers of books. (The study did not differentiate between physical and electronic books.) Second, our libraries must continue to increase their digital services to thrive.

Third, other studies say that thinking and reasoning is enriched by reading longer sentences and thoughts in books. As a result, our age of social media may be creating even more of a gap in thinking and reasoning between those who read books and those who depend on social media in all of their reading time. As a result, we may need, at the least, to encourage more reading of digital and/or physical books.
---
URL: https://www.washingtonpost.com/news/inspired-life/wp/2018/08/20/for-american-teens-texting-and-social-media-are-replacing-books/?utm_term=.e6d15670b4bc
---

2. METHODS: "STRUCTURED SILENCE" ENCOURAGES DISCUSSION.

Brookfield and Preskill's article "Structured Silence" in "Tomorrow's Professor Newsletter" (from their The Discussion Book) talks about using brief silences positively to create more–and more democratic–discussion. The core of it is that in a presentation, after every five to fifteen minutes, give people a couple of silent minutes to think about what you've said.
Then ask them to write an anonymous comment to pass forward to you. The thinking and comments might respond to such questions, say Brookfield and Preskill, as "What is the most important point in what I just said," "What questions do you have," "What is confusing to you," "What assumptions of yours have been confirmed and what assumptions challenged," and "What important point of view might we be missing right now?" Then you can choose several of the comments randomly to answer and promise to look at the rest before the next class.
Ideally, viewing the cards, you will find several more to which you can respond at the beginning of the next class as an introductory review. According to Brookfield and Preskill, structured silence works especially well with a quiet class, a group in which only several people regularly respond, and a class that is so disorganized that you feel like you are trying to herd cats.
---
URL: https://tomprof.stanford.edu/posting/1653
---

3. WEEK 1 MADNESS: GRAB STUDENT INTEREST IN FOUR WAYS.

Do you start the first week of class by droning on about requirements and assignments? Are there bored or scared faces? If you'd like to give students a charge of excitement about your course, here are suggestions for Week One.

- Ask each student to tell everyone his or her name, year in school, and possible future major. Then ask students to write two or three sentences describing who they are as a student and what they hope to accomplish this semester–something they then read aloud. Finally, ask them to write what they would like to get out of the course (other than meeting a requirement).

- Alternatively, ask students to get together in groups of three (or two) and interview each other to find out their names, majors, likes and dislikes in school, and hopes for the course. Then have each person introduce a group member using this information.

- Ask each student to create four to six steps, with a name and a picture for each step, describing the process of completing his or her work in your type of course: what, for example, is the process–the steps–of being a good research writer, creative writer, or journalist? Then ask the students to gather in groups of three or four and combine their processes to create each group's summary of the process. (One way to make this activity more fun is to ask students to report their actual steps, not the ones they think you want to hear.) Have someone in each group present the written and drawn results as you comment on their results in both positive and helpful ways.

- Present one or more interesting, even dramatic case studies in the subjects they may be reading about in the course. Use a problem-background-solution pattern. However, don't offer the solution. Instead, ask students individually or in small groups to suggest it. Pause for one or two short Q-&-A periods as they work, or answer questions each group might have. Then ask them to read aloud their solutions. Finally, offer the solution that was used in the actual case study.
---

4. DO YOU HAVE AN IDEA FOR THE 2019 CONFERENCE
ON "CONNECTING READING & WRITING"?

Do you have an idea for the 2019 MnWE Conference on the theme of "Connecting Reading and Writing"–or anything else that interests you? If you think you might but aren't sure, feel free to email me with your questions: richard at jewell dot net. Our CFP (Call for Proposals) will be out in October.

Do you require students to read? If so, how? Why? How do you get students to do their reading, to think about it, and to rethink it? Is reading a process for your students, just as is writing and researching? Do you "teach" reading to writing and literature students? What levels of reading do you assign? How and why do you determine those levels? What readings have you given students that seemed too hard, yet you helped them complete the readings? What readings should be avoided or encouraged?

The MnWE Conference is always–no matter the theme–a great place to pick up new ideas, discuss them with others (as an audience member or as a presenter), prepare new presentations for future conferences, and share successful presentations from other conferences. It also is just simply good to be able to talk with colleagues. You can make connections with new thoughts, new friends, and new or renewed jobs.

This year, we'll meet at North Hennepin Community College, Brooklyn Park, in the northwest corner of the Twin Cities Friday, April 5-Saturday, April 6. All English and Writing faculty and students–university, college, and high school–are welcome!

We especially hope that if you are a college-in-the-high-schools faculty member, you will come to share with us your insights and ask us questions. As always, we will accept proposals not only on the theme but also on any subject having to do with college Writing, English, and related subjects.
---

5. About MnWE (repeated in each newsletter):

FORWARDING/JOINING: Please forward this email to others, especially if you are a MnWE representative listed below. Your newer full-time and adjunct faculty members, graduate students, and writing center tutors may not receive it.

If you are not on the listserv and would like to join it, simply send your request and email address to richard at jewell dot net.

WHO WE ARE: "MnWE" is "Minnesota Writing and English," an organization with a coordinating committee, a listserv, and an annual spring conference by and for college, university, and high school English and writing faculty, graduate students, and related academic and literary scholars, writers, tutors, and others in the Upper Midwest. Our purpose is to bring together these communities in Minnesota, Wisconsin, north and central Iowa, and the eastern Dakotas. Our website is MnWE.org; our geographical center is Minneapolis-St. Paul. Over 2500 faculty, tutors, and graduate students are on the listserv. Our listserv members come from public and private two-year colleges, state universities, private four-year and graduate-degree colleges, high schools, and the Universities of Minnesota, Wisconsin, and North Dakota. Our activities are led by a large, active committee of representative members listed below.

GRADUATE CREDIT: Anyone may earn one graduate credit from Southwest Minnesota State University for attending one MnWE Conference day and writing a related research paper (up to three times). For questions about this course—"Eng 656: MnWE Practicum"—please contact lisa dot lucas at smsu dot edu or see www.smsu.edu/academics/programs/english/?id=11637 .

HOW TO REMOVE YOURSELF FROM THE LIST: If you want to be removed from this listserv, please do so yourself, following directions at the very bottom of this email. If you try without success, then send an email to richard at jewell dot net indicating (1) this problem, (2) your specific email address copied from the directions at the bottom of a MnWE mailing, and (3) your request for removal.

FORMATTING, INVITATION, & CREDITS: These listserv emails usually are formatted in a simple way using html. If you cannot read them, please go to the link at the top to see them on the web.
If you have any questions, we invite you to email any of us on the committee. You also are always invited to attend any of our five MnWE Committee meetings per year. You also are invited to offer suggestions—or volunteer your leadership—for a special or double section at the annual conference.
This newsletter is written primarily by Richard Jewell without copyright so that anyone may quote, paraphrase, or forward any or all of it freely. We ask only that you give credit to the "MnWE Newsletter" and/or "www.MnWE.org"; and when you use material that has been quoted or paraphrased in this newsletter from other sources, please be sure to give proper credit to the original source.

REPRESENTATIVES: Representatives, please forward each of these emails: many of your writing and English colleagues may not be on this listserv. Potential volunteer representatives: We always appreciate hearing from you if your school has no rep. See the "Representatives" list below, and if no one at your school is on it, please volunteer! Email richard at jewell dot net. We are especially looking for reps from Greater Minnesota, Canada, Iowa, North and South Dakota, and Wisconsin.
---
---
Richard Jewell, Larry Sklaney, Danielle Hinrichs,
and Gordon and Beata Pueschner, Coordinators
Anthony Miller, 2019 Site Coordinator
Alexander Champoux, 2018 Site Coordinator
Richard at jewell dot net - (612) 870-7024
larry dot sklaney at century dot edu - (651) 747-4006
danielle dot hinrichs at metrostate dot edu - (651) 999-5960
a dot miller at nhcc dot edu
gordon dot pueschner at century dot edu - (651) 686-4468
beata dot pueschner at anokaramsey dot edu - (651) 686-4468
champ147 at umn dot edu

MnWE.org
Minnesota Writing & English
A Consortium of Colleges & Universities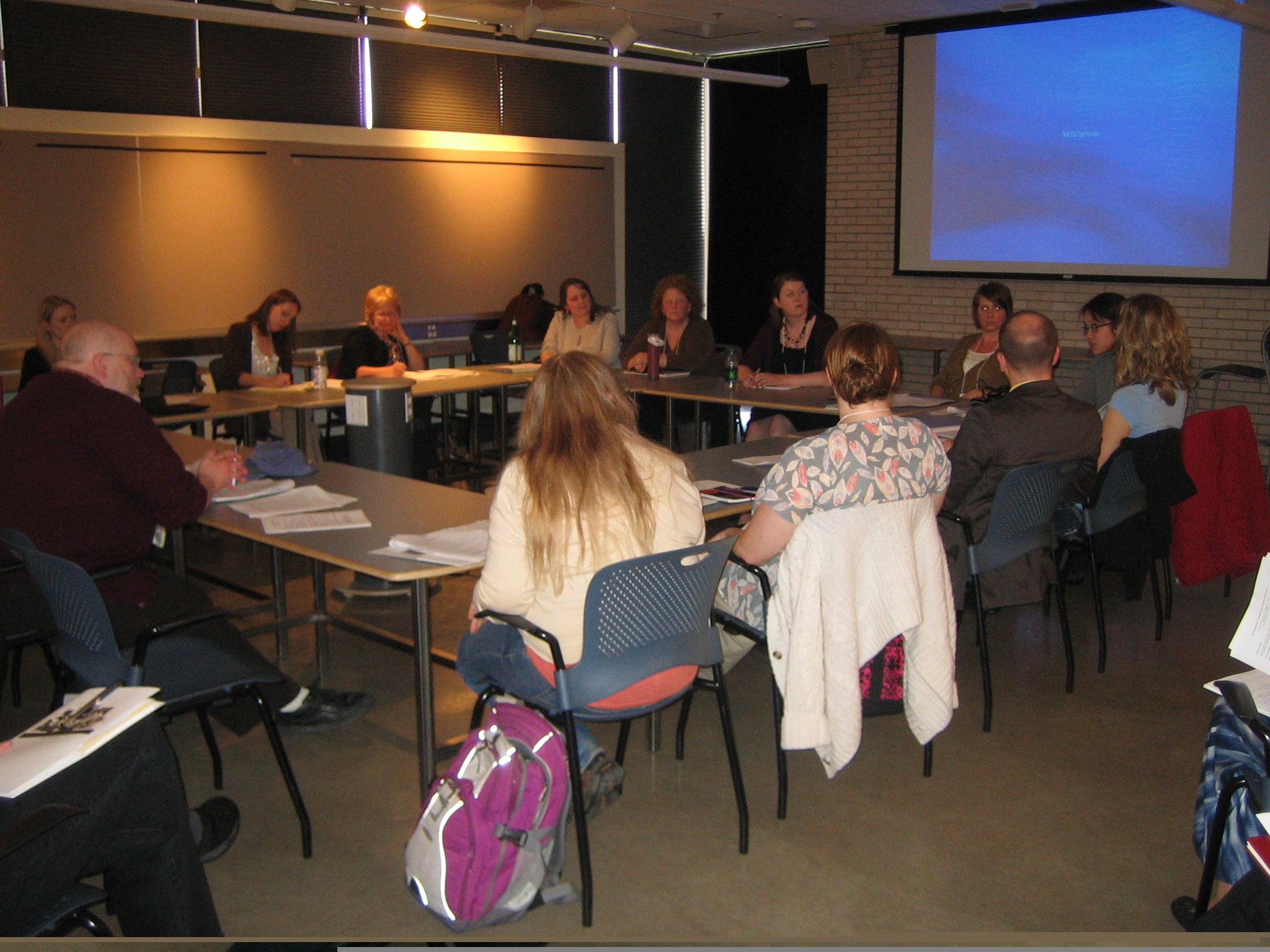 Mission:
Transforming writing and English
into teaching and learning experiences using methodologies that serve students best.
Vision:
Bringing scholarly ideas and practical pedagogy together
to create our futures.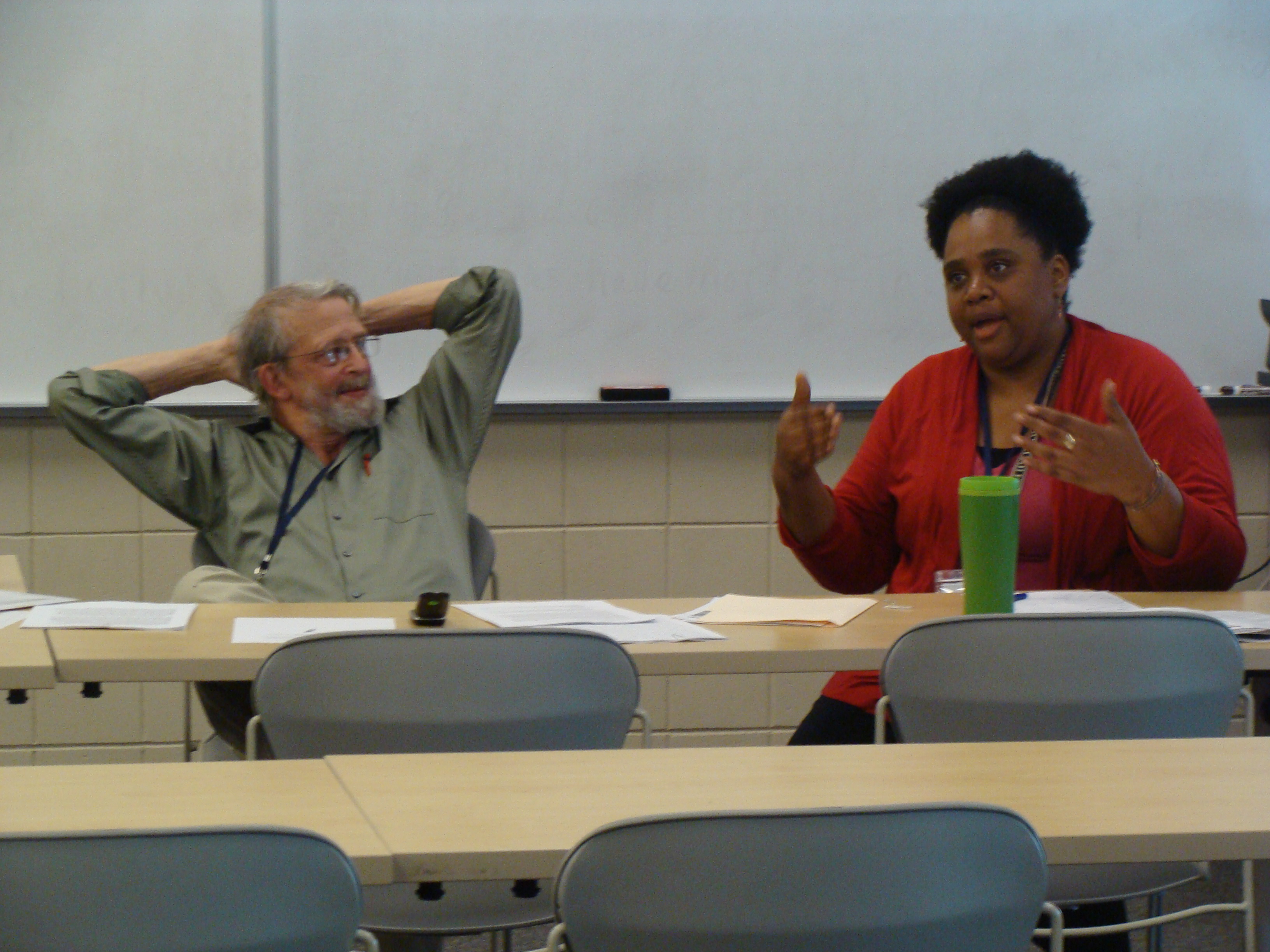 Donald Ross of the University of
Minnesota and Taiyon Coleman of St. Catherine University run a breakout session about literature.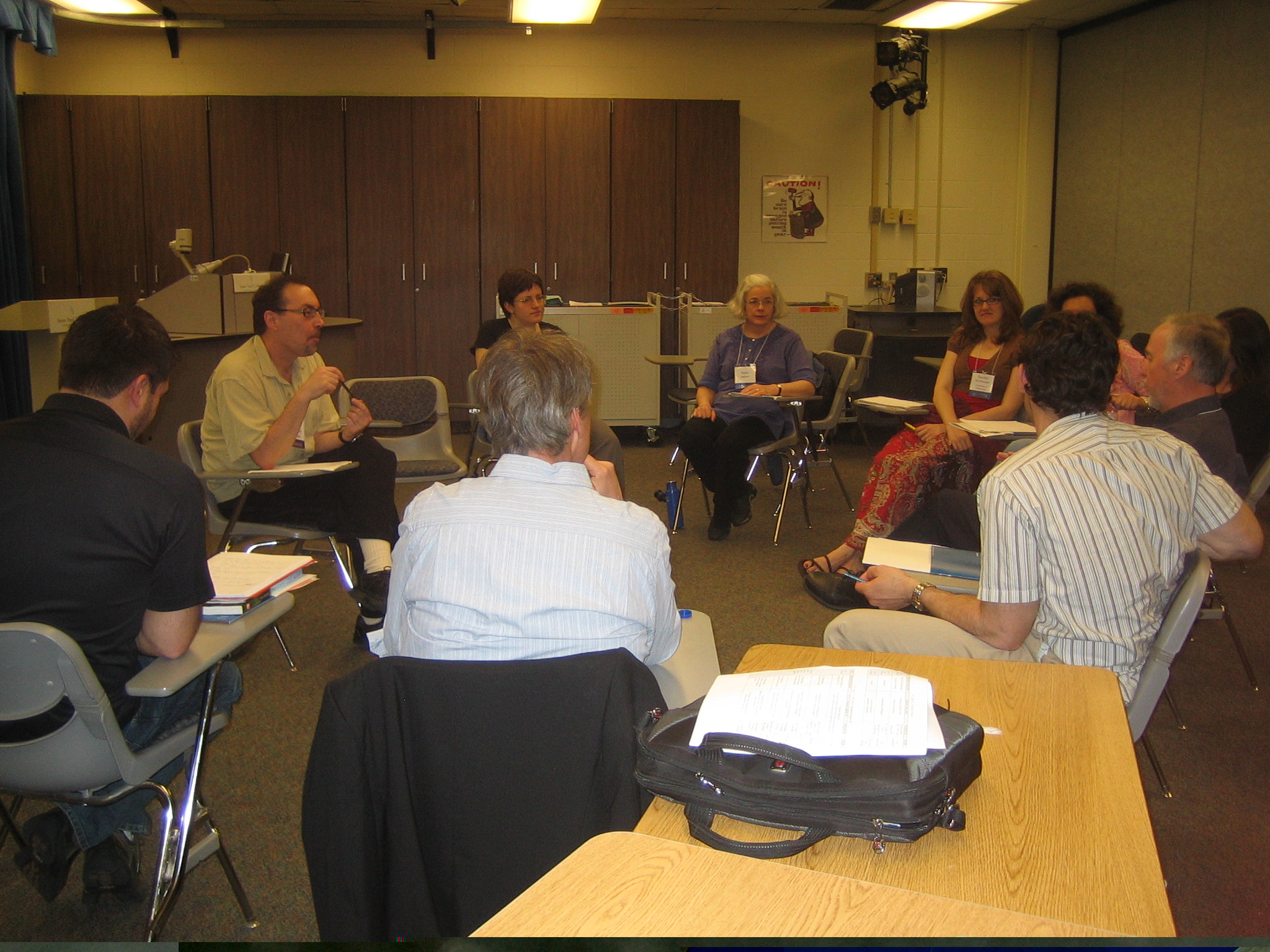 Geoffrey Sirc of the University of Minnesota runs a small breakout after his keynote presentation.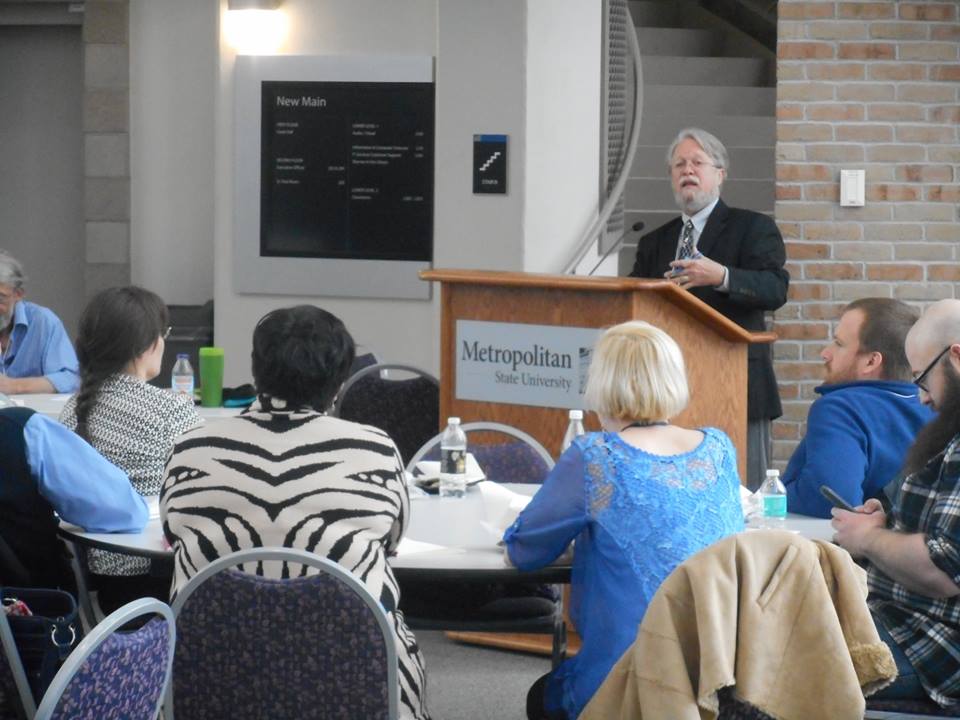 MnWE started in 2007. The cofounders
were Richard Jewell, here giving a welcome after lunch, and Donald Ross, first picture above.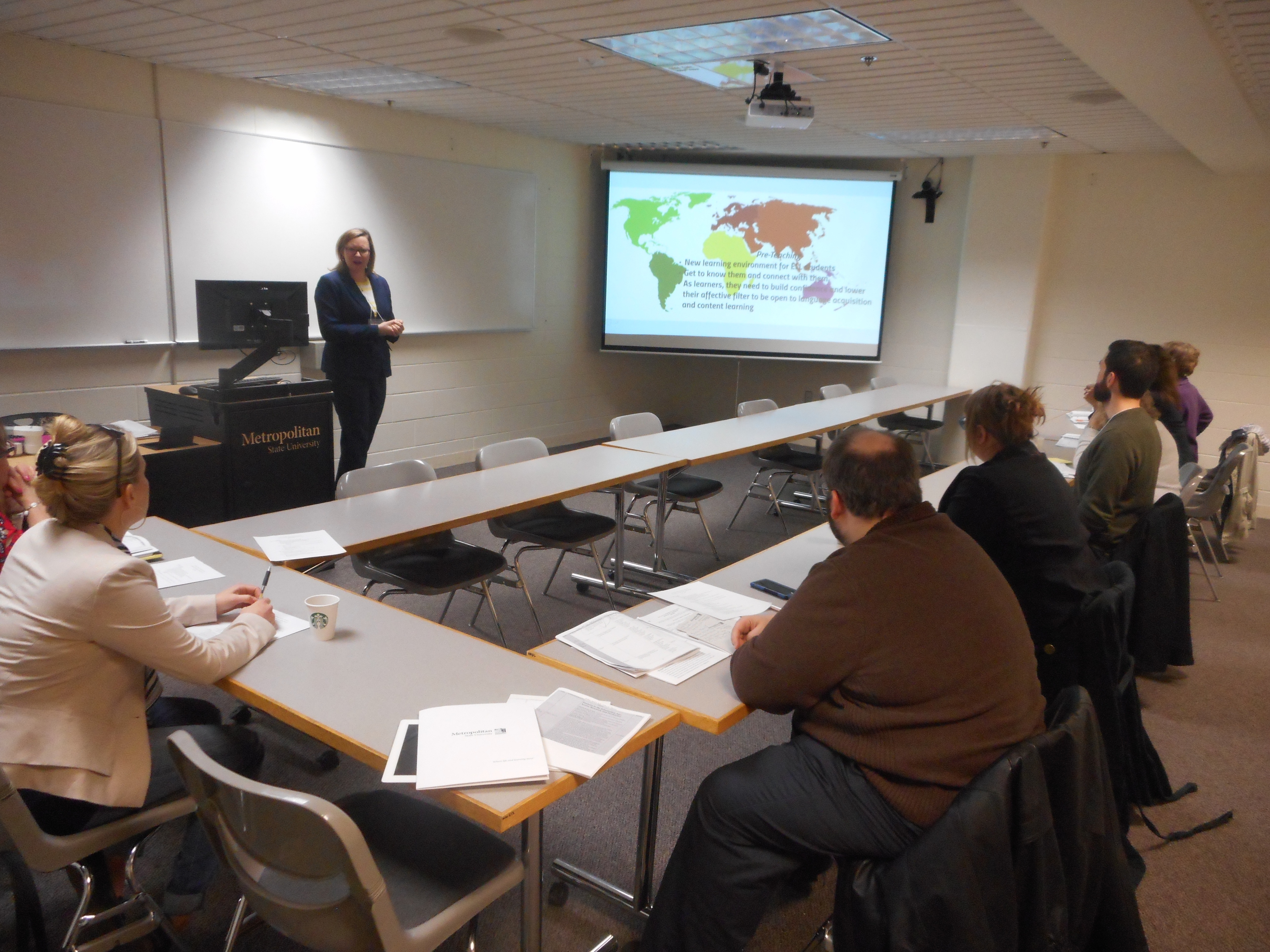 During a 2016 breakout, Beata Puschner presentson improving classroom inclusion of ELL students.