"MnWE News" Conference Issue,
Mar.-Apr. 2018
In this issue:

1. MnWE CONF. FRI.-SAT, MARCH 23-24, UMN-TC: REGISTRATION!

2. FRIDAY PLENARY PANEL: "POLITICS & PEDAGOGY"
KEYNOTE: TIMOTHY LENSMIRE, "Rereading and Mobilizing White People
for Antiracism"

3. SATURDAY PLENARY: "LABOR IN WRITING AND ENGLISH"
KEYNOTE: KIRSTEN JAMSEN, "Our Bold North: Expansive, Ethical, &
Relational Perspectives on Writing and the Work of Writing Educators"

4. LOCATION, DINNER, AND HOTELS

5. About MnWE: Forwarding the News, Joining/Leaving, Grad Credit,
Representatives
If you are a MnWE representative, please forward this email to colleagues in English,
Writing and related fields. Many new faculty and writing tutors may not be on the email list.

If you are a long-term member of this listserv, thank you
for your continued participation. If you are new, welcome! Our
listserv emails go to about 2500 English, Writing, and related Upper
Midwest faculty. To join, send a request to the editor at richard at jewell dot net.

Our website is at www.MnWE.org. Our next conference is at UMN-TC Fri.-Sat., 3/23-24/18.
You are welcome to attend our next Committee meeting at the Conference at 4 pm Fri., 3-24-18, at UM-TC in Nicholson 110 (a conference building) or by Skype at "MnWEmeeting" at https://join.skype.com/AqzB0BQoN7wu. –Richard J., Editor
---
1. MnWE CONFERENCE FRI.-SAT, MARCH 23-24, UMN-TC: REGISTRATION!
Registration: https://mnweblog.wordpress.com/register/
It's MnWE Conference time! The 2018 MnWE Conference this year is at the University of Minnesota-Minneapolis campus near Dinkytown. The University of Minnesota is hosting it Fri.-Sat., March 23-24. All are welcome, from university and college professors to Writing and English instructors of college courses in the colleges, universities, and high schools, and to college and high school Writing and English students.

This year's theme is "Points of the Compass: The Ethics of Our Time," with a number of interesting presentations on this theme and many other subjects not related to the theme. Groups of breakouts run throughout both days, and each day features a morning plenary, an early afternoon lunch, and a keynote following lunch. Join us for the fun and for learning more about what your colleagues are thinking and doing!

You may register now–no later than one week beforehand–and save five dollars, or register at the door. To register, go to https://mnweblog.wordpress.com/register/. Then start your day at the conference at the MnWE Registration table in Nicholson Hall (see the "Travel-Map" link at the end of "4" below).

To view the rough draft of the Conference Program, go to MnWE 2018 Program Rough Draft. (Or you may go to www.MnWE.org, click on "MnWE 2018," and then choose "PROGRAM.") Registration begins at 8:30 am each day. The first events, the plenaries, start at 9:30 am on Friday (with a welcome coffee at 9 am) and 9:00 am sharp on Saturday. Please note that due to scheduling difficulties, the times for similar events will be different on the two days.
---

2. FRIDAY PLENARY PANEL: "POLITICS & PEDAGOGY"
KEYNOTE: TIMOTHY LENSMIRE, "Rereading and Mobilizing White People
for Antiracism"
The Friday plenary at 9:30 am (with coffee and donuts beforehand) features a panel discussion with the audience on "Politics and Pedagogy in Writing and English." Panelists include Nathaniel Bennett, Sarah Selz, and Sarah Puett, writing instructors at the University of Minnesota, and Ellen Zamarripa, a writing instructor and writing center tutor at Walden University.
| | |
| --- | --- |
| The Friday keynoter at 2 pm is scholar-practitioner Dr. Timothy Lensmire, a Professor in the Department of Curriculum and Instruction at UMN-TC, where he teaches in the Literacy Education and Culture & Teaching tracks. As a teacher-researcher who has taught in contexts from third-grade writing classrooms to graduate seminars on critical pedagogy, Lensmire grounds his research in problems and issues that confront teachers and students in context. In particular, His most recent book is White Folks: Race and Identity in Rural America. Lensmire's research focuses on how the teaching and learning of writing can better promote and embody radical democracy, as well as how the classroom can be a space for doing critical anti-racist and social justice work. The keynote will be interactive at times. | <![if !vml]><![endif]> |
---

3. SATURDAY PLENARY: "LABOR IN WRITING AND ENGLISH"
KEYNOTE: KIRSTEN JAMSEN, "Our Bold North: Expansive, Ethical, &
Relational Perspectives on Writing and the Work of Writing Educators"

The Saturday plenary at 9 am sharp features a panel discussion with the audience on "Labor in Writing and English." Moderator Evelyn Meisenbacher of UM-TC will lead a discussion with panelists Darcy Gabriel, UM-TC; Danielle Hinrichs, Assoc. Prof. and Dir. of Academic Writing, Metropolitan State U.; and Tisha Turk, Assoc. Prof. and Writing Center Dir., UM-Morris.
The Saturday keynoter at 12:15 pm is scholar-practitioner Dr. Kirsten Jamsen. She is Director of the UMN Center for Writing and Co-Director of the Minnesota Writing Project; and she serves as an affiliate graduate faculty member in the Departments of English and of Writing Studies, and the Literacy and Rhetorical Studies (LRS) graduate minor.
For her keynote, put the carbs and proteins you consumed at lunch to immediate use to read, write, listen, and speak your way into an exploration of what it means to write and teach writing today. Starting from John Duffy's proposition in College English, Jan. 2017, that "Writing involves ethical decisions because every time we write, we propose a relationship with…our readers," Jamsen investigates ways that Writing and English engage in ethical work in our classrooms, centers, and programs, and—just as importantly—in offices and coffeehouses and at kitchen tables where we respond to student writing.

<![if !vml]><![endif]>
---
(If the keynoters' pictures do not show in your email, please go to
https://mnweblog.wordpress.com/mnwe-conference/mnwe-2018-keynote-speakers/ .)
---

4. LOCATION, DINNER, AND HOTELS

We hope you will decide to join us for one or both days! We all work together in Minnesota and nearby states and provinces, and it helps us to find out what our colleagues are doing and what is possible. Travelling to, from, and around the campus is relatively easy if you print the campus map at the URL below. We will have a Happy Hour and dinner at the Wilde Cafe the first night, a very popular event last year. Reservations at the conference are recommended for the dinner but not required–all are welcome to join us! If you plan to go to dinner with us, please let us know ahead of time, if at all possible, by going now to https://goo.gl/forms/JNA4WDEd6WnTZdh53 .

The Conference will be in Nicholson Hall–Google Nicholson Hall, 216 Pillsbury Drive SE, Minneapolis–and nearby Nolte Center. Both of these buildings are just past–and behind–the Bell Museum, which is at 17th Ave. SE and University Ave. (the latter of which is one way).

The closest parking ramp is the Church St. Garage, about 1 ½ blocks past the Bell Museum on 17th Ave. SE. If it is full, you may continue on the same street, following the turns until, a few blocks later, you reach the Washington Ave. Parking Ramp. Or you may turn left, instead, from University Ave. onto 17th Ave. SE, and go 1½ blocks to the 4th Street Parking Ramp (which is on 4th St. SE, which is one way).

If you're interested in lodging, see the URL below. Rates range from $89-143 for two nearby ( ½-¾ mile away) hotels with quick-access bus routes. Other hotels for the area also are listed.

---
TRAVEL-MAP-PARKING-LODGING URL: https://mnweblog.wordpress.com/travel-parking-and-lodging/ .
---

5. About MnWE (repeated in each newsletter):

FORWARDING/JOINING: Please forward this email to others, especially if you are a MnWE representative listed below, as your new full-time and adjunct faculty members, graduate students, and writing center tutors may not receive it. If you are not on the listserv and would like to join it, simply send your request and email address to richard at jewell dot net.

WHO WE ARE: "MnWE" is "Minnesota Writing and English," an organization with a coordinating committee, a listserv, and an annual spring conference by and for college, university, and high school English and writing faculty, graduate students, and related academic and literary scholars, writers, tutors, and others in the Upper Midwest. Our purpose is to bring together these communities in Minnesota, Wisconsin, north and central Iowa, and the eastern Dakotas. Our website is MnWE.org; our geographical center is Minneapolis-St. Paul. Over 2500 faculty, tutors, and graduate students are on the listserv. Our listserv members come from public and private two-year colleges, state universities, private four-year and graduate-degree colleges, high schools, and the Universities of Minnesota, Wisconsin, and North Dakota. Our activities are led by a large, active committee of representative members listed below.

GRADUATE CREDIT: Anyone may earn one graduate credit from Southwest Minnesota State University for attending one MnWE Conference day and writing a related research paper (for up to three times). For questions about this course--"Eng 656: MnWE Practicum"--please contact lisa dot lucas at smsu dot edu or see www.smsu.edu/academics/programs/english/?id=11637 .

HOW TO REMOVE YOURSELF FROM THE LIST: If you want to be removed from this listserv, please do so yourself, following directions at the very bottom of this email. If you try without success, then send an email to richard at jewell dot net indicating (1) this problem, (2) your specific email address copied from the directions at the bottom of a MnWE mailing, and (3) your request for removal.

FORMATTING, INVITATION, & CREDITS: These listserv emails usually are formatted in a simple way using html. If you cannot read them, please go to the link at the top to see them on the web.
If you have any questions, we invite you to email any of us on the committee. You also are always invited to attend any of our five MnWE Committee meetings per year. You also are invited to offer suggestions—or volunteer your leadership—for a special or double section at the annual conference.
This newsletter is written primarily by Richard Jewell without copyright so that anyone may quote, paraphrase, or forward any or all of it freely. We ask only that you give credit to the "MnWE Newsletter" and/or "www.MnWE.org"; and when you use material that has been quoted or paraphrased in this newsletter from other sources, please be sure to give credit to the original source.

REPRESENTATIVES: Representatives (as listed below), please forward each of these emails: many of your writing and English colleagues may not be on this listserv. Potential volunteer representatives: We always appreciate hearing from you if your school has no rep. See the "Representatives" list below, and if no one at your school is on it, please volunteer! Email richard at jewell dot net. We are especially looking for reps from Greater Minnesota, Canada, Iowa, North and South Dakota, and Wisconsin.
---
---
Richard Jewell, Larry Sklaney, Danielle Hinrichs,
Anthony Miller, and Gordon and Beata Pueschner, Coordinators
Alexander Champoux, 2018 Conference Coordinator
Richard at jewell dot net - (612) 870-7024
larry dot sklaney at century dot edu - (651) 747-4006
danielle dot hinrichs at metrostate dot edu - (651) 999-5960
a dot miller at nhcc dot edu
gordon dot pueschner at century dot edu - (651) 686-4468
beata dot pueschner at anokaramsey dot edu - (651) 686-4468
champ147 at umn dot edu
MnWE.org
Minnesota Writing & English
A Consortium of Colleges & Universities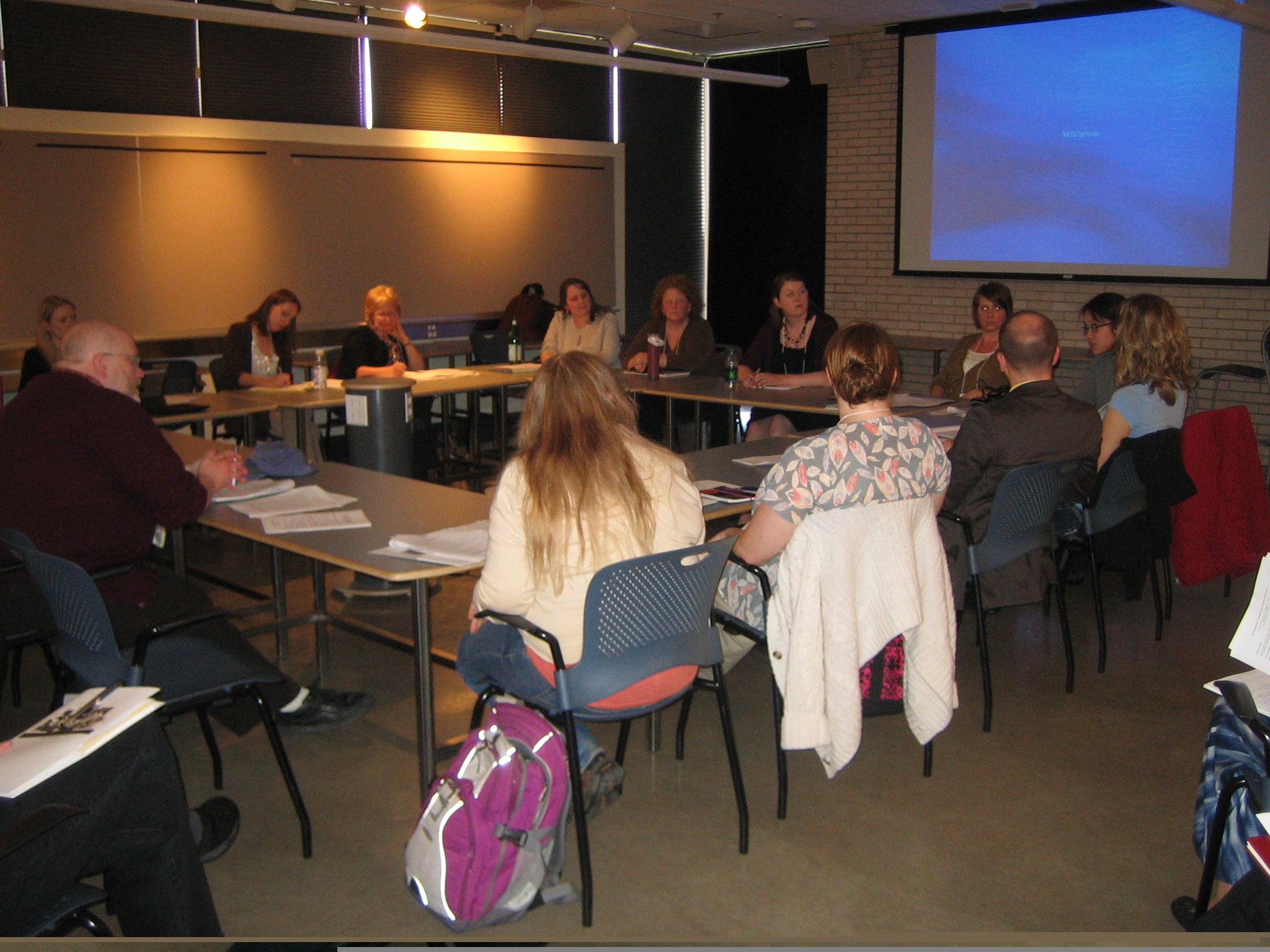 Mission:
Transforming writing and English
into teaching and learning experiences using methodologies that serve students best.
Vision:
Bringing scholarly ideas and practical pedagogy together
to create our futures.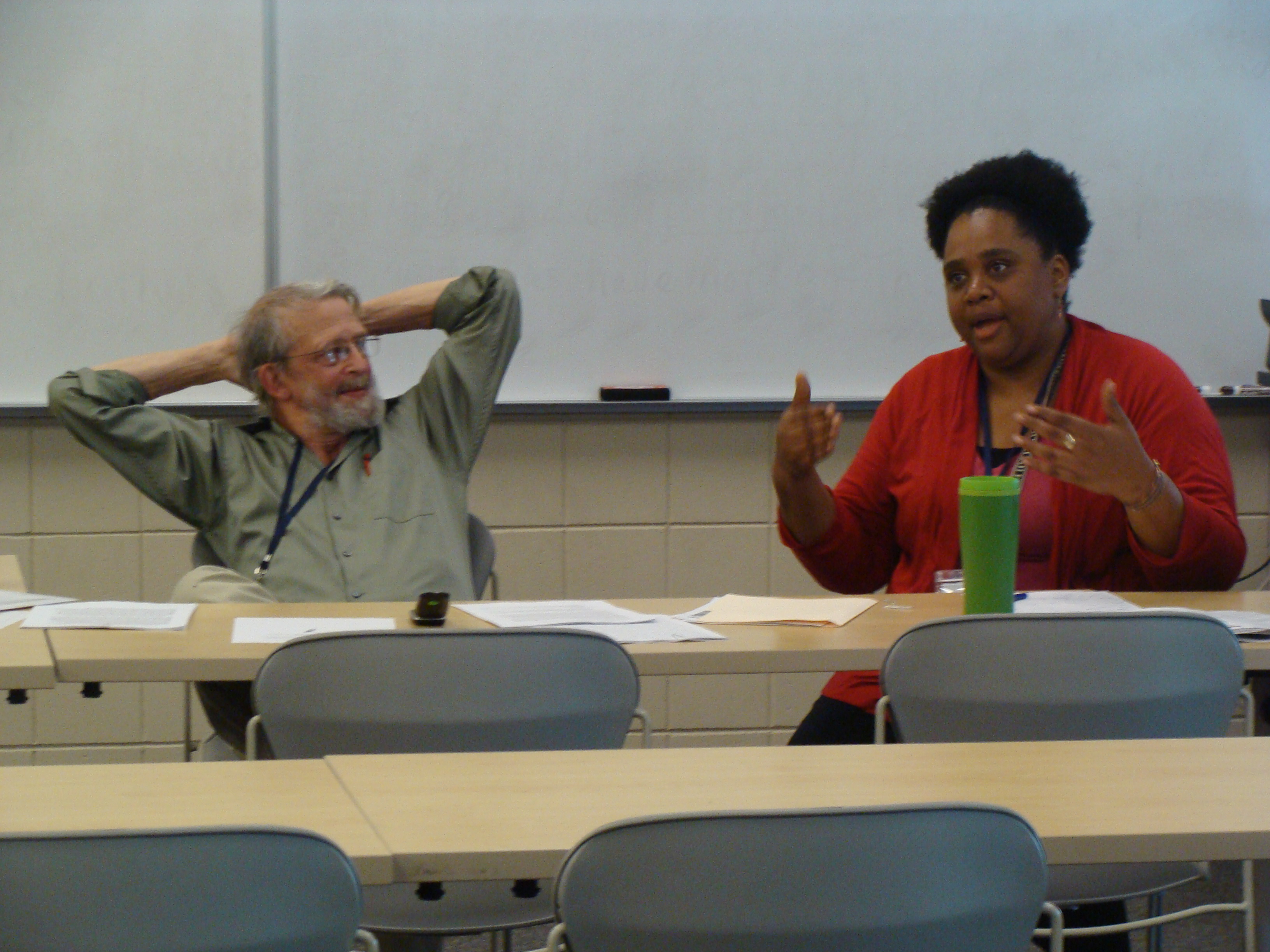 Donald Ross of the University of
Minnesota and Taiyon Coleman of St. Catherine University run a breakout session about literature.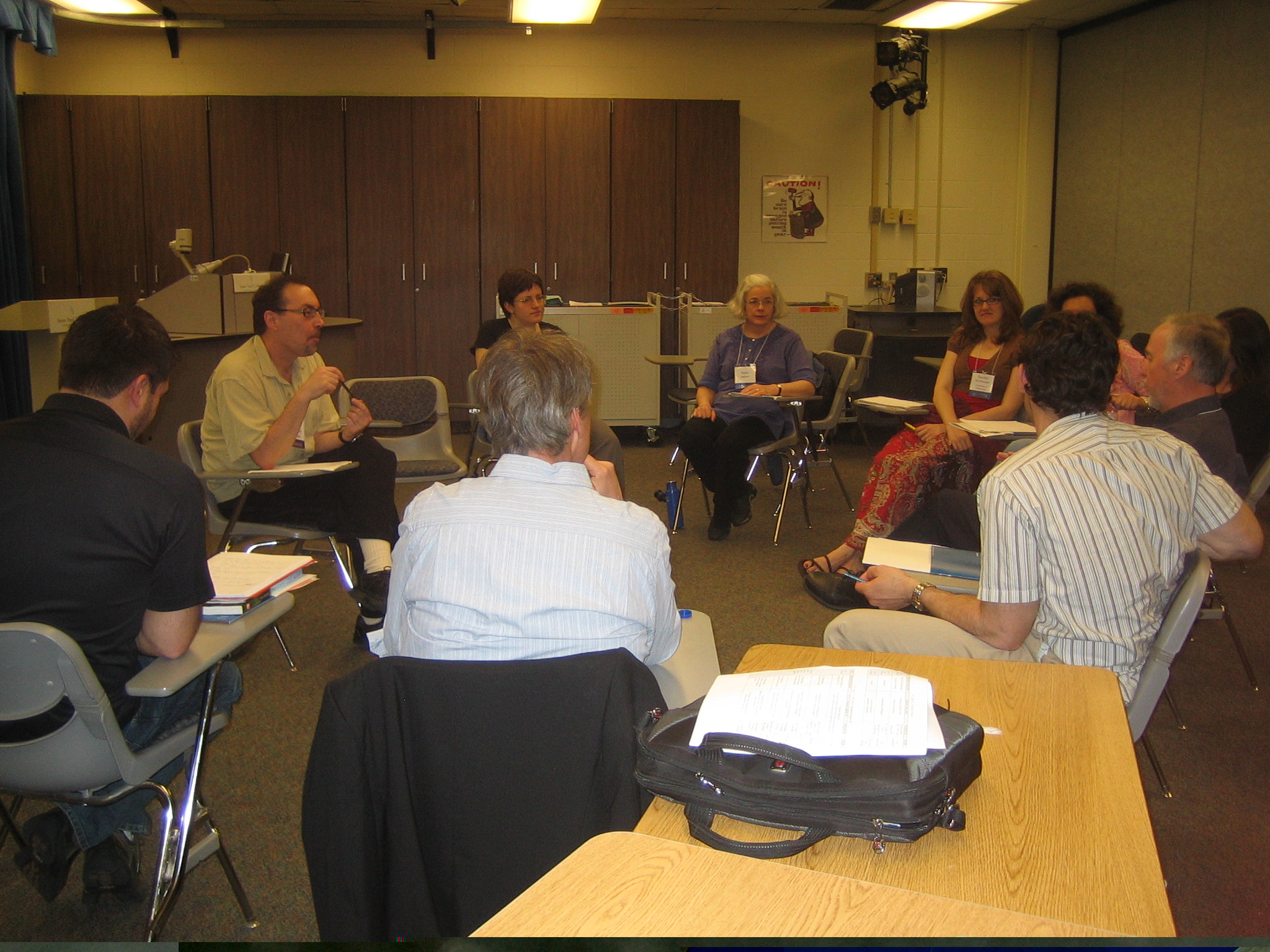 Geoffrey Sirc of the University of Minnesota runs a small breakout after his keynote presentation.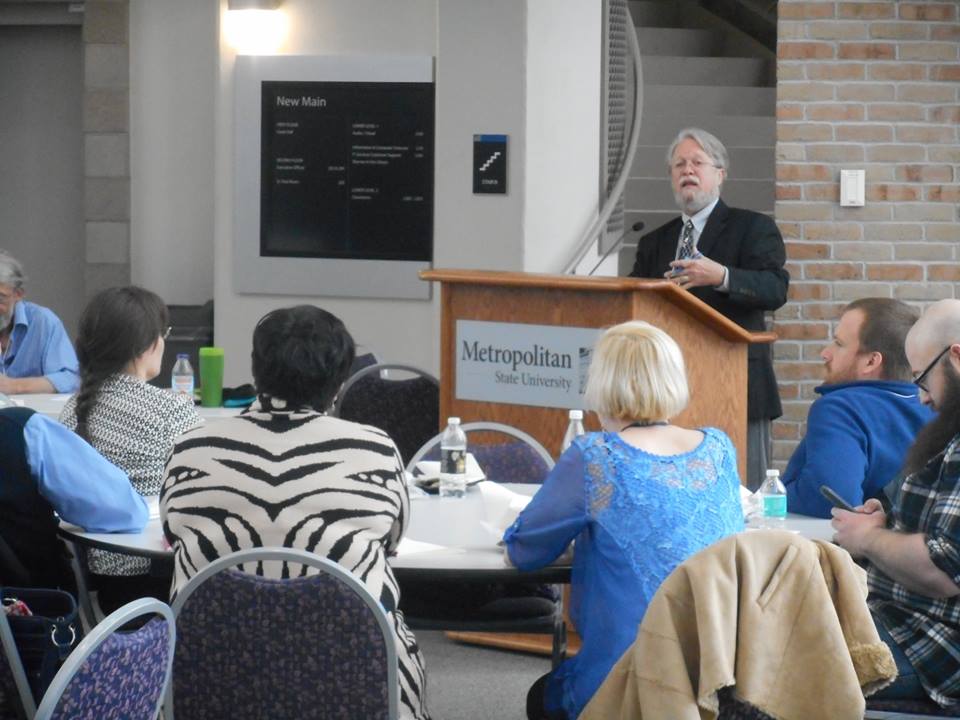 MnWE started in 2007. The cofounders
were Richard Jewell, here giving a welcome after lunch, and Donald Ross, first picture above.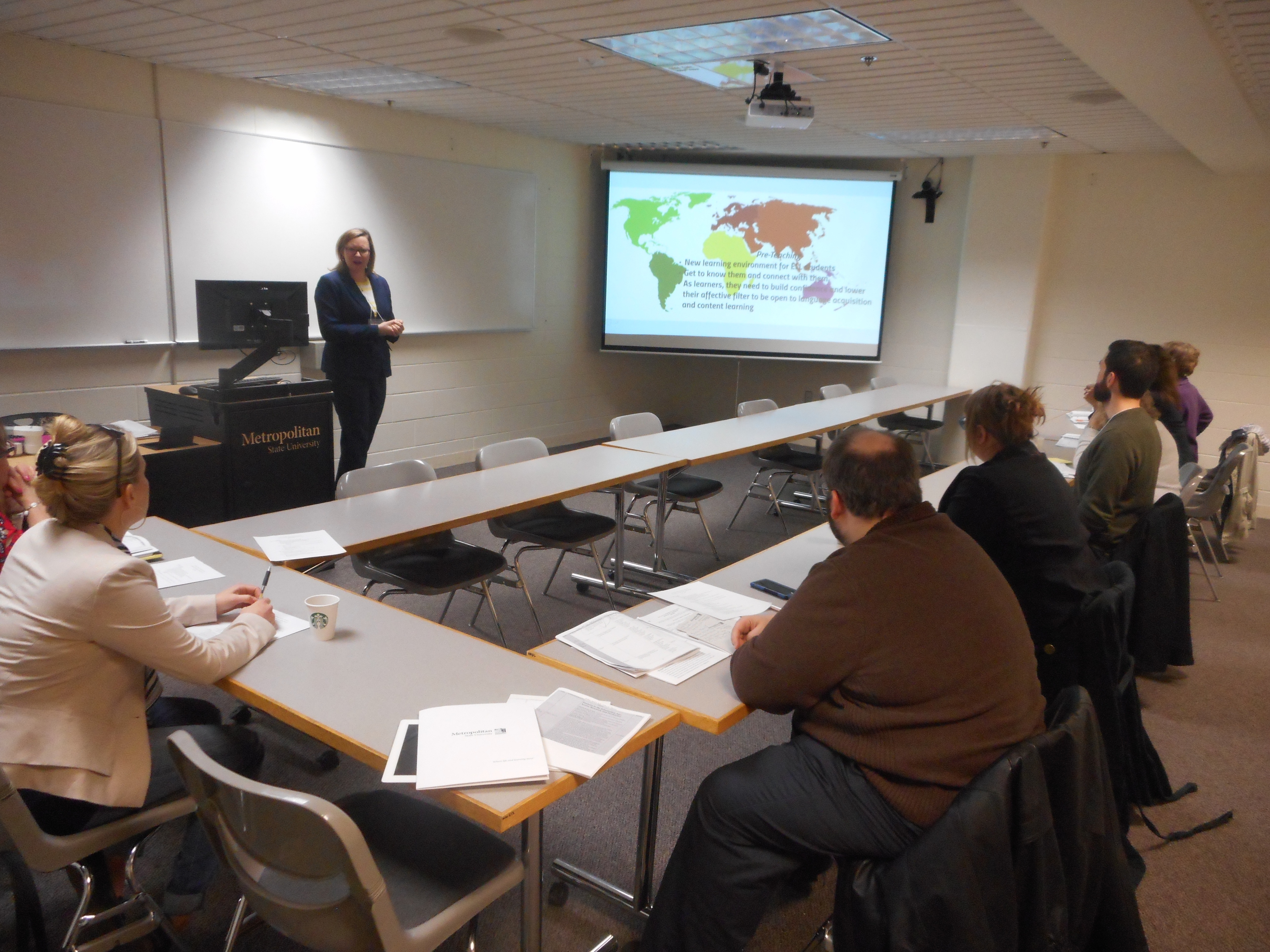 During a 2016 breakout, Beata Puschner presentson improving classroom inclusion of ELL students.