"MnWE News" Late Fall Issue, November-December 2018
If you have trouble reading this
email or want back issues, go to
www.richard.jewell.net/MnWE/Newsletters/MnWENews.htm
In this issue:

1. PROPOSAL FOR MnWE CONFERENCE APRIL 5-6?

2. "A SELF-CARE STRATEGY FOR BELEAGURED ACADEMICS"

3. METHODS: WEEKLY CORRESPONDING WITH STUDENTS?

4. CAN DEPARTMENTS AND COMMITTEES BE GOOD TEAMS?

5. About MnWE: Forwarding the News, Joining/Leaving, Grad Credit,
Representatives
If you are a MnWE representative, please forward this email to colleagues in English,
Writing and related fields. Many new faculty and writing tutors may not be on the email list.

If you are a long-term member of this listserv, thank you
for your continued participation. If you are new, welcome! Our
listserv emails go to over 2000 English, Writing, and related Upper
Midwest faculty. To join, send a request to the editor at richard at jewell dot net.

Our website is www.MnWE.org. Our next conference is on "Connecting Reading and Writing" at North Hennepin Community College Fri.-Sat., April 5-6, 2018. You are welcome to attend our next Committee meeting at UM-TC in Nicholson 235 on Fri., Nov. 9, or email Richard to ask how to Skype into the meeting.. – Richard Jewell, Editor
1. YOUR PROPOSAL FOR MnWE CONFERENCE APRIL 5-6?

Due: January 30, 2019

Would you like to propose an idea for the MnWE Conference Fri.-Sat., April 5-6? You may present on anything you'd like using just notes, a paper, or even a poster for everyone to see. Let us know what's new; what's old that you've polished, rethreaded, or retreaded; or something you have already presented–or would like to practice–for another conference. Proposals need only 50-100 w. or fewer, and you may present at the conference using your choice of your own brief notes, a rough draft, a finished paper, or a poster (displayed in the general registration/coffee area). You also are welcome to present alone or with one to three other colleagues.

Your proposal need not be about our theme. Anything to do with writing, English, and related subjects is acceptable. However, if you would like to work with this year's theme, it is "Connecting Reading and Writing."

Our keynoters will speak to this theme. Friday's lunchtime keynoters are Teaching Professor and fiction author Shannon Gibney of Minneapolis Community and Technical College, and Associate Professor of Library and Information Science Sarah Park Dahlen of St. Catherine University. They will talk about the intersections of writing and reading in college courses. Saturday's lunchtime keynoters are two of Minnesota's top college reading faculty, Shirley Johnson and Linda Russell, who will talk about understanding students' reading abilities, and how we can teach students to read research and other sources better.

We encourage you to send a proposal! The holiday break is a great time to develop your ideas as you sip eggnog (or something stronger) and eat cookies (left for Santa). Think a few minutes about MnWE and what you could present. Then send us your proposal!
---
The Call for Proposals, Proposal Form, and Registration: www.MnWE.org
---

2. "A SELF-CARE STRATEGY FOR BELEAGURED ACADEMICS"

This is the title of Pam Whitfield's recent Chronicle of Higher Education article. Pam, a Teaching Professor in Rochester Community College's English and Equine Science Departments, describes how every "teacher needs a magic briefcase full of heartwarming student letters." She begins by describing a disheartening performance review with a supervisor more interested in perfect paperwork and better rubrics for tracking self-performance than in student evaluations and letters.

Pam says she made two decisions from that experience. First, she would be more careful to use whatever evaluative methods her supervisor of the moment wanted. Second, she decided to collect all of the positive letters and notes from her teaching years in her own "Be Kind Portfolio." Among them was a group from her past college president, who had let her know, during his tenure, whenever he heard a student speak positively about her. She also had many thank you notes and letters from students for whom she had become a special teacher.

Whenever she is feeling low about teaching, she says, she opens her Be Kind Portfolio, her "magic bag to dip into." It reminds her of her positive accomplishments with students.

Pam suggests you develop your own Be Kind display. It could be a portfolio, a display of thank you notes propped on a nearby bookshelf, certificates you've received that you display in your office or elsewhere, or some of the best-ever evaluation notes and thank yous that students have given you. And, she notes, what you collect can also be used to "update your CV every few years."
---
Chronicle article: www.chronicle.com/article/A-Self-Care-Strategy-for/243521
---
3. METHODS: CORRESPONDING WITH STUDENTS?

The art of the letter is not dead. In fact, increasingly, it is being revived for the college classroom. Some faculty use memoir and journal writing for students, but have you tried corresponding with each student about your course? Some teachers do this weekly, some at the beginning, middle, and end of the term. You simply ask students to write about their thoughts or questions about your course, either in a paragraph or list. Two ways to do this are:

(1) Simply ask your students to write, at home, what questions they have, how the course is working for them, etc. Ask them to turn in their letters (or emails) to you. Some faculty set a minimum length and offer credit to encourage more questions. You can simply collect and read them, reply to some of them in class (with no names and with a prior warning that you may read some of the questions aloud), or answer each student individually in writing, even if you say nothing more than "thanks!"

(2) Or instead, in class, ask students to write a quick question about the course, its papers, or other concerns. Then you can answer in class, as above, respond to each briefly in writing, or use both types of responses, depending on the questions.

Some kind of response from you, at some time, is helpful, say those who use these methods. However, they say, even if you don't respond every time, or just to them as a class and not always individually, students begin to feel you are in a conversation with them. As a result, they are more likely to listen to you. In addition, their expression of their concerns helps them to focus better on what they need to do for course success. They also are more likely to work harder for you.

Some teachers even ask each student to use the same sheet of paper each time: the student's questions and your responses then form a continuing chain to which both of you can refer as the conversation proceeds, and this sheet also can be turned in at the end of the course for credit. The more individualized a student feels about an academic relationship with you, say those who recommend these methods, the more likely the student understands what you expect and works to achieve it.

All of these methods can be used in print or online in the classroom, at home, and online. Some faculty ask students to discuss their answers with each other in small groups or in discussion boards.
---
Journaling: www.wlu.edu/Documents/institutional-effectiveness/spring-term/journal-as-teaching-tool.pdf
Anonymous questions: www.facultyfocus.com/articles/effective-teaching-strategies/a-simple-trick-for-getting-students-to-ask-questions-in-class/
Dialogue journals: www.cultofpedagogy.com/dialogue-journals/
---

4. CAN DEPARTMENTS AND COMMITTEES BE GOOD TEAMS?

In education, we often don't pay attention to what for-profit businesses say about working with people, especially as such advice is from hierarchical authority structures. However, when it comes to working together well in small groups, an article from Google may be helpful: "Google Spent Years Studying Great Teams. These 5 Qualities Contributed Most to Its Success."

Google named its research "Project Aristotle." Researchers examined 180 teams, both high and low performing. The five qualities that Google found important are:

1. Psychological Safety: "[T]eammates feel safe to take risks…."
2. Dependability: "[M]embers reliably complete quality work on time…."
3. Structure and Clarity: "Goals…must be specific…and attainable."
4. Meaning: "Finding a sense of purpose…is important for effectiveness…."
5. Impact: "[O]ne's work…is making a difference…."

Are you looking for advice on how to better facilitate your own work groups? Some of the suggestions may even be useful when you are using in-class student teams or groups.
---
Article: https://www.inc.com/justin-bariso/google-spent-years-studying-great-teams-these-5-qualities-contributed-most-to-their-success.html?cid=hmsub1
---

5. About MnWE (repeated in each newsletter):

FORWARDING/JOINING: Please forward this email to others, especially if you are a MnWE representative listed below. Your newer full-time and adjunct faculty members, graduate students, and writing center tutors may not receive it.

If you are not on the listserv and would like to join it, simply send your request and email address to richard at jewell dot net.

WHO WE ARE: "MnWE" is "Minnesota Writing and English," an organization with a coordinating committee, a listserv, and an annual spring conference by and for college, university, and college-in-the-high-schools English and writing faculty, graduate and undergraduate students, and related academic and literary scholars, writers, tutors, and others in the Upper Midwest. Our purpose is to bring together these communities in Minnesota, western Wisconsin, north and central Iowa, and the eastern Dakotas.

Our website is MnWE.org; our geographical center is Minneapolis-St. Paul. Over 2500 faculty, tutors, and graduate students are on our listserv. Our listserv members come from public and private two-year colleges, state universities, private four-year and graduate-degree colleges, high schools, and the Universities of Minnesota, Wisconsin, and North Dakota. Our activities are led by a large, active committee of representative volunteers.

GRADUATE CREDIT: Anyone may earn one graduate credit from Southwest Minnesota State University for attending one MnWE Conference day and writing a related research paper (up to three times). For questions about this course—"Eng 656: MnWE Practicum"—please contact lisa dot lucas at smsu dot edu or see www.smsu.edu/academics/programs/english/?id=11637 .

HOW TO REMOVE YOURSELF FROM THE LIST: If you want to be removed from this listserv, please do so yourself, following directions at the very bottom of this email. If you try without success, then send an email to richard at jewell dot net indicating (1) this problem, (2) your specific email address copied from the directions at the bottom of a MnWE mailing, and (3) your request for removal.

FORMATTING, INVITATION, & CREDITS: These listserv emails usually are formatted in a simple way using html. If you cannot read them, please go to the link at the top right to see them on the Web.

If you have any questions, we invite you to email any of us on the committee. You also are always invited to attend any of our five MnWE Committee meetings per year. You also are invited to offer suggestions—or volunteer your leadership—for a special or double section at the annual conference.

This newsletter is written primarily by Richard Jewell without copyright so that anyone may quote, paraphrase, or forward any or all of it freely. We ask only that you give credit to the "MnWE Newsletter" and/or "www.MnWE.org"; and when you use material that has been quoted or paraphrased in this newsletter from other sources, please be sure to give proper credit to the original source.
---
---
Richard Jewell, General Coordinator
Larry Sklaney, Conference Coordinator
Danielle Hinrichs, Program Coordinator
Gordon and Beata Pueschner,
Registration & Floor Events Coordinators
Alexander Champoux, UMN, 2018 Site Coordinator
Vanessa Ramos, NHCC, 2019 Site Coordinator
richard at jewell dot net - (612) 870-7024
larry dot sklaney at century dot edu - (651) 747-4006
danielle dot hinrichs at metrostate dot edu - (651) 999-5960
gordon dot pueschner at century dot edu - (651) 686-4468
beata dot pueschner at anokaramsey dot edu - (651) 686-4468
champ147 at umn dot edu
vramos at nhcc dot edu

MnWE.org
Minnesota Writing & English
A Consortium of Colleges & Universities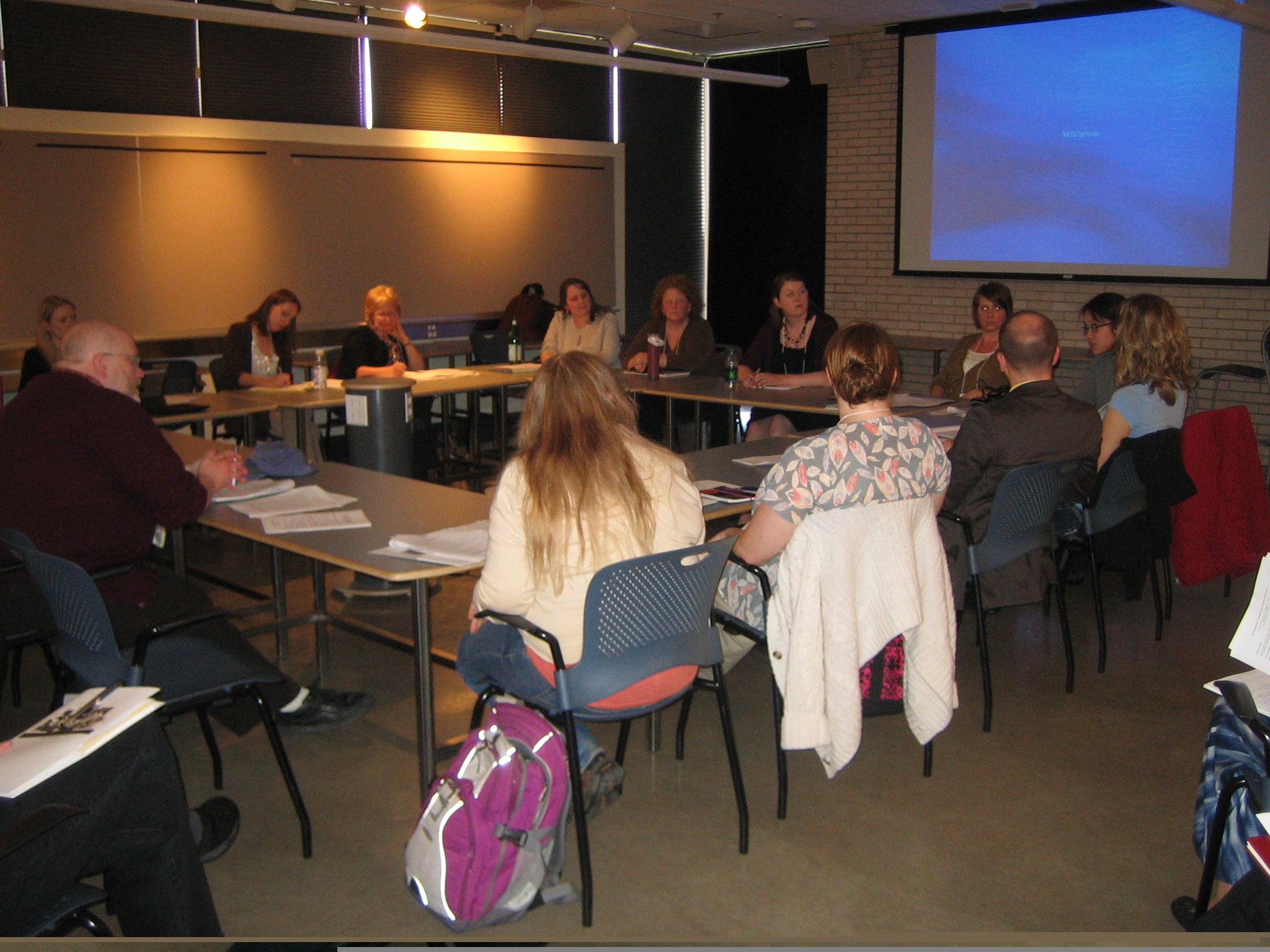 Mission:
Transforming writing and English
into teaching and learning experiences using methodologies that serve students best.
Vision:
Bringing scholarly ideas and practical pedagogy together
to create our futures.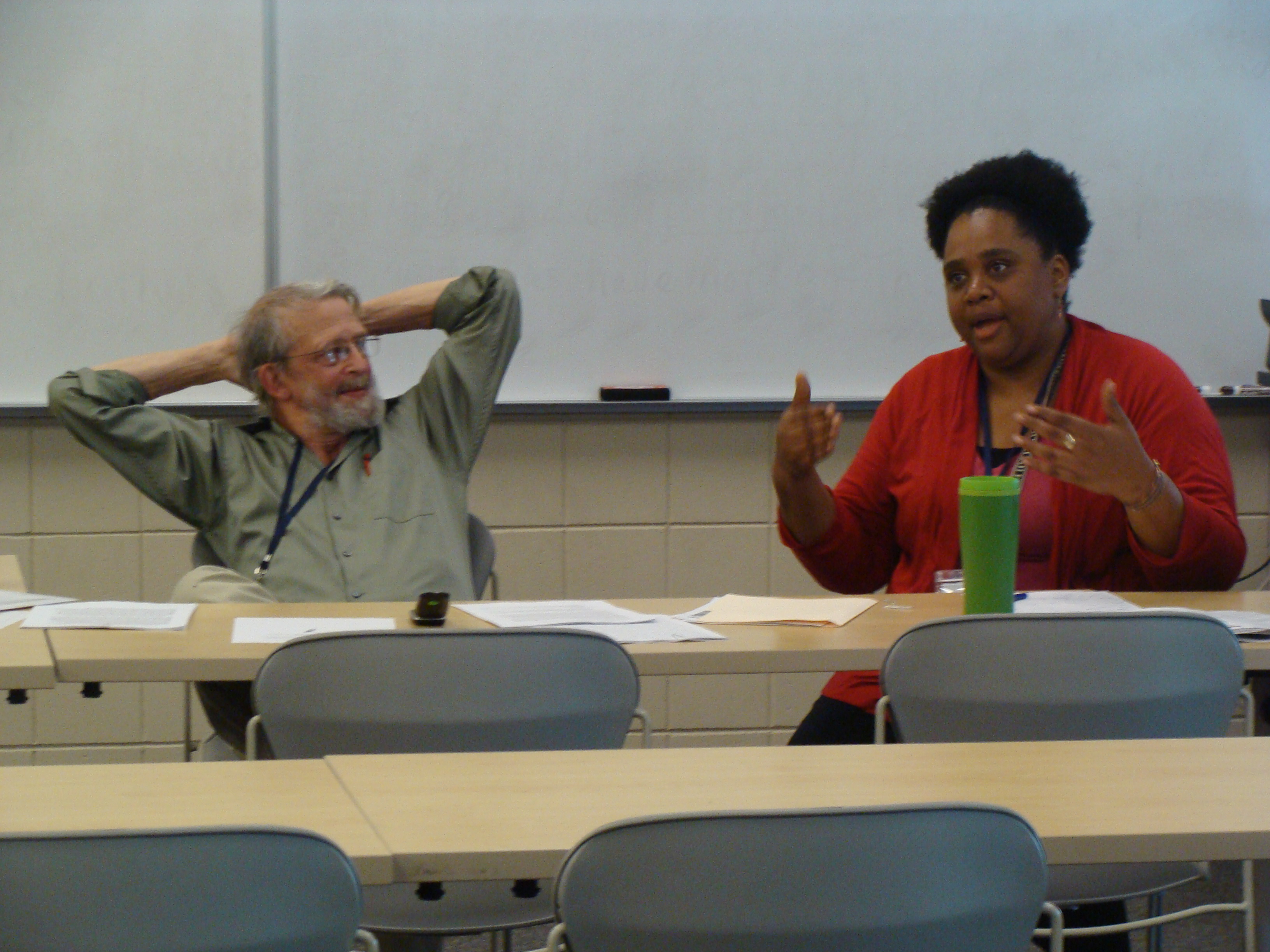 Donald Ross of the University of
Minnesota and Taiyon Coleman of St. Catherine University run a breakout session about literature.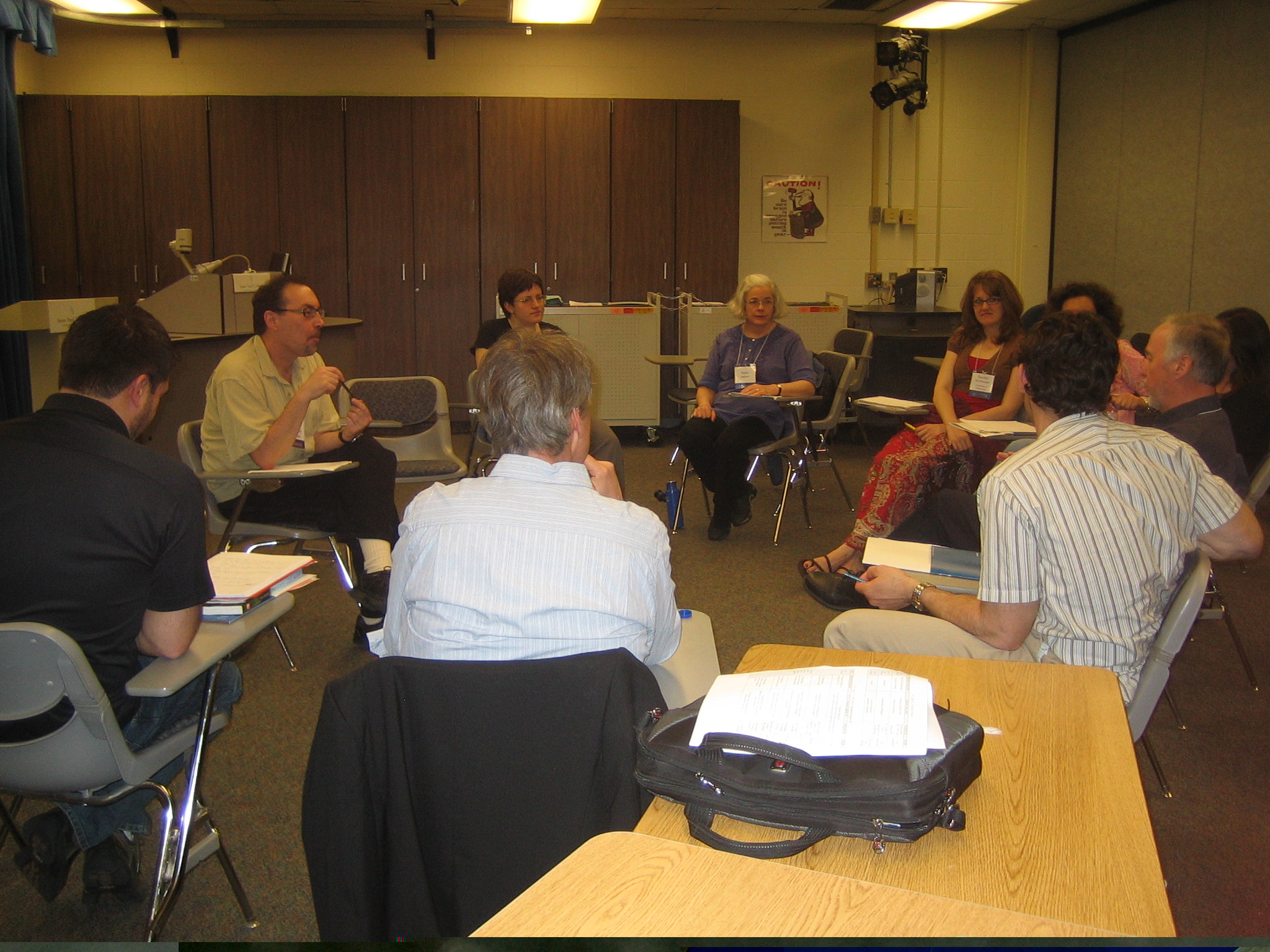 Geoffrey Sirc of the University of Minnesota runs a small breakout after his keynote presentation.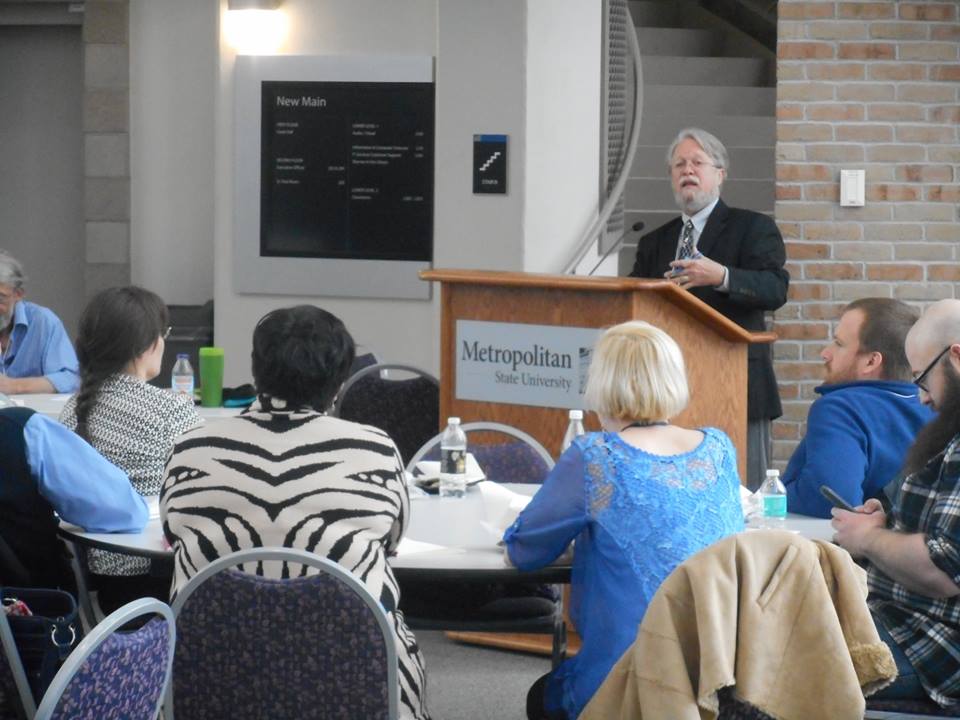 MnWE started in 2007. The cofounders
were Richard Jewell, here giving a welcome after lunch, and Donald Ross, first picture above.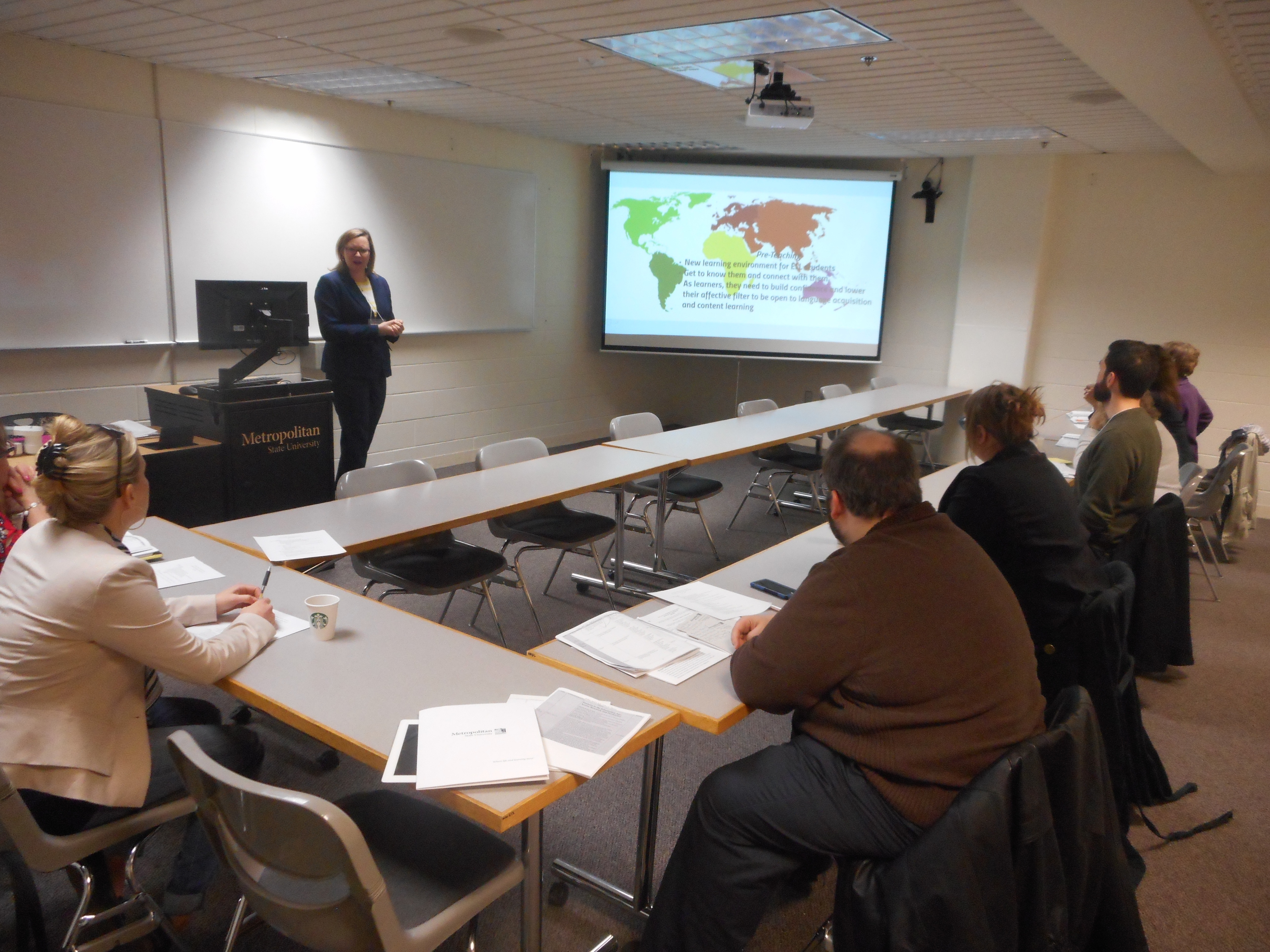 During a 2016 breakout, Beata Puschner presentson improving classroom inclusion of ELL students.