"MnWE News" Winter Issue, Jan.-Feb. 2018
In this issue:

1. PROPOSALS DEADLINE EXT. TO JAN. 26 FOR MnWE CONF.
3/23-24, UMN

2. MNWE UMN KEYNOTERS FOR MARCH 23-24 CONFERENCE

3. REMINDER: MINNSTATE DISCIPLINE MTG. 2/23 FOR ENG.,
EAP/ESOL, & READING

4. ANTI-FAKE NEWS RESEARCH SOFTWARE FOR STUDENTS?

5. About MnWE: Forwarding the News, Joining/Leaving, Grad Credit,
Representatives
If you are a long-term member of this listserv, thank you
for your continued participation. If you are new, welcome! Our
listserv emails go to about 2500 English, Writing, and related Upper
Midwest faculty. To join, send a request to the editor at richard at jewell dot net.
Our website is at www.MnWE.org. Our next conference is at UMN-TC Fri.-Sat., 3/23-24/18. You are welcome to attend our next Committee meeting at 3:30 pm Fri., 1-26-18, in Nolte Hall 235 at UM-TC or by Skype at "MnWEmeeting" at https://join.skype.com/AqzB0BQoN7wu . –Richard J., Editor
---
1. PROPOSALS DEADLINE EXTENDED TO JAN. 26 FOR MnWE
CONF. 3/23-24, UMN

The deadline for proposals has been extended to Friday midnight, Jan. 26, to present at the MnWE Conference Fri.-Sat., March 23-24, at the University of Minnesota-East Bank in Minneapolis. Our site host is UMN's Department of Writing Studies, with keynotes by two UM scholar-practitioners (see "2." below). What would you like to present and/or hear? We welcome any proposal that you think would be interesting to present or for others to hear, on our theme or not. If you would like to tailor your proposal to this year's theme, it is "Points of the Compass: The Ethics of Our Time." The "Points" may be, in your proposals, anything ethical, moral, political, social, cultural or otherwise in how we teach, why and what we teach, and what our students do or do not need to learn and hear. How can students discern fake from real in research? Is literature escape or encounter with reality? What are you doing that is new, old and still great, updated, and experimental? Let us know!
---
Proposals: www.MnWE.org or directly at https://mnweblog.wordpress.com/cfpsubmit/
---

2. KEYNOTERS FOR MnWE CONFERENCE MARCH 23-24

This year's MnWE Conference keynoters are University of Minnesota scholar-practitioners Dr. Timothy Lensmire and Dr. Kirsten Jamsen.
Dr. Lensmire teaches Literacy Education, and Culture and Teaching, in Curriculum and Instruction at UMN-TC. He grounds his research in problems and issues confronting teachers and students, especially how the teaching and learning of writing can better promote and embody democracy, and how the classroom can be a space for critical anti-racist and social justice work.

Dr. Jamsen directs the UMN Center for Writing and co-directs the Minnesota Writing Project. She also is an affiliate faculty member teaching graduate courses in English, Writing Studies, and Literacy and Rhetorical Studies. Before 2002, she held similar posts at UW-Madison. She is a strong proponent of talking, listening, reading, writing, and learning together. Her keynote will focus on John Duffy's most recent work on virtue ethics in the writing classroom and writing process.
---
MnWE: www.MnWE.org
Keynoters: https://mnweblog.wordpress.com/mnwe-conference/mnwe-2018-keynote-speakers/
Lensmire: www.cehd.umn.edu/ci/people/lensmire.html
Jamsen: http://writing.umn.edu/home/people/jamsen.html
---

3. REMINDER: MnSTATE DISCIPLINE MTG. 2/23 FOR ENG.,
EAP/ESOL, & READING

This is a reminder that Normandale Community College is calling a Discipline Meeting for English, ESOL/EAP, and Reading to be held Friday, February 23, 10 am-3 pm at the College's Kopp Center, the Garden Room. The event is free. All are welcome who work full or part-time in these fields in any university or college in the Minnesota State System, or as part of MnState-sponsored college courses in the high schools in these disciplines. Only MnState faculty and related service people (such as writing and/or English tutors) may attend. The plan at this point is that each discipline will have at least some of its own sessions. To RSVP and help shape the curriculum, go to the URL below.
---
https://goo.gl/forms/j6TAjZyIjR73M7mD3
---

4. ANTI-FAKE NEWS RESEARCH SOFTWARE FOR STUDENTS?

Would you like to counter fake news? Four college students recently won a 36-hour hackathon challenge by Yale's Poynter Fellowship in Journalism by creating a program that balances fake news. The program is a plug-in extension for the Chrome browser that alerts people with a warning when they read fake news on social sites. The software also notices when students who are researching tend to go to one-sided websites, it identifies main subjects in the site and their political slant, and it then suggests a list of sites offering opposing views. The program even can offer viewers a graph showing the relative bias of news they've read. The program is not yet available for general release. Its inventors are said to also be in talks with Facebook.
---
Search: "'Open Mind' browser extension for Chrome"
---

5. About MnWE (repeated in each newsletter):

FORWARDING/JOINING: Please forward this email to others, especially if you are a MnWE representative listed below, as your new full-time and adjunct faculty members, graduate students, and writing center tutors may not receive it. If you are not on the listserv and would like to join it, simply send your request and email address to richard at jewell dot net.

WHO WE ARE: "MnWE" is "Minnesota Writing and English," an organization with a coordinating committee, a listserv, and an annual spring conference by and for college, university, and high school English and writing faculty, graduate students, and related academic and literary scholars, writers, tutors, and others in the Upper Midwest. Our purpose is to bring together these communities in Minnesota, Wisconsin, north and central Iowa, and the eastern Dakotas. Our website is MnWE.org; our geographical center is Minneapolis-St. Paul. Over 2500 faculty, tutors, and graduate students are on the listserv. Our listserv members come from public and private two-year colleges, state universities, private four-year and graduate-degree colleges, high schools, and the Universities of Minnesota, Wisconsin, and North Dakota. Our activities are led by a large, active committee of representative members listed below.

GRADUATE CREDIT: Anyone may earn one graduate credit from Southwest Minnesota State University for attending one MnWE Conference day and writing a related research paper (for up to three times). For questions about this course—"Eng 656: MnWE Practicum"—please contact lisa dot lucas at smsu dot edu or see www.smsu.edu/academics/programs/english/?id=11637 .

HOW TO REMOVE YOURSELF FROM THE LIST: If you want to be removed from this listserv, please do so yourself, following directions at the very bottom of this email. If you try without success, then send an email to richard at jewell dot net indicating (1) this problem, (2) your specific email address copied from the directions at the bottom of a MnWE mailing, and (3) your request for removal.

FORMATTING, INVITATION, & CREDITS: These listserv emails usually are formatted in a simple way using html. If you cannot read them, please go to the link at the top to see them on the web.
If you have any questions, we invite you to email any of us on the committee. You also are always invited to attend any of our five MnWE Committee meetings per year. You also are invited to offer suggestions—or volunteer your leadership—for a special or double section at the annual conference.
This newsletter is written primarily by Richard Jewell without copyright so that anyone may quote, paraphrase, or forward any or all of it freely. We ask only that you give credit to the "MnWE Newsletter" and/or "www.MnWE.org"; and when you use material that has been quoted or paraphrased in this newsletter from other sources, please be sure to give credit to the original source.

REPRESENTATIVES: Representatives (as listed below), please forward each of these emails: many of your writing and English colleagues may not be on this listserv. Potential volunteer representatives: We always appreciate hearing from you if your school has no rep. See the "Representatives" list below, and if no one at your school is on it, please volunteer! Email richard at jewell dot net. We are especially looking for reps from Greater Minnesota, Canada, Iowa, North and South Dakota, and Wisconsin.
---
---
Richard Jewell, Larry Sklaney, Danielle Hinrichs,
Anthony Miller, and Gordon and Beata Pueschner, Coordinators
Richard at jewell dot net - (612) 870-7024
larry dot sklaney at century dot edu - (651) 747-4006
danielle dot hinrichs at metrostate dot edu - (651) 999-5960
a dot miller at nhcc dot edu
gordon dot pueschner at century dot edu - (651) 686-4468
beata dot pueschner at anokaramsey dot edu–(651) 686-4468
MnWE.org
Minnesota Writing & English
A Consortium of Colleges & Universities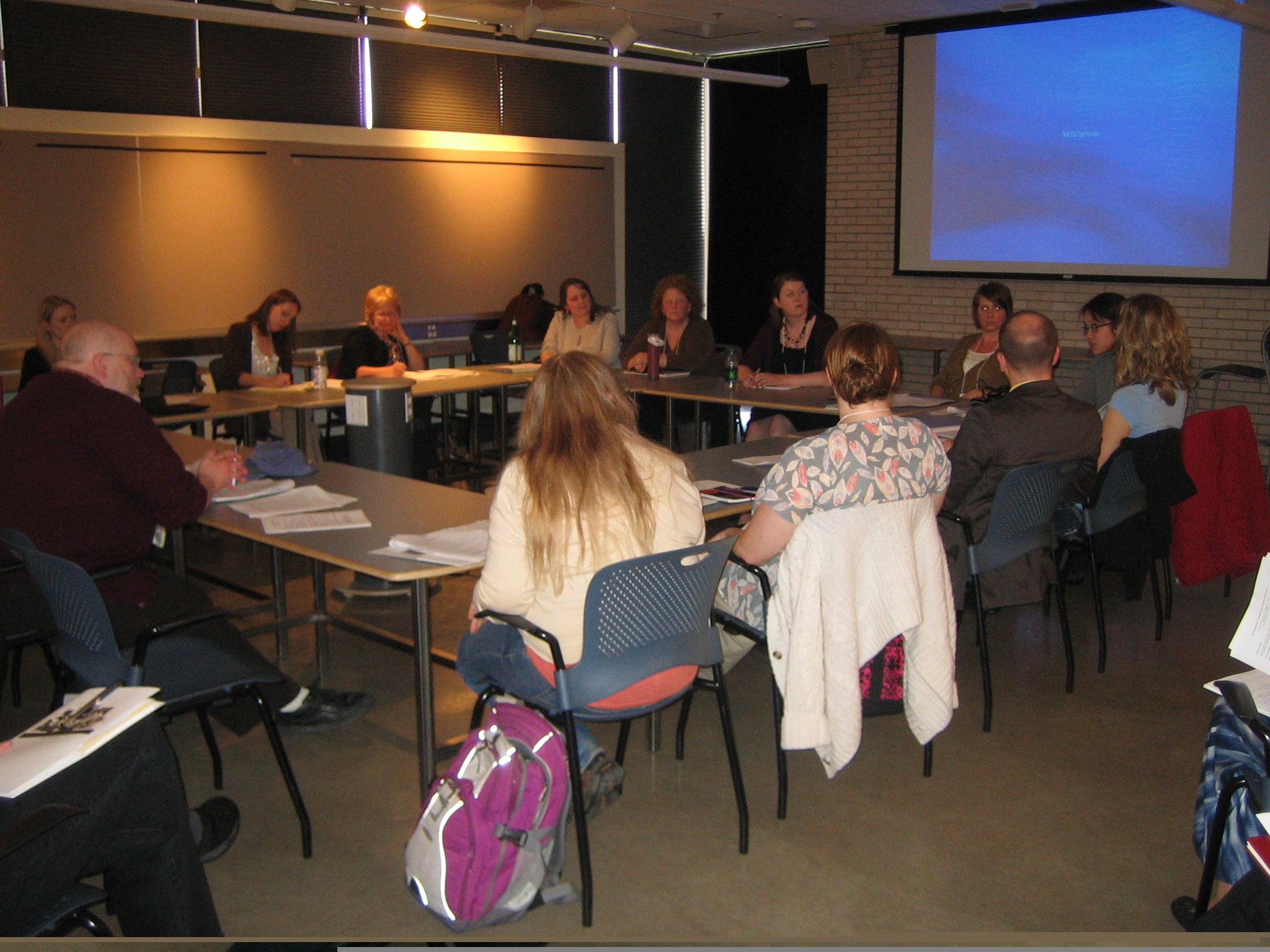 Mission:
Transforming writing and English
into teaching and learning experiences
using methodologies that serve students best.
Vision:
Bringing scholarly ideas and practical
pedagogy together to create our futures.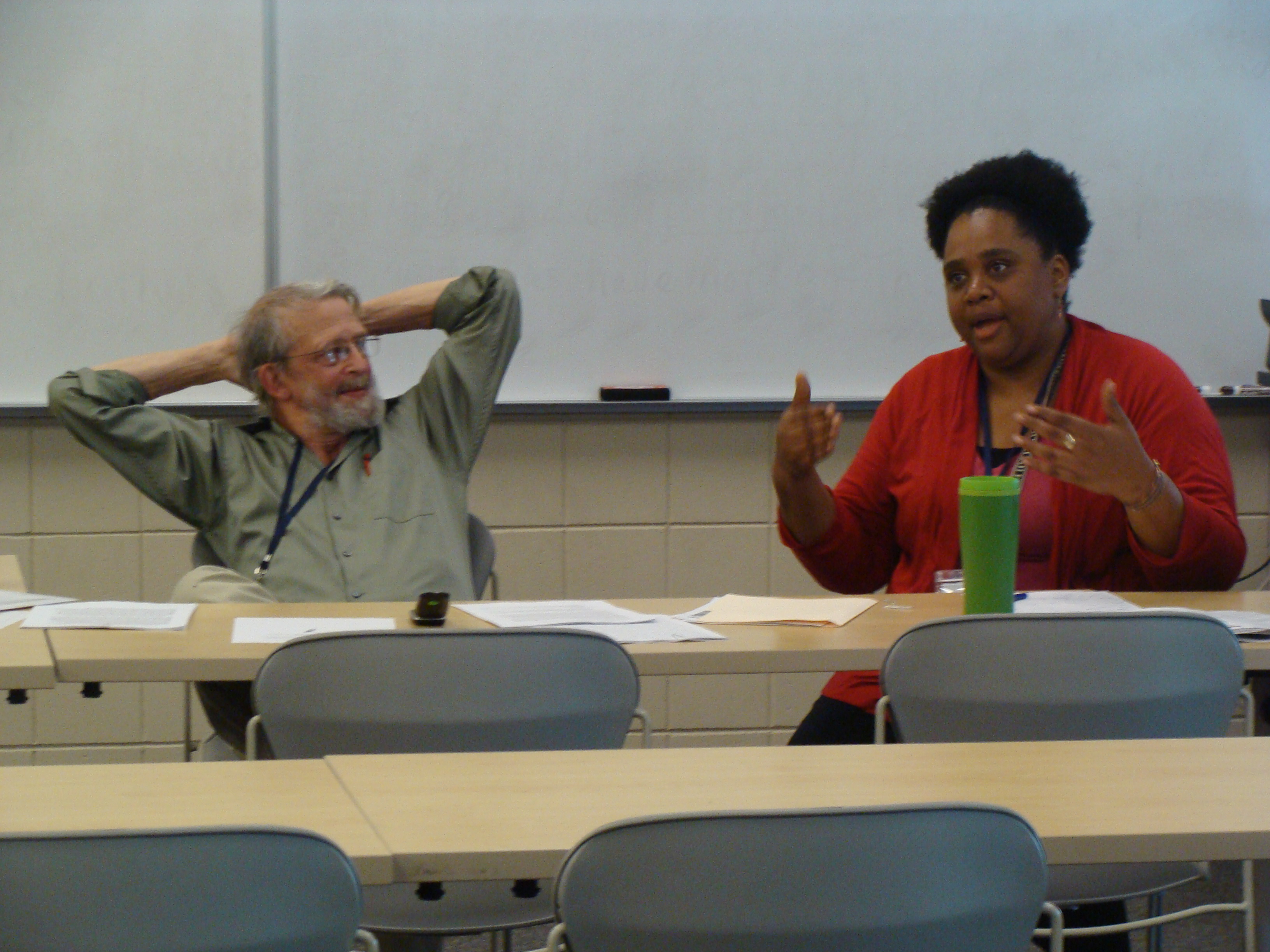 Donald Ross of the University of
Minnesota and Taiyon Coleman of St. Catherine
University run a breakout session about literature.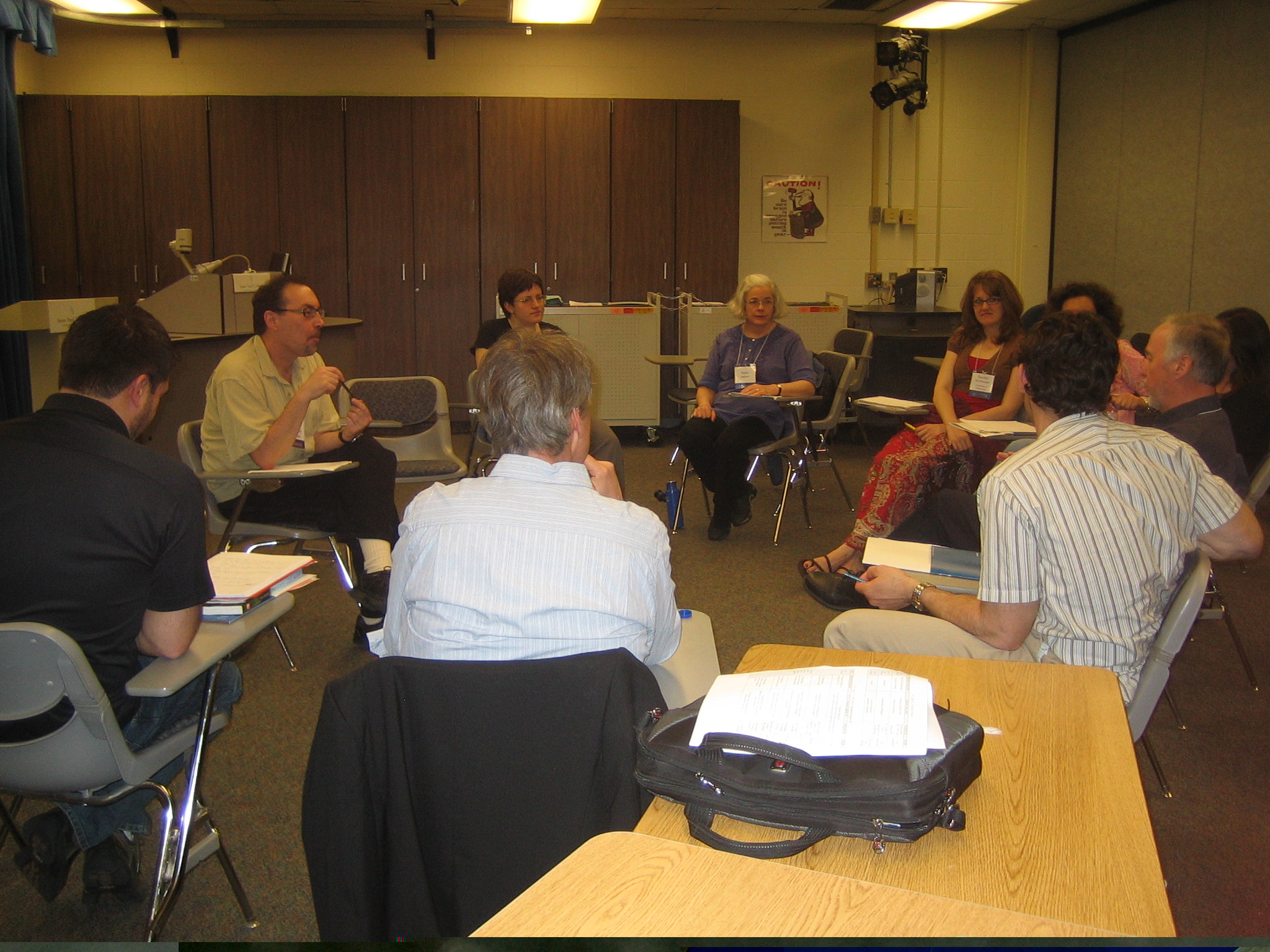 Geoffrey Sirc of the University of Minnesota
runs a small breakout after his keynote presentation.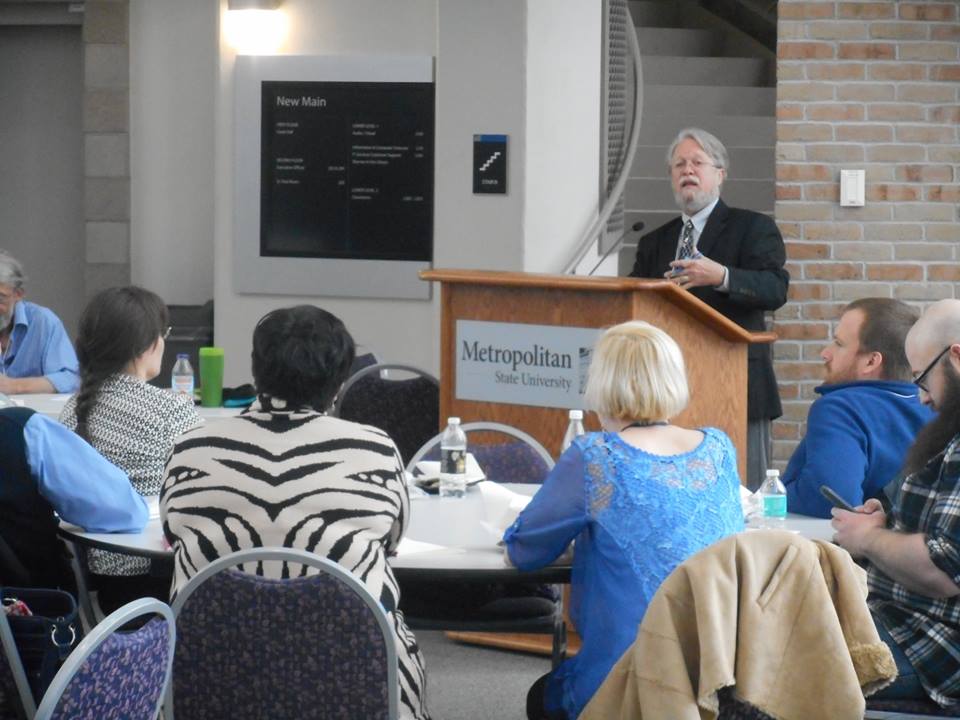 MnWE started in 2007. The cofounders
were Richard Jewell, here giving a welcome
after lunch, and Donald Ross, first picture above.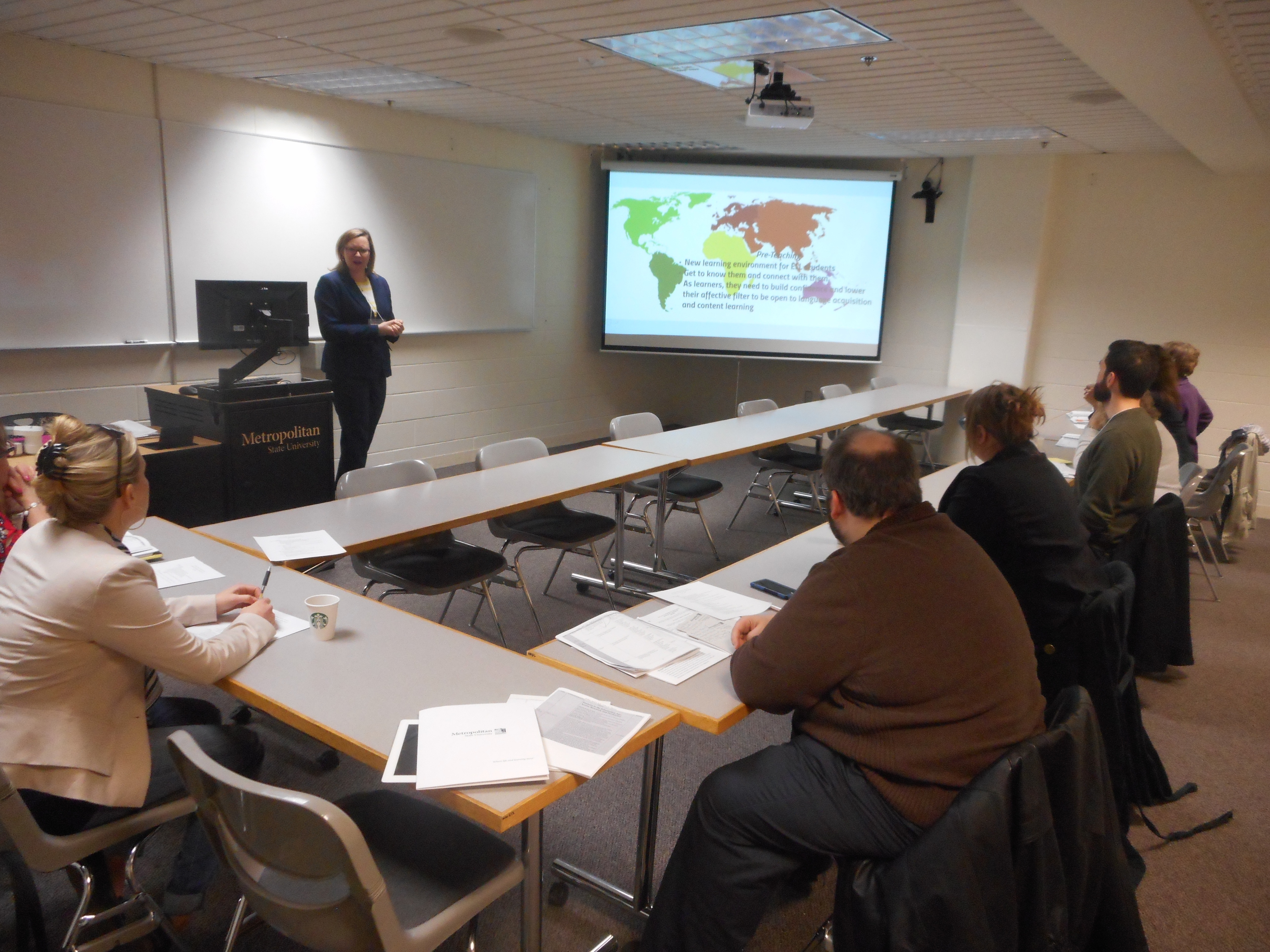 During a 2016 breakout, Beata Puschner presents
on improving classroom inclusion of ELL students.