"MnWE News" Fall Issue,
Sept.-Oct. 2017
In this issue:

1. THEME FOR THE 2018 MnWE CONF. AT UMN:
"POINTS OF THE COMPASS: THE ETHICS OF OUR TIME"

2. TYCA-MIDWEST CONFERENCE IN ST. PAUL THIS WEEK,
OCT. 5-7

3. STANFORD U.: WHEN CAN YOU USE COPYRIGHTED
MATERIAL?

4. TIPS: HOW CAN YOU TEACH TO DIFFERENT TYPES OF
INTELLIGENCE?
5. About MnWE: Forwarding the News, Joining/Leaving, Grad Credit,
Representatives
---
If you are a MnWE representative, please forward this email to colleagues
in English/Writing and related fields. Many may not be on the email list.

If you are a long-term member of this listserv, thank you
for your continued participation. If you are new, welcome! Our listserv
listserv emails are sent to about 2500 English, Writing, and related Upper
Midwest faculty. To join, send a request to the editor at richard at jewell dot net.

Our website is at www.MnWE.org. Our next conference is at UM-TC Fri.-Sat., 3/23-24/18. You are welcome to attend our next Committee meeting at 3:30 pm Fri., 11-17-17, at UM-TC, or by Skype at "MnWEmeeting" at https://join.skype.com/AqzB0BQoN7wu . –Richard J., Editor
---
1. MNWE THEME FOR OUR 2018 CONF. AT UMN 3/23-24/2018:
"POINTS OF THE COMPASS: THE ETHICS OF OUR TIME"
We hope your new school year is going well for you. Discover solutions to your problems and offer your own problems and solutions at our Tenth Annual MnWE Conference Friday-Saturday, March 23-24, 2018, at the University of Minnesota, Minneapolis. This year's theme is Points of the Compass: The Ethics of Our Time.
In the texts we choose and the writing tasks we assign, we routinely encourage students to confront ethical questions, yet we are not always so comfortable discussing our own courses in ethical terms. How do we do right by our students, our colleagues, and our communities? MnWE's 2018 Conference theme challenges us to think of moral dimensions of our pedagogies and situate academic practices in both the broader cultural moment and the futures we are helping prepare students to engage and create.
In several weeks, we will send a Call for Proposals. We hope that you will join us–by presenting and/or attending–for challenging, rousing, and ultimately satisfying discussions on this subject, or others, at our spring conference at the University of Minnesota March 23-24.
---

2. TYCA-MIDWEST CONFERENCE IN ST. PAUL, OCT. 5-7
This week, TYCA-Midwest returns to Minnesota. Whatever your affiliation, you are welcome at this regional English conference in St. Paul! Faculty and students at all levels find that TYCA regional conferences are especially known for their practical applications to–and theoretical developments from–teaching practices.
TYCA is NCTE's Two-Year College English Association, divided into seven regions. Our region stretches to include Manitoba in the north to Nebraska in the southwest, and east to Michigan and Ohio. It includes some of the finest learning and teaching faculty in the Midwest. Join the conference Thursday evening through Saturday morning, Oct. 5-7, with an open mike for creative writers on Thursday night, two major speakers and breakouts on Friday, and more breakouts Saturday morning.
The Friday breakfast speaker is Bruce Horner, Endowed Chair of Rhetoric and Composition at the University of Louisville and winner of CCC's 2012 Most Outstanding Book Award. For many years, he served in our Midwest Region as Director of Composition at the University of Wisconsin-Milwaukee. The Friday lunch keynoter is award-winning author Julie Schumacher, Director of the University of Minnesota Creative Writing Program, and recent winner of (and first woman to win) the Thurber Prize for American Humor.
Note that you may still register at the door, and pay by credit card or check made out to TYCA Midwest.
---
Conference Home Page: http://tycamidwest.org/conference/
Speakers: http://tycamidwest.org/conference-speaker-details/
Complete Program: http://tycamidwest.org/wp-content/uploads/2014/07/TYCA-MW-2017-PROGRAM-FINAL.pdf
---

3. STANFORD U.: WHEN CAN YOU USE COPYRIGHTED
MATERIAL?
If you are copying material for a book, article, or course packet for sale, there are fairly stringent requirements for asking for permissions well in advance. However, if you want "last-minute" copies for students, then "educational purposes"–and more relaxed–copying is allowed. Purposes, says Stanford University, may include nonprofit educational instruction, noncommercial study to investigate or contribute to a field of knowledge, or noncommercial peer-conference presentations.
Stanford says, "The guidelines permit a teacher to make one copy of any of the following: a chapter from a book; an article from a periodical or newspaper; a short story, short essay, or short poem; a chart, graph, diagram, drawing, cartoon, or picture from a book, periodical, or newspaper…. Classroom copying cannot be used to replace texts or workbooks used in the classroom. Pupils cannot be charged more than the actual cost of photocopying. The number of copies cannot exceed more than one copy per pupil. And a notice of copyright must be affixed to each copy." Stanford offers the following examples:
complete poem…less than 250 words or an excerpt of not more than 250 words.…

a complete article, story, or essay if less than 2,500 words or an excerpt from any prose work of not more than 1,000 words or 10% of the work, whichever is less; or

one chart, graph, diagram, drawing, cartoon, or picture per book or per periodical issue.

Not more than one short poem, article, story, essay, or two excerpts may be copied from the same author, nor more than three from the same collective work or periodical volume (for example, a magazine or newspaper) during one class term. As a general rule, a teacher has more freedom to copy from newspapers or other periodicals if the copying is related to current events.
Stanford also advises that the "idea to make the copies must come from the teacher, not from school administrators…. Only nine instances of such copying for one course during one school term are permitted. In addition, the idea to make copies and their actual classroom use must be so close…that it would be unreasonable to expect a timely reply to a permission request." In addition, teachers "may not photocopy workbooks, texts, standardized tests, or other materials that were created for educational use. The guidelines were not intended to allow teachers to usurp the profits of educational publishers."
---
http://fairuse.stanford.edu/overview/academic-and-educational-permissions/non-coursepack/
---

4. TIPS: HOW CAN YOU TEACH TO DIFFERENT TYPES OF
INTELLIGENCE?
Most writing teachers–and many literature teachers–realize, after sufficient experience, that students clearly have differing learning styles. For this reason, many faculty become interested in theories of multiple intelligences. A recent article in "Tomorrow's Professor Newsletter"–"Different Views of Intelligence" by Steve Bartlett and Diana Burton–summarizes some of these theories. But how do we use them in the classroom?
Perhaps the most intuitive theory divides students' forms of intelligence in three. These are, according to Robert Sternberg, the "Analytical or componential" ("normally measured on…tests"), the "Creative or experiential" ("the ability to see new connections"), and the "Practical or contextual" ("the ability to read situations and people, and manipulate them").
You all know how to teach to the analytical mind–to the students who do well on tests. You simply work as a scholar teaching appropriate academic methods of writing.
What if you want to teach specifically to creative/experiential students, who seem to delight particularly in doing something new or unusual? You might involve such students in creative writing and storytelling; in wilder, more imaginative, or even more fantasy-oriented rough drafting; or in learning to write in different ways to different types of personalities they know or can imagine.
What can you do for practical/contextual students, the ones who often are particularly career or major oriented? You might ask them to organize different types of papers for differing–or specific–practical situations, describe specific audiences in terms of their practical expectations or needs, or write a paper in several different styles for different formal audiences (e.g., a news article, a proposal, and an academic argument about a subject).
---
"Different Views of Intelligence": https://tomprof.stanford.edu/posting/1580
---

5. About MnWE (repeated in each newsletter):

FORWARDING/JOINING: Please forward this email to others, especially if you are a MnWE representative listed below, as your new full-time and adjunct faculty members, graduate students, and writing center tutors may not receive it. If you are not on the listserv and would like to join it, simply send your request and email address to richard at jewell dot net.

WHO WE ARE: "MnWE" is "Minnesota Writing and English," an organization with a coordinating committee, a listserv, and an annual spring conference by and for college, university, and high school English and writing faculty, graduate students, and related academic and literary scholars, writers, tutors, and others in the Upper Midwest. Our purpose is to bring together these communities in Minnesota, Wisconsin, north and central Iowa, and the eastern Dakotas. Our website is MnWE.org; our geographical center is Minneapolis-St. Paul. Over 2500 faculty, tutors, and graduate students are on the listserv. Our listserv members come from public and private two-year colleges, state universities, private four-year and graduate-degree colleges, high schools, and the Universities of Minnesota, Wisconsin, and North Dakota. Our activities are led by a large, active committee of representative members listed below.

GRADUATE CREDIT: Anyone may earn one graduate credit from Southwest Minnesota State University for attending one MnWE Conference day and writing a related research paper (up to three times). For questions about this course—"Eng 656: MnWE Practicum"—please contact lisa dot lucas at smsu dot edu or see www.smsu.edu/academics/programs/english/?id=11637 .

HOW TO REMOVE YOURSELF FROM THE LIST: If you want to be removed from this listserv, please do so yourself, following directions at the very bottom of this email. If you try without success, then send an email to richard at jewell dot net indicating (1) this problem, (2) your specific email address copied from the directions at the bottom of a MnWE mailing, and (3) your request for removal.

FORMATTING, INVITATION, & CREDITS: These listserv emails usually are formatted in a simple way using html. If you cannot read them, please go to the link at the top to see them on the web.
If you have any questions, we invite you to email any of us on the committee. You also are always invited to attend any of our five MnWE Committee meetings per year. You also are invited to offer suggestions—or volunteer your leadership—for a special or double section at the annual conference.
This newsletter is written primarily by Richard Jewell without copyright so that anyone may quote, paraphrase, or forward any or all of it freely. We ask only that you give credit to the "MnWE Newsletter" and/or "www.MnWE.org"; and when you use material that has been quoted or paraphrased in this newsletter from other sources, please be sure to give proper credit to the original source.

REPRESENTATIVES: Representatives (as listed below), please forward each of these emails: many of your writing and English colleagues may not be on this listserv. Potential volunteer representatives: We always appreciate hearing from you if your school has no rep. See the "Representatives" list below, and if no one at your school is on it, please volunteer! Email richard at jewell dot net. We are especially looking for reps from Greater Minnesota, Canada, Iowa, North and South Dakota, and Wisconsin.
---
Richard Jewell, Larry Sklaney, Danielle Hinrichs,
Anthony Miller, and Gordon and Beata Pueschner, Coordinators
Richard at jewell dot net - (612) 870-7024
larry dot sklaney at century dot edu - (651) 747-4006
danielle dot hinrichs at metrostate dot edu - (651) 999-5960
a dot miller at nhcc dot edu
gordon dot pueschner at century dot edu - (651) 686-4468
beata dot pueschner at anokaramsey dot edu – (651) 686-4468
MnWE.org
Minnesota Writing & English
A Consortium of Colleges & Universities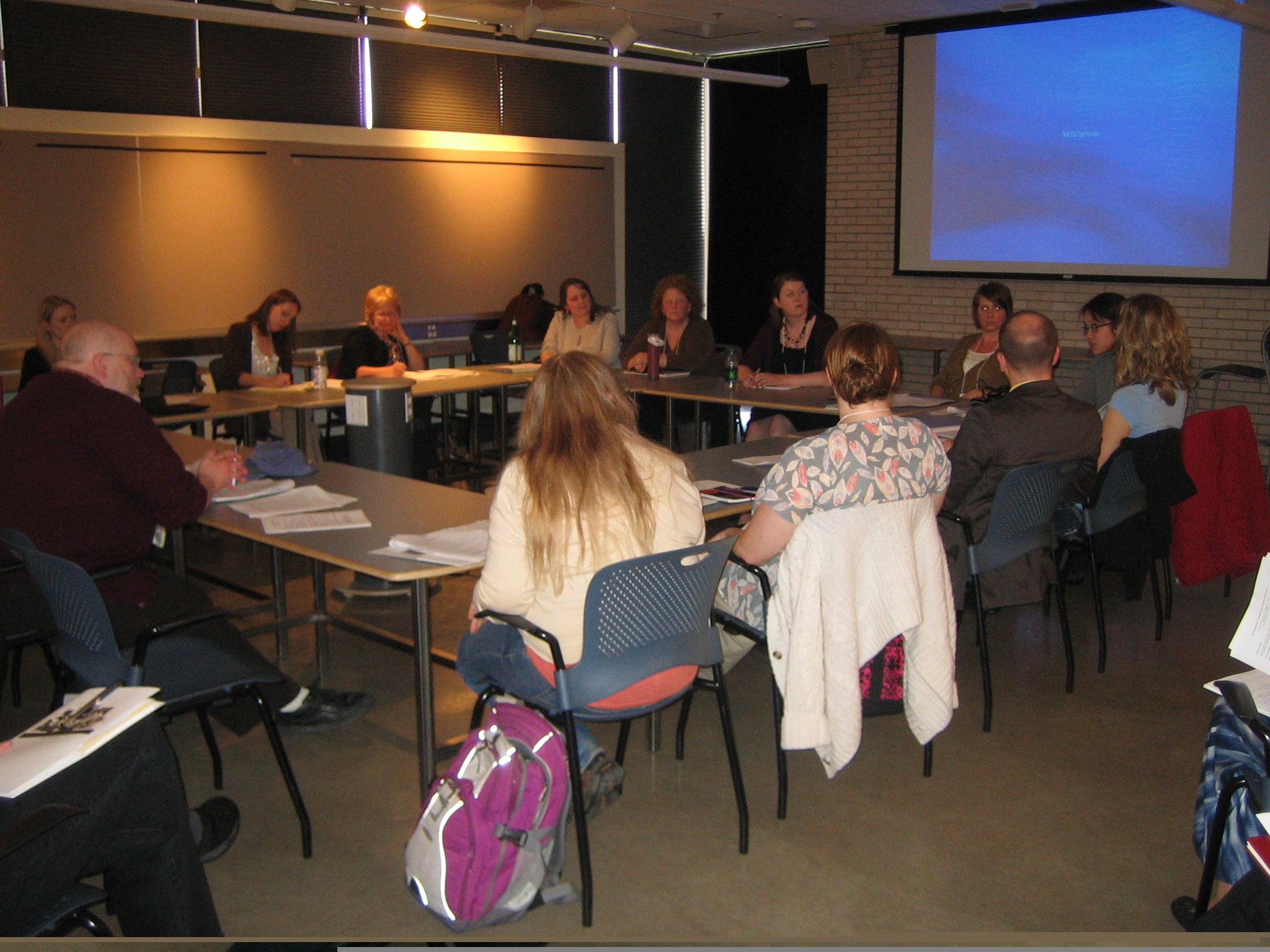 Mission:
Transforming writing and English
into teaching and learning experiences
using methodologies that serve students best.
Vision:
Bringing scholarly ideas and practical
pedagogy together to create our futures.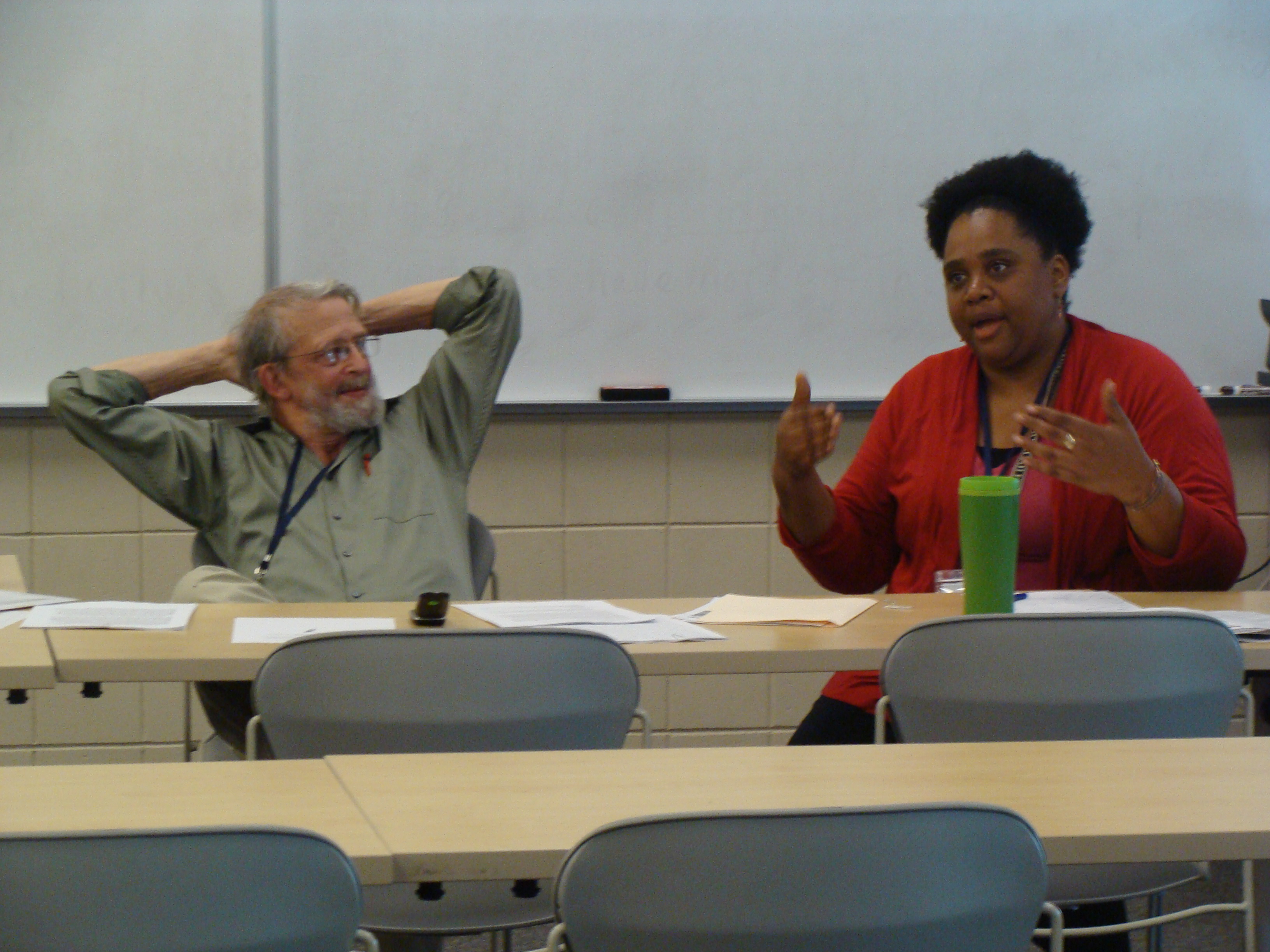 Donald Ross of the University of
Minnesota and Taiyon Coleman of St. Catherine
University run a breakout session about literature.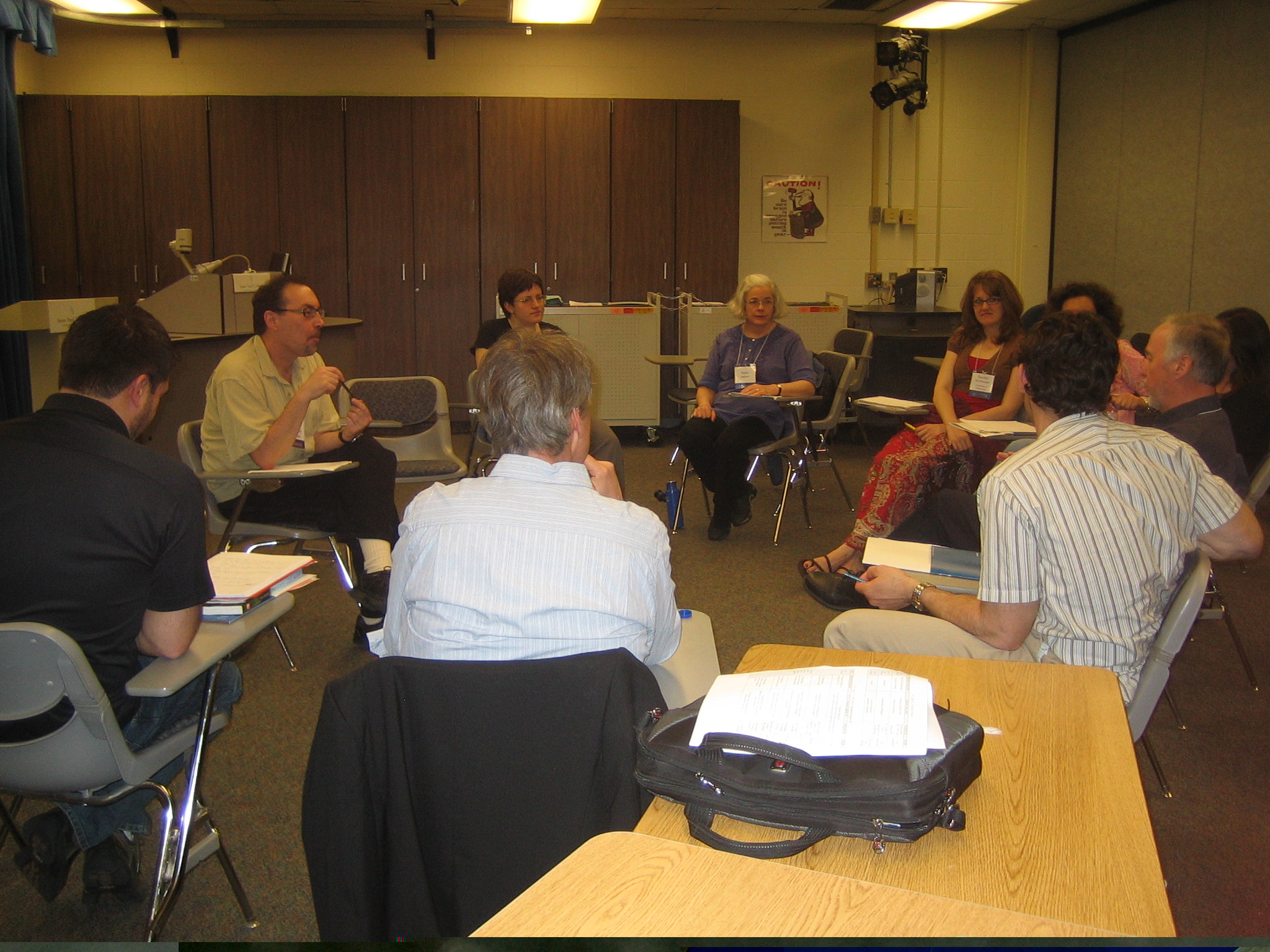 Geoffrey Sirc of the University of Minnesota
runs a small breakout after his keynote presentation.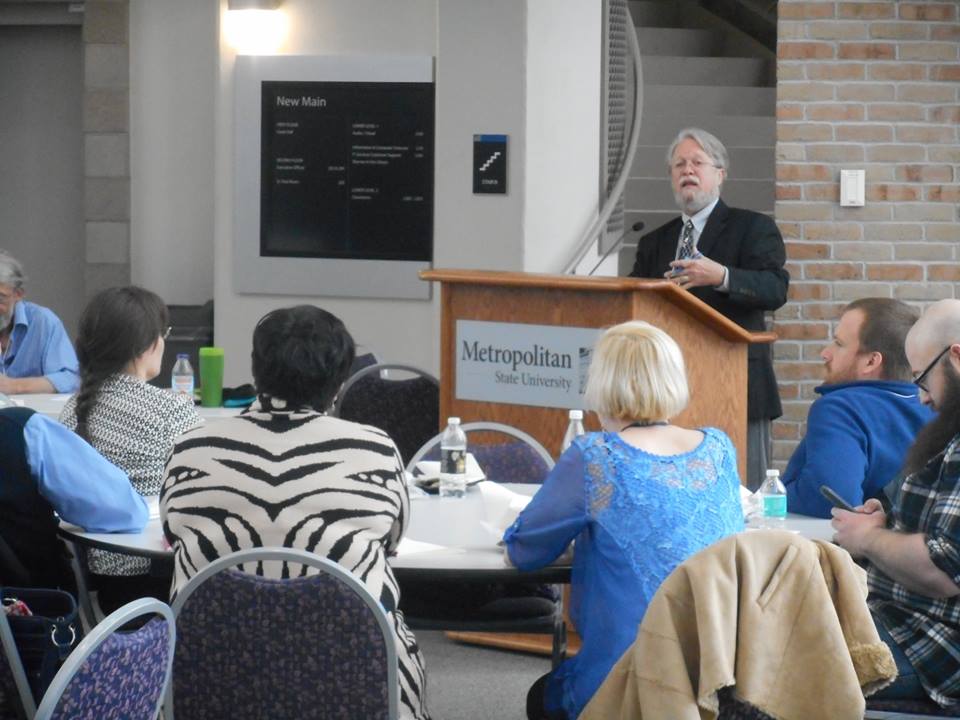 MnWE started in 2007. The cofounders
were Richard Jewell, here giving a welcome
after lunch, and Donald Ross, first picture above.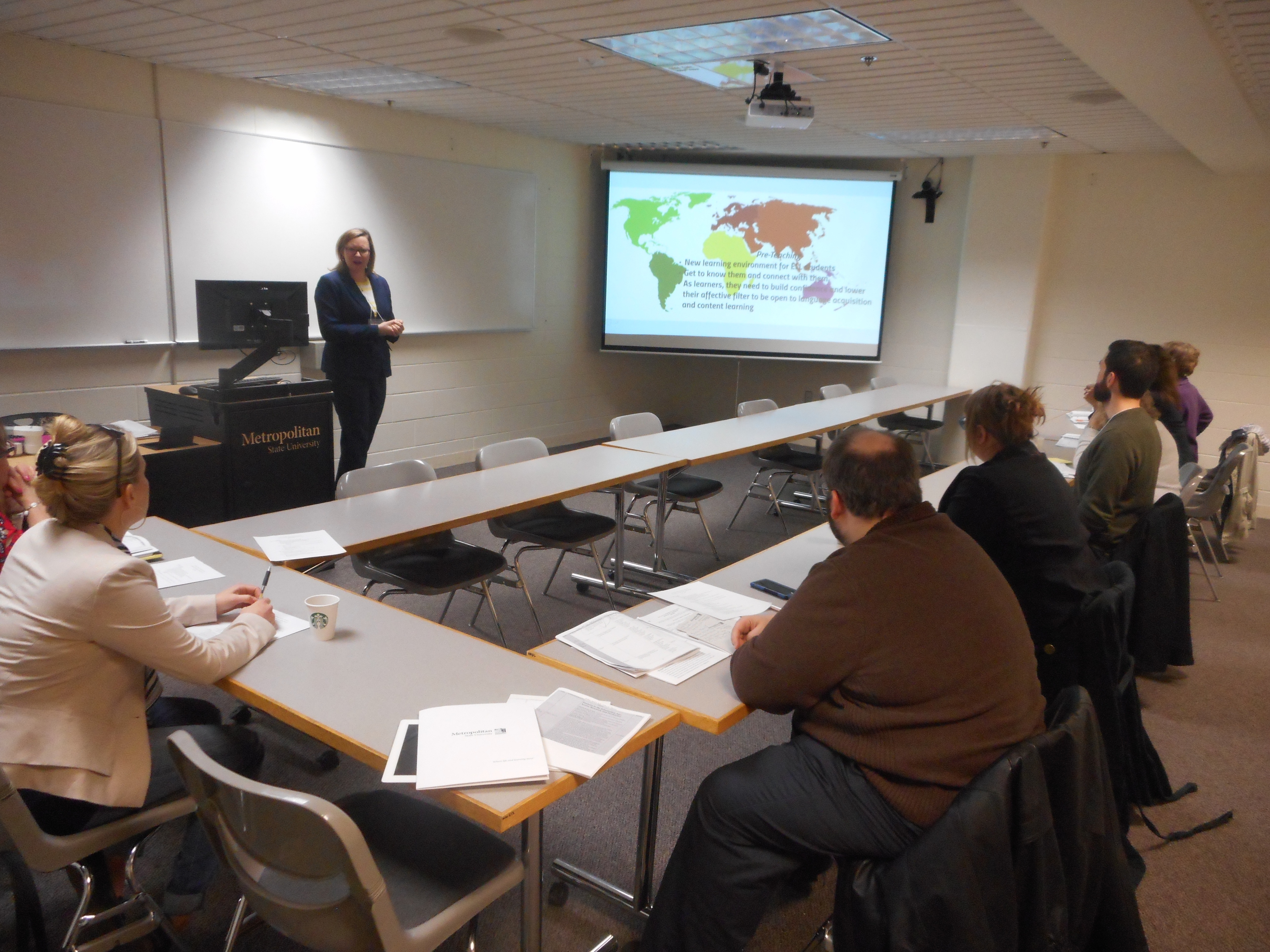 During a 2016 breakout, Beata Puschner presents
on improving classroom inclusion of ELL students.