"MnWE News" Late Spring Issue, May-June 2017

In this issue:

1. MnWE CONFERENCE FEATURED IN MARSHALL, MN NEWS

2. STUDENTS ADDICTED TO CHECKING PHONES

3. QUICK NEW TIPS FOR USING TECH IN CLASSROOMS

4. YELLOW MEDICINE REVIEW

5. About MnWE: Forwarding the News, Joining/Leaving, Grad Credit,
Representing MnWE
---
If you are a MnWE representative, please forward this
email to your colleagues. Many may not be on the list.

If you are a long-term member of this listserv, thank you
for your continued participation. If you are new, welcome! Our
listserv emails are sent to about 2500 English, Writing, and related
Upper Midwest faculty. To join, send a request to richard at jewell dot net.

Our website is www.MnWE.org.
You are welcome to attend our next Committee meeting 3:30 pm Fri.,
May 19, in 12 Nicholson Hall at the University of Minn. –Richard J., Editor
---
1. MnWE CONFERENCE FEATURED IN MARSHALL INDEPENDENT NEWSPAPER
The Ninth Annual MnWE Conference was held March 31-April 1 in Marshall at Southwest State University with about 100 in attendance, and many first-time attendees. The theme, "Connecting Landscapes," was unusually well represented in welcomes, keynotes, plenaries, and breakout sessions, with the wide, rolling, humus-rich farmlands of Western Minnesota setting the stage outside many windows.
Tours by the Mayor and others, as well as two interesting dinners at Western Minnesota landmarks, captured an additional broad range of interests for attendees, with a number of presenters and speakers from several states offering creative new ideas and old ones updated for our times. Once again, we organizers heard from a keynoter that the conference is every bit as good as regional and even some national conferences.
The Marshall Independent daily newspaper also highlighted the conference with pictures and an article. See them at the link below.
---
Independent article: www.marshallindependent.com/news/local-news/2017/04/a-new-landscape/
Minnesota Writing and English: www.MnWE.org
---

2. STUDENTS ADDICTED TO CHECKING PHONES
The Sacramento Bee recently featured research on cell phone addiction by Larry Rosen and other researchers (Caiola, "How many times"). Rosen is a former psychology professor at Cal. State-Dominguez Hills and author of The Distracted Mind. The entire article well profiles heavier student users. It describes how students "grow increasingly antsy with every minute they don't look at the screen." Rosen pinpoints this: "We've trained ourselves…to figuratively salivate over what that vibration might mean" and if we don't answer it, "the signals in your brain that cause anxiety are going to…dominate," making you "uncomfortable until you take care of them." Rosen says that the average person checks his or her cellphone sixty times per day, with or without sounds. The article also offers advice from other researchers who describe the symptoms and how to learn to avoid so much checking.
Another Caiola article (one starting with a picture of students) cites a survey of 2000 users showing the average person checks a phone 134 times per day ("Cellphone addiction").
---
"How many times…": www.sacbee.com/news/business/technology/article139022938.html
"Cellphone addiction…": www.sacbee.com/entertainment/living/health-fitness/article45080046.html
---

3. QUICK NEW TIPS FOR USING TECH IN CLASSROOMS
Flipped Computer Classes: Rather than cancel classes to meet with students individually, try reserving a computer lab in which students must work on their papers while you talk with individuals in the hall. In addition, students often get much further on papers in a computer lab as you go to each student to look at their papers on their screens.
Website Columns: Do you make your own class websites (or have them made)? Try making the main column 600 pixels wide: the width most cell phones accommodate easily for quick reading.
Cell Phone Emails: Many students write and read emails on cell phones. Try writing return emails to cell phone users with just a few lines and no blank line spaces. Students may be more likely to read your entire message.
Long Email Questions: Do some students send you long emails with several questions? Kathleen Blake Yancey, past Chair of CCCC and past President of NCTE, learned to save time by using an asterisks system: type several asterisks under each question, followed by the answer. At the top, Yancey tells students to see the asterisks below.
In-class Electronics: Some students learn—and take notes—better by using their laptops in class. You also can have students learn research methods in class by having them go online with cell phones.
Cell Phone Enforcement: Feel free to frequently remind students to turn off and put away cell phones. Sometimes during a second request, you may want to look directly at a specific user as you talk to the entire class. After adequate warnings, you may take phones away from desks—calmly with no tugs of war. Also feel free, in egregious cases, to ask an individual to stay after class or even leave immediately; then meet with the person and explain how research shows cell phones are disruptive to everyone nearby. Some faculty members also reduce attendance credit. Lisa DuRose of Inver Hills College turns this last idea upside down by giving each student one point of extra credit (up to twenty points) for surrendering a phone in class to a basket on her desk.
---
More suggestions:
Tips for students about tech in class: www.slu.edu/beabilliken/college-tech-faq
Harvard—negatives of tech in class: https://bokcenter.harvard.edu/blog/use-mobile-devices-college-classroom
U. Mich. use of computers in class: www.crlt.umich.edu/sites/default/files/resource_files/CRLT_no30.pdf
---

4. YELLOW MEDICINE REVIEW
One of the journals that had a table at the recent MnWE Conference in Marshall, Minnesota was the Yellow Medicine Review published twice a year and housed at Southwest State University. Editors Judy Wilson and Mary Ellen Daniloff-Merrill have developed it into an excellent national review of and about Native American literature.
The Fall 2016 copy I recently read had essays, poetry, fiction, narrative nonfiction, and reviews. Several pieces strongly engaged me intellectually and emotionally: an essay giving me new details about pipelines that I had never read in two newspapers to which I subscribe, an often-metaphoric poem about love, a review of Code Talker Stories by Tohe, and a moving fiction about a woman whose barn burned—and within it, the room where her father abused her for years.
If you're interested in good writing, Indian experience, or a journal for multicultural courses, check it out.
---
Link: www.yellowmedicinereview.com
---

5. About MnWE (repeated in each newsletter):

FORWARDING/JOINING: Please forward this email to others, especially if you are a MnWE representative listed below, as your new full-time and adjunct faculty members, graduate students, and writing center tutors may not receive it. If you are not on the listserv and would like to join it, simply send your request and email address to richard at jewell dot net.

WHO WE ARE: "MnWE" is "Minnesota Writing and English," an organization with a coordinating committee, a listserv, and an annual spring conference by and for college, university, and high school English and writing faculty, graduate students, and related academic and literary scholars, writers, tutors, and others in the Upper Midwest. Our purpose is to bring together these communities in Minnesota, Wisconsin, north and central Iowa, and the eastern Dakotas. Our website is MnWE.org; our geographical center is Minneapolis-St. Paul. Over 2500 faculty, tutors, and graduate students are on the listserv. Our listserv members come from public and private two-year colleges, state universities, private four-year and graduate-degree colleges, high schools, and the Universities of Minnesota, Wisconsin, and North Dakota. Our activities are led by a large, active committee of representative members listed below.

GRADUATE CREDIT: Anyone may earn one graduate credit from Southwest Minnesota State University for attending one MnWE Conference day and writing a related research paper (up to three times). For questions about this course—"Eng 656: MnWE Practicum"—please see contact lisa dot lucas at smsu dot edu or see www.smsu.edu/academics/programs/english/?id=11637 .

HOW TO REMOVE YOURSELF FROM THE LIST: If you want to be removed from this listserv, please do so yourself, following directions at the very bottom of this email. If you try without success, then send an email to richard at jewell dot net indicating (1) this problem, (2) your specific email address copied from the directions at the bottom of a MnWE mailing, and (3) your request for removal.

FORMATTING, INVITATION, & CREDITS: These listserv emails usually are formatted in a simple way using html formatting. If you cannot read them, please go to the web address at the top to see them on the web. Email addresses on the web version are formatted using "at" and "dot" so that, on the web, malware spiders cannot find the email addresses.
If you have any questions, we invite you to email any of us on the committee. You also are always invited to attend any of our five MnWE Committee meetings per year. You also are invited to offer suggestions—or volunteer your leadership—for a special or double section at the annual conference.
This newsletter is written primarily by Richard Jewell without copyright so that anyone may quote, paraphrase, or forward any or all of it freely. We ask only that you give credit to the "MnWE Newsletter" and/or "www.MnWE.org"; and when you use material that has been quoted or paraphrased in this newsletter from other sources, please be sure to give proper credit to the original source.

REPRESENTATIVES: Representatives (as listed below), please forward each of these emails: many of your writing and English colleagues may not be on this listserv. Potential volunteer representatives: We always appreciate hearing from you if your school has no rep. See the "Representatives" list below, and if no one at your school is on it, please volunteer! Email richard at jewell dot net. We are especially looking for reps from Greater Minnesota, Canada, Iowa, North and South Dakota, and Wisconsin.
---
Richard Jewell, Larry Sklaney, Danielle Hinrichs,
and Gordon and Beata Pueschner, Coordinators

Richard at jewell dot net - (612) 870-7024
larry dot sklaney at century dot edu - (651) 747-4006
danielle dot hinrichs at metrostate dot edu - (651) 999-5960
gordon dot pueschner at century dot edu - (651) 686-4468
beata dot pueschner at anokaramsey dot edu – (651) 686-4468
MnWE.org
Minnesota Writing & English
A Consortium of Colleges & Universities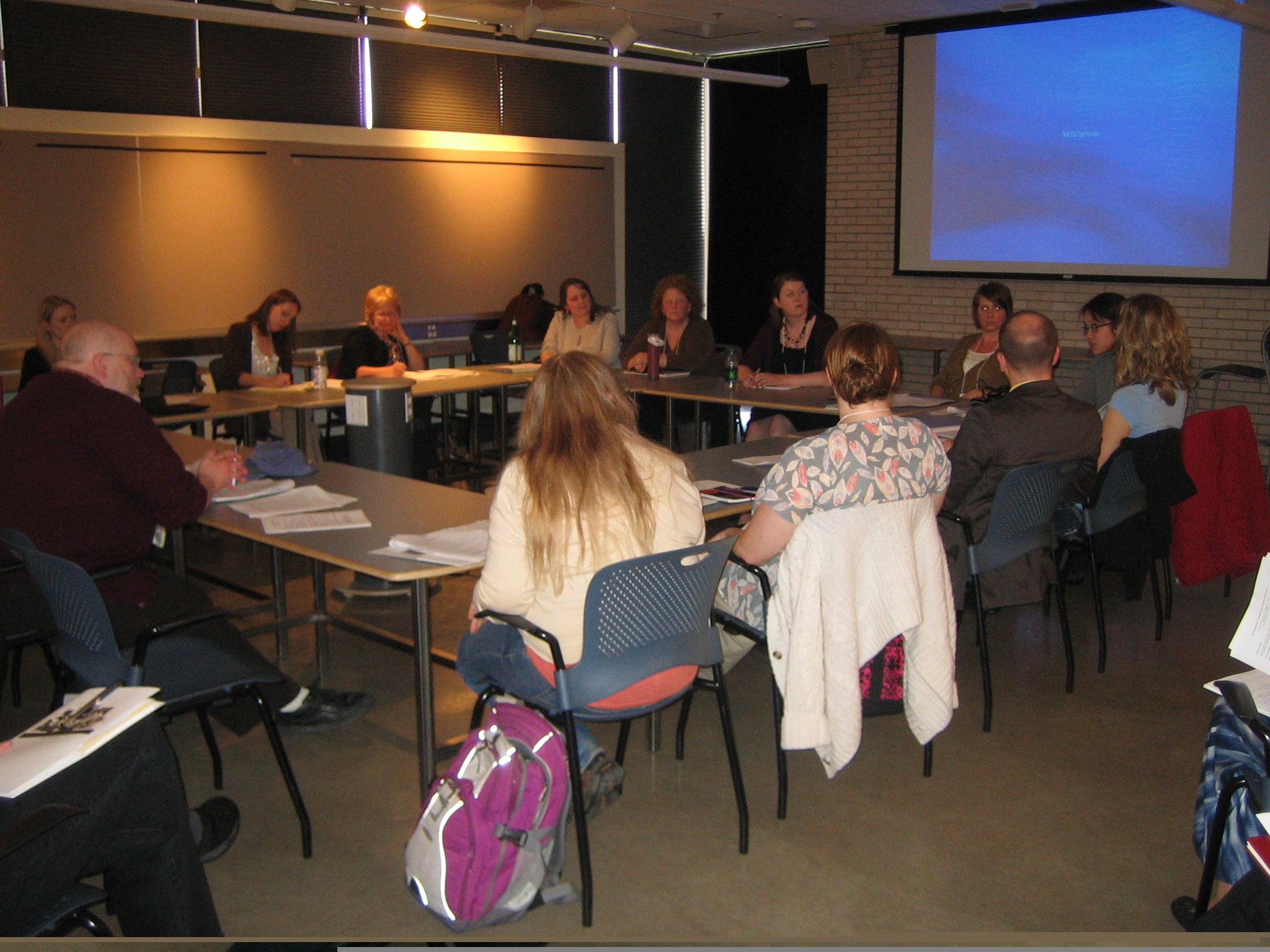 Mission:
Transforming writing and English
into teaching and learning experiences
using methodologies that serve students best.
Vision:
Bringing scholarly ideas and practical
pedagogy together to create our futures.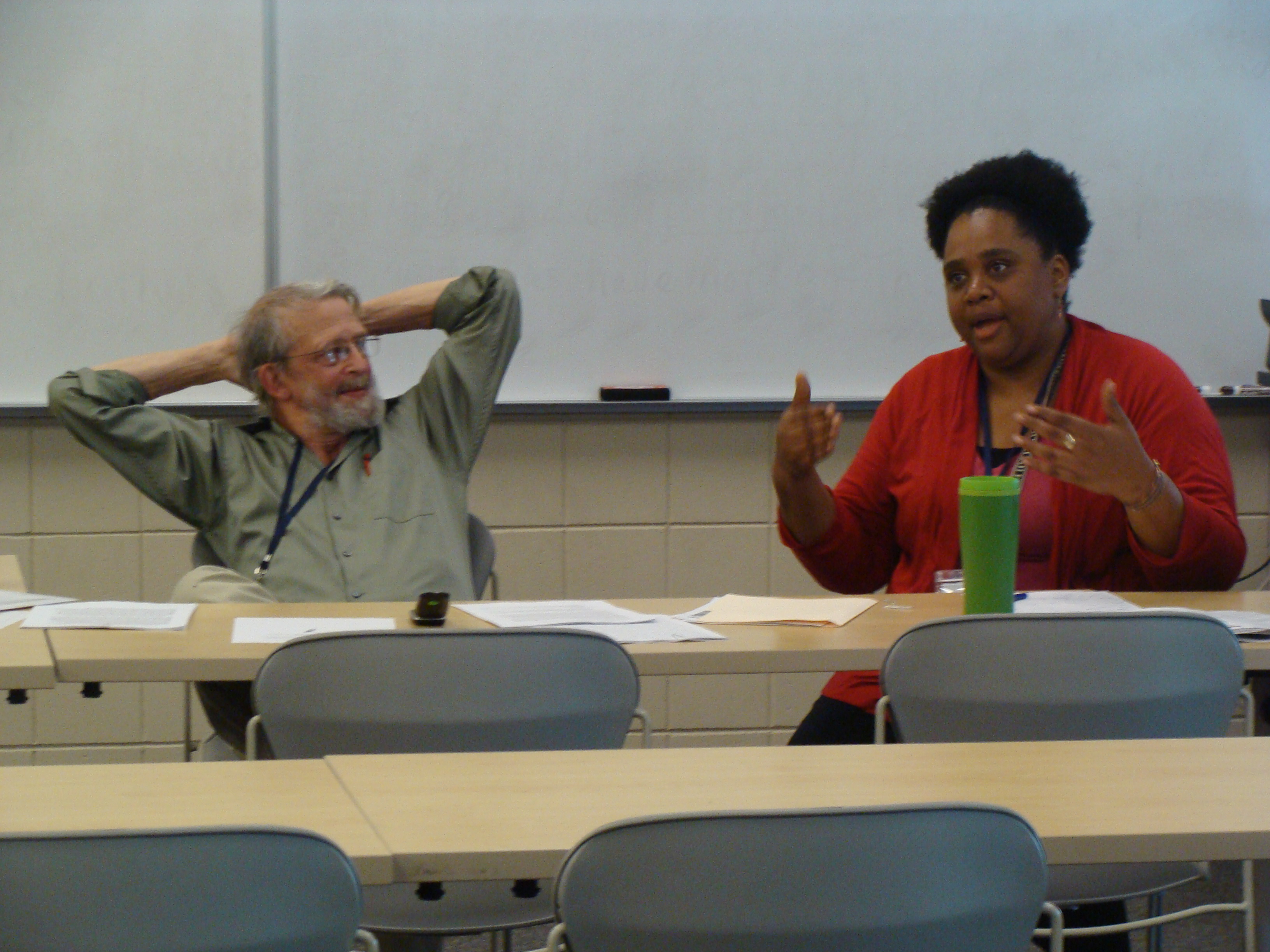 Donald Ross of the University of
Minnesota and Taiyon Coleman of St. Catherine
University run a breakout session about literature.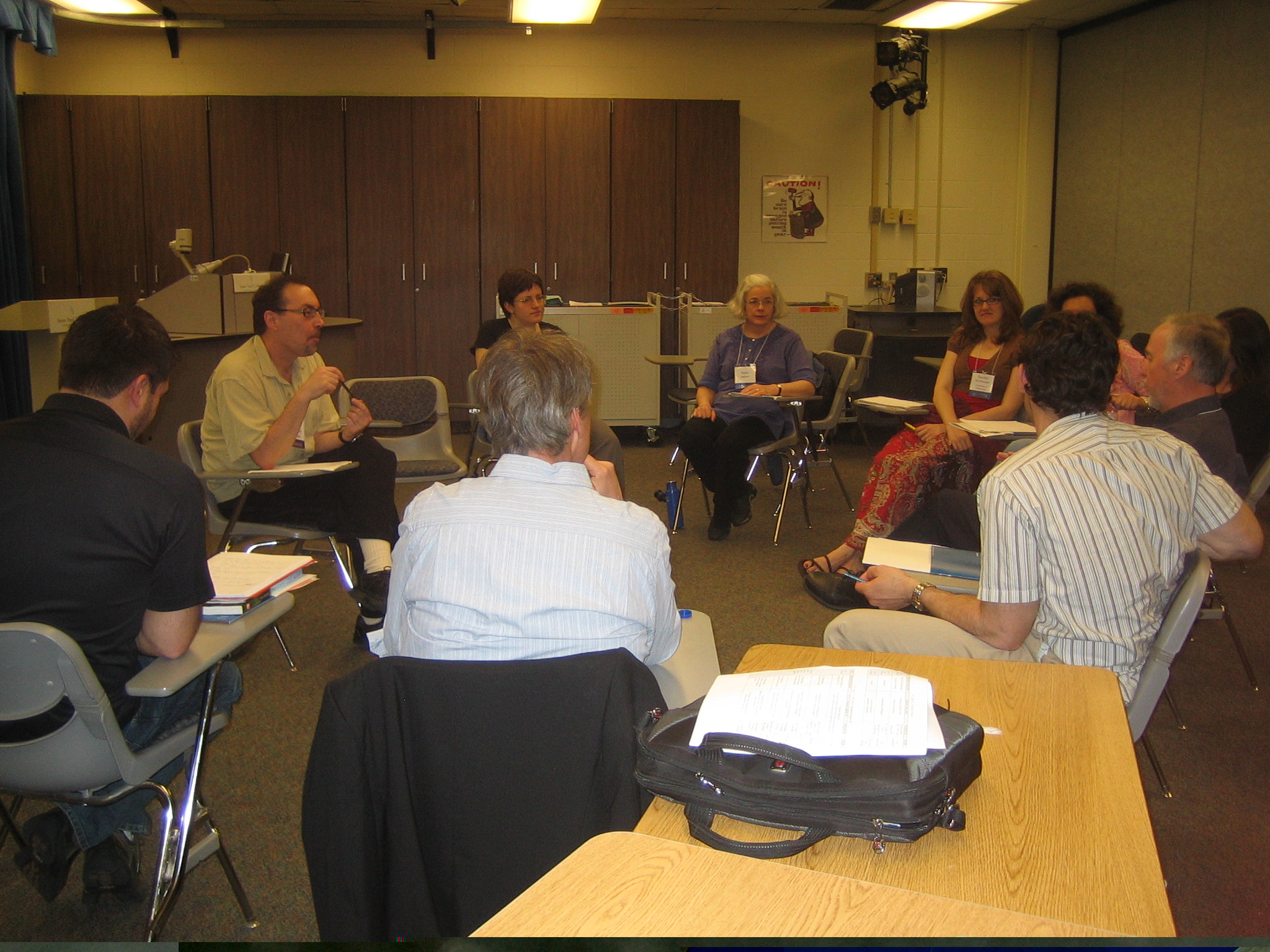 Geoffrey Sirc of the University of Minnesota
runs a small breakout after his keynote presentation.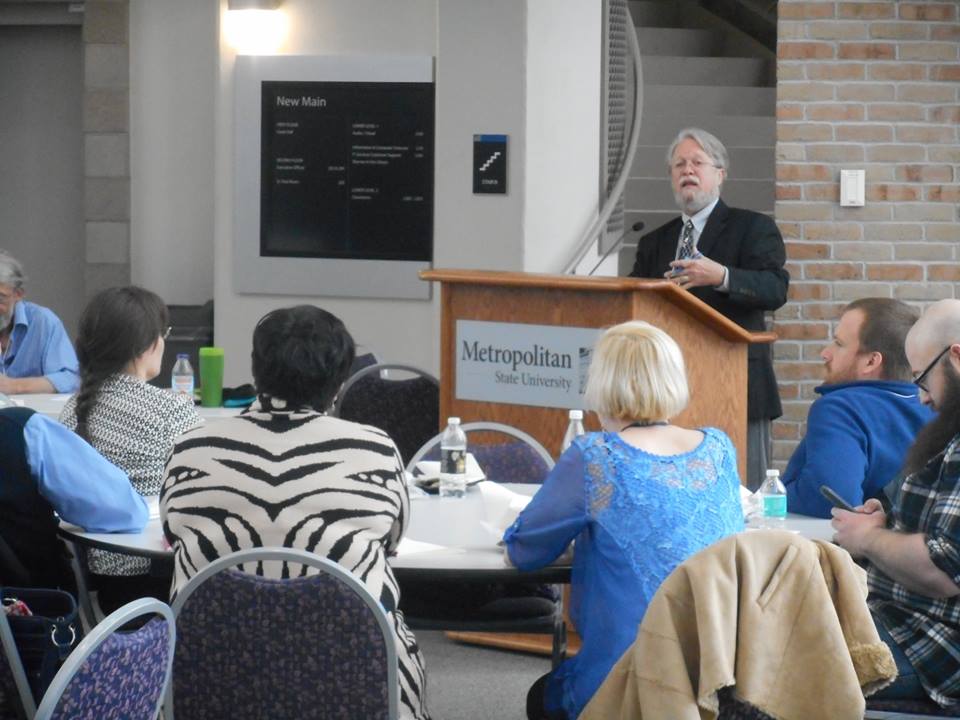 MnWE started in 2007. The cofounders
were Richard Jewell, here giving a welcome
after lunch, and Donald Ross, first picture above.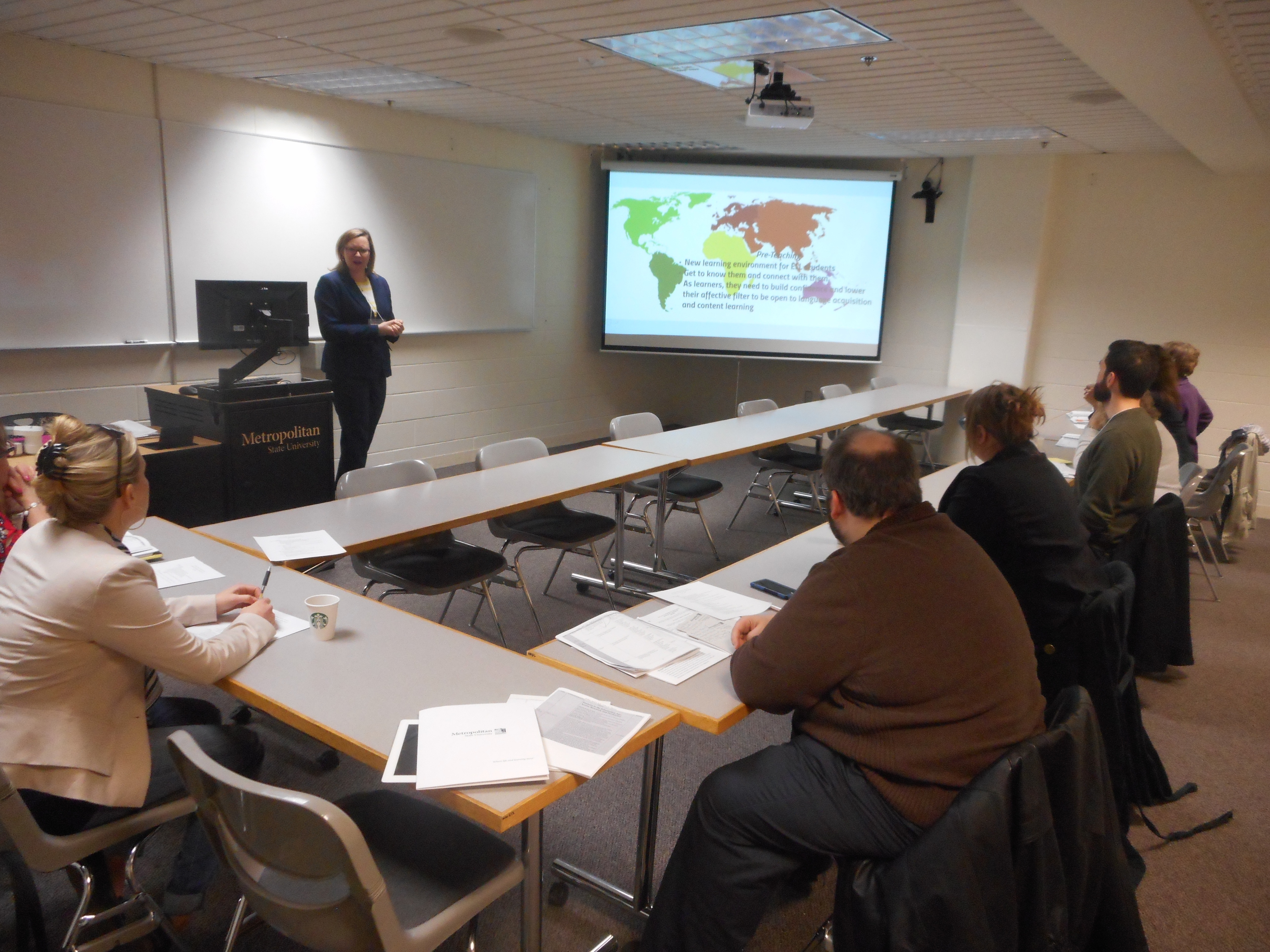 During a 2016 breakout, Beata Puschner presents
on improving classroom inclusion of ELL students.