MnWE News
March-April 2017

March.-April 2017
1. MnWE CONFERENCE "CONNECTING LANDSCAPES" 3/31-4/1,
SW MN STATE U.
2. ANTI-TRUTH ISSUES, PART II—"AN ERA OF FAKE NEWS"
3. RESOURCES FOR FIGHTING FAKE NEWS
4. "HOW TO DEAL WITH DIFFICULT STUDENTS"
5. ABOUT MnWE: Forwarding the News, Joining/Leaving the
Listserv, Graduate Credit, Representing MnWE
---
If you are a MnWE representative, please forward this
email to your colleagues. Many may not be on the list.

If you are a long-term member of this listserv, thank you
for your continued participation. If you are new, welcome! Our
emails are sent to about 2500 English, Writing, and related Upper
Midwest faculty. To join, send a request to richard at jewell dot net.

Our website is www.MnWE.org.
---

1. REGISTER FOR THE 2017 MnWE CONFERENCE 3/31-4/1 AT www.MnWE.org!

Online registrations are due by March 24 for this year's annual MnWE Conference March 31-April 1. The Conference, at Southwest Minnesota State University in Marshall, features the theme "Connecting Landscapes," inviting us to consider the most fruitful ways of connecting both geographically and metaphorically. Join us in Marshall! We feature interactive keynotes, discussion-friendly small breakout sessions, and a chance to talk with English and Writing colleagues at lunches and dinners.
At noon, the Friday keynoter is Muriel Thompson, until recently of the University of Minnesota, where she was the founder and director of Minnesota's version of the National Writing Project for many years. She will speak to her "Journey through Educational Landscapes." Our Saturday keynoter, Dr. Kirstin Cronn-Mills, is an award-winning novelist, nonfiction author, and college professor who will discuss "Physical, Mental, Emotional Landscapes: Navigating the World through Stories."
At 9 am, the Friday plenary is "Ecopreneurship: A Call for Sustainable Writing Program Growth" by Professors Teresa Henning and Amanda Berner, Southwest Minnesota State University. Saturday's plenary is "The Benefits of Concurrent Enrollment: What Does Research Show?" by Pakou Yan, Minnesota State Director of P-20 and College Readiness and a former Century College faculty member and dean; Lisa Lucas Hurst, concurrent enrollment Faculty Liaison at Southwest Minnesota State University; and Adam Lowe, Executive director of NACEP (National Alliance of Concurrent enrollment Partnerships).
---
Conference registration, schedule, keynotes, and plenary info: www.MnWE.org
---

2. ANTI-TRUTH ISSUES, PART II—"AN ERA OF FAKE NEWS"

The Chronicle of Higher Education recently featured Shannon Najmabadi's article "Information Literacy: It's become a priority in an era of fake news." Najmabadi says, "Teaching students to separate fact from fiction has become a priority after an election in which false 'news' played a large role. Fabricated stories like the one that claimed prominent Democrats were running a child-sex ring out of a pizza shop in the nation's capital have drawn alarm." She notes that a November Stanford University study showed that a number of students had difficulty "identifying partisan or paid-for content online and assessing the credibility of sources" (see "3" below). It is, she adds, the responsibility of English and Writing faculty, along with librarians, to teach students how to research properly, which means, among other skills, finding facts and recognizing what may be just opinion.
She also points out that teaching research and discernment of truth should be something spread among all faculty, "diffused throughout the curriculum so students can build up skills over time." Many librarians and faculty already are beginning to work more on this. A Rutgers U. faculty member, for example, recently created a "News Literacy Toolkit." Najmabadi emphasizes the urgency for the spread of such tools.
---
Article about Rutgers' "News Literacy Toolkit"
Chronicle Article: www.chronicle.com/article/Information-Literacy/239264 (If you don't have a Chronicle subscription, ask your librarian for your school's username and password.)
---

3. RESOURCES FOR FIGHTING FAKE NEWS

Minnesota State librarian and faculty member Julie Benolken and her colleagues at Inver Hills College have assembled the following resources:<![if !supportLineBreakNewLine]>
<![endif]>
Stanford University: "Researchers Find Students Have Trouble Judging Credibility Information Online"

Standford University's Report
www.PBS: Can Librarians Help Solve the Fake News Problem?
The Wall Street Journal "Blue Feed, Red Feed"—"Liberal Facebook and Conservative Facebook, Side by Side"
UNESCO's Five Laws of Media and Information LIteracy

Indiana University East:
- Fake News and Fact Checking 101
- Fact Checking Resources
- Let's Check a Claim
- Check Your Own Claim!
---

4. "HOW TO DEAL WITH DIFFICULT STUDENTS"
Tomorrow's Professor, the twice-weekly newsletter with 60,000 subscribers at almost 1000 institutions in over 100 countries, recently posted a brief but wise article about handling difficult students (Dan Spalding, How to Teach Adults, Jossey-Bass). Here is an abbreviated version of the article:
- Never attack the student.
- Listen and validate.
- Consider the complaint.
- Don't defend the activity.
- Encourage different forms of participation.
- Allow an opt-out.
- Create a pressure valve.
- Draw a line.
For more details about each of these by the author, see the article at "How to Deal with Difficult Students."
---
Tomorrow's Professor: https://tomprof.stanford.edu/
---
5. About MnWE (repeated in each newsletter):

FORWARDING/JOINING: Please forward this email to others, especially if you are a MnWE representative listed below, as your new full-time and adjunct faculty members, graduate students, and writing center tutors may not receive it. If you are not on the listserv and would like to join it, simply send your request and email address to richard at jewell dot net.

WHO WE ARE: "MnWE" is "Minnesota Writing and English," an organization with a coordinating committee, a listserv, and an annual spring conference by and for college, university, and high school English and writing faculty, graduate students, and related academic and literary scholars, writers, tutors, and others in the Upper Midwest. Our purpose is to bring together these communities in Minnesota, Wisconsin, north and central Iowa, and the eastern Dakotas. Our website is MnWE.org; our geographical center is Minneapolis-St. Paul. Over 2500 faculty, tutors, and graduate students are on the listserv. Our listserv members come from public and private two-year colleges, state universities, private four-year and graduate-degree colleges, high schools, and the Universities of Minnesota, Wisconsin, and North Dakota. Our activities are led by a large, active committee of representative members listed below.

GRADUATE CREDIT: Anyone may earn one graduate credit from Southwest Minnesota State University for attending one MnWE Conference day and writing a related research paper (up to three times). For questions about this course—"Eng 656: MnWE Practicum"—please see contact lisa dot lucas at smsu dot edu or see www.smsu.edu/academics/programs/english/?id=11637 .

HOW TO REMOVE YOURSELF FROM THE LIST: If you want to be removed from this listserv, please do so yourself, following directions at the very bottom of this email. If you try without success, then send an email to richard at jewell dot net indicating (1) this problem, (2) your specific email address copied from the directions at the bottom of a MnWE mailing, and (3) your request for removal.

FORMATTING, INVITATION, & CREDITS: These listserv emails usually are formatted in a simple way using html formatting. If you cannot read them, please go to the web address at the top to see them on the web. Email addresses on the web version are formatted using "at" and "dot" so that, on the web, malware spiders cannot find the email addresses.
If you have any questions, we invite you to email any of us on the committee. You also are always invited to attend any of our five MnWE Committee meetings per year. You also are invited to offer suggestions—or volunteer your leadership—for a special or double section at the annual conference.
This newsletter is written primarily by Richard Jewell without copyright so that anyone may quote, paraphrase, or forward any or all of it freely. We ask only that you give credit to the "MnWE Newsletter" and/or "www.MnWE.org"; and when you use material that has been quoted or paraphrased in this newsletter from other sources, please be sure to give proper credit to the original source.

REPRESENTATIVES: Representatives (as listed below), please forward each of these emails: many of your writing and English colleagues may not be on this listserv. Potential volunteer representatives: We always appreciate hearing from you if your school has no rep. See the "Representatives" list below, and if no one at your school is on it, please volunteer! Email richard at jewell dot net. We are especially looking for reps from Greater Minnesota, Canada, Iowa, North and South Dakota, and Wisconsin.
---
Richard Jewell, Larry Sklaney, Danielle Hinrichs,
and Gordon and Beata Pueschner, Coordinators

Richard at jewell dot net - (612) 870-7024
larry dot sklaney at century dot edu - (651) 747-4006
danielle dot hinrichs at metrostate dot edu - (651) 999-5960
gordon dot pueschner at century dot edu - (651) 686-4468
beata dot pueschner at anokaramsey dot edu – (651) 686-4468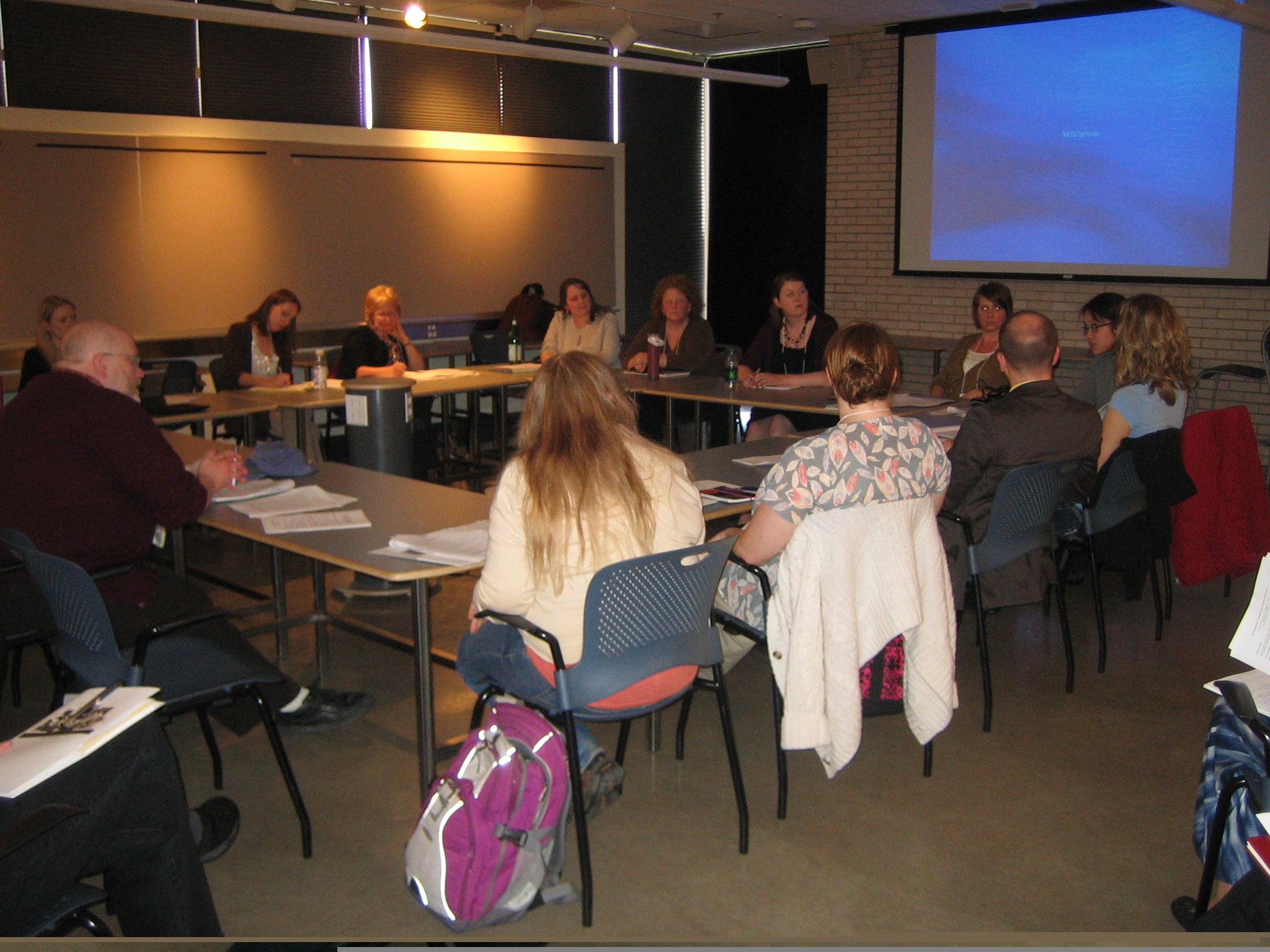 Mission:
Transforming writing and English
into teaching and learning experiences
using methodologies that serve students best.
Vision:
Bringing scholarly ideas and practical
pedagogy together to create our futures.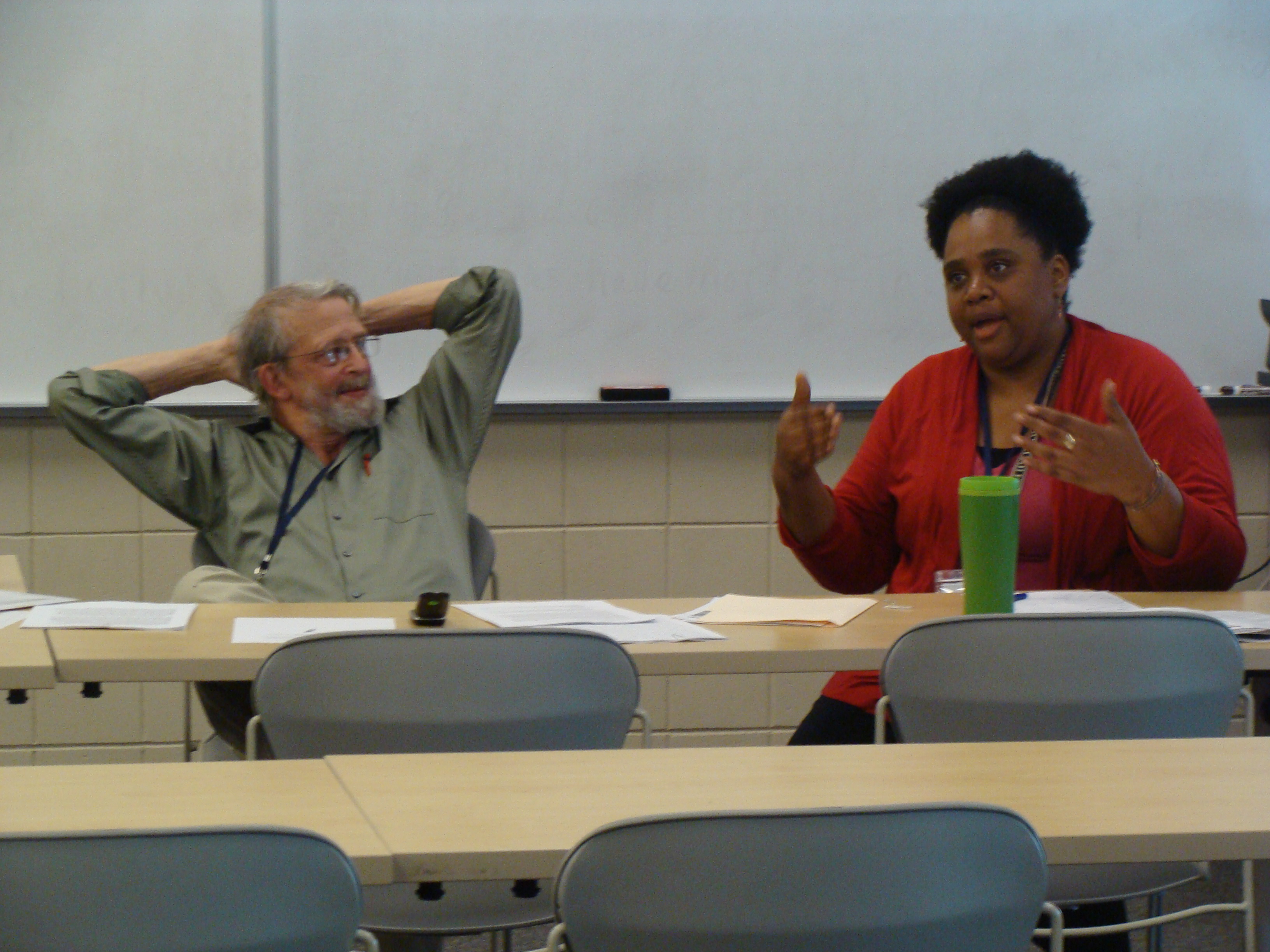 Donald Ross of the University of
Minnesota and Taiyon Coleman of St. Catherine
University run a breakout session about literature.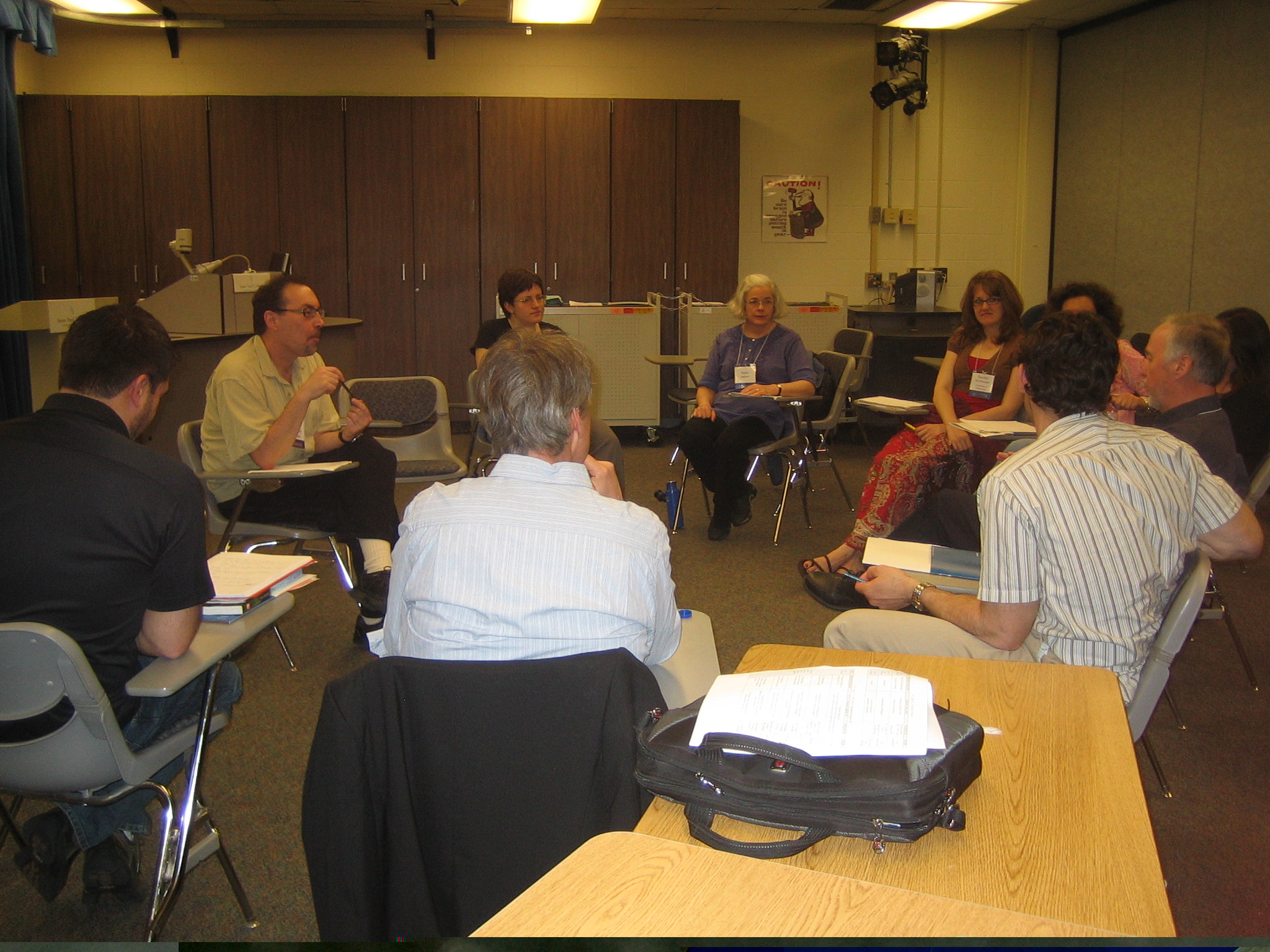 Geoffrey Sirc of the University of Minnesota
runs a small breakout after his keynote presentation.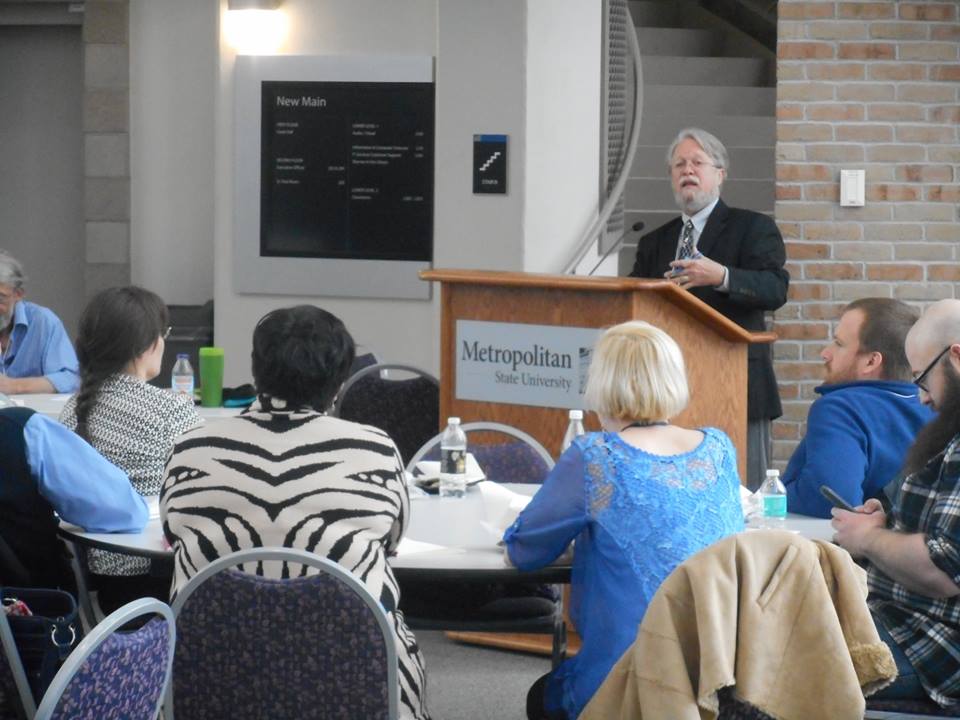 MnWE started in 2007. The cofounders
were Richard Jewell, here giving a welcome
after lunch, and Donald Ross, first picture above.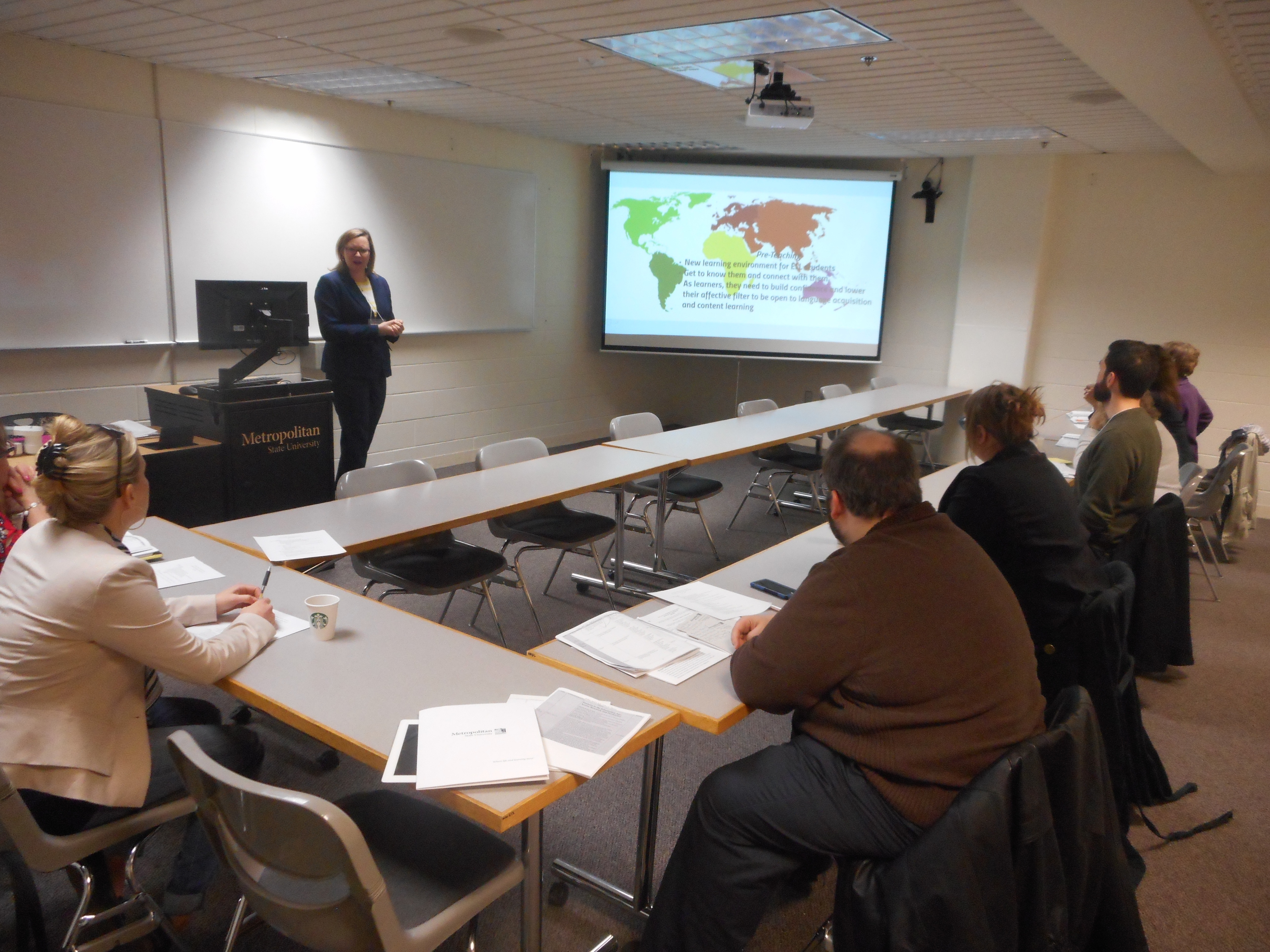 During a 2016 breakout, Beata Puschner presents
on improving classroom inclusion of ELL students.