"MnWE News" Late Fall Issue, Nov.-Dec. 2017
In this issue:

1. MnWE CONF. MARCH 23-24, UM-TWIN CITIES: "POINTS OF
THE COMPASS: ETHICS OF OUR TIME." PROPOSALS DUE
January 19, 2018

2. MnSTATE DISCIPLINE MTG. IN ENG., EAP/ESOL, & READING
February 23

3. TIPS: TEACHING "COLLEGE 101"

4. REVIEW: IS DIGITAL WRITING DYSTOPIAN?

5. About MnWE: Forwarding "News," Joining, Grad Credit, Reps.
If you are a long-term member of this listserv, thank you
for your continued participation. If you are new, welcome! Our
listserv emails go to about 2500 English, Writing, and related Upper
Midwest faculty. To join, send a request to the editor at richard at jewell dot net.

Our website is at www.MnWE.org. Our next conference is at UMN-TC Fri.-Sat., 3/23-24/18. You are welcome to attend our next Committee meeting at 3:30 pm Fri., 1-26-18, at UM-TC or by Skype at "MnWEmeeting" at https://join.skype.com/AqzB0BQoN7wu . –Richard J., Editor
---
1. MnWE CONF. MARCH 23-24, UM-TWIN CITIES: "POINTS OF
THE COMPASS: ETHICS OF OUR TIME."

Deadline for Proposals: Jan. 19, 2018
We are expecting a strong turnout for our MnWE 2018 Conference at the University of Minnesota-East Bank in Minneapolis Friday-Saturday, March 23-24. Our site host is the university, and we anticipate that both keynoters will be UM scholar-practitioners. What would you like to present and/or hear? We will be discussing the theme, "Points of the Compass: The Ethics of Our Time" in both pointed and indirect ways.
How do we–and especially our students–respond, and how should we respond, in the classroom to current ethics? What students are we building, and what can and should we build? MnWE's 2018 Conference challenges us to think of moral dimensions of our pedagogies and to situate academic practices in both the broader cultural moment and the futures we are helping prepare students to engage and create. We are glad to accept proposals on the theme and on any other concern related to writing, literature, and related concerns. What are you doing that is new? What concerns and worries would you like to present? What are you doing that is old and working especially well? Let us know by sending us your proposal. The holiday break is a great time to create a proposal! The deadline for proposals this year is January 19, 2018.
---
Call for Proposals, New Website, and Conference Sign-up: www.MnWE.org
---

2. MnSTATE DISCIPLINE MTG. IN ENG., EAP/ESOL, & READING
Feb. 23

A Discipline Meeting for English, ESOL/EAP, and Reading has been called for Friday, February 23, 10 am-3 pm at Normandale Community College's Kopp Center in its Garden Room. The event is free. All are welcome who work full or part-time in these fields in any university or college in the Minnesota State System, or as part of MnState-sponsored college courses in the high schools in these disciplines. Each discipline will have at least some of its own sessions. To RSVP and help shape the curriculum, go to the URL below.
---
https://goo.gl/forms/j6TAjZyIjR73M7mD3
---

3. TIPS: TEACHING "COLLEGE 101"

I teach first-year students quite often, and over thirty years, I've developed a casual but helpful "College 101" curriculum: once per week, I talk for five or ten minutes about how to be a college student. Half or more of our students at many colleges–even the University of Minnesota and private colleges–are first-generation college students. As a result, College 101 becomes important to them. They rarely get such advice elsewhere–even though they should hear it often.
What is in College 101? Topics include how each credit normally requires three hours of commitment per week; how research shows that if they get to know three or more students, they will strongly increase their likelihood of success; how each new way of processing what they learn–writing, talking, and using it–geometrically increases their recall; how teachers and counselors at school can't share most information with others; study, reading, and skimming tips; and much more. Lately I've started talking about effects of drugs and alcohol on learning; common types of depression and getting help; drinking and sex; and borders for appropriate friendships and romance.
Sometimes in College 101, I help students blow off excess emotion. For example, after the Presidential election, I asked them to voluntarily write for five minutes on a paper with no name on it about whom they voted for, or would have, and why. I've also done this with other hot-button topics. Sometimes, when the group might learn from each other, I ask them–before they start writing–whether they'd like me to read the results aloud with no one identified. I carefully avoid taking sides and only offer suggestions that might channel them toward better academics.
College 101 allows them not only to learn how to go to college and what is appropriate both academically and culturally, but also to feel they have a safe space in college. As a result, they are more likely to trust me and other faculty, to ask teachers more questions, and to be more comfortable in seeking help.
---

4. REVIEW: IS DIGITAL WRITING DYSTOPIAN?

In "Our digital dystopia: A diary," Rochester, Minnesota writer Paul John Scott asks in the Nov. 12 Star Tribune if someday we will "regret all this change in the media…." He says that the digital economy has "upended the business model for print, and in many places laid waste to its norms of careful attention to the end product." Digital is, he says, "unregulated mayhem of piracy and pillaging and content-devouring-content, a free-for-all unleashed upon our established systems of knowledge organization and social expression." He talks about how today, "everyone can publish, appear…or print a CD, but few can make a living at it." It is, he says, "not at all clear this is a sustainable way to structure an information economy. Yet we've only seen the start of it."
Scott worked for the Village Voice and the respected Men's Journal in the 1990s. He describes the 1990s Voice as a "paper…being created. It went into boxes positioned on the street and in the subways…. The arrival each week…put everyone in proximity with the same event. There was no swiping of your thumb to move on to something better." He adds that Men's Journal recently was sold to a conglomerate that owns the National Enquirer, which, he says, is now "a field trip to an alternate political landscape…in which Trump is singularly competent and determined while his opponents are universally malevolent and cunning," and has been "casting his critics as enemies of the state." He adds that this same conglomerate now owns Us Weekly and is said to be "eyeing the purchase of Rolling Stone," the venerable rock news magazine. We are, says Scott, "talking about a transformational change in pop culture and written word, one clearly for the worse, as if that's possible."
Scott's analysis mirrors general concerns among English faculty that public understanding of good writing is being destroyed. Indeed, writing and literature are trivialized by Facebook news and by emotive, spontaneous blogging, texting, and tweeting.
However, aren't more people reading more often, and more of them writing, than ever before? And might this be a new beginning for higher quality reading and writing? In addition, the professions still need, demand, and reward better writing. There also is the impressive increase in creative writing in high schools and colleges and in online forums. Even if they provide a greater quantity of mediocre and even bad creative writing, there also appears to be a renaissance of high quality literature among younger authors.
Are we developing a "digital dystopia," as Scott says? The Internet does present us with more thoughtless, nonresearched, emotional, and even illiterate writing, and this can be harmful. However, our society also likely is writing much more. Perhaps those acts of writing give us more opportunity to teach people to write and read better.
---
Scott's Editorial: www.startribune.com/our-digital-dystopia-a-diary/456732423/
---

5. About MnWE (repeated in each newsletter):

FORWARDING/JOINING: Please forward this email to others, especially if you are a MnWE representative listed below, as your new full-time and adjunct faculty members, graduate students, and writing center tutors may not receive it. If you are not on the listserv and would like to join it, simply send your request and email address to richard at jewell dot net.

WHO WE ARE: "MnWE" is "Minnesota Writing and English," an organization with a coordinating committee, a listserv, and an annual spring conference by and for college, university, and high school English and writing faculty, graduate students, and related academic and literary scholars, writers, tutors, and others in the Upper Midwest. Our purpose is to bring together these communities in Minnesota, Wisconsin, north and central Iowa, and the eastern Dakotas. Our website is MnWE.org; our geographical center is Minneapolis-St. Paul. Over 2500 faculty, tutors, and graduate students are on the listserv. Our listserv members come from public and private two-year colleges, state universities, private four-year and graduate-degree colleges, high schools, and the Universities of Minnesota, Wisconsin, and North Dakota. Our activities are led by a large, active committee of representative members listed below.

GRADUATE CREDIT: Anyone may earn one graduate credit from Southwest Minnesota State University for attending one MnWE Conference day and writing a related research paper (for up to three times). For questions about this course—"Eng 656: MnWE Practicum"—please contact lisa dot lucas at smsu dot edu or see www.smsu.edu/academics/programs/english/?id=11637 .

HOW TO REMOVE YOURSELF FROM THE LIST: If you want to be removed from this listserv, please do so yourself, following directions at the very bottom of this email. If you try without success, then send an email to richard at jewell dot net indicating (1) this problem, (2) your specific email address copied from the directions at the bottom of a MnWE mailing, and (3) your request for removal.

FORMATTING, INVITATION, & CREDITS: These listserv emails usually are formatted in a simple way using html. If you cannot read them, please go to the link at the top to see them on the web.
If you have any questions, we invite you to email any of us on the committee. You also are always invited to attend any of our five MnWE Committee meetings per year. You also are invited to offer suggestions—or volunteer your leadership—for a special or double section at the annual conference.
This newsletter is written primarily by Richard Jewell without copyright so that anyone may quote, paraphrase, or forward any or all of it freely. We ask only that you give credit to the "MnWE Newsletter" and/or "www.MnWE.org"; and when you use material that has been quoted or paraphrased in this newsletter from other sources, please be sure to give credit to the original source.

REPRESENTATIVES: Representatives (as listed below), please forward each of these emails: many of your writing and English colleagues may not be on this listserv. Potential volunteer representatives: We always appreciate hearing from you if your school has no rep. See the "Representatives" list below, and if no one at your school is on it, please volunteer! Email richard at jewell dot net. We are especially looking for reps from Greater Minnesota, Canada, Iowa, North and South Dakota, and Wisconsin.
---
---
Richard Jewell, Larry Sklaney, Danielle Hinrichs,
Anthony Miller, and Gordon and Beata Pueschner, Coordinators
Richard at jewell dot net - (612) 870-7024
larry dot sklaney at century dot edu - (651) 747-4006
danielle dot hinrichs at metrostate dot edu - (651) 999-5960
a dot miller at nhcc dot edu
gordon dot pueschner at century dot edu - (651) 686-4468
beata dot pueschner at anokaramsey dot edu–(651) 686-4468
MnWE.org
Minnesota Writing & English
A Consortium of Colleges & Universities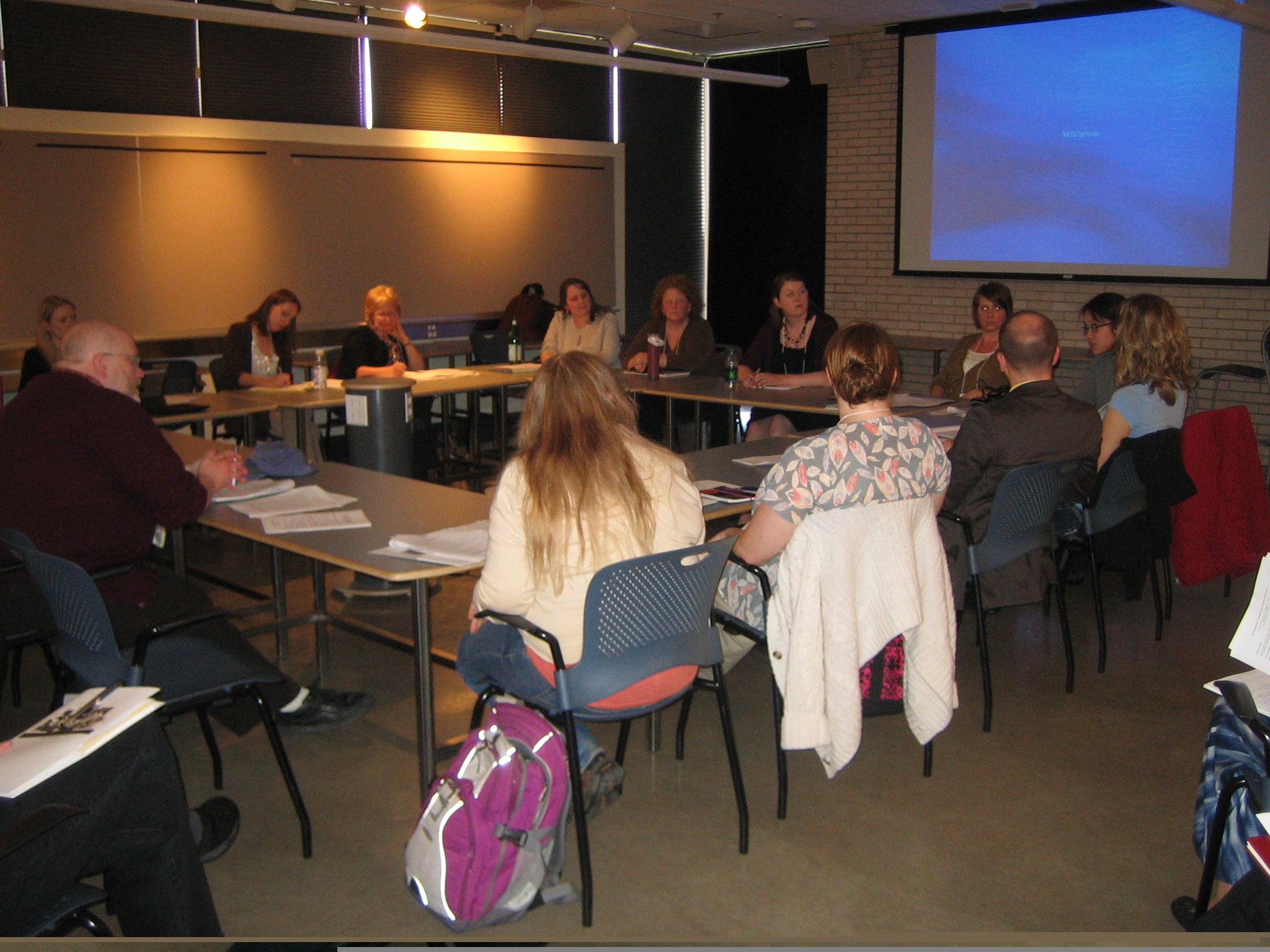 Mission:
Transforming writing and English
into teaching and learning experiences
using methodologies that serve students best.
Vision:
Bringing scholarly ideas and practical
pedagogy together to create our futures.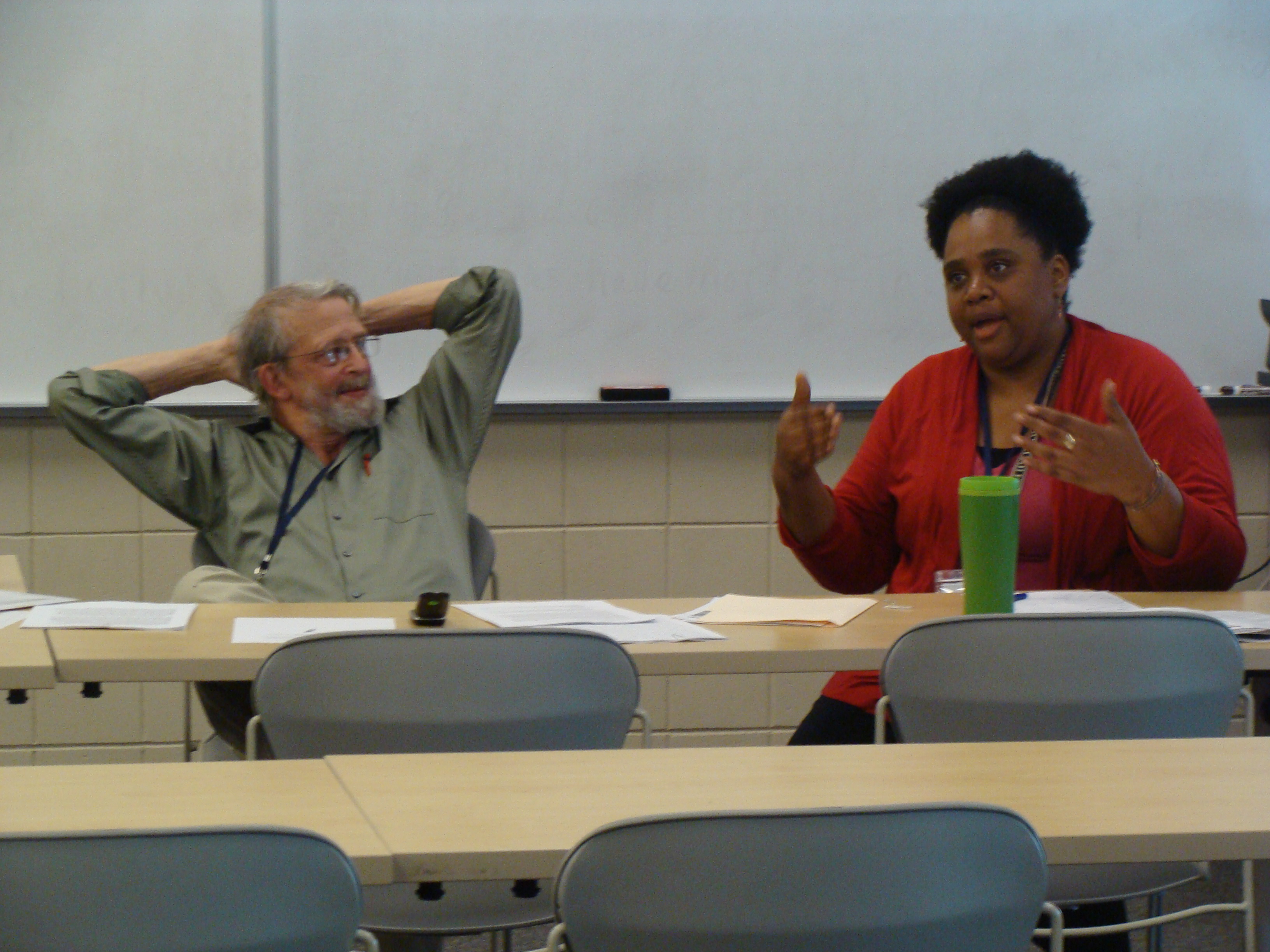 Donald Ross of the University of
Minnesota and Taiyon Coleman of St. Catherine
University run a breakout session about literature.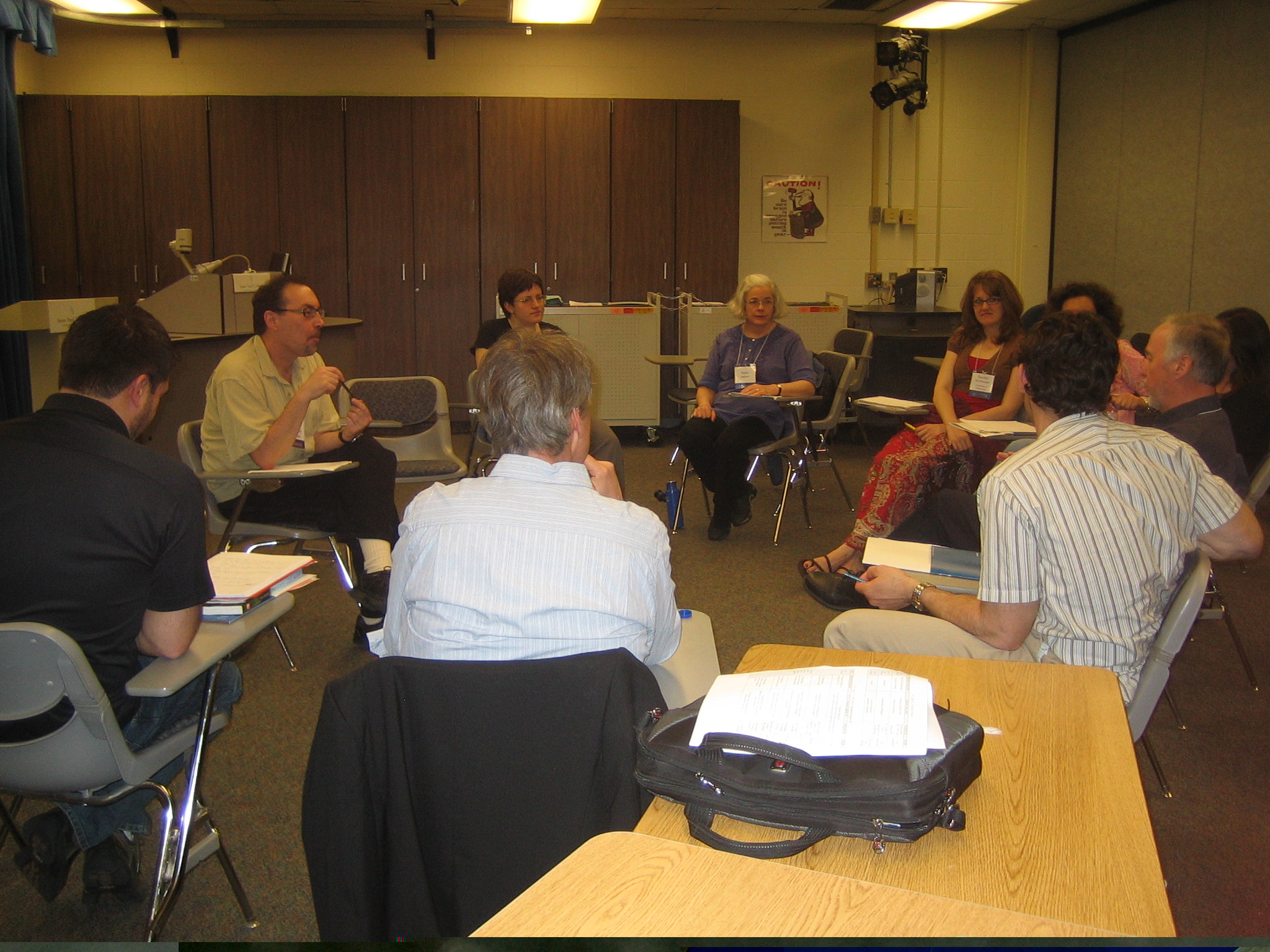 Geoffrey Sirc of the University of Minnesota
runs a small breakout after his keynote presentation.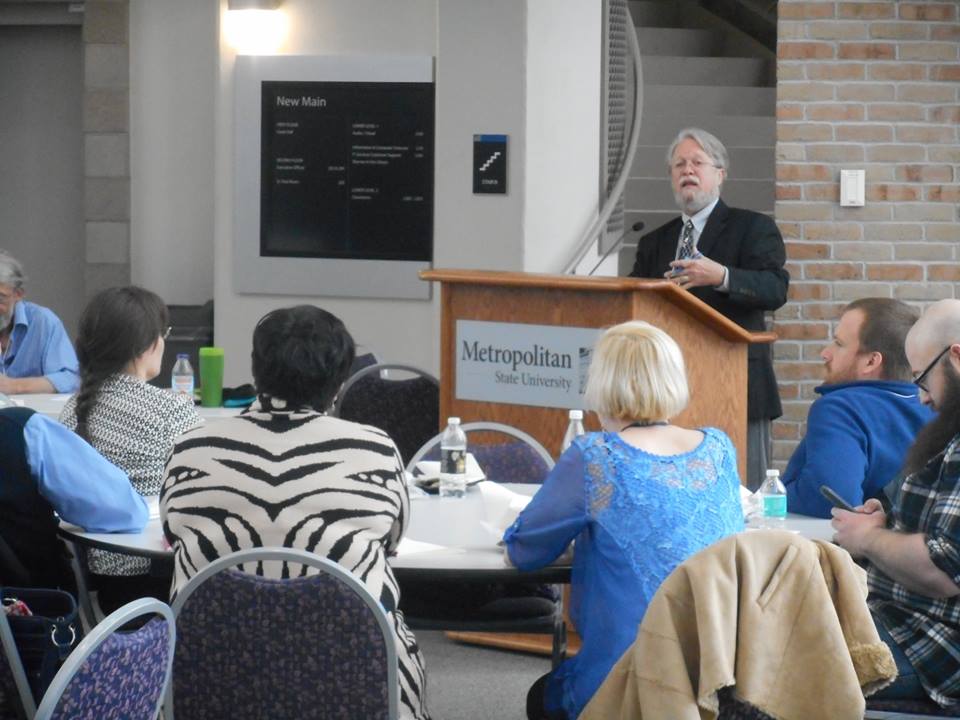 MnWE started in 2007. The cofounders
were Richard Jewell, here giving a welcome
after lunch, and Donald Ross, first picture above.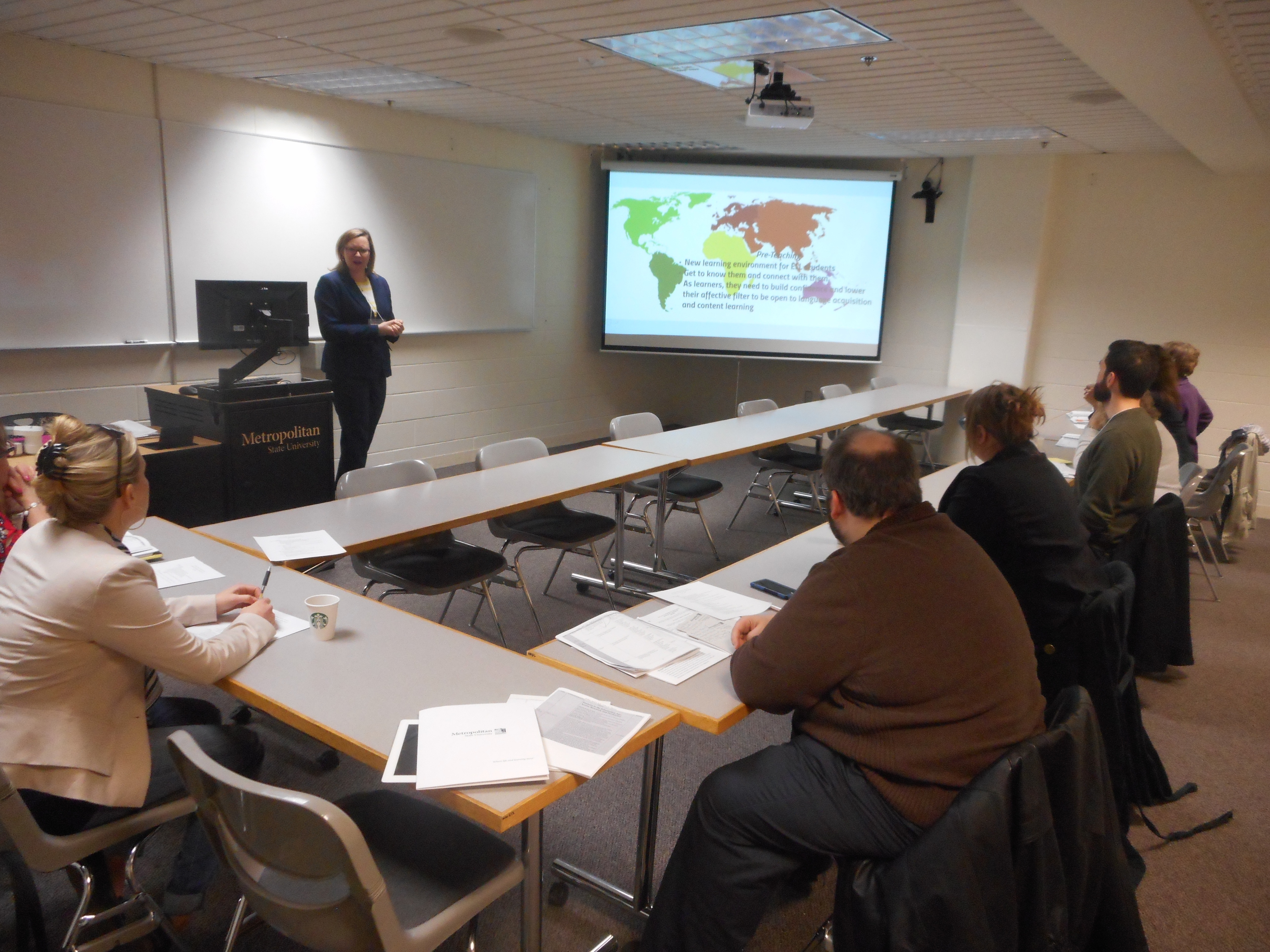 During a 2016 breakout, Beata Puschner presents
on improving classroom inclusion of ELL students.