MnWE News
Winter Issue, Jan.-Feb. 2017

Jan.-Feb. 2017
1. MnWE CONFERENCE "CONNECTING LANDSCAPES" 3/31-4/1,
SW MN STATE U.
2. ANTI-TRUTH ISSUES, PART II—"AN ERA OF FAKE NEWS"
3. RESOURCES FOR FIGHTING FAKE NEWS
4. "HOW TO DEAL WITH DIFFICULT STUDENTS"
5. ABOUT MnWE: Forwarding the News, Joining/Leaving the
Listserv, Graduate Credit, Representing MnWE
---
If you are a MnWE representative, please forward this
email to your colleagues. Many may not be on the list.

If you are a long-term member of this listserv, thank you
for your continued participation. If you are new, welcome! Our
emails are sent to about 2500 English, Writing, and related Upper
Midwest faculty. To join, send a request to richard at jewell dot net.

Our website is www.MnWE.org.
---
1. REGISTER FOR THE 2017 MnWE CONFERENCE 3/31-4/1 AT www.mnwe.org!
Join us March 31-April 1 for the Annual MnWE Conference at Southwest Minnesota State University in Marshall! This year's theme, "Connecting Landscapes," invites us to consider the most fruitful ways of connecting both geographically and metaphorically.
As English educators, we speak of discovering "where we stand" on issues, of being "moved" by words and images, and of using language to change others' positions and points of view and create movement. How can we bridge divides, comprehend divergent perspectives, and reevaluate our own ideas? How can reading and writing create understanding of and empathy with people coming from other landscapes? How can language evoke and examine topographies or worldviews?
Our Friday keynoter this year (11:30 am) is Muriel Thompson, former Director of the Minnesota Writing Project at the University of Minnesota-Twin Cities. The Friday plenary (9 am) is "Ecopreneurship: A Call for Sustainable Writing Program Growth" by Professors Teresa Henning and Amanda Berner, Southwest Minnesota State University.
Our Saturday keynoter (11:30 am) is Professor Kristen Cronn-Mills, a Young Adult author focusing on LGBTQ issues. She is from Minnesota State Mankato and is the author of Beautiful Music for Ugly Children. The Saturday plenary (9 am) is "The Benefits of Concurrent Enrollment: What Does Research Show?" by Pakou Yan, Minnesota State Director of P-20 and College Readiness and a former Century College faculty member and dean; Lisa Lucas Hurst, concurrent enrollment Faculty Liaison at Southwest Minnesota State University; and Adam Lowe, Executive director of NACEP (National Alliance of Concurrent enrollment Partnerships).
---
Conference registration, schedule, and information: www.MnWE.org
---

2. MINNESOTA PROFESSORS WIN TETYC "BEST ARTICLE OF THE YEAR" AWARD
Michael Kuhne, Shannon Gibney, Kathleen DeVore, Renee DeLong of Minneapolis Community and Technical College, and Taiyon J. Coleman, formerly of MCTC and now at St. Catherine University, have won the 2017 Mark Reynolds TETYC (Teaching English in the Two-Year College) Best Article Award. Their article, "The Risky Business of Engaging Racial Equity in Writing Instruction: A Tragedy in Five Acts" (May 2016), discusses central issues for the entire profession regarding MCTC English Department's multi-year project in teaching racial equity in their writing courses. The five will receive their award at the 2017 CCCC Convention in Portland, Oregon. These professors, along with others in MCTC's English Department, experienced a number of highs and lows in their racial equity project, both pedagogically and politically. As English and Writing departments move into the future, in which whites become the minority in classrooms—which is already happening at a number of colleges and universities—the MCTC project is an important national bookmark and predictor of how we can better plan for and teach racially and culturally diverse classrooms.
---
"Risky Business": www.ncte.org/library/NCTEFiles/Resources/Journals/TETYC/0434-may2016/TETYC0434Risky.pdf
---

3. OSCAR-NOMINATED IMMIGRANT DOCUMENTARIES
Do you show immigration films? The Star Tribune Rash Report describes two new documentaries about immigrants have been nominated for Oscars: "4.1" Miles" (22 min.) and Fire at Sea (114 min.). Both give viewers a chilling, up close look at the lives, dangers, and even deaths of immigrants trying to get to a first-world country. "4.1 Miles" features Greek Coast Guard captain Kyriakos Papdoulous who, each year, rescues thousands of African immigrants escaping to the key immigrant island of Lesbos—and sees hundreds dying or dead at sea. Fire at Sea has similar difficult to watch scenes of an Italian Coast Guard ship searching for immigrants on boats sinking or already sunk. In one scene, the ship picks up the radio signal of 250 immigrants on a sinking boat. It asks for their position but is unable to find them before all of them die.
---
Rash Report, www.startribune.com/rash-report-worldwide-migration-crisis-sparks-fundamental-questions/412741863/
---

4. N.Y. TIMES CUTS GRAPHIC NOVEL AND YOUTH E-BOOK BESTSELLER LISTS
The New York Times carries a number of categories of weekly bestseller lists. It recently removed several, including all of its Graphic Novel lists and others such as Mass Market Paperback, Young Adult E-book, and Middle Grade E-book. Graphic Novel and Young Adult authors, their publishers, and others are issuing strong complaints that acceptance of such alternate literary forms will be hurt because none can now carry the claim on its cover or in reviews of being a "New York Times Bestseller." Clearly, the Times' move won't help recognition or sales. However, The Times says, these genres still will be eligible for the "main" lists, and there still will be reviews of the best of them.
---
www.washingtonpost.com/news/comic-riffs/wp/2017/01/27/the-new-york-times-just-killed-its-graphic-novel-bestseller-lists-and-authors-arent-happy/
---

5. TEACHING IN OUR ANTI-TRUTH ERA (Analysis)
We suddenly are in an era of anti-truth after the Presidential election. First, in November, Oxford Dictionaries declared "post-truth" the 2016 Word of the Year. Oxford defines the adjective as "[r]elating to or denoting circumstances in which objective facts are less influential in shaping public opinion than appeals to emotion and personal belief."
Second, on Jan. 22, Presidential advisor Kellyanne Conway added "alternative facts" to our anti-truth lexicon on NBC's "Meet the Press." She was defending statements about the Inauguration's crowd size.
Third, "fake news" or "hoax news," first widely applied to untrue news stories during the Presidential campaigns, now has become a catch-all phrase. It is being used by a variety of political parties and news media to challenge each other's statements of fact.
Our new anti-truth lexicon also includes the resurrection of Stephen Colbert's 2005 satirically predictive "truthiness"—if it feels true, it must be. And the descriptive word "snowflake," probably created early in the century, when it referred to millennials too sensitive to live in reality after college, has evolved. It now is, according to Jessica Goldstein, an "epithet of choice…to fling at anyone who could be accused of being too easily offended, too in need of 'safe spaces,' too fragile" after the most recent election.
How are English and Writing colleagues responding? One view is that nothing has changed. We continue to be near the academic center, along with Communications and other departments, in accustoming students to academic standards of fact, reasonable opinion, and quality research. We will always hold this position, especially as many students understand this.
However, not all students do. We find ourselves to some extent in a pedagogical shift. We find ourselves trying to explain our explanations—to position our normally unspoken positions. We are explaining why educated citizens should consider competing viewpoints, why we teach texts about marginalized people, and even why an opinion needs factual support. We also are explaining why quality research is so important—why feelings, intuitions, and dogmas aren't enough.
In addition, we are adapting to how common and insidious fake news has become, especially in social media. In discussing this, Oberlin's Steve Volk says in "Finding our Voice in a 'Post-Truth' Era" (quoting a New York Times title), "As Fake News Spreads Lies, More Readers Shrug at the Truth." He suggests we fight this societal shrug. "Faculty have work to do, in close partnership with the library, about basic online information literacy and cannot assume that our students have a sophisticated understanding of how information is…developed…." He provides links and suggestions to help our students move beyond the new anti-truth culture.
---
Goldstein, "The surprising history…": https://thinkprogress.org/all-the-special-snowflakes-aaf1a922f37b#.5sa6p47it
Volk, "Finding our Voice": http://languages.oberlin.edu/blogs/ctie/2016/12/11/finding-our-voice-in-a-post-truth-era/
Script of Conway's first use of "alternative facts": http://nbcnews.com/meet-the-press/meet-press-01-22-17-n710491
---
6. About MnWE (repeated in each newsletter):

FORWARDING/JOINING: Please forward this email to others, especially if you are a MnWE representative listed below, as your new full-time and adjunct faculty members, graduate students, and writing center tutors may not receive it. If you are not on the listserv and would like to join it, simply send your request and email address to richard at jewell dot net.

WHO WE ARE: "MnWE" is "Minnesota Writing and English," an organization with a coordinating committee, a listserv, and an annual spring conference by and for college, university, and high school English and writing faculty, graduate students, and related academic and literary scholars, writers, tutors, and others in the Upper Midwest. Our purpose is to bring together these communities in Minnesota, Wisconsin, north and central Iowa, and the eastern Dakotas. Our website is MnWE.org; our geographical center is Minneapolis-St. Paul. Over 2500 faculty, tutors, and graduate students are on the listserv. Our listserv members come from public and private two-year colleges, state universities, private four-year and graduate-degree colleges, high schools, and the Universities of Minnesota, Wisconsin, and North Dakota. Our activities are led by a large, active committee of representative members listed below.

GRADUATE CREDIT: Anyone may earn one graduate credit from Southwest Minnesota State University for attending one MnWE Conference day and writing a related research paper (up to three times). For questions about this course—"Eng 656: MnWE Practicum"—please see contact lisa dot lucas at smsu dot edu or see www.smsu.edu/academics/programs/english/?id=11637 .

HOW TO REMOVE YOURSELF FROM THE LIST: If you want to be removed from this listserv, please do so yourself, following directions at the very bottom of this email. If you try without success, then send an email to richard at jewell dot net indicating (1) this problem, (2) your specific email address copied from the directions at the bottom of a MnWE mailing, and (3) your request for removal.

FORMATTING, INVITATION, & CREDITS: These listserv emails usually are formatted in a simple way using html formatting. If you cannot read them, please go to the web address at the top to see them on the web. Email addresses on the web version are formatted using "at" and "dot" so that, on the web, malware spiders cannot find the email addresses.
If you have any questions, we invite you to email any of us on the committee. You also are always invited to attend any of our five MnWE Committee meetings per year. You also are invited to offer suggestions—or volunteer your leadership—for a special or double section at the annual conference.
This newsletter is written primarily by Richard Jewell without copyright so that anyone may quote, paraphrase, or forward any or all of it freely. We ask only that you give credit to the "MnWE Newsletter" and/or "www.MnWE.org"; and when you use material that has been quoted or paraphrased in this newsletter from other sources, please be sure to give proper credit to the original source.

REPRESENTATIVES: Representatives (as listed below), please forward each of these emails: many of your writing and English colleagues may not be on this listserv. Potential volunteer representatives: We always appreciate hearing from you if your school has no rep. See the "Representatives" list below, and if no one at your school is on it, please volunteer! Email richard at jewell dot net. We are especially looking for reps from Greater Minnesota, Canada, Iowa, North and South Dakota, and Wisconsin.
---
Richard Jewell, Larry Sklaney, Danielle Hinrichs,
and Gordon and Beata Pueschner, Coordinators

Richard at jewell dot net - (612) 870-7024
larry dot sklaney at century dot edu - (651) 747-4006
danielle dot hinrichs at metrostate dot edu - (651) 999-5960
gordon dot pueschner at century dot edu - (651) 686-4468
beata dot pueschner at anokaramsey dot edu – (651) 686-4468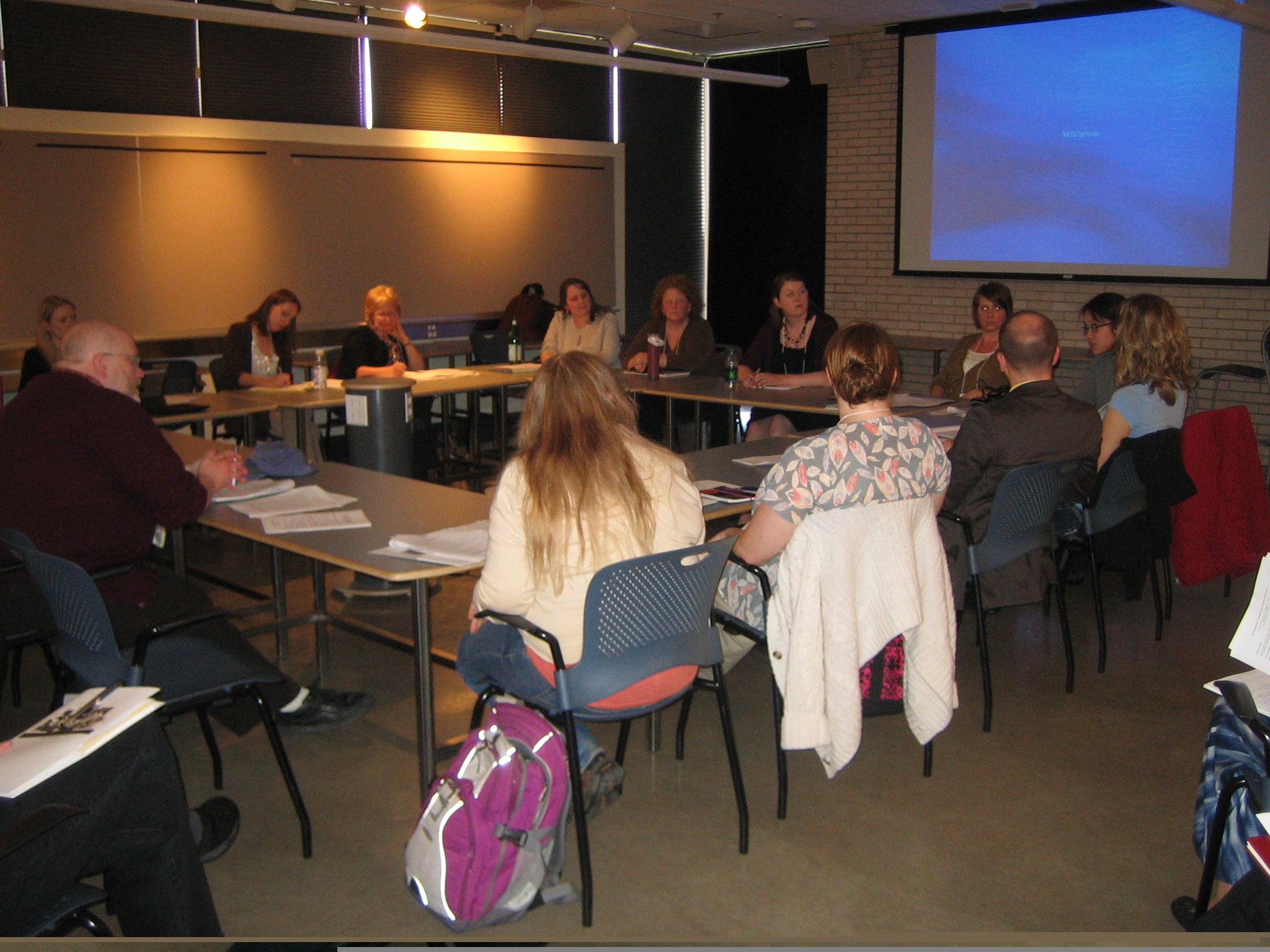 Mission:
Transforming writing and English
into teaching and learning experiences
using methodologies that serve students best.
Vision:
Bringing scholarly ideas and practical
pedagogy together to create our futures.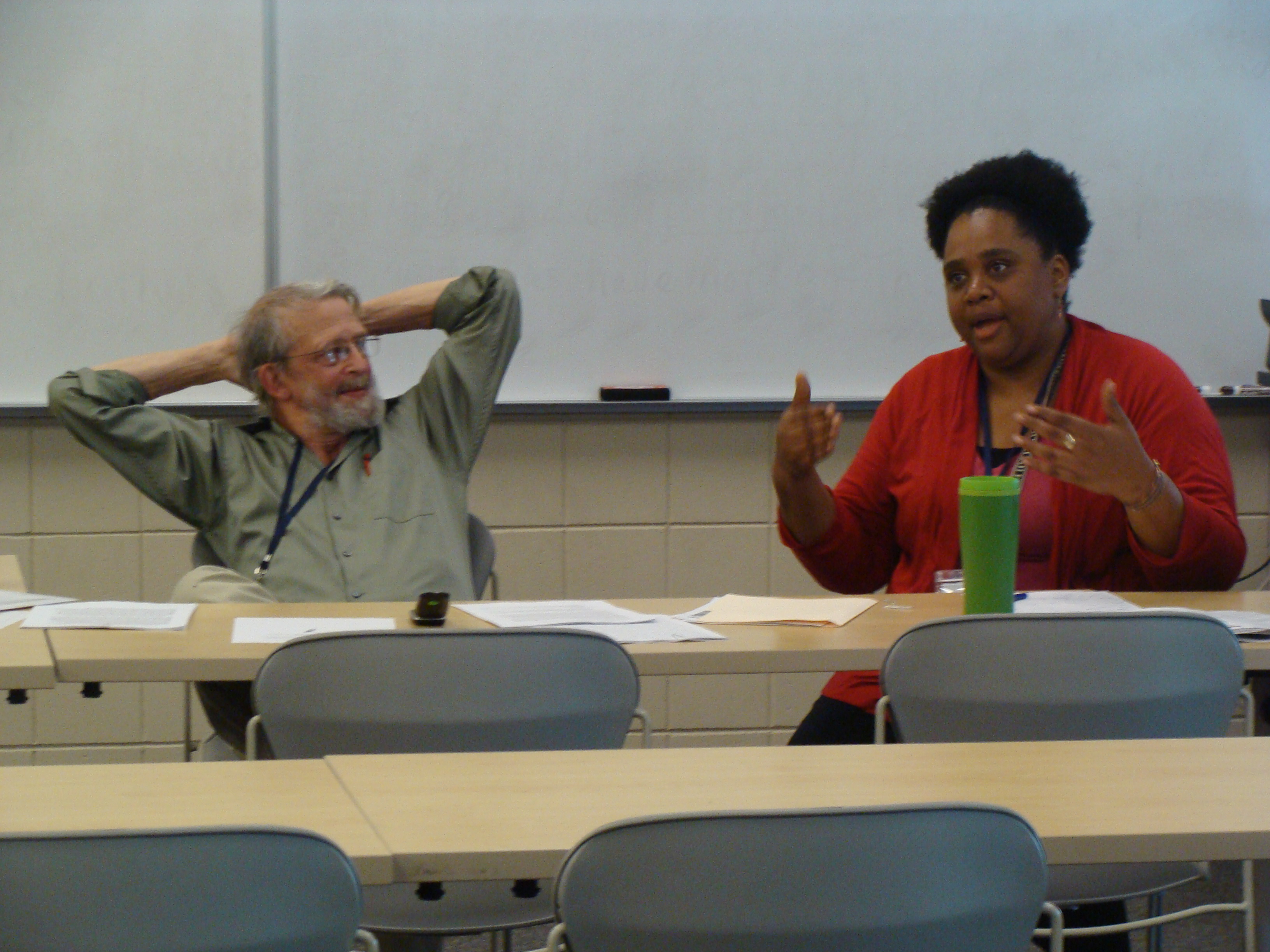 Donald Ross of the University of
Minnesota and Taiyon Coleman of St. Catherine
University run a breakout session about literature.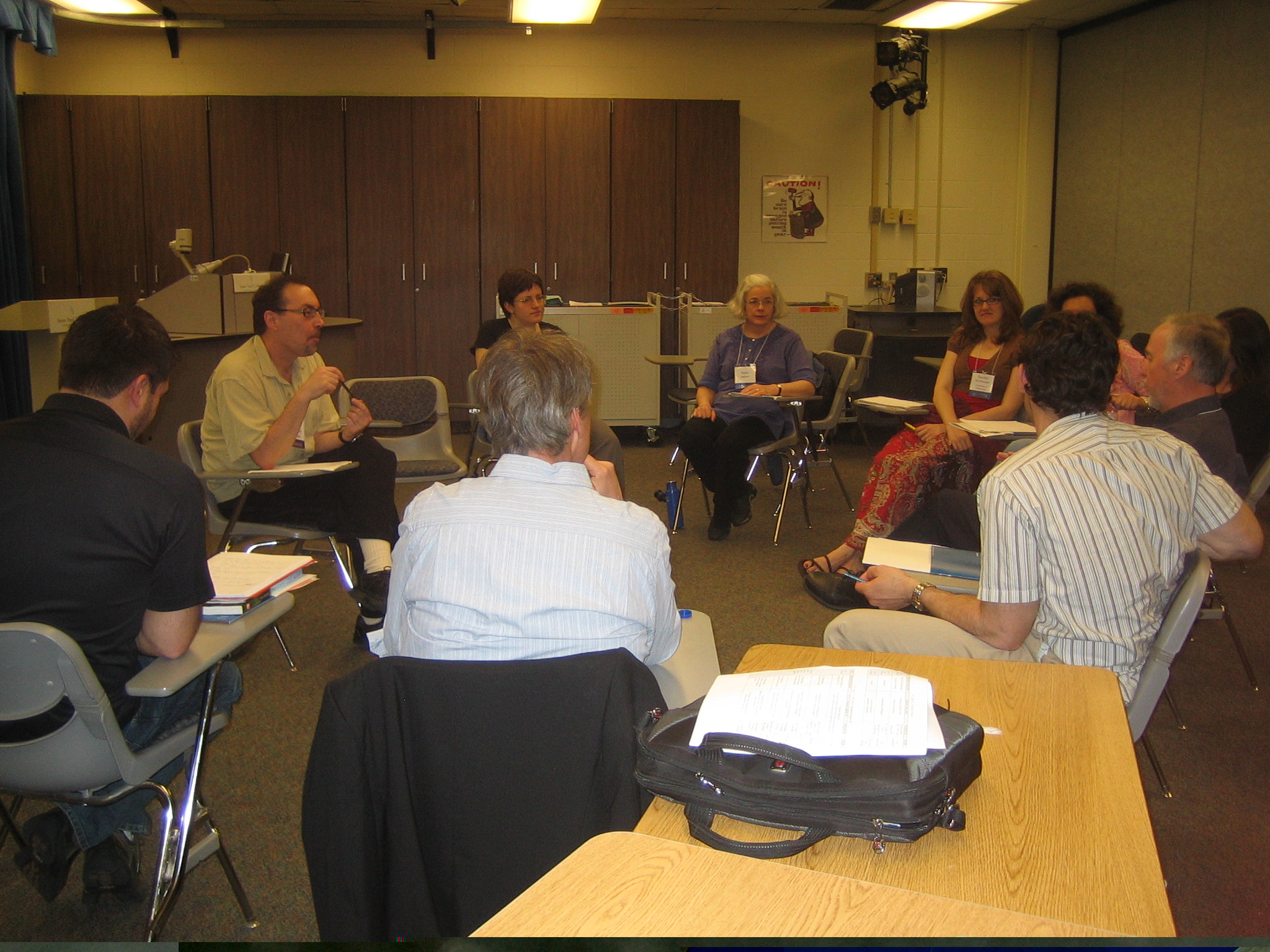 Geoffrey Sirc of the University of Minnesota
runs a small breakout after his keynote presentation.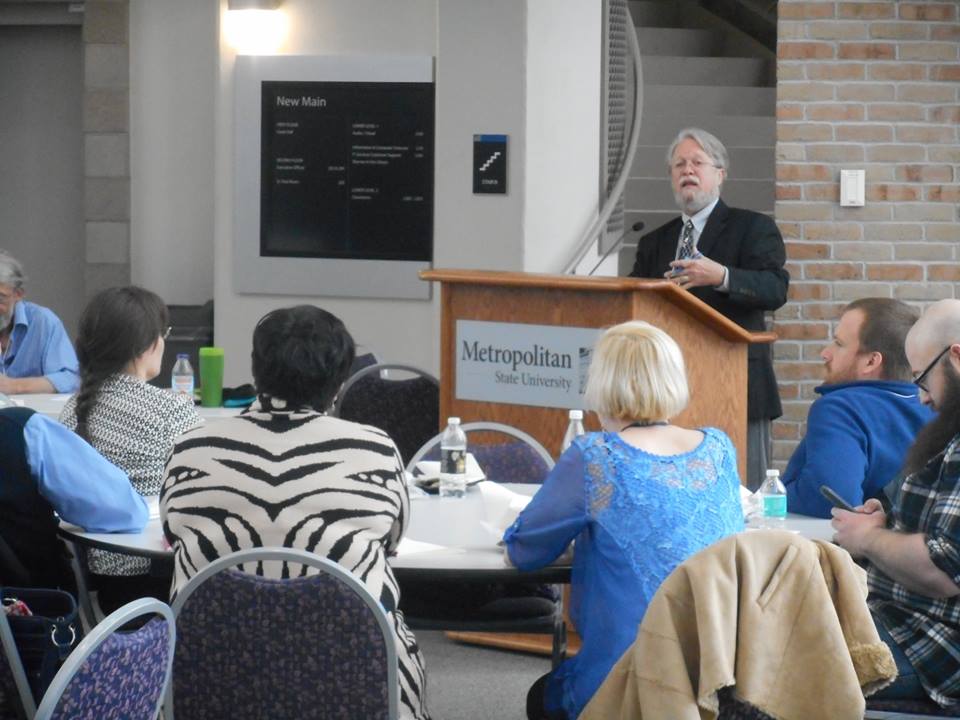 MnWE started in 2007. The cofounders
were Richard Jewell, here giving a welcome
after lunch, and Donald Ross, first picture above.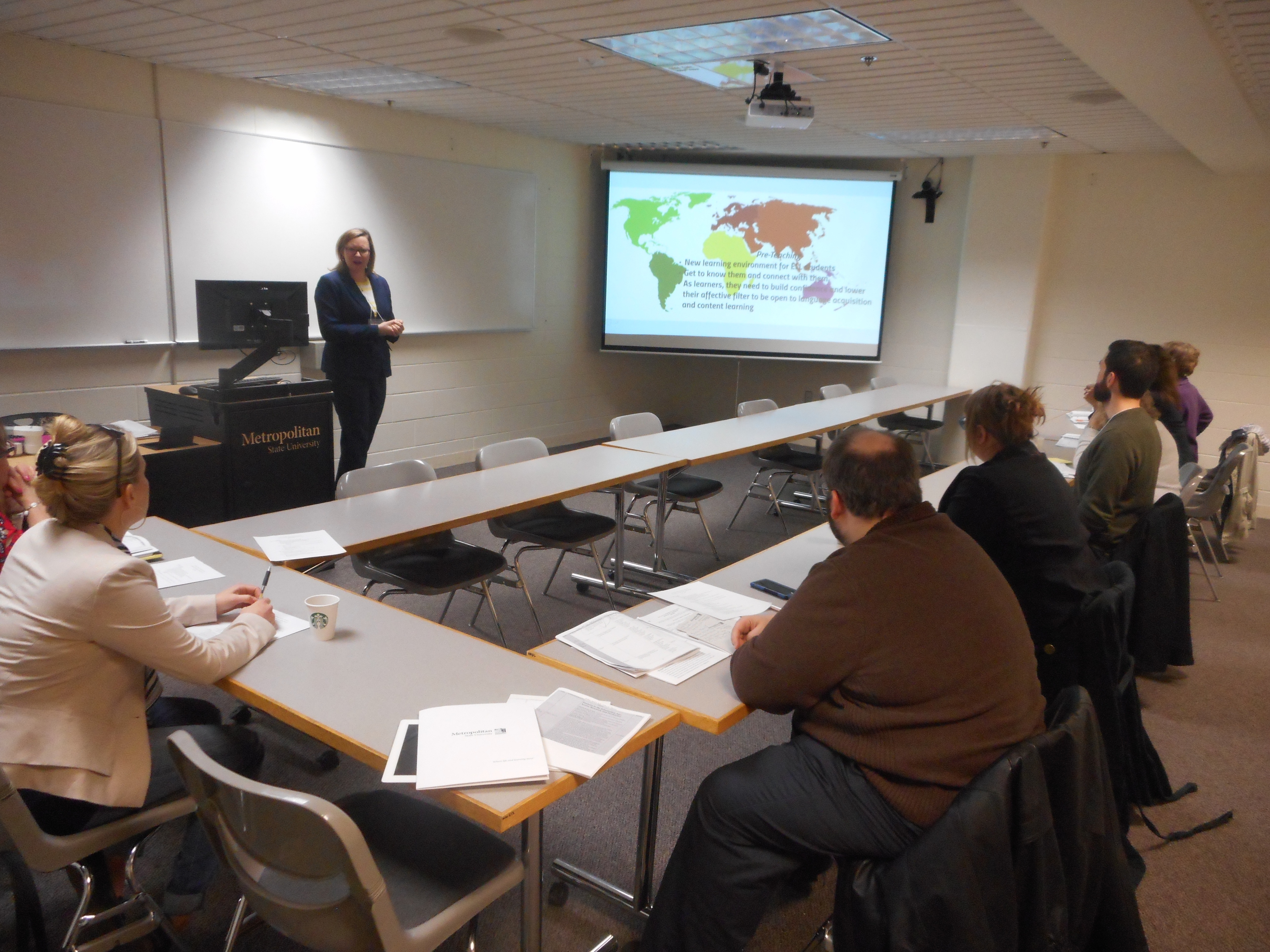 During a 2016 breakout, Beata Puschner presents
on improving classroom inclusion of ELL students.