MnWE News Spring Issue
March-April 2021

2022 Conference: Minnesota Humanities Center Thur.-Fri., Apr. 7-8
In this issue:
1. MnWE ZOOM CONFERENCE MARCH 25-26 GREAT
SUCCESS
2. UMN-HARVARD-COLUMBIA DEBATE ON DEMOCRACY
1 PM, APR. 21
3. IS THE CAT IN THE HAT BLACK? MINSTRELSY AND
DR. SEUSS (and Black Book Resources)
4. REVIEW: Cristina Henriquez's Book of Unknown
Americans (and Latinx Book Resources)
5. NEWS BRIEFS: Developmental Ed Needs, Stressed
Online Students, Adjunct Problems, and Lost PhD
Programs
6. Free Teaching/Learning E-Newsletters (in each issue)
7. About MnWE (in each issue)
If you are new to our listserv, welcome! We never share your address, and you may always unsubscribe at the bottom of any email.

If you are a long-term member of this listserv, thank you for your continued participation. Our listserv emails go to about 2700 English, Writing, and subject-related faculty in the Upper Midwest and beyond.

If you are the head of a program or department, please consider forwarding this email to your graduate and undergraduate students. If you did not receive this newsletter directly and want to see it every other month, join us by sending a request to the editor at jeweLØØ1 at umn dot edu (L zero zero one). We suggest you send a permanent email address. Also email us if you'd like information about joining our meetings five to seven Fridays per year, currently on Zoom.
---
1. MnWE ZOOM CONFERENCE MARCH 25-26 A SUCCESS—
135 REGISTERED

You are welcome to view our two featured plenary panels from the March 25-26 MnWE Conference at the links below. Handouts from some of the roundtable discussions also are available there.

The MnWE 2021 Conference was a great success in spite of our not being able to meet in person. It attracted 135 people live online, a majority of them presenters, for a highly interactive two-day event.

Because it was on Zoom, MnWE was able to welcome people from all of Minnesota's surrounding states and six others, and from five countries. The MnWE Volunteer Committee worked hard to create more interactivity for the Zoom events. Normally, the conference has a plenary and a keynote each day, but this year, we dispensed with the keynotes so that we could create more sharing and talk during the plenaries. Plenary panelists received honorariums for the first time, worked with each other before the conference, and offered additional time for many audience questions and comments.

In addition, the Committee expected all breakouts to be roundtables with just five to six minutes of presentation by each discussant, thus leaving even more time for discussants' and audience members' questions and comments. Thursday's events also began with a popular storyteller and ended with a successful Happy Hour Reading; Friday ended with a helpful, well attended "Closure." Initial reports from those who attended say that the additional interactivity was deeply appreciated and enjoyed. In general, conference attendees were seeking more opportunity for community and talk on Zoom by attending MnWE 2021.

The MnWE Committee hopes to use some of these changes in future conferences even as we return to meeting in person again next year. MnWE 2022 will be at the Minnesota Humanities Center in St. Paul Thurs.-Fri., April 7-8 a year from now.
---
Thurs., Mar. 25 Recorded Welcome and Plenary

Fri., Mar. 26 Recorded Welcome and Plenary

Materials Shared by Conference Presenters
---

2. UMN, HARVARD, & COLUMBIA EXPERTS DEBATE
DEMOCRACY 1 PM, APR. 21

You may join the Minnesota Humanities Center online for "Debating Democracy Then & Now," 1:00-2:30 pm CST, registration $10. The three debaters are Tadd Johnson, Senior Director of American Indian Tribal Nations Relations at the University of Minnesota; James T Kloppenberg, the Charles Warren Professor of History (Emeritus) at Harvard University; and Michele M. Moody-Adams, the Joseph Straus Professor of Political Philosophy and Legal Theory at Columbia University.

"Even in a highly polarized era," says the MHC website, "Americans agree that democracy is the essence of the American experience; they just can't agree on what democracy is." This facilitated discussion will offer insights on democracy from our colonial past to now. These three experts–on Indian matters, history, and political philosophy–will offer their thoughts and answer audience questions. Democracy is one of the issues some of you have been bringing to your classrooms lately and others of you would like to address. This debate may help focus your creative ideas.
---
Info & registration: https://mnhum.org/event/debating-democracy/
---

3. IS THE CAT IN THE HAT BLACK? MINSTRELSY AND DR.
SEUSS
Kansas State University professor Dr. Phil Nel's Was the Cat in the Hat Black? The Hidden Racism of Children's Literature, and the Need for Diverse Books received additional notice recently when Dr. Seuss's publisher announced it would no longer publish six Seuss books because of racist tropes. Nel argues that the famous Cat in the Hat was based on blackface minstrelsy. The Chronicles Race on Campus newsletter recently interviewed him.

According to Race on Campus, Nel argues that much of twentieth-century comic characterization reflected blackface minstrel entertainers. Nel says, "You can look at Mickey Mouse, Bugs Bunny, the Scarecrow [from The Wizard of Oz]. The movements, the white gloves, the ridiculous neckwear."

Nel adds that when Dr. Seuss was in high school, as a student he wrote and performed in a blackface minstrel show. The Cat, like characters in blackface, is pretending to be higher in status than he really is. And, says Nel, the reason that Seuss's publishers haven't stopped producing Cat in the Hat as well is because the racism in it is not overt. Dr. Seuss also was "influenced by [the enormously popular] Krazy Kat, [which was] the creation of an African American cartoonist named George Herriman, and by an African American elevator operator named Annie Williams."

Race On Campus asked Nel, "Would you want Dr. Seuss Enterprises to stop publishing The Cat in the Hat?" Nel says, rather, the company should admit the influence and continue selling it. "If you really want to do social good," says Nel, "do more than just curate your own catalog. Elevate the voices of nonwhite artists and writers." And he suggests you should "acknowledge, as the meme goes, that all your faves are problematic."

Cat in the Hat and Krazy Cat can be purchased online. In the right contexts, they might prove useful in evoking classroom discussions.
---
---

4. REVIEW: The Book of Unknown Americans by Cristina
Henriquez

Vintage, 2014. Reviewed by Joan Thompson

Cristina Henríquez's novel The Book of Unknown Americans offers students the opportunity to know a cast of characters from multiple Latin American countries and territories who come together in a run-down apartment building in Delaware. Central to the book is the relationship between two families, the Toros from Panamá and the Riveras from Mexico, and especially their children Mayor and Maribel.

The Toros left Panamá after three years of disarray that followed the 1989 U.S. invasion and are naturalized citizens.The Riveras give up ownership of a thriving construction company for a work visa, menial labor, and a better school for their daughter who has suffered a traumatic brain injury. As the families become friends and the Toros help the Riveras negotiate the U.S., they often gossip about other residents of the building. The families' friendship is the background for a growing relationship between Mayor and Maribel, one that adds tension and a Romeo and Juliet twist that would be familiar to students.

Henríquez primarily uses alternating first-person chapters in Alma Rivera's and Mayor Toro's voices. Alma's chapters focus on the challenges of adjusting to the U.S., her concerns for her husband and daughter, and her fear of a neighborhood boy, Garrett Miller. Mayor's chapters explore his challenges with fitting in at home and school as well as his growing sense of caring for and protecting Maribel.

A unique aspect of this book is chapters in the voice of other apartment residents that appear between Alma's and Mayor's chapters. These residents give their own stories, both the push factors that led them to Delaware and the challenges in their lives. By giving these residents voice, Henríquez counters the gossip the Toros and Riveras exchange as well as broader stereotypes tied to immigration and to residents of U.S. territories.

The Book of Unknown Americans was a New York Times and a Washington Post Notable Book of the year and a National Public Radio Great Read. It was longlisted for the Carnegie medal for Excellence in Fiction, and was a finalist for the Dayton Literary Peace Prize. Henriquez has written for The New Yorker, Atlantic, American Scholar, Wall Street Journal, and other national magazines, newspapers, and literary journals.

The stories of the Toros and Riveras and their children as well as those of the residents of their apartment building add to the richness of the novel. Henríquez's work has much to offer instructors adding diverse voices to literature and composition classes.
---
---

5. NEWS BRIEFS: Developmental Ed Needs in 2-Yr. Colleges,
Stressed Online Students, Difficult Times for Adjuncts,
and Goodbye to 100 PhD Programs

Union says equity requires more developmental education. The Minnesota State College Faculty (MSCF) is the union for two-year Minnesota college faculty. Its 2021 Delegate Assembly meets April 9. One of its proposed resolutions, it says, is important for creating appropriate student equity in Minnesota colleges and universities: "MSCF insists that an essential piece of ensuring equitable outcomes is stable, fully resourced, effective, faculty-led developmental education." The union lists nine reasons. Among them are: "students deserve the support...needed to succeed," "our institutions have contributed to disparities," "[d]evelopmental education can be an essential access point," and a "25 year disinvestment in higher education has led to fewer supports...and increasing obstacles" for students. If you are a Minnesota two-year college faculty member and wish to comment on this issue, contact your campus representative by Thursday afternoon, April 8–or later for an update. More info: MSCF Delegate Assembly.

Overburdened students? Do you continue to have online students complaining about your working them harder–with more, or more difficult, assignments–than they used to have for in-person classrooms? This is a nationwide continuing complaint. For additional thoughts and updates about students' concerns about workloads, possible reasons for them, and methods to change student assumptions, go to Overburdened Students.

Are contingent faculty treated fairly? If you are relatively new to the decades-old issue of how adjunct faculty are treated, especially regarding job security, a very good summary of the issues is in a recent Tomorrow's Professor (#1845). Life is even harder for them in the age of Covid. Minnesota colleges and universities tend to treat their adjuncts slightly better, on average, compared to other states. This is especially true where adjuncts are part of a union. Even so, contingent faculty have far less job security than even the average factory worker. See Adjuncts.

UMN English and 100 Other Doctoral Programs in U.S. Paused. UMN English is one of twelve doctoral programs not accepting new students this fall to "save money during the pandemic and to focus on supporting current students." English has had up to twenty such students per year in the past. Chair Andrew Elfenbein says the doctoral cohort may shrink to just five or six students after post-pandemic programs restart. More than 100 doctoral programs across the country similarly are not admitting new students. In addition, doctoral programs are less inclined to graduate new PhDs because they will not be able to find permanent positions in an academic economy that now has fewer positions for them. Go to Pandemic PhDs in Star Tribune.
---

6. List of Free Teaching/Learning E-Newsletters
(repeated each issue)

Do you feel out of touch with colleagues or seek ideas from other networks? Connect by subscribing to these free email newsletters. You may start or stop a subscription at any time.

NEA HigherEd, National Education Association. Weekly political and labor news update:

Subscribe Sample

Race on Campus from Chronicle of Higher Education. Weekly briefs and information:

Sample and Free Subscription

Diversity Insider, National Education Assoc. Weekly news, essays, and advice:

Subscribe Sample

The Source: Updates, MLA Style Center. Weekly pedagogy and readings updates:

Subscribe (scroll to bottom) Sample

Other free Style Center e-letters

Always available online, the Style Center's "Works Cited: A Quick
Guide"

Teaching from Chronicle of Higher Education. Weekly brief advice on general methods:

Subscribe Samples

Tomorrow's Professor, Stanford University. Twice-weekly reprint of a pedagogy article:

Subscribe Sample e-letter and online version

The Campus View, Minnesota Private Colleges (17 colleges). Monthly private college news:

Subscribe Past issues
---

7. About MnWE: Old Issues, Joining, Who We Are, Grad Credit,
Unsubscribing (repeated each issue)

Resoures about/for Online Teaching:
www.mnweconference.com/resources.html.

Our Newsletters: New and old issues: MnWE News

Forwarding/Joining: Please forward this email to other interested faculty and administrators. Your newer full-time and adjunct faculty members, graduate students, writing center tutors, and English and Writing administrators may not receive it.

If you are not on the listserv and would like to join it, simply send your request and email address to jeweLØØ1 at umn dot edu (L zero zero one). We always enjoy signing up new list members.

Who are we? "MnWE" is "Minnesota Writing and English," an all-volunteer organization started in 2007. MnWE has a coordinating committee, a listserv, and an annual, two-day spring conference attended by 100-200 faculty. Our coordinating committee, which meets about six times per year, is composed entirely of unpaid college, university, high school, and other professional English/Writing volunteers.

All activities are by and for college, university, and college-in-the-high-schools English and Writing faculty, graduate and undergraduate students, and related academic and literary scholars, writers, tutors, and others in the Upper Midwest. Our purpose is to bring together these communities in Minnesota and in nearby states and provinces.

Where are we? Please visit us online at MnWE.org. Our geographical center is Minneapolis-St. Paul. About 2700 faculty, graduate students, tutors, and related administrators see our emails. Those on our listserv receive this newsletter six times per year, along with additional conference announcements and helpful forwards. Our listserv members come from state universities, public and private two-year colleges, private colleges and universities, high schools, publishing companies, and the public universities of Minnesota, Wisconsin, North Dakota, South Dakota, Iowa, Illinois, and other schools and locations in the United States, Canada, and overseas countries.

Conference: At our annual two-day conferences, our speakers highlight pedagogical concerns and are scholars and writers of national excellence from both local and national locations. Some of our presenters come from states or countries far beyond our own geographical area. The majority of our attendees and presenters are from universities and private four-year colleges; a significant minority are in two-year colleges, high schools, and other groups.

Graduate Credit: Anyone may earn one graduate credit from Southwest Minnesota State University for attending a MnWE Conference day and writing a related research paper (up to three such credits may be earned). For questions about this course–"Eng 656: MnWE Practicum"–please contact lisa dot lucas at smsu dot edu or see www.smsu.edu/academics/programs/english/?id=11637 .

Unsubscribing: To unsubscribe from this listserv (and no longer receive the MnWE News, MnWE Conference announcements, and other forwarded announcements), please do so yourself, following directions at the very bottom of this email. If you try unsubscribing on your own without success, then send an email to jeweLØØ1 at umn dot edu (L zero zero one).indicating (1) your unsubscribing action that didn't work, (2) your specific email address copied from the directions at the bottom of a MnWE mailing, and (3) your request for removal.

Formatting: Each of these listserv emails usually is formatted in a relatively simple way using html. If you cannot read it, please click on the link at the top right of this email to see the newsletter on the Web.

Questions: We invite you to email the editor or any coordinator on the MnWE Committee listed below. You also are always invited to attend any of our five to seven MnWE Committee meetings per year: to join the listserv, email jeweLØØ1 at umn dot edu (L zero zero one).. If you'd like to attend a meeting, or join the committee for in-person meetings, Zoom attendance, or email comments from a distance, please ask Richard. In addition, you always are invited to offer suggestions to MnWE, or to volunteer your leadership for a session at the annual conference.

Copyright: This newsletter is written primarily by MnWE News editor Richard Jewell without copyright so that anyone may quote, paraphrase, or forward any or all parts freely, unless otherwise noted. We do ask that you give credit to the MnWE News and/or www.MnWE.org; and when you use material that has been quoted or paraphrased in this newsletter from another source, please be sure to give proper credit to the original source.
---
---
Richard Jewell, General Coordinator
Larry Sklaney, Conference Coordinator
Danielle Hinrichs, Program Coordinator
Gordon Pueschner, Help Desk Coordinator
Jana Rieck, Communications Coordinator
Heidi Burns, Guidelines Coordinator
Ed Hahn, Web and Registration Coordinator
Kerrie Patterson, Treasurer
---
richard at jewell dot net - (612) 870-7024
larry dot sklaney at century dot edu - (651) 747-4006
danielle dot hinrichs at metrostate dot edu - (651) 999-5960
gordon dot pueschner at century dot edu - (651) 686-4468
janaL dot rieck at yahoo dot com
heidi dot burns at mnsu dot edu

MnWE .org
Minnesota Writing & English
A Consortium of Colleges & Universities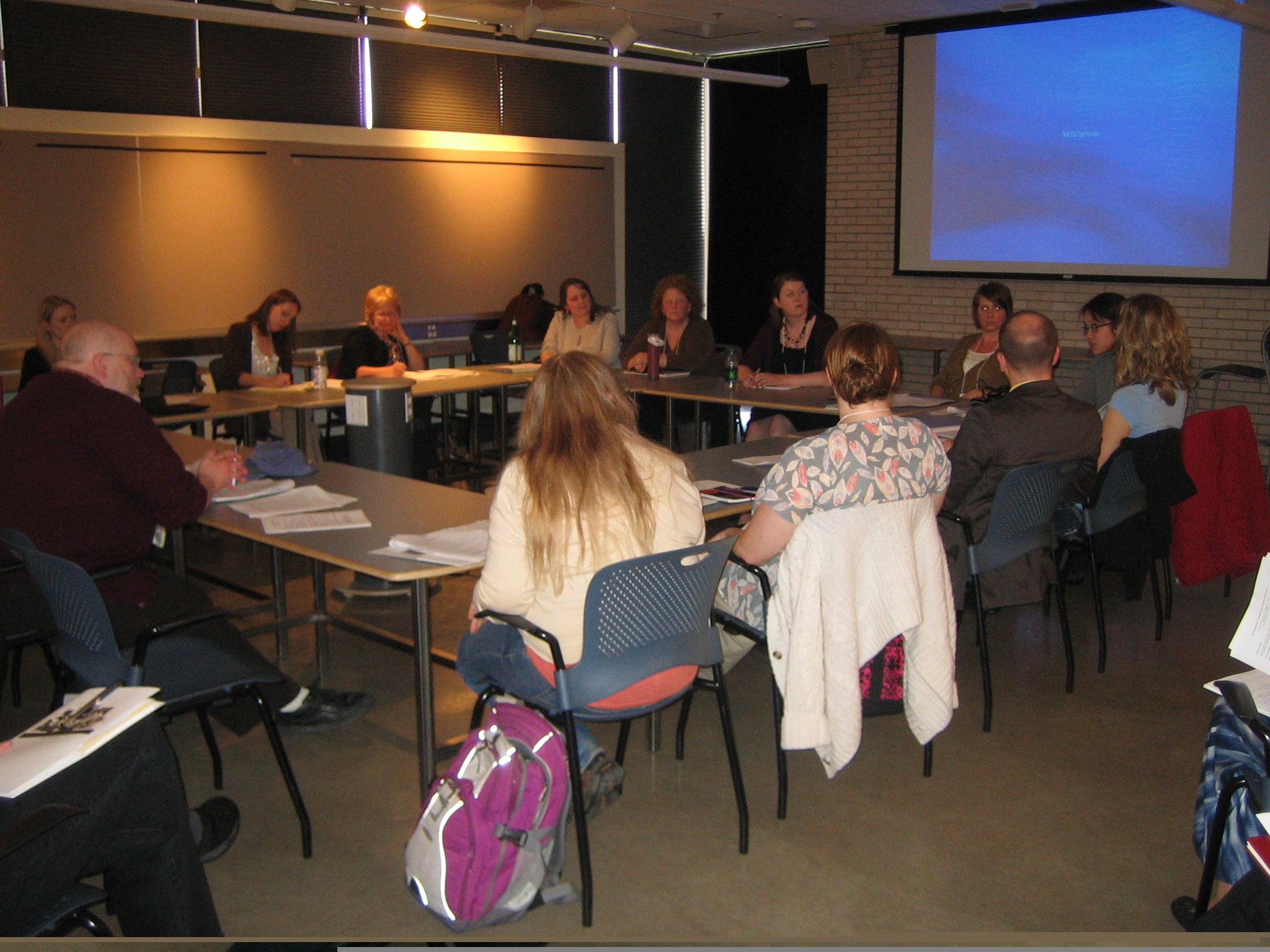 Mission:
Transforming writing and English into teaching and learning experiences using methodologies that serve students best
Vision:
Bringing scholarly ideas and practical pedagogy together
to create our futures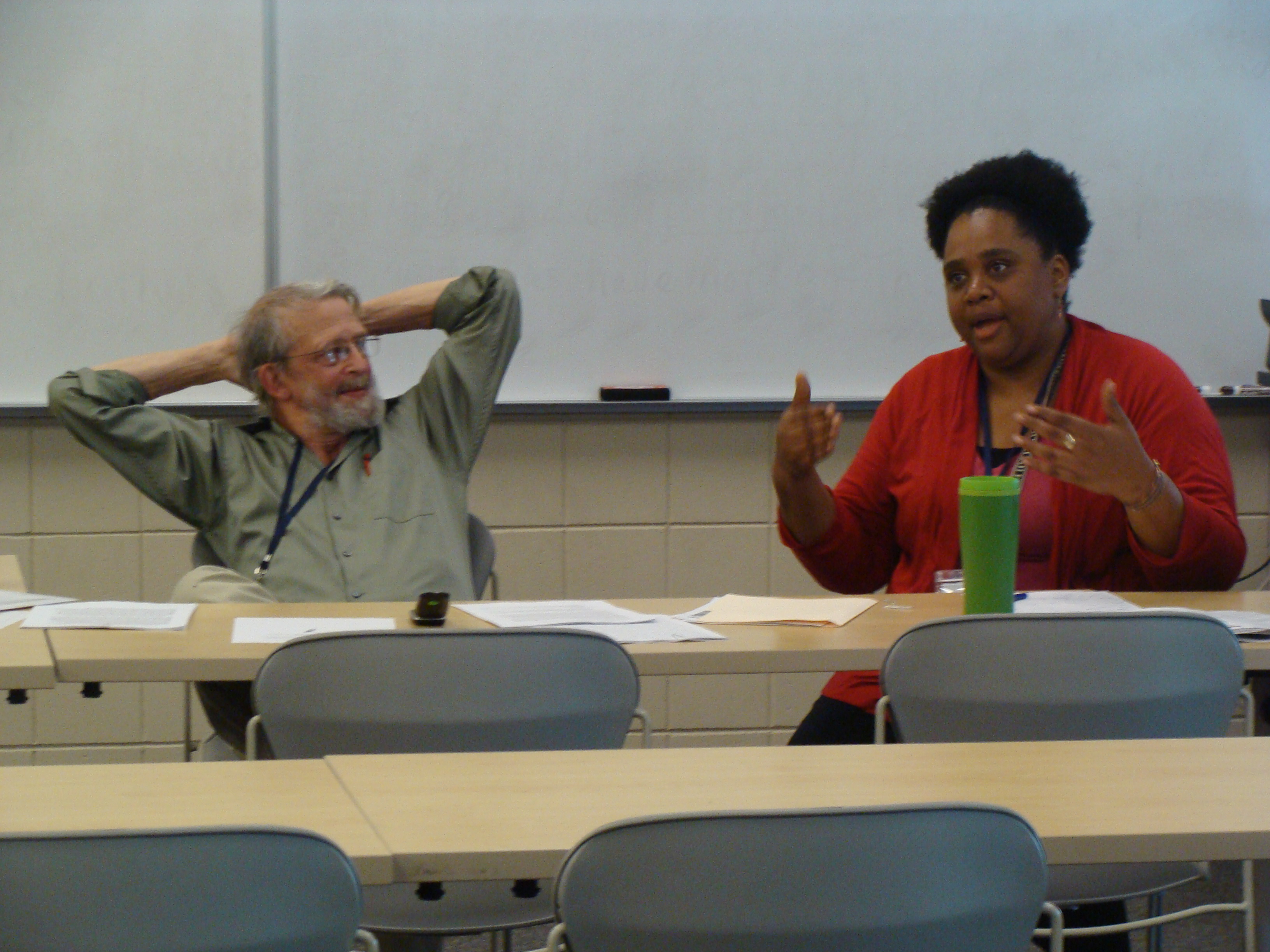 Donald Ross of the University of
Minnesota and Taiyon Coleman of St. Catherine University run a breakout session about literature. In a later year, they jointly provided a MnWE keynote.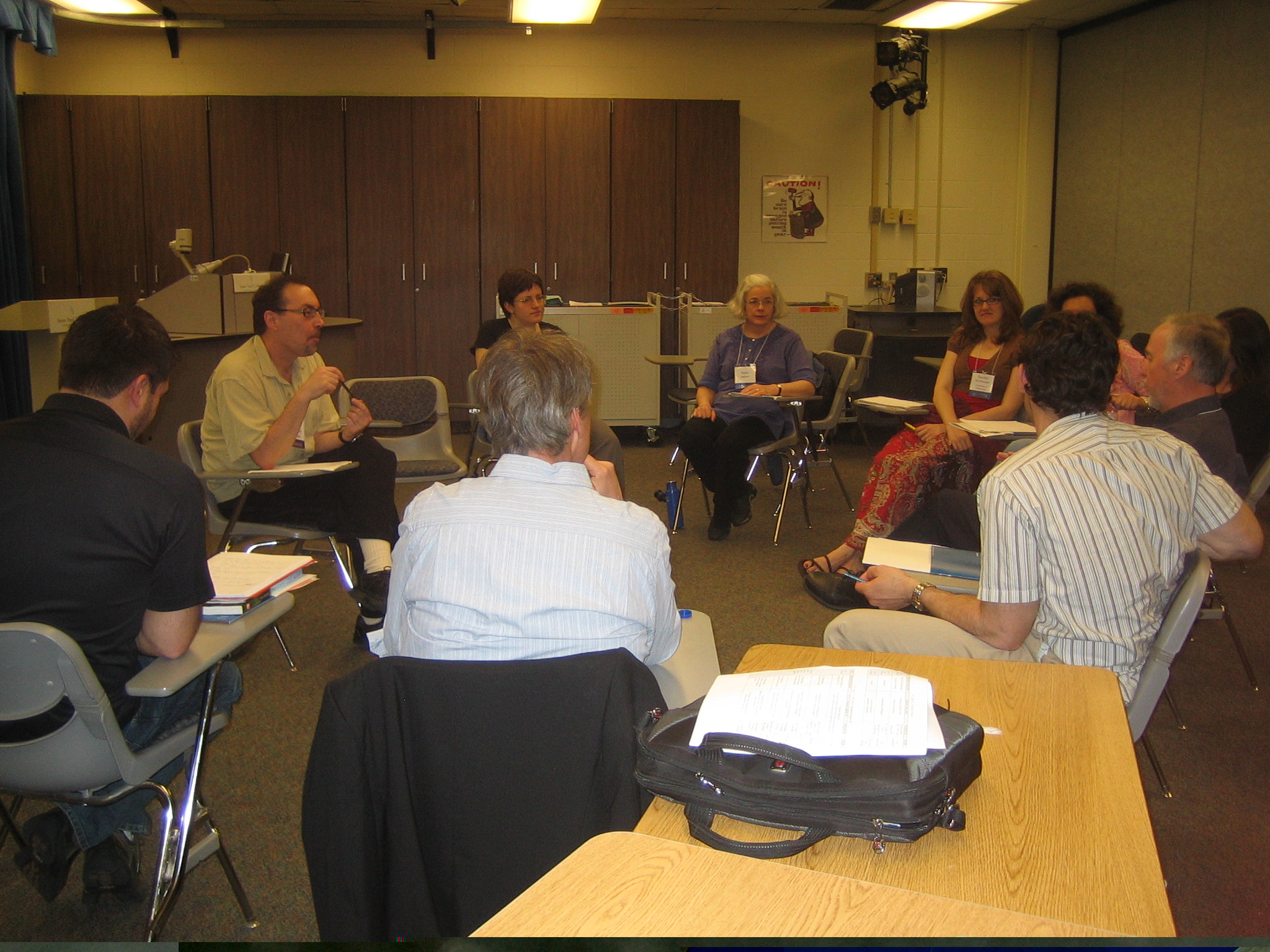 Geoffrey Sirc of the University of Minnesota runs a small breakout after his keynote presentation. Many University of Minnesota faculty have given presentations at MnWE, as well as faculty and graduate students from many other universities, colleges, and high schools.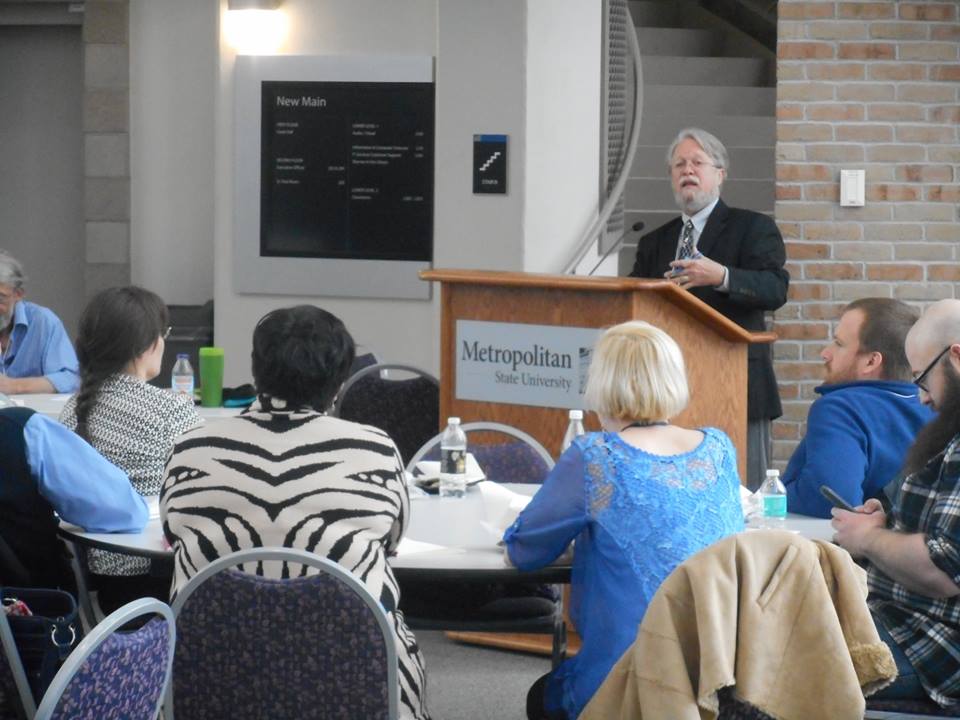 MnWE started in 2007. The cofounders were Richard Jewell, here giving a welcome after lunch, and Donald Ross, second picture above. MnWE has drawn presenters from Minnesota, the states and province around it, and at least five other states and countries.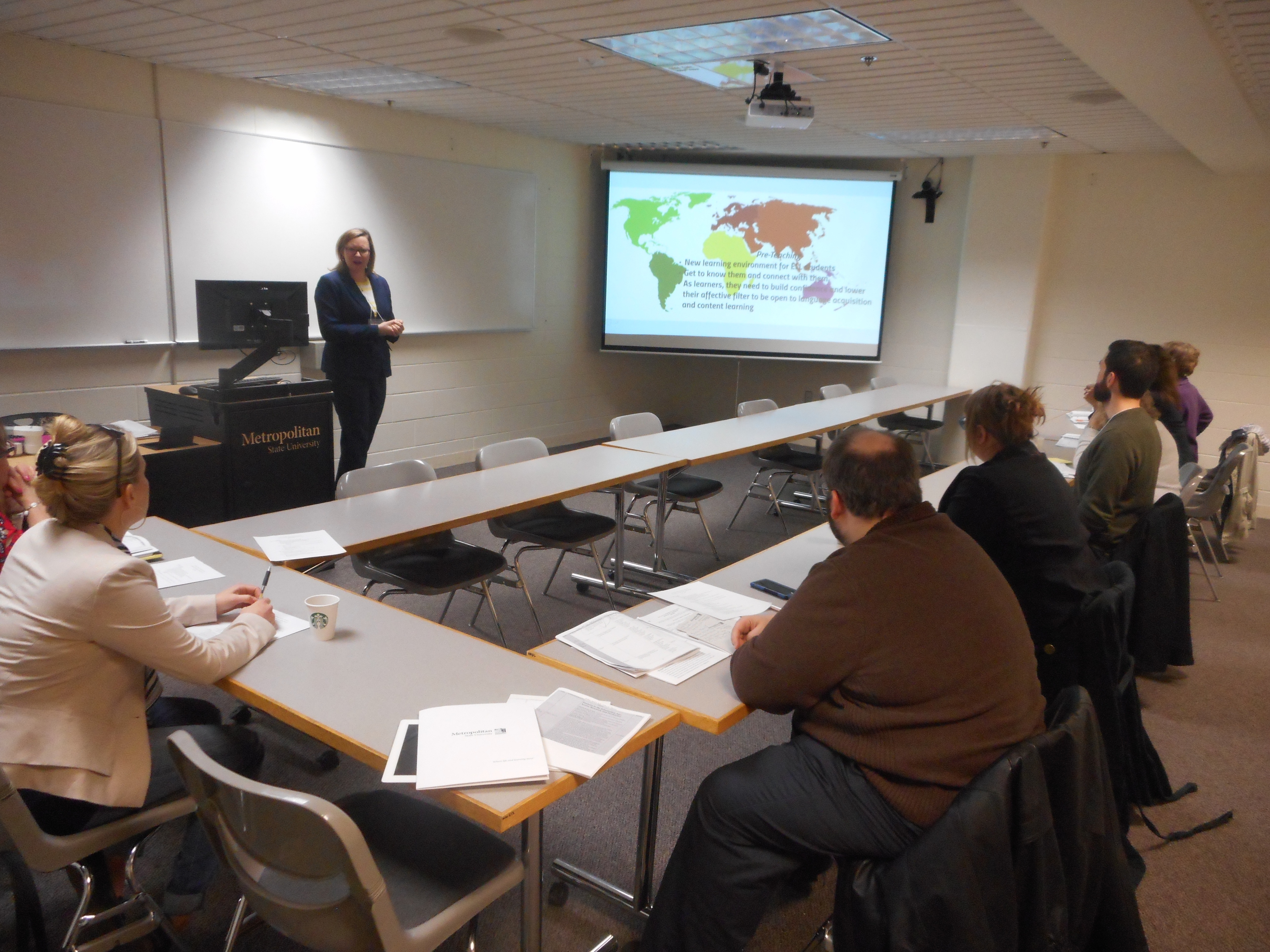 During a 2016 breakout, Beata Puschner presents on improving classroom inclusion of ELL students. MnWE attracts a variety of people in other departments and positions, too, from ESL and Reading to Library Science and college-in-the-high-schools faculty.