MnWE News Winter Issue
January-February 2021

MnWE Zoom Conference: Thur.-Fri., Mar. 25-26
Send a proposal by Jan. 24, or register: www.MnWE.org.
In this issue:
1. MARCH ZOOM CONF.: PROPOSE BY 1/24,
REGISTER BY 3/18

2. EXERCISE: WRITING POLITICS FOR THE
INAUGURATION?
3. IS BEING BLACK IN COLLEGE BAD FOR HEALTH?
4. "OUR DISCONTENT": A REVIEW OF CASTE BY
ISABEL WILKERSON

5. MINNESOTA HUMANITIES CENTER: "HOW CAN WE
BREATHE" & NATIVE AMERICAN BOOKS

6. FREE PROFESSIONAL E-NEWSLETTERS (in each issue)
7. ABOUT MNWE (in each issue)
If you are new to our listserv, welcome! We never share your address, and you may always unsubscribe at the bottom of any email.

If you are a long-term member of this listserv, thank you for your continued participation. Our listserv emails go to about three thousand English, Writing, and related Upper Midwest faculty.

If you are the head of a program or department, please consider forwarding this email to your graduate and undergraduate students. If you did not receive this email directly and would like to join, send a request to the editor at richard at jewell dot net. We suggest you send a permanent email address. Also email us for information on joining our meetings five Fridays/year, currently by Zoom.
---
1. MARCH ZOOM CONFERENCE: PROPOSE BY 1/24, REGISTER BY 3/18

We'd love to receive your proposal for our 2021 MnWE Zoom Conference Thursday-Friday, March 25-26. Registration also is now open. You may offer us your ideas for presenting by Jan. 24, and register by March 18, at www.MnWE.org.

Our theme this year is "Reinvent, Reinvest, Reinvigorate: Teaching after 2020." Given current events, you may also include "Teaching after January 2021."

The proposal deadline is January 24. Registration is now open for a special, lowered rate this year. This March 2021 Zoom conference invites conversation in a series of one-hour roundtables of three to five discussants each. You may organize your own group, or we will place you in a group with discussants offering similar ideas. Each discussant will speak about his or her topic for several minutes; then discussants will answer questions from each other and the audience.

The times since early 2020 have imposed involuntary resets on academe in several important ways. This is an opportunity to take stock of our pedagogy, adapt what needs a refresh, and create new techniques and tools for tutoring and teaching. Our theme invites you to share your experiences in keeping English teaching and learning vital for students during a pandemic, political turmoil, demands for law enforcement reform, and economic disruption. We plan to accept every appropriate proposal on subjects related to our theme.

This year's conference looks to be at least as stimulating as our past ones. MnWE is a warm, welcoming, professional organization emphasizing friendly, respectful discussion about methods of teaching and theories turned into methods. For more information on proposing and registering, please go to www.MnWE.org.

2. EXERCISE: WRITING POLITICS FOR THE INAUGERATION?

If ever a moment existed in modern times when democracy has needed our assistance, it may be now. Student emotions may need recognition to reestablish effective attention in your classroom. Three immediate inflection points may be the first days of the new semester, the Sunday, Jan. 17 rally planned by the President's followers in Washington, D.C., and the Presidential Inauguration on Jan. 20.

This exercise has students write about their current feelings. If you are new to this activity, you may want to try it in two steps.

In step one, you ask students simply to send you 100-200 words on their feelings about current political events. Tell them that you, but no one else, will read the results, and you'll give them extra credit, but you read will not otherwise affect your grading of them. Then thank them for their statements without offering your own. This act of writing–and your listening–helps students release stress and think of your classroom as a place where they can be heard.

What you read likely will show that you have, explicitly or implicitly, a majority of pro-democracy students. If so, then step two is to ask them to write again on the same topic for extra credit, this time for about 50 words that you will share with the class with no names attached. Students will be curious to hear what others think. They will discover that most class members dislike violence and prefer democracy, even as you provide room for competing viewpoints.

Often after any writing activity like these, students feel freer to engage in other discussions. Especially because no names have been given, you have developed what students feel is a safe, interesting space for thoughtful disagreement. You can amplify this effect by clarifying how everyone in the class must be willing to offer–and listen to–each other's ideas thoughtfully and respectfully, and how this is part of creating a scholarly community.

A third step could be to facilitate an open conversation or a homework assignment based on step two. With or without a third step, the goal, you can tell students, is not to convert anyone, but rather, simply, to understand other points of view.
---
Columbia U. student newspaper: "Students seek to create safe spaces that challenge...."

ijSOTL journal: "Safe Spaces, Difficult Dialogues, and Critical Thinking"

TMQ journal: "Why 'Safe Spaces' at Universities are a Threat to Free Speech"
---

3. IS BEING BLACK IN COLLEGE BAD FOR HEALTH?

An American Journal of Epidemiology essay concludes that Black enrollment in an HBCU (historically Black college or university) "is associated with a 35% reduction in the odds of metabolic syndrome" compared to Black enrollment in a PWI (predominantly white institution). Metabolic syndrome stands out as a group of health issues–high blood pressure and blood sugar, excess waist body fat, and poor cholesterol readings–that increases the risk of diabetes, stroke, and heart disease. Metabolic syndrome ads substantially to the much worse mortality rate of Blacks than whites in America.

The study also "demonstrate[s] that HBCU attendees who grew up in more segregated environments experienced the greatest reductions in the likelihood of developing metabolic syndrome." The authors say their work "underscore[s] the important role that HBCUs play in the lives of African-Americans...." This goes "far beyond traditional benchmarks of socioeconomic achievement to include key health outcomes."

In an interview with one of the study's authors, Cynthia G. Colen, the Chronicle asks whether "the environment itself at PWIs...is detrimental to Black students' health." Colen responds that "exposing people to discrimination has a negative impact on their health, both at the time those exposures occur and across the life course. That's well established in the literature."

What can PWIs do? Colen says that "we need to look beyond just [recruiting minority faculty] and think about how we can change the environment to be more supportive, whether that's mentoring faculty of color or just working on the environment for students." For more on Black health issues, also see the second-to-last paragraph of the book review below.
---
Abstract of AJE's "Racial Disparities in Health...."

Chronicle article in Race on Campus: "Can a College Experience Be 'Health Protective'?"
---

4. "OUR DISCONTENT": A REVIEW OF CASTE BY ISABEL WILKERSON

Pulitzer Prizewinning author Isabel Wilkerson's Caste: The Origins of our Discontent, a bestseller for months, explodes the myth that we are a classless society. The American Prospect calls this book "the missing puzzle piece of our country's history."
| | |
| --- | --- |
| Caste argues that the United States has a clear and uniquely defined caste system: Blacks here serve as Nazi Germany's Jews and India's Untouchables. She acknowledges terrible treatment of Native Americans and, in the past, Latinx, but she presents her fascinating stories, histories, and statistics primarily about African Americans. | <![if !vml]><![endif]> |
Her writing is not intellectually difficult to follow, especially with notes, bibliography, and index–which demonstrate her excellent research–consigned to the last ninety pages. Many chapters might be assigned usefully as student homework. However, require it of students cautiously: reading Caste can be an emotionally and politically fraught journey.
In its first part, Wilkerson reveals the construction of caste in America, its eight "pillars," and its thoroughly embedded "tentacles." In doing so, she productively compares the U.S. system to those of the Nazis and India. The Nazis copied U.S. Jim Crow policies to implement their extermination of Jews and others. And Blacks and India's Untouchables historically have much in common, as she found by travelling there. Wilkerson, never sensationalist, also lays out stories of Black hangings, burnings (sometimes alive), whippings (commonly followed by salt washes), mutilations, rapes, and murders, some continuing now.

The latter part of Caste is about the present. Wilkerson recalls a few of the more severe indignities she has experienced as a well-dressed reporter-scholar navigating the white professional world. She summarizes how the Obama presidency and Blacks' economic rise have created an existential panic among some whites threatened by not having a Black caste below them. She contrasts the mindsets of upper-caste controlling whites and economically rising Blacks by quoting Patricia Hill Collins: "Knowledge without wisdom is adequate for the powerful, but wisdom is essential to the survival of the subordinate." Wilkerson adds statistics showing how middle-class Blacks have the poorest health of all whites and BIPOCs (Black, Indigenous, and People of Color), simply from daring to rise: the result, she says, of caste-related stress.

Will the U.S., she asks, have an identity crisis as it moves, by the 2040s, toward an inversion of white vs. BIPOC demographics? Will white elites redefine "whiteness"–as they once did for lower-caste Irish, Italians, and other immigrant groups–to maintain Blacks as the bottom caste? She ends on a hopeful note by exploring a personal example in her final chapter, "The Heart Is the Last Frontier." She says that someday a caste-free world may be possible. However, she adds, severe growing pains lie ahead for all.
---
More: IsabelWilkerson.com, Time Magazine, and National Endowment for the Humanities
---

5. MN HUM. CENTER: "HOW CAN WE BREATHE" & "NATIVE AM. BK. SERIES"

Here are two items of import that the Minnesota Humanities Center included in its December newsletter:

"In the aftermath of the murder of George Floyd, we collaborated with African American mothers, artists, elders, youth, policy makers, and scholars on how we can make meaning and sense of our Minnesota we're living in, [in] the moment, and how we can drive systemic change to create a more perfect union through our series 'How Can We Breathe.'"

"Our work in education was again recognized with our Native American Book series making the American Indians in Children's Literature 2020 Best Books list and the Omaha Educators Association honoring us with their Human Relations Award."
---
Minnesota Humanities Center
---

6. LIST OF FREE TEACHING/LEARNING E-NEWSLETTERS (repeated each issue)

Do you feel out of touch with colleagues or seek ideas from other networks? Connect by subscribing to these free email newsletters. You may start or stop a subscription at any time.

NEA HigherEd, National Education Association. Weekly political and labor news update:

Subscribe Sample

Race on Campus from Chronicle of Higher Education. Weekly briefs and information:

Subscribe Sample

Diversity Insider, National Education Assoc. Weekly news, essays, and advice:

Subscribe Sample

The Source: Updates, MLA Style Center. Weekly pedagogy and readings updates:

Subscribe Sample Other free Style Center e-letters

Always available online, the Style Center's "Works Cited: A
Quick Guide"

Teaching from Chronicle of Higher Education. Weekly brief advice on general methods:

Subscribe Samples

Tomorrow's Professor, Stanford University. Twice-weekly reprint of a pedagogy article:

Subscribe Sample e-letter and online version

The Campus View, Minnesota Private Colleges (17 colleges). Monthly private college news:

Subscribe Past issues
---

7. ABOUT MNWE: Old Issues, Joining, Who We Are, Grad
Credit, Unsubscribing (repeated each issue)

More Online-Teaching Resources:
See www.mnweconference.com/resources.html.

Our Newsletters: For new and old issues, visit "MnWE News."

Forwarding/Joining: Please forward this email to other interested faculty and administrators. Your newer full-time and adjunct faculty members, graduate students, writing center tutors, and English and Writing administrators may not receive it.

If you are not on the listserv and would like to join it, simply send your request and email address to richard at jewell dot net. We always enjoy signing up new list members.

Who are we? "MnWE" is "Minnesota Writing and English," an all-volunteer organization started in 2007. MnWE has a coordinating committee, a listserv, and an annual, two-day spring conference attended by 100-200 faculty. Our coordinating committee, which meets about six times per year, is composed entirely of unpaid college, university, high school, and other professional English/Writing volunteers.

All activities are by and for college, university, and college-in-the-high-schools English and writing faculty, graduate and undergraduate students, and related academic and literary scholars, writers, tutors, and others in the Upper Midwest. Our purpose is to bring together these communities in Minnesota and in nearby states and provinces.

Where are we? Please visit us at MnWE.org. Our geographical center is Minneapolis-St. Paul. About 3000 faculty, graduate students, tutors, and related administrators are on our listserv. They receive this newsletter six times per year. Our listserv members come from state universities, public and private two-year colleges, private colleges and universities, high schools, publishing companies, and the public universities of Minnesota, Wisconsin, North Dakota, South Dakota, Iowa, Illinois, and other schools and locations beyond the Upper Midwest.

Conference: At our annual two-day conferences, our keynoters speak on pedagogical concerns and are scholars and writers of national excellence from both local and national locations. Some of our presenters come from states or countries far beyond our own geographical area. The majority of our attendees and presenters are from universities and private colleges; a significant minority are in two-year colleges, high schools, and other groups.

Graduate Credit: Anyone may earn one graduate credit from Southwest Minnesota State University for attending a MnWE Conference day and writing a related research paper (up to three such credits may be earned). For questions about this course–"Eng 656: MnWE Practicum"–please contact lisa dot lucas at smsu dot edu or see www.smsu.edu/academics/programs/english/?id=11637 .

Unsubscribing: To unsubscribe from this listserv (and no longer receive the "MnWE News," MnWE Conference announcements, and other forwarded announcements), please do so yourself, following directions at the very bottom of this email. If you try unsubscribing on your own without success, then send an email to richard at jewell dot net indicating (1) your unsubscribing action that didn't work, (2) your specific email address copied from the directions at the bottom of a MnWE mailing, and (3) your request for removal.

Formatting: Each of these listserv emails usually is formatted in a relatively simple way using html. If you cannot read it, please click on the link at the top right of this email to see the newsletter on the Web.

Questions: We invite you to email the editor or any coordinator on the MnWE Committee listed below. You also are always invited to attend any of our six MnWE Committee meetings per year: to join the listserv, email richard at jewell dot net. If you'd like to attend a meeting, or join the committee for in-person meetings, Zoom attendance, or email comments from a distance, please ask Richard. In addition, you always are invited to offer suggestions to MnWE, or to volunteer your leadership for a session at the annual conference.

Copyright: This newsletter is written primarily by "MnWE News" editor Richard Jewell without copyright so that anyone may quote, paraphrase, or forward any or all parts freely, unless otherwise noted. We do ask that you give credit to the "MnWE Newsletter" and/or "www.MnWE.org"; and when you use material that has been quoted or paraphrased in this newsletter from another source, please be sure to give proper credit to the original source.
---
---
Richard Jewell, General Coordinator
Larry Sklaney, Conference Coordinator
Danielle Hinrichs, Program Coordinator
Gordon Pueschner, Volunteer Coordinator
Jana Rieck, Communications Coordinator
Heidi Burns, Registration Coordinator
---
richard at jewell dot net - (612) 870-7024
larry dot sklaney at century dot edu - (651) 747-4006
danielle dot hinrichs at metrostate dot edu - (651) 999-5960
gordon dot pueschner at century dot edu - (651) 686-4468
janaL dot rieck at yahoo dot com
heidi dot burns at mnsu dot edu

MnWE .org
Minnesota Writing & English
A Consortium of Colleges & Universities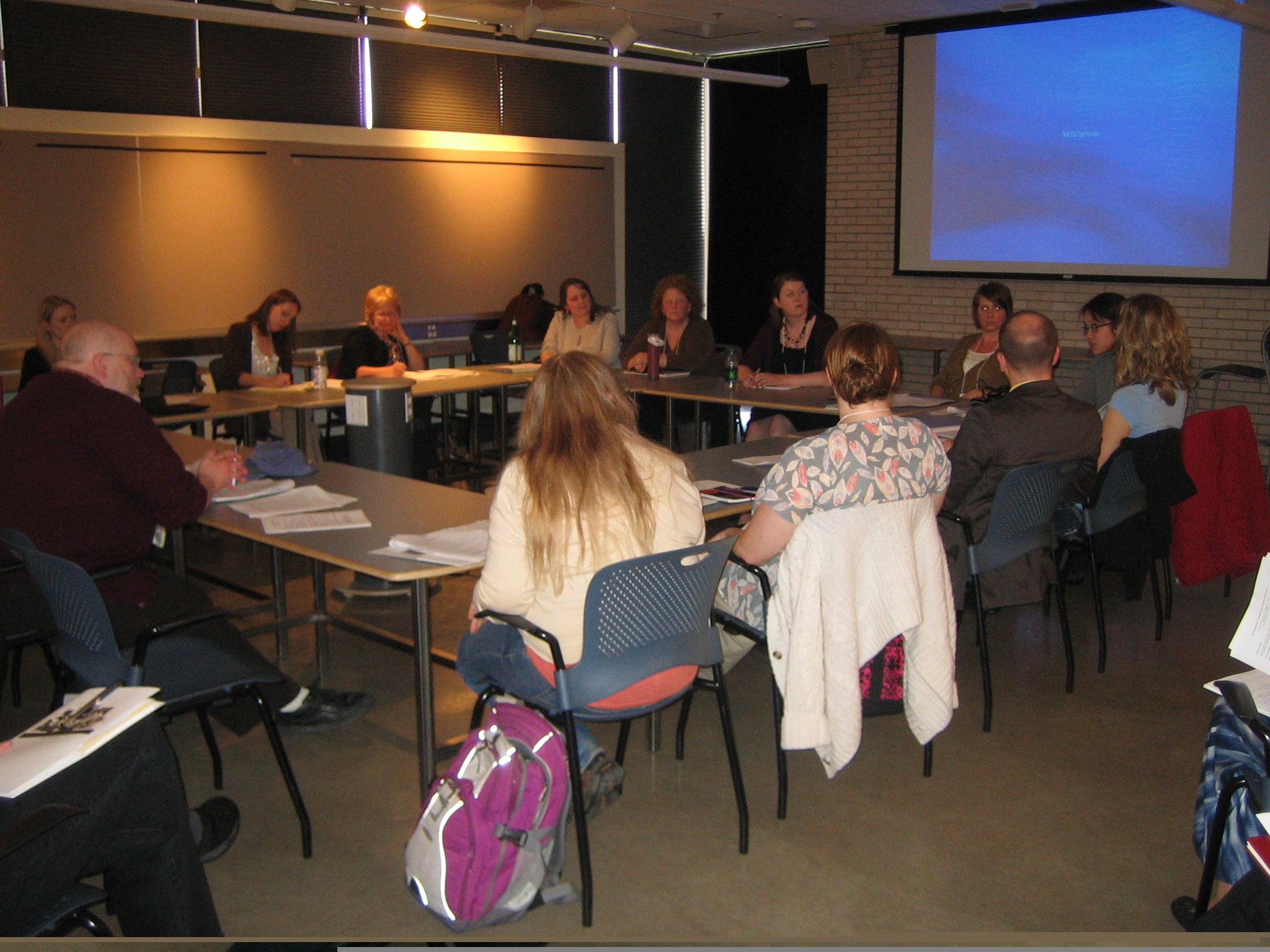 Mission:
Transforming writing and English into teaching and learning experiences using methodologies that serve students best
Vision:
Bringing scholarly ideas and practical pedagogy together
to create our futures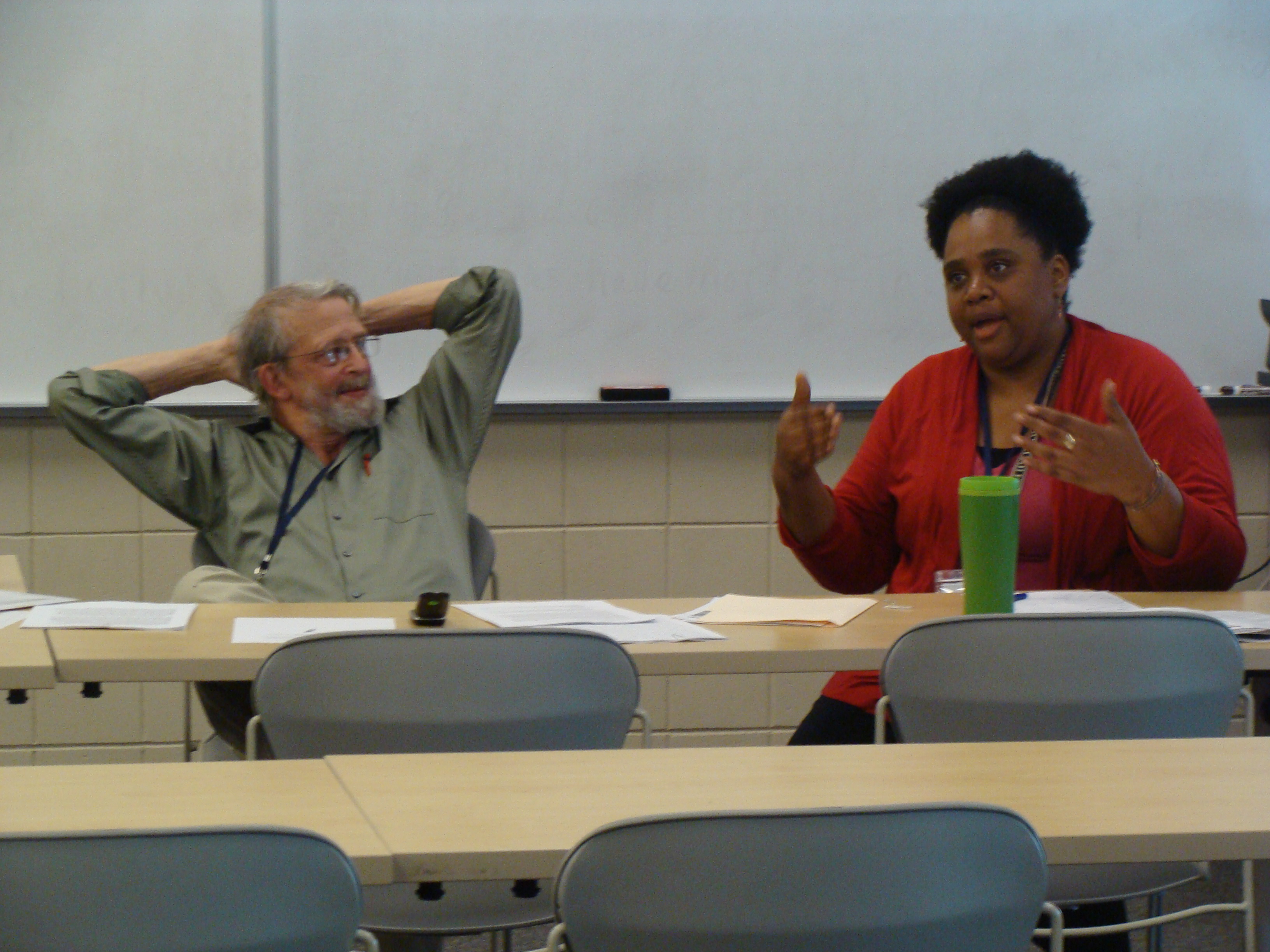 Donald Ross of the University of
Minnesota and Taiyon Coleman of St. Catherine University run a breakout session about literature. In a later year, they jointly provided a MnWE keynote.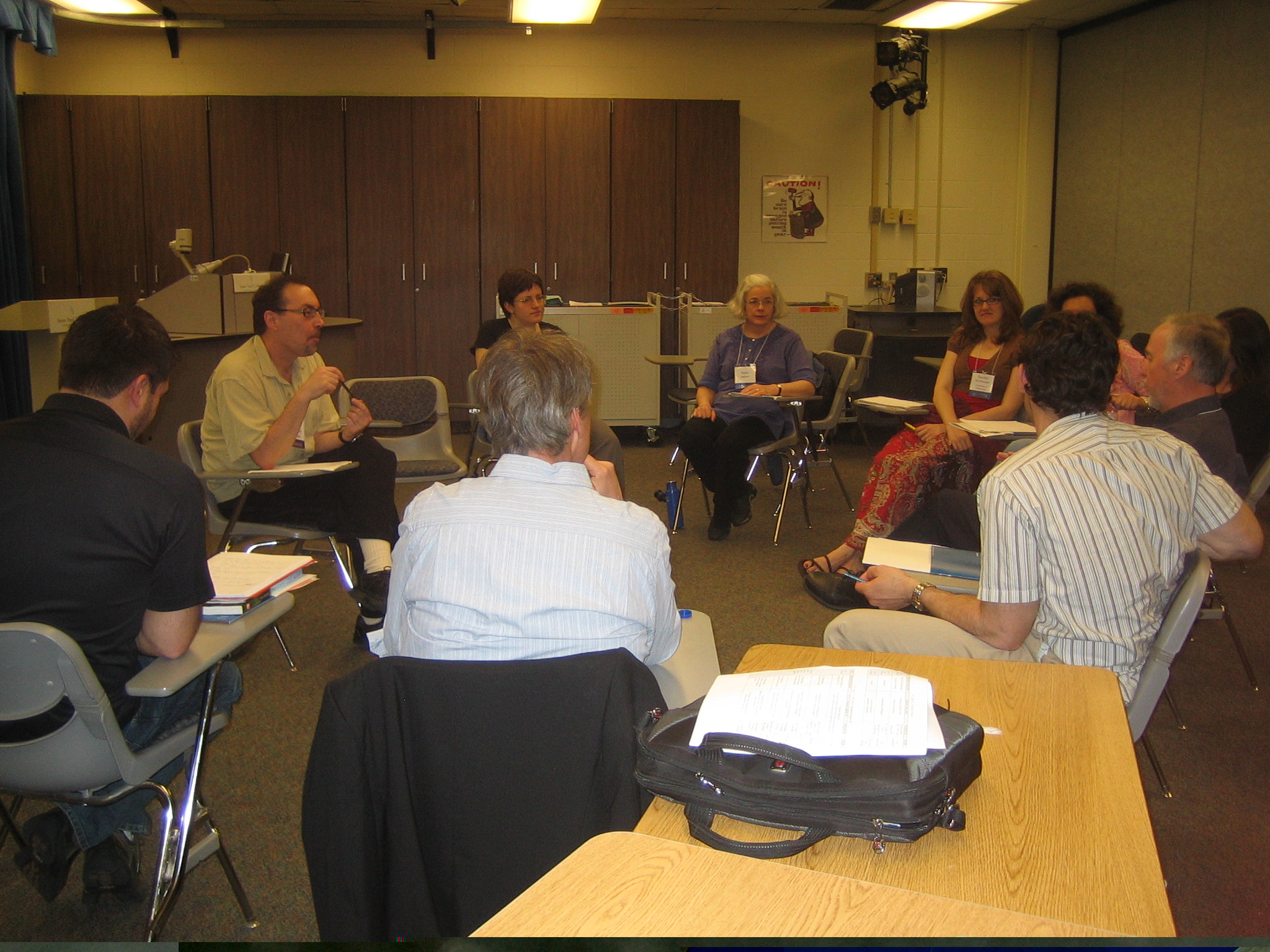 Geoffrey Sirc of the University of Minnesota runs a small breakout after his keynote presentation. Many University of Minnesota faculty have given presentations at MnWE, as well as faculty and graduate students from many other universities, colleges, and high schools.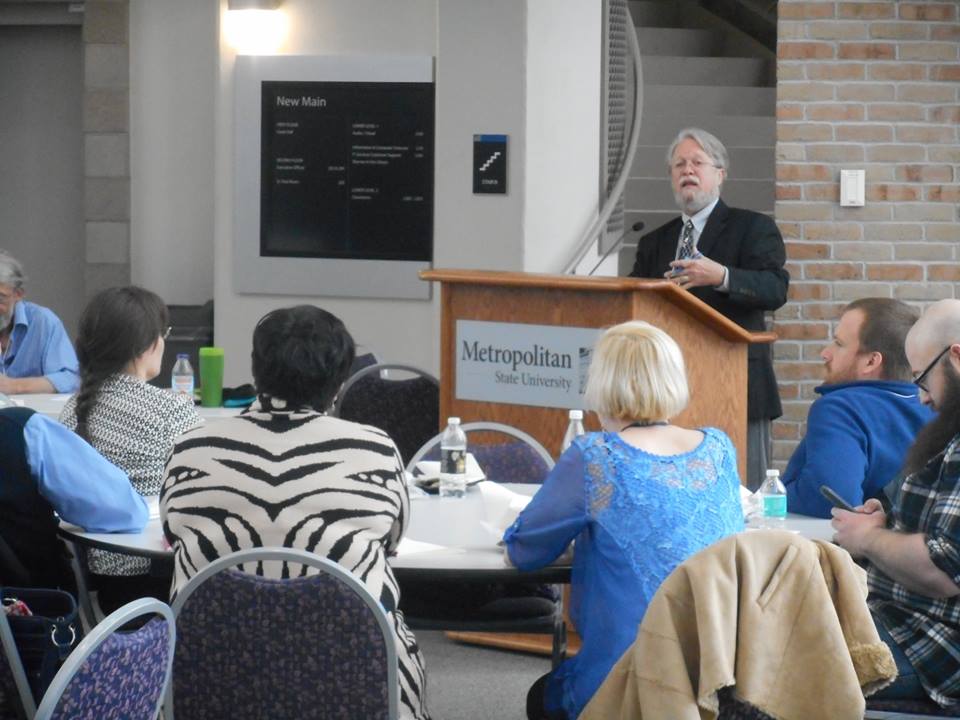 MnWE started in 2007. The cofounders were Richard Jewell, here giving a welcome after lunch, and Donald Ross, second picture above. MnWE has drawn presenters from Minnesota, the states and province around it, and at least five other states and countries.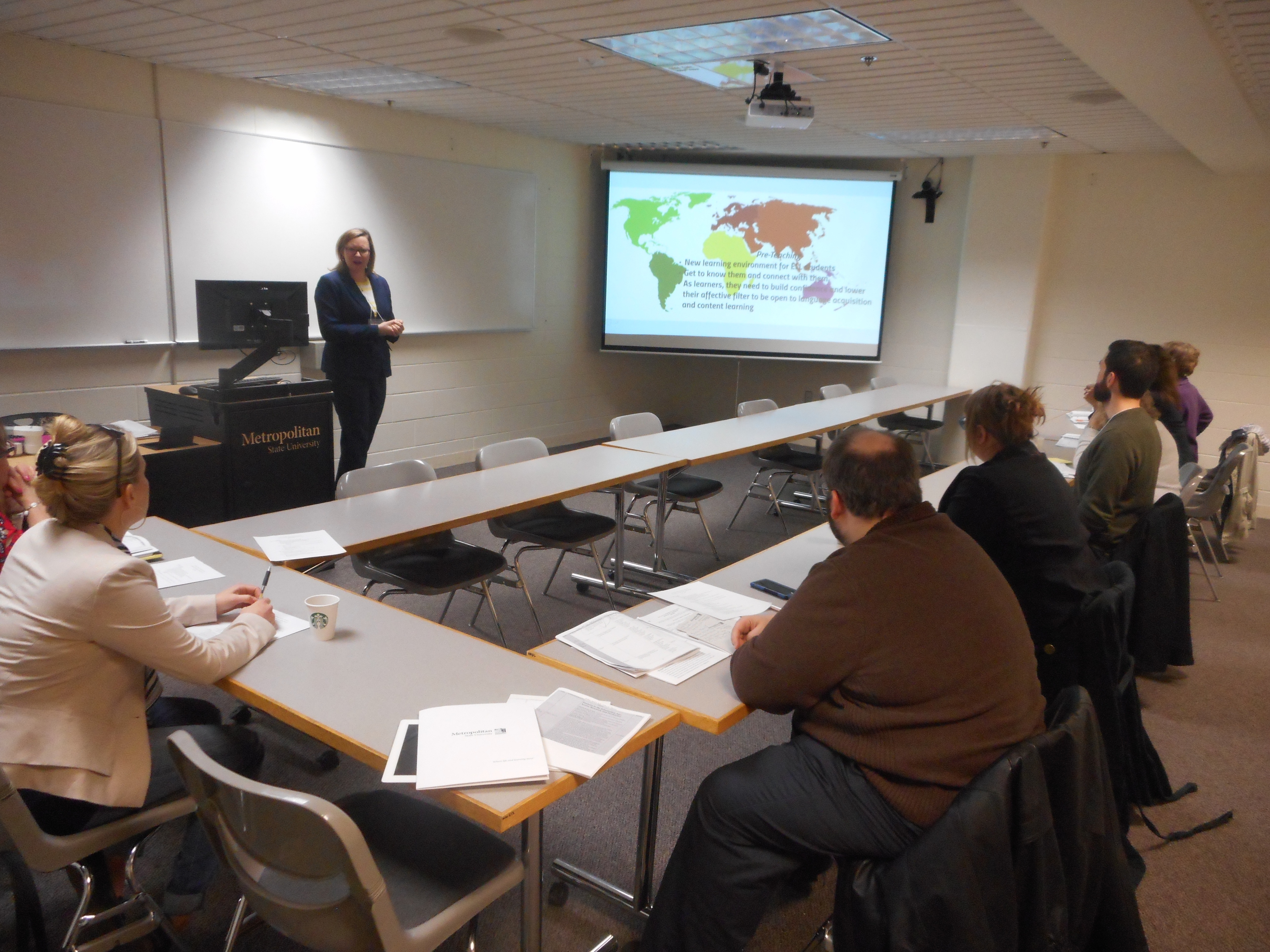 During a 2016 breakout, Beata Puschner presents on improving classroom inclusion of ELL students. MnWE attracts a variety of people in other departments and positions, too, from ESL and Reading to Library Science and college-in-the-high-schools faculty.